Same Old Story: Australia Hand India First Defeat at FIH Hockey Pro League
Indian hockey team, which seemed overawed in the first half of Game 1 of its FIH Hockey Pro League tie against Australia, tried to make a match out of it with a surge in the second half. Two goals from young Raj Kumar Pal and one from Rupinder Pal Singh, however, could not prevent a 3-4 defeat.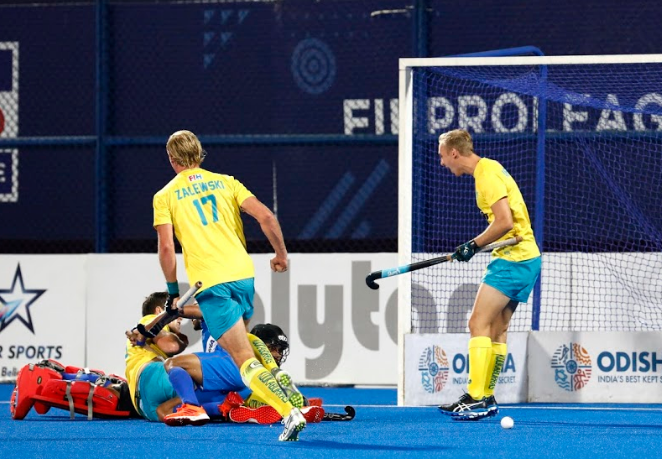 Australia hockey team scores during the FIH Hockey Pro League match against India at the Kalinga Stadium in Bhubaneswar on February 21.
Bhubaneswar: There are three certainties in life. The sun will rise everyday. One day we will all die.  And Australia will beat India at hockey. But even in certainties there are glitches. In some countries, at certain times of the year, the sun does not rise at all. People are working on eliminating death. And even when Australia beat India 4-3 they looked edgy, nervous and not quite all so calm and collected.
The stats of Game 1 one of the India vs Australia FIH Hockey Pro League tie in Bhubaneswar tell half the story. India had the same number of shots, almost the same number of circle penetrations and more penalty corners than the visitors. The other half of the story is memory. To paraphrase Gabriel Garcia Marquez, it isn't what happened but what you remember and how you tell it. The Australians will remember that this is the 23rd time in the last 30 meetings that they have beaten India. The last time India beat Australia in an FIH sanctioned event,  The FIH Men's Rising star of the year – and not coincidentally the Indian midfield's never tiring engine – Vivek Sagar Prasad was not yet born.
For all the effort that India put into making the Kalinga Stadium in Bhubaneswar a home ground, a bastion, a fortress,  Australia haven't lost here in regulation time since the 2014 Champions Trophy defeat at the hands of Germany. No surprises then that they started quicker. They were home. They liked this blue turf and they liked this blue team that turned up against them. Within six minutes they were a goal up thanks to a move created  by India's impending sense of doom.
Also Read | Story of Indian wrestling's Greco-Roman Stepson 
In the pre-match presser, India coach Graham Reid and skipper Manpreet Singh were keen to stress on how differently they prepare for Australia. The Australian side is aggressive, physical, played man-to-man and pressed high and full. All of those words can be used to describe the creation of the first goal.
India dithered, lost the ball playing out from the back, then somehow won it back. They dithered again and this time they dithered around Aran Zalewski, who won it in India's half, pressed forward, turned and laid it wide for a cross that was tapped in by Dylan Wotherspoon. The lead doubled in the second quarter. India went into halftime reeling. They had been outplayed, out thought and outfought for the first time in the Pro League this season.
They went into halftime would be an odd statement to make though, because the truth is they hadn't turned out for the first half at all. In the entirety of the 30 minutes they created one single chance.  No penalty corners. An absurdity for modern hockey. "At halftime there were some tough words from the coach," Raj Kumar Pal admitted. "He asked us to stop being afraid and getting caught in possession. He wanted us to press harder and play quicker." Pal reacted quickest to the coach's words.
He also reacted quickest on the pitch. Six minutes into the second half  India had a PC. Rupinderpal Singh's shot was saved by Tyler Lovell and bounced up to Pal, who took a touch and slammed it in. His first goal for India in his third game for the country. This was India's best quarter of the game. They pressed high, harried the Aussies, and created lots of trouble and lots of chances, Lalit Upadhyay, Akashdeep Singh and Vivek at the heart of every quick break. And still the visitors got two more goals.
This was becoming a farce. You could outplay them, outpress them, outrun them, but not outscore them. If the first two goals were silly in the manner India gave up possession and space, the second two were absurd in the manner India gave up possession and space. Oh wait…
Also Read | Sole for a Soul: Nike's Chokehold on World Athletics
But it was still game on. Because for some reason Australia never looked like they would lose the game, but also never looked like they would win it at a canter. Slowly India clawed back. The flanks were used more, even if they were not used efficiently. The breaks were made at higher speeds even if they were imprecise. Penalty Corners were won more frequently even if they were missed and saved.
In the final quarter, Pal, the 22-year-old, did only new players do in the circumstance he found himself in. He drove to the edge of the circle,  looked up and unleashed a shot towards the far corner of the goal. Kurt Lovett hadn't even bothered to put his stick as a blocker with conviction. It was a shot borne of inexperience, and with the confidence of youth. Obviously it went in.
"I loved that," Pal later gushed. "Obviously the first goal was special but the second was fun to score. Especially considering this was my first time against this team at the Senior level and their aggression had thrown me off a bit in the opening period. As soon as I got the space that's all I wanted to do. Shoot."
Five minutes later, Rupinder pulled one more back via a PC. Game on?
India pressed at the death, even winning a pair of PCs at the end, but it wasn't enough. This was their first loss in the opening game of a tie at home. They had come close and caused enough problems but it wasn't enough. Manpreet was gracious enough to admit that his team hadn't played well on the day. "But if we got this close while not playing well, then we can actually win if we do. And we will look to do it tomorrow."
For that though, they will have to do what visiting teams have done against them. In every one of India's home fixtures they have dominated the opener, only for the visitors to adapt, reshape and claw back in the second one. Reid credited this to the format of the league this season. "It isn't just us. This is a pattern across the league. Visiting teams get an opportunity to analyse, correct and rethink their strategies." This time the home team will have to do so.
The Emcee had started the proceedings for the evening's game by leading chants of Jai Mahadev through the stadium. It was Mahashivratri and also a sign of the times we live in. By the end he implored the crowd to 'give a round of applause for India's performance'.
No applause for the victors though. Another sign of the times? Or perhaps because some things are for certain. Maybe that will change in Game 2.
Get the latest reports & analysis with people's perspective on Protests, movements & deep analytical videos, discussions of the current affairs in your Telegram app. Subscribe to NewsClick's Telegram channel & get Real-Time updates on stories, as they get published on our website.
Subscribe Newsclick On Telegram