Sardar Singh: India's First World Class Modern Hockey Star
Former Indian hockey team skipper Sardar Singh, who announced his international retirement on September 12, was the quintessential world class teammate everyone wanted, including opponents. His correctness on the turf was legendary, while his legacy remain tarnished by personal turmoils off the field.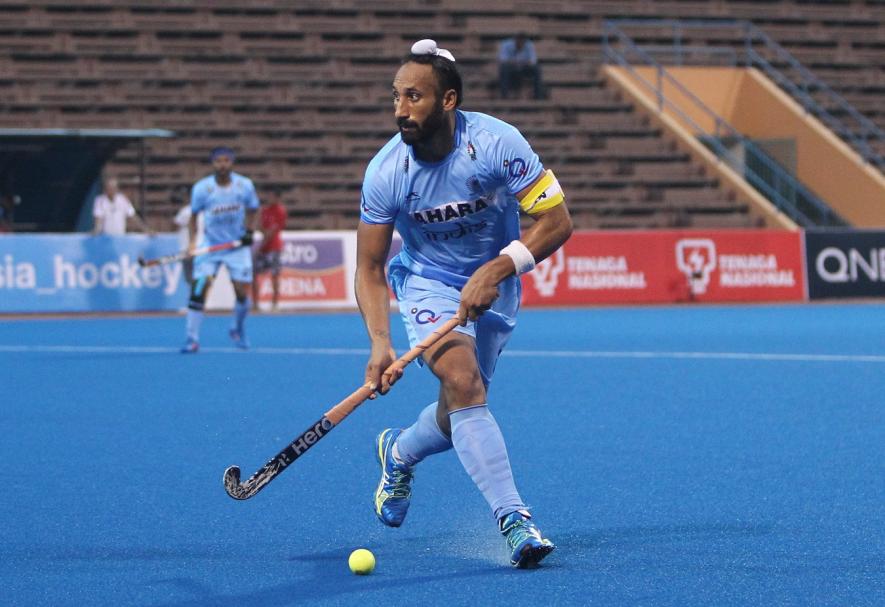 Sardar Singh was not named in the Indian Hockey team 25-men probables pool for the Asian Champions Trophy, a clear sign that he would not be considered by coach Harendra Singh for the upcoming FIH Men's Hockey World Cup (Pic: Hockey India).
International sport has had two retirements this week. Two men, two colossus, have retired from donning the national jersey in their respective sport, choosing instead to focus on the finer things in life. The first, an English cricketer, wound things up in a dream retirement Test — a last innings hundred, an emphatic match victory, a series victory — and called it a day, when everyone had started whispering the words 'failing eyesight' and 'dropped from the squad' around him. The second, an Indian hockey player has announced his, after facing the drop and the previously unthinkable truth that, perhaps, he may never actually be picked again.
Even in their careers they couldn't have been more different. Alastair Cook cemented the age-old idea of a hard nosed English batsman. A gentleman with a choir boy smile, but a trench soldier's fortitude. In a time of change for English cricket, he illustrated the old values. In sharp contrast Sardar Singh was change. When he arrived he was unlike any Indian player the country had seen. Now, every player drafted into the team in his position is expected to be like him.
It is cruel that Sardar Singh's final lasting memory — those of worth at least — in the India blue, on the hockey turf, will be of him fouling a Malaysian outfielder, earning himself a yellow card, and thereby condemning his side to play the final quarter of the Asian Games semifinal with a man down. It is paradoxical, that a career that was forever defined by a calm and composed disposition may have ended with a momentary lapse of reason.
Also Read | Jithin Paul vs NADA: Doping and the Indian Athlete
It is tough to think of an Indian team without Sardar Singh in it — and yet, of the four teams India have put out this year in international competition, Sardar only made it to two. As far as advertisers, promoters, cartoonists and broadcasters are concerned, Sardar's retirement has opened up a huge void for hockey promotion in India. Sony's opening graphic for the Asian Games broadcast in India was a bold gamble, an illustrated panel that had rising stars like Hima Das, PV Sindhu, Dipa Karmakar, Manika Batra and... Sardar Singh (to be fair, Sushil Kumar was also an integral part of the graphic, so maybe there were some old hands at play in its creation).
The point though is clear. Who will replace Sardar Singh now as the face of Indian hockey?
"He was a really scrawny guy. Very skinny, wiry, we all used to wonder how he would make it internationally, where the physicality was a big thing," Arjun Halappa, a former teammate, recalls. That Sardar is miles from this Sardar, bulging biceps and sinewy calves constantly haring about the turf. Where other players over the years have either physically deteriorated or left their technique replace what their fitness cannot, Sardar was never about compromise.
In an interview before the Asian Games, he scoffed at journalists who wondered if his fitness was the reason he wasn't selected regularly anymore. "No one can remove me saying Sardar fit nahi hai (is not fit)," he grumbled.
Also Read | India at Asian Games 2018: The Truth Behind Government's Claims
When Sardar made his debut with the national side in 2006, Indian hockey was going through a resurgence that was due by a decade. The Premier Hockey League (PHL) was launched a year prior, and Sardar had sparkled for his team, the Chandigarh Dynamos. He sparkled with such luminescence that the champions of 2005, Hyderabad Sultans, captained by Dilip Tirkey, signed him on for the next season.
If Tirkey was the standard bearer for Indian hockey in the 1990s, Sardar Singh heralded a new dawn. At the time — and to young followers of the game may seem absurd — there was no Indian player who could play like Sardar Singh did. He adapted to different positions at the flick of the coach's switch. He could dribble, but preferred to pass. He would go past opposition players, not because he could, but because he needed it to create space. He was India's first world class player after a long void.
But, India, being the way it is, and Indians being Indians, never truly appreciated him at his peak. He was invisible on the pitch. He seldom scored goals. He passed sideways. He is mentally fragile. He doesn't look like a captain. Whether you sat on the stands or the media tribune, the criticism of Sardar remained the same.
But those in the know knew better. And they appreciated what he brought to the pitch. "Sardar was one of the first Indian midfielders who could spread the play across the pitch, he was the pivot from where the wheel would turn," says Halappa.
In the days before Sardar, India's great players were wingers and forwards. A centre half was mainly a supplier. His job was to collect the ball and release the forwards and the wingers. But the international game had moved on. Players like Moritz Fuerste, Mark Knowles and Teun de Nooijer turned the game around.
Also Read | Hockey 'Expands' at Asian Games, the Game Goes Down
Not unlike the football revolution of the current age, hockey's tactical evolution in the mid to late 2000s saw players seeking and controlling the ball deeper in their own half before spreading out the play. Playmakers were defenders, or even centre-halfs. They were men with skill to evade challenges, dexterity to get past the opposition forward line, and vision to play the long ball.
AK Bansal, who managed Sardar as part of the Delhi Waveriders team in the Hockey India League (HIL), emphasised this ability in the player as one of the key reasons for his longevity.
"In first two seasons of HIL, every team had international players as centre-half or right link. Fuerste played for Ranchi, Ockenden was playing for UP, Lucas Rey for Punjab," he says. "Delhi was the only team with an Indian at centre of the team. Sardar Singh."
Bansal's faith in Sardar was absolute. No matter the opposition or the calibre of players around him in the same role, Sardar marshalled the midfield in the centre. "He was world class. All the players recognised that. The foreign players also learnt from him when mostly, in HIL, it was the other way around."
If Sardar's role for his various clubs and domestic teams was clearly defined (he played for Belgium's KHC Leuven in 2011 and the Dutch club HC Bloemendaal in 2013), for India his role slowly became more and more fluid, to a point where each coach played him as they saw fit, but never as his predecessor did. It was double jeopardy applied to team selection.
He made his break into the Indian team as a right link. His ability shifted him to the centre. Under Terry Walsh, he was shifted to the right again to accommodate Manpreet Singh in the centre. Michael Nobbs played him as a defender at times. Under Roelant Oltmans, Sardar played as a forward (a role he kept for the Rio Olympics during Oltmans' second charge).
Also Read | Corruption and Mismanagement Rule Indian Sport; Kabaddi's Story at the Asian Games Tells Us Why
Sjoerd Marjine didn't play him at all. Harendra Singh used him as a breather for Manpreet Singh. All through, Sardar remained the face of India hockey. For casual viewers, cricket was Sachin Tendulkar, football is Sunil Chhetri, and in hockey, it was Sardar.
"Can I also tell you one more thing," Halappa says, "Sardar's work ethic was incredible, man." Halappa details the times when they were part of the national roster, and Sardar would put in an hour extra before, and an additional hour after everyone had left. First in, last out. "Nowadays people talk about Cristiano Ronaldo and say he has this hard working attitude. And that is why he is so fit. Sardar is no different," Halappa says.
Not everything Sardar has done has been gold though. If his on-field behaviour, media room etiquette and dressing room manner was immaculate, off the field he was at the centre of Indian hockey's biggest storm of recent years.
In 2012, in the months preceding the Olympics, Sardar was accused of rape and intimidation by a British hockey player of Indian origin. She filed an FIR against Sardar (then the captain) alleging sexual assault and of being blackmailed by his family into silence. The fallout though was huge. Accusations flew both ways. Denials were released. In its aftermath Sardar lost the captaincy for the Olympics, as Hockey India rushed to protect their star, and their own image amidst the 'PR' fallout. Press releases were sent out in his defence. The FIH President (de facto Hockey India President), Narinder Batra, defended the indefensible in the most absurd way possible.
Sardar was never the same after the episode. His exclusion from the team at different times to shield him from the media glare meant the team adapted to play without him. He became dispensable, without anyone meaning for it to be so. By the time of the Asian Games in Jakarta this year, everyone was already convinced that Sardar's time was getting over. A reckless foul, a yellow card, and the bell was tolled.
When Harendra Singh announced his 25-man squad for the Asian Champions Trophy on September 12, Sardar's exclusion was a gentle nudge towards the door. Ever the team man, who never questioned decisions, Sardar walked out neatly.
Get the latest reports & analysis with people's perspective on Protests, movements & deep analytical videos, discussions of the current affairs in your Telegram app. Subscribe to NewsClick's Telegram channel & get Real-Time updates on stories, as they get published on our website.
Subscribe Newsclick On Telegram