Talent To Burn: Shubho Paul and the Many Who Make Him
When they said it takes a village, they didn't lie. Shubho Paul, 17, is only on the cusp of a professional sporting career. To even get this far-a decent shot at his dream-has demanded a significant collective effort. Several members of this diverse, and often divergent, ensemble talk about what it took to bring a footballer from Salkia to the FC Bayern World Squad.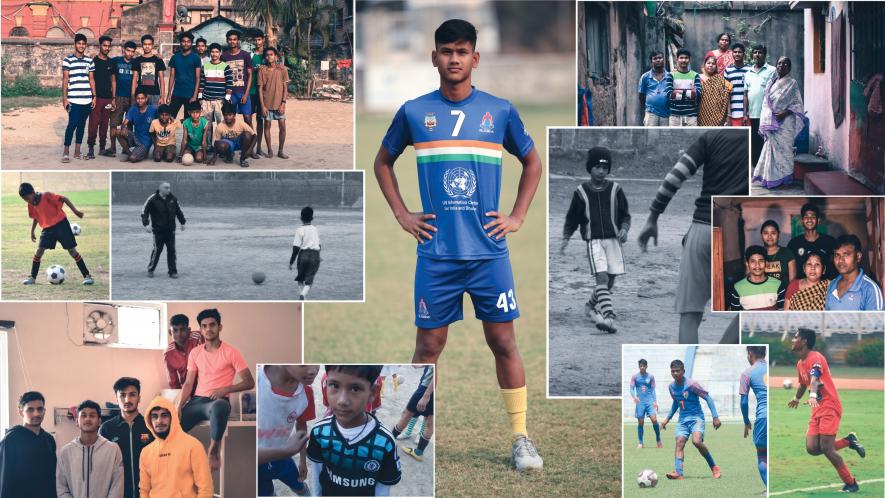 The many faces and phases of Shubho Paul's journey in Indian football (Pictures: Vaibhav Raghunandan, Swati Chaudhuri, AIFF Media).
The teenage boy stood in one corner, a bystander to a game of football happening around him. This was a Kolkata maath, the closest thing India has to favela football, cage football, the romance of unorganised play-it- because-you-feel-it football. It isn't even a football they play with. It's smaller, harder, and bounces much more. It's called a power ball.
The teenager, to the uninformed eye, is like any of the thousand others probably playing the exact same game at the exact same time in another maath in the city. He is perhaps smaller than others his age, his body movement is minimal. Where others in the game throw themselves into each 50-50 with vigour and charge with the ball like the spirit of Ronaldinho has entered them, this kid stays away. Lingers around. He watches the ball, but rarely calls for it. He is playing but not really.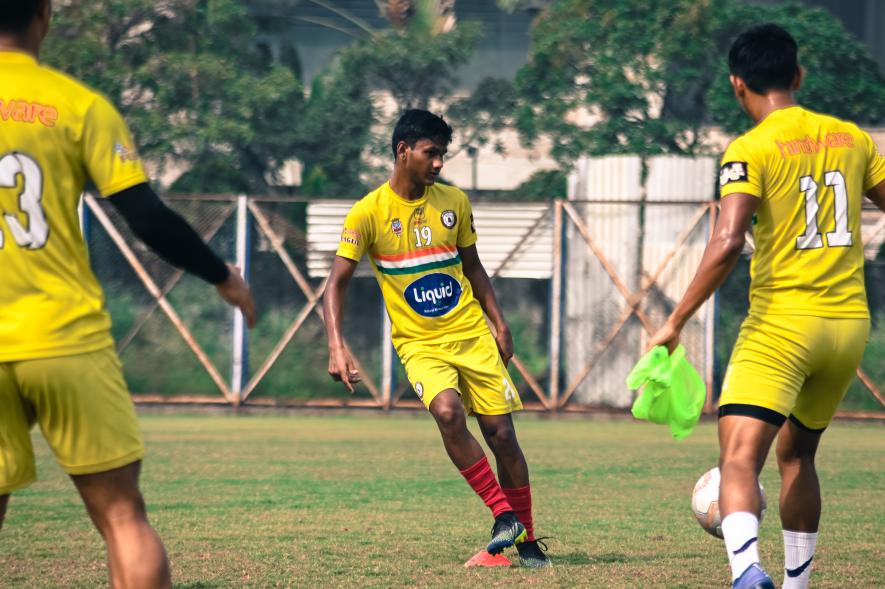 And then he gets the ball. In the space of three touches he nutmegs an opponent, drops a shoulder and cuts past another and squares the ball for a charging teammate in front of goal. The last movement isn't perfect, the pass, but it doesn't matter. The surprise you feel when he does this after just basically bumming around for half an hour, is what remains with you. 
The thing is, this is actually the third day of Shubho Paul's offseason. He's just come off his debut I-League season (eight appearances, two goals, one assist). It was held in a bio bubble. In Kolkata. Just an hour and half away from his home in Salkia. But this is the first time he's been home in a while. Football is nice, but lounging is sometimes better. 
                                                                                          *
Raju Paul knew the big news a week before everyone else did. His younger brother had called and told him. Shubho is selected as part of a 15-member Under-19 squad assembled from around the world by scouts at Bayern Munich. The squad would travel to Mexico to train together, and then to Germany to train with the Bayern Under-19 side and play matches against other teams in Germany. 
Also Read | Dingko Singh Obituary | Bravery, Brashness & Boxing, A Life Defined By Honest Toil
The news caused a mini volcano in the world of Indian football. And then spread on. West Bengal's Minister of Youth Affairs and Sports landed up at the Paul residence to meet the family. He was followed by the local MLA, Gautam Chowdhuri. A few hours later, the Chief Minister herself tweeted her congratulations (an action nowadays preferable to meeting in person). It all got a bit out of hand. 
"Haan, Minister aayega toh pata tha hum ko (yes, we knew the minister would come)," Raju says. "But uske baad hum logon ke ghar TV camera sab aaya tha. And us hi samay, MLA bhi aa gaye (but after that television crew came to our place. That's the time the MLA was here too)." The best bit? Shubho Paul wasn't even home. He was in Delhi. 
Raju Paul is his brother's best documentarian. Every tale needs a storyteller, and there is no one better than Raju to tell the story of Shubho Paul. Raju, you see, used to play football himself. People who have seen him play as a kid say that he may have been better than Shubho. But we will never know. Raju stopped playing because he wanted his brother to play on. 
"Well. I am older. I could've played on, but I saw the love he had for the game. It consumed him. He didn't want to do anything else. And he played really well, but never cared about anything else either. I was good at studies too. So, I figured, I could study and help the family a bit with a job. He could play and become great."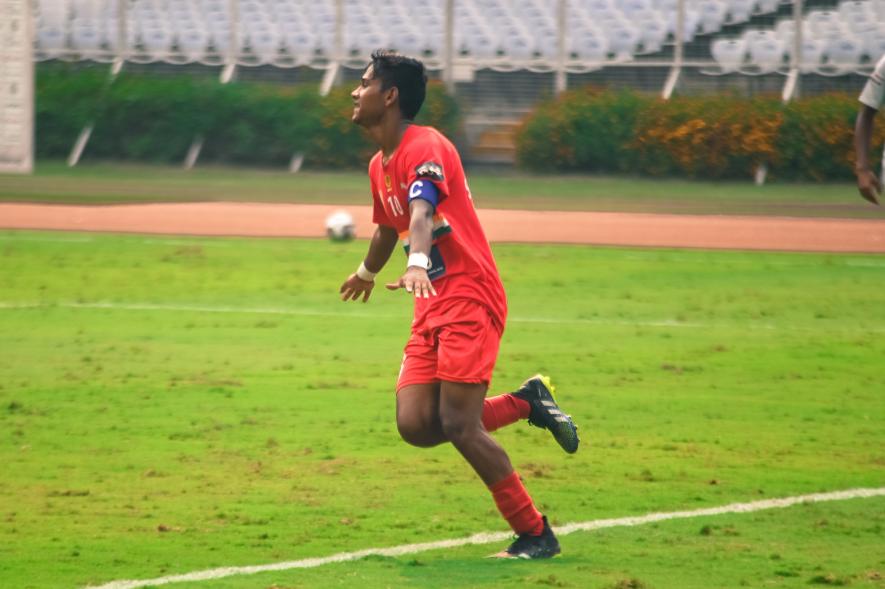 This is an Indian sports story to the point of cliche. Superstar talent created because of a sibling's sacrifice is so common it is almost banal for Indian sport. Except, Raju doesn't think of it as a sacrifice. He is actually a great documentarian. And this way he gets to do what he loves. He has multiple notebooks filled with newspaper cuttings that have mentioned Shubho. Sometimes the cutting fills the page, and has only one line with Shubho's name in it. Raju highlights it.
Actually, Raju doesn't really do all the cutting and pasting. His fiance Barnali does it. She's just better at it. Neater and more disciplined. And come to think of it, Raju tells stories well but without the bard's flair. He leaves out the good bits. 
For that there is their mother Moni Paul who will regale you with stories about how Shubho behaves when he is ill. His tantrums when he comes home. His obsession with the mobile phone. His great love for biscuits. 
To put it simply. To tell the story of Shubho Paul, it takes more than one head. It takes a village.
                                                                                           *   
Tapan Karmakar, one of Shubho's first coaches, remembers him as a shy kid in the corner who wouldn't really ask for the ball much. "He was so small, he looked like a doll," says Karmakar, who has been involved with grassroots football for 27 years now, coaching kids in Salkia for free. "But once he had the ball… he suddenly got speed." 
First impressions? "A talented kid, who used to come with his brother Raju, also an exceptional player and a girl cousin Riya. She was also a good player, and we thought,hey, a family of good footballers," Swati Chaudhuri smiles. Chaudhuri runs the non profit organisation Geosatis Trust, which empowers underprivileged children in Kolkata through sport. The organisation collaborates with many other non profits in the city to teach children different sports. Martial arts and football are the ones they focus on most. 
Also Read | India vs Bangladesh Analysis | Hoodoo Broken Thanks To Chhetri's Inimitable Brilliance
In 2011, two years before starting Geosatis, Chaudhuri and the football legend Chima Okorie would trek from South Kolkata to visit maaths in Salkia and coach football. This wasn't a talent hunt or a scouting mission. For Chaudhuri, it was purely borne out of wanting to use sports to help kids in the area study longer and get better jobs. Her husband Georges Bouboulis completed a trio that would conduct these coaching camps in the area. Raju, Shubho and Riya were among many kids who joined in the training sessions. Okorie, recognising the seven-year-old Shubho's obvious talent, proposed the kid be sent for professional training. The trio reached out to multiple Kolkata clubs and academies and sent the young kid on trial. 
"He even went to Bengaluru FC. But they didn't have an U14 team at the time," Chaudhuri says. Chaudhuri and her husband live in Milan, but work closely with their crew in Kolkata to monitor kids Geosatis works with. The idea isn't focussed solely on producing and identifying exceptional talent, but on creating well defined sustainable lives. When they realised Shubho needed better training, preferably at a good academy, their focus on finding one was based on the simple idea that he would also be guaranteed an education.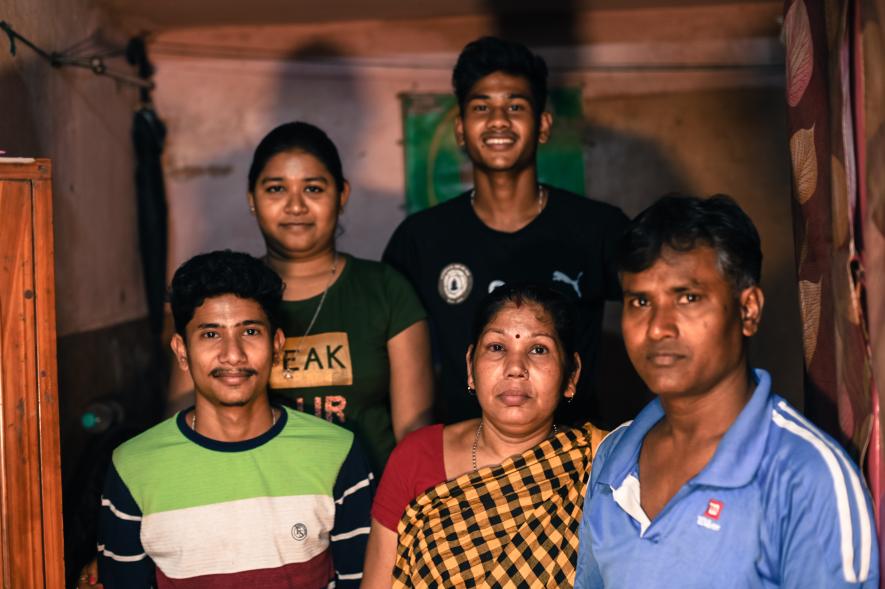 "The idea of sports for development is based on creating self confident human beings, self sustained people who can navigate the world better," Chaudhuri says. "Holistic growth is what the aim is. Some kids want to use sports to get sports quota jobs. Our job is to ensure they get a good enough education to qualify for their jobs. Education for us is as important as playing sport itself. You have to do both."
Geosatis was responsible in the early days not just for Shubho's football coaching but also in ensuring he kept his studies up. Having been introduced to Sudeva by another of Shubho's childhood coaches Ujjal Chatterjee, Chaudhuri personally sponsored Shubho's academy fees in his first years at the club, right till he was offered a full scholarship by the club. "There are many people invested in Shubho's upbringing, his football career, his on field training, but we've seen him grow up. And our focus, even now is his well being."
"I always say to Shubho, whenever I speak to him that is, Shubho if you are not a bhadrolog in life and if you are not a bhalo manush (good man), ager jibone tumhar aur kichu hobe na (nothing will become of your life in the future)."
Also Read | Beat This: India Blame Afghanistan Players' Pedigree for Poor Outing in FIFA World Cup Qualifier
Even now, with Bayern Munich news in the air, an I-League season in the bag, and many other things to follow with Sudeva FC, Chaudhuri and her husband remain deeply connected with the Paul family, available at any time of need.
Upon Chaudhuri's insistence, Bouboulis pored over and learnt the details of football contracts to draft one for him with Sudeva. A key feature that Geosatis insisted on was to ensure Shubho successfully passes his Class XII exams. The idea of the clause was two fold. One, to ensure that clubs or academies that wanted his services also took charge of his education. The other was to put pressure on Shubho himself. "I've told him, if he doesn't study and doesn't pass, he will be in breach of contract," Chaudhuri says. 
                                                                                                *
The thing though is that Shubho Paul doesn't actually like to study. He's happier playing football, playing PES on his phone — a game he is scarily good at — and generally lounging with his friends. Ask his dorm mates at Sudeva about Shubho's worst habit, and they all unanimously chorus that he doesn't bathe often enough. "That is not true. They're talking crap. I bathe regularly," Shubho pleads. Everyone laughs at this.
Shubho came to Sudeva four years ago, and lit up the U13 league that season, scoring 58 goals in 14 games. Almost immediately he was called up to the U16 national team and ever since, at Sudeva, it is fair to say he is the 'golden boy' of the club.
Anuj Gupta and Vijay Hakari are personally invested in Shubho, regularly tracking his progress, sometimes to the point of worry, and pushing him higher up the levels to test himself. When Sudeva entered the I-League for the 2020-21 season, they decided to play the competition with an all Indian squad. Furthermore they decided to make several academy products of their squad and were adamant on ensuring all of them got a taste of the big league. 
Also Read | Copa America: Brazil's Supreme Court Allows Staging of Tournament Under Covid-19 Cloud
Shubho was obviously on that list. He was smaller than almost everyone playing the season, younger than 90 percent of it, a boy among men with hardened minds. At many times, he also looked out of place, hurried off the ball easily, unable to keep up with the physicality and struggling to adjust to professional tactical football. But when he got the ball around the box, he looked like he was a young talented striker, who liked to score goals. 
"He is talented. He has the skills. He obviously is really young and needs to develop physically and for that he needs to work," his former teammate Kean Lewis says. Lewis and Shubho are very alike in many ways. They play a similar game, keen to play with the ball, beat people, look for the pass or even better, the goal. They like to drift inward and take players on. Most importantly, Shubho, like Kean, will never be a physically dominant player in his career. He is small built. But it is what it is. Kean played in the NCAA soccer in the US and at Leicester at the youth levels. He remembers coming to Indian football and struggling with the physicality. "I'd get pushed off the ball easily. Get fouled but they would never be given. It's tough man. Very tough. And he's going to struggle the same way. But he will find solutions."
Gupta hopes this Bayern opportunity will help that aspect of his game. "He just needs to learn. There is no pressure on him about anything. If he plays well, bigger things happen, then that's absolutely great."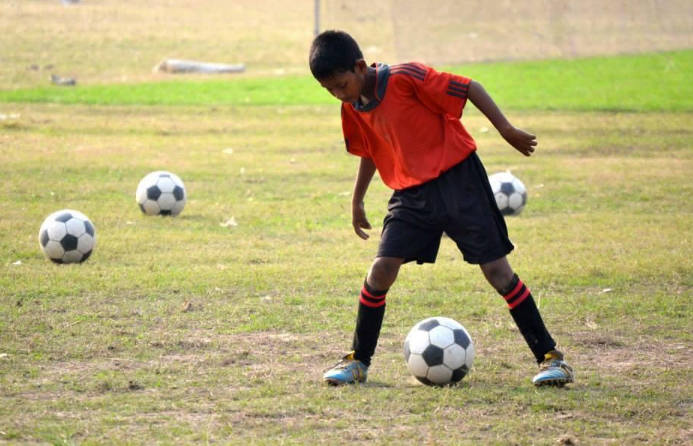 Hakari, who works with the youth teams of the academy directly, is equally cautious in his expectations. Having seen Shubho progress through the levels at Sudeva, he knows the talent the boy has, but is also keen to ensure he keeps his eye in. "My demands of Shubho and actually of all our academy kids is always the same," he says. "You have to develop all round. I want you to pay attention to all aspects of your lifestyle. And most importantly, I want him to stay grounded." 
It says a lot about Indian football that it has taken the involvement of an European club for us to get excited to write about a bright prospect. The Bayern news caught the media's attention and it has all blown up in a way no one quite anticipated. 
The truth — as revealed at a formal press conference — is that because of Covid-19 travel restrictions, Shubho won't actually be travelling anywhere. Klaus Augenthaler, the coach of the Bayern Munich World XI, said that the club would monitor Shubho's progress via video, introduce him to his teammates and 'keep his jersey safe for him, till the time he can get there.' 
If at this point of time you feel a sense of cynicism creeping in, it's justified. This has happened before. Big clubs have come to India, promised a lot but left without much. Scouting trips, player selections, exposure tours have all happened before, but it has often just been a PR stunt. India is a huge market for world football after all.
Bayern also said that if Shubho couldn't actually join in to train this year he could be considered for this again, next year. The situation is fluid. Gupta and Hakari aren't worried about it. "If he can't go, then we are still here," Gupta says. "We have decided to send him to Spain (Sudeva FC owns Olimpic de Xativa, a fourth division team in Spain) as early as this year. Experience there will also help him grow"
Also Read | Sleep With Their Eyes Open: Indian Hockey Plays a Tricky Game With the Circadian Rhythm
Sudeva has sent academy players to Spain before. One recent returnee, Lunkim Seigoulun Khongsai was one of their standout players in the I-League. The experience gained by just playing there is immense, he admits.
Through it all, the high, the plateau and the Indian media reality check, Shubho himself has shyly looked up from his phone. Or actually not. Congratulations have streamed in on social media, and ever the diligent, polite kid, he reposts every story that congratulates him. But because he doesn't know how to tell his own story, often enough he misses it entirely. He just wants to play football. Preferably in real life. Else on his phone.
                                                                                            *
It has only been a few months since Shubho Paul gave a glimpse of his talent in a senior league, but even this little time has been enough to get more people invested in his life. A story that already has several diverse interlinked characters has just gone international. It also speaks of the great dysfunction that is Indian football, where parts of the story are often omitted for space. A grass roots story will always be messy. There is no single fixed path to success. There is no way a player comes through without the help of many other people.
Unfortunately many investors demand bigger investments too. Go lower down the pyramid and the budgets, rewards and funding gets smaller. A smarter system in a more equitable world would ensure seven year old kids of all classes of society get to play football properly, coached well and also provide education for them while they take on a professional career; or work a trade; or make art. In an ideal world all the elements of Shubho Paul's story would have equal weight. But, despite the skews, this seems to be working too. Not that Shubho seems to want any of it. He cares little for the attention and even less for those who demand it of him.
This trait is clearly inherited from his father, Biplab Paul — a man who prefers watching the story, than telling it. A clear demonstration of this came at the end of the power ball game that day at the Kolkata maath when everyone requested a group photograph. It was golden hour, perfect for photography. Raju lined everyone up. He arranged them all by size, but his brother phased him out. Shubho instead, stayed on one side, minimal fuss, smiling coyly while everyone else posed. 
Get the latest reports & analysis with people's perspective on Protests, movements & deep analytical videos, discussions of the current affairs in your Telegram app. Subscribe to NewsClick's Telegram channel & get Real-Time updates on stories, as they get published on our website.
Subscribe Newsclick On Telegram