Dingko Singh Obituary | Bravery, Brashness & Boxing, A Life Defined By Honest Toil
Boxer Dingko Singh passed away this morning after a long battle with cancer. Dingko will be remembered for his prominent role in heralding a dawn for Indian boxing with his Asian Games gold in 1998. Despite his injuries, and many troubles, he remained to the end a proud man, a brave friend and a respected pugilist. He is survived by his wife and two children.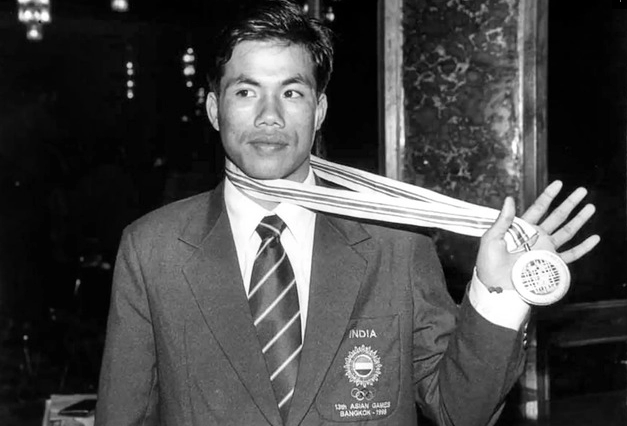 Dingko Singh with his 1998 Bangkok Asian Games boxing gold medal.
Should one leave it blank? Let the white space speak for itself? Like a crisp white shroud. Dingko Singh is no more!
It need not be a shroud. Instead, a proud white naval uniform. The blank space in our mind, or in his obituary, should be reminiscent of the impeccably ironed, spotless white uniform he wore while receiving the Padma Shri from the President of India. No, we should go back further. The Padma, after all, came late for Dingko. In 2013. The whitish hue should remind us of the jacket — sprinkled intermittently with national colours — he wore at the medal ceremony of the Bangkok Asian Games in 1998, the podium which elevated him to legend. A podium we speak of more than two decades hence, and a podium that defined Indian boxing in the late 20th century. 
Today, while glued to Youtube — the closest that one comes to vice these days — the attempt was to capture glimpses of the boxer in his youthful prime, and corroborate faded memories. Failing so — there are no videos of him and his famous bouts from Bangkok or from anywhere else — I turned to boxers in my phonebook while carefully avoiding his closest friend who lives next door. His close ones are grieving and that space should be left sacrosanct. 
Also Read | Hoodoo Broken Thanks To Chhetri's Inimitable Brilliance
Some of Dingko's contemporaries say he had inherent anger which rubbed many the wrong way but drove him to greater performances in the ring. It also drove him to that wrist injury which ultimately cut short his career too. He apparently trained through pain, but could not fight and win through the pain barrier. By the time the 2000 Sydney Olympics arrived, the injury had perhaps cornered him in the larger ring. 
They avoid the word arrogant for Dingko, for that he was not. A boxer who was in the national mix a generation prior to Dingko, spoke about his short temper and justified it by saying that's how boxers should be — a "little mad". He described Dingko as a near perfect boxer — as perfect as Indian boxing system could make at the time, given things were not exactly good. Aggression and power with technique — the left hook, a surprise punch, and the right straight, he remembered, while also speaking about how Dingko almost never made it, thanks to the politics that defined Indian boxing and sport in the 1990s, more than actual pugilism. Dingko came through it all and made a mark because he was a genius. While his resume hints at just one high point, there would've been more had India been ready for someone like him. The country and its boxing establishment was not, and Dingko has a lot to do with how boxing took off from 1998.
Also Read | Asleep With Their Eyes Open: Indian Hockey Plays a Tricky Game With the Circadian Rhythm
Another fellow boxer describes Dingko as an "uncontrollable genius". I was left wondering what he meant by "uncontrollable". He was perhaps averring to Dingko's refusal to humour officials. He was brash in pointing out shortcomings — be it for himself or for the team. And that sheds light on his confidence, both in and outside the ring, armed not just by aggression, but by a very correct, almost near perfect understanding and execution of the basics of the sweet science — the jabs, hooks and uppercuts, and the straight right. 
Dingko Singh inspired many boxers to aspire beyond their obscure villages, poverty to greater heights. Dingko, perhaps, was all of what has been described of him since his death early this morning. Perhaps, he is none of it too. We may never know it for sure now that he is gone, left without scripting a biography — be it a book, some boxing academy, or the nonexistent hall of fame Indian boxing should institute. Then again, what is the need of a biography, or a highlights or knockouts reel, when immortality in sport is and should be defined by the sepia-tinged memories of actual moments in our ageing grey cells. 
Also Read | PV Sindhu: I Have Improved. It's Good I Got All This Time to Do So
There are vague images of Dingko's best moments still etched deep down in my mind, in the subconscious perhaps. I'd watched the bout on an old family TV at home years ago. Dingko was busy with a flurry of punches, all of which were landing. A straight right. A right hook. No, a left hook. It was difficult to track the punches. I don't remember the opponent. I do remember — for no particular reason — that he was wearing red and prefer not to Google this fact. His final opponent in Bangkok. Let the journalism be restricted in this obituary. Because the only name that mattered for us then was Dingko, and what matters now is also him. Celebrating how he boxed, or how he lived his life, or how he fought opponents or floored cancer and Covid are but pointless now. Are almost rhetorics despite the sincerity in the attempt.  
Rest in peace, champion!
Get the latest reports & analysis with people's perspective on Protests, movements & deep analytical videos, discussions of the current affairs in your Telegram app. Subscribe to NewsClick's Telegram channel & get Real-Time updates on stories, as they get published on our website.
Subscribe Newsclick On Telegram