Fearless Attacker Turns Cautious Counter Wrestler: What is Ailing Vinesh Phogat?
Famed for being a lightning fast, quick-on-the-feet attacking wrestler, Vinesh Phogat looked a shadow of her former self, reliant mostly on counter attacks to garner points for victory at the Tokyo Olympics. Her passive style eventually led to an ouster from a division she has dominated over the past year. It begs the question: why change something that isn't broken? And why change it before the seminal event of a career.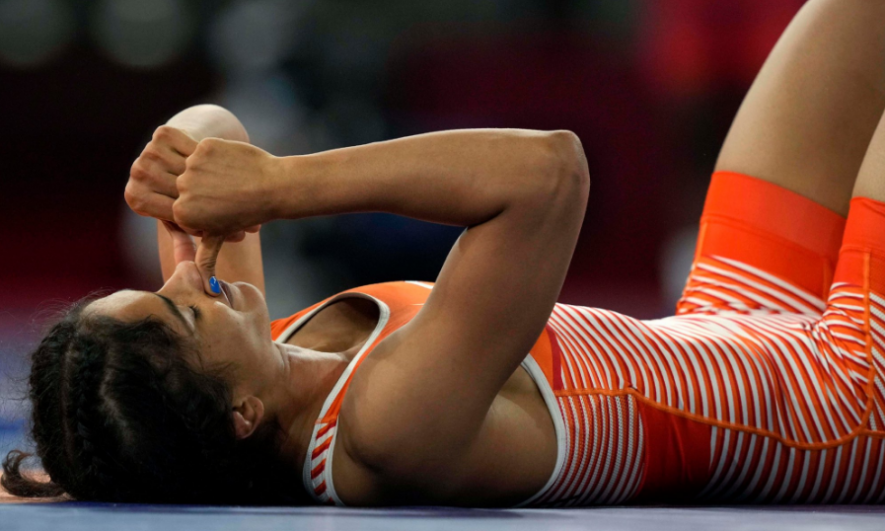 Vinesh Phogat after losing to Belarus' Vanesa Kaladzinskaya in the women's 53kg wrestling quarterfinal bout at the Tokyo Olympics on Thursday (Pic: JSW Sports, Twitter). 
It is easy to realise when a wrestler is off colour. All the more when that wrestler is Vinesh Phogat, whose style — though a tad energy inefficient — exuded pace, attacking intent, with a natural verve for logic-defying reversals or throws that would keep viewers on edge. Vinesh was glaringly and evidently off colour in the 53kg preliminary rounds at the Tokyo Olympics on Thursday.
In the build-up to the Games, on the back a  winning streak in the early part of the year — beating almost all the wrestlers who are in the fray in Tokyo — she had spoken at large about the physical and mental space she is in, and the tactical and technical variations she has brought about working with the Hungarian coach Woller Akos.    
Also Read | Indian Hockey Team Sheds Historic Burden, Beats Germany to Win Bronze at Tokyo Olympics
We saw a different Vinesh on the Tokyo mat indeed. Just that the difference carried with it passive and negative connotations, and brought about a loss. More damningly, a loss with no second shot via repechage.
There was something amiss in how Vinesh went about her business. She was a tad stiff. Slower than what she used to be, reserved, or rather, seeming restrained. While she exuded maturity in demeanour, she felt a shade below her best even in the opening round victory over Sofia Mattsson of Sweden. And then the shock played out: she lost in the quarterfinals to Belarus' Vanesa Kaladzinskaya (whose loss to Quian-Yu Pang of China in the semis, denied Vinesh the repechage bracket).
Was Vinesh carrying a small niggle? Or was she being over-conservative thanks to that baggage from Rio? Or was she drained because of a less-than-perfect recovery process post weight cut? After all, Tokyo has been extremely hot and sultry, and a weight cut through dehydration needed to be precisely managed. These are questions which flashed across when we saw Vinesh fight almost as if she was out of attacking ideas.
Vinesh's physical state — whether she was in prime condition or not for the bouts in Tokyo — is something that would be a green room secret unless the wrestler herself opens up about it. Maybe that physio, who she wanted by her side, was sorely (pun intended) missed. But that is also an assumption. However, what transpired in the bouts was not fiction, and dissecting it reveals a very critical faux pas in Vinesh's preparations.
Also Read | Ravi Dahiya Shows Technique and Composure, Puts Indian Wrestling Among the Medals
Vinesh, top seeded in her division, top draw, reportedly in prime physical and mental condition, it is evident, has been caught up in the middle of a style transition — a process which is good at lower rungs and the age-groups, but a sin in the elite levels.
When we think of Vinesh the first picture that comes to mind is a wrestler who is always on her toes, ready to shoot at the legs, ready to bridge over or twist and turn, all the while keeping her grip tight, and the hold firm to offset the opponent's centre of gravity. She will always be looking to lift up the aspirations of her opponent, and dump them onto the mat, asserting her wish and will over and above it all.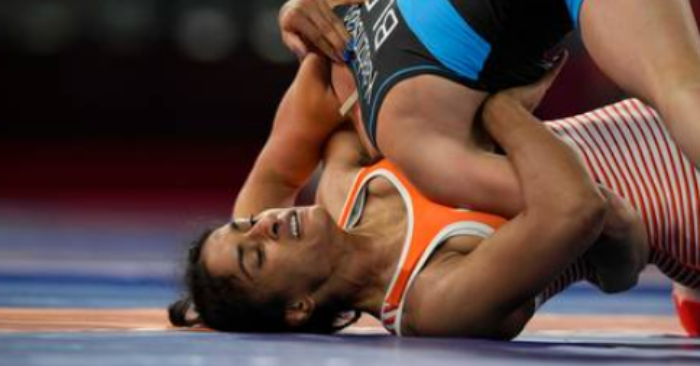 It was not just sheer aggression or attack mindedness, mind you. Vinesh of  yore had a method to the relentless, and seemingly random attacks she used to entertain us with. On closer analysis, we would also see the light. It was never random. There was a method which we could understand only if we thought of them at the pace Vinesh's wrestling brain was ticking. 
Also Read | Hurdling to Greatness: Karsten Warholm Frees an Event From the Matrix
Yes, she needed to reign in a bit of that aggression, add tactical restraint and brilliance to it too. However, instead of introducing additional values, what seems to have happened is that her style has been so tinkered with that she has been forced to forsake the one thing that kept her winning all those tournaments -- her attacking repertoire.
Vinesh initiated attacks twice through her two bouts on Thursday — a win, and a loss. The first was a double leg takedown in the loss against Kaladzinskaya. It did not fetch full points as the Belorussian stopped Vinesh from completing the takedown with some solid defense while being mounted. The second time Vinesh attacked, it resulted in Kaladzinskaya pinning her down. The rest of her points were won via counters.
Brilliantly executed counters, for sure. But counters work best when the opponent is chasing the bout, not when things are level, not when you are trying to catch up. Also, the counter attacking style of wrestling has a very short shelf life at the elite level. You get read and deciphered over time. Wrestling is a sport of nuance, chess played with muscle. And like a chess game, gaining an upper hand early on goes a long way in ensuring a wrestler's victory. And, coaches are unanimous that the best way to gain an advantage is via attack. 
Attack is an active form of wrestling. It is exerting your will on the opponent, establishing your game plan and tactic over theirs. It puts the opponent on the backfoot, and will make them rethink their strategy, or doubt its veracity or usefulness. This momentary doubt midbout is enough to give added edge to the attacking wrestler, who can now go about finishing off the bout while staying within his or her own tactical and technical strengths.
Also Read | Lovlina Borgohain Settles for Bronze, But Not Before an Epic Fight Against Odds
On Thursday, Vinesh handed over that advantage on a platter to both her opponents with a passive form of wrestling that we are seeing for the first time by the Indian. Her counters worked against Mattsson. But Kaladzinskaya, whom Vinesh had beaten a few months back, was ready for those. Kaladzinskaya, in any case, seemed to carry more power than Mattsson, and also had a different style of takedown to the Swede. The kind whose counter was not as simple as a reverse neck lock and twist of the hip using momentum, the one which Vinesh employed more than once against Mattsson.
Now, the question one would beg to ask Team Vinesh — which happens to be the Wrestling Federation of India honchos as well as her personal coach Akos — is why they went about drastically changing the style of a champion wrestler. 
The established norm, as well as sense and logic, dictate mere tweaks. No one changes a attacking wrestler to a fully defensive one and vice versa just because you think that is the style that would earn an Olympic medal. That change, and that too via such a delayed process that Vinesh was caught while in transition, has killed her Tokyo 2020 dream. Coach Akos, who started with Vinesh in February 2019, should have focused on how to add value to the existing style with which Vinesh fights, and then taken her game up a few notches.
That would have been a fine tuning job. Instead, he seems to have done a complete overhaul. Was it an experiment Akos was trying, we would never know. Or was it what he really believed would work for Vinesh? If so, it didn't. It was never meant to work if you consider basic wrestling logic. 
Instead of a golden run, Vinesh, 26,  now has the baggage of two consecutive heartbreaks at the Olympics, and both, possibly could have been avoided — the injury in Rio and the toothless fight plan with which she landed in Tokyo. 
Click |  For More Coverage of the Tokyo Olympics From Newsclick Sports   
Get the latest reports & analysis with people's perspective on Protests, movements & deep analytical videos, discussions of the current affairs in your Telegram app. Subscribe to NewsClick's Telegram channel & get Real-Time updates on stories, as they get published on our website.
Subscribe Newsclick On Telegram