Third Year of Delhi Riots: Victims Who Faced Grievous Assault Still Struggling to Get FIRs Registered
Despite courts pulling up the police time and again for glaring lapses in their probe, ordering registration of FIRs and imposing a fine in one case, the investigating agency repeatedly challenged the orders.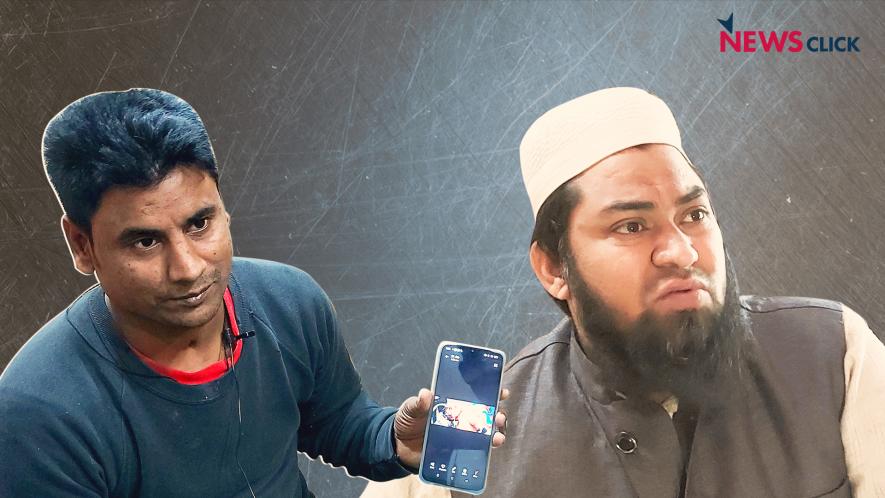 On the third anniversary of the February 2020 riots in Northeast Delhi, NewsClick is publishing a series of stories. This is the fourth of our five-part series. Read the previous pieces here, here and here.
New Delhi: Three years have passed since the worst communal riots the city has witnessed in recent memory, and several complaints have not yet even moved through the justice system. They mostly include complaints by those who suffered injuries (fatal enough to cause death had it not been treated in time) or lost properties.
Syed Zulfiqar, a light maker from Subhash Mohalla, was shot in the face on the evening of February 24, 2020, by a group of rioters — most of whom he personally knew. Even after filing a written complaint against the accused, the police have not so far filed a first information report (FIR).
"My wife was critically ill. I was going to my in-laws' house in nearby Chauhan Banger to discuss her hospitalisation. Though reports of sporadic tensions were pouring in, the road was not deserted. Traffic was thin compared to normal days, with private vehicles plying on road. There were pedestrians as well," said the 35-year-old tall and well-built man speaking to NewsClick, adding that he stepped out at around 8.00-8.30 pm and began walking on foot as there was no means of public transport.
As he reached Ghonda chowk (square), he said, a violent mob appeared on the road and began chasing him.
"I turned back to escape but there was another group, which ran towards me. I got caught between two Hindu mobs. Four persons — whom I know — caught me, and one of them fired at my head. As I flicked a little to save myself, the bullet instead of hitting my forehead pierced through the left side of my face — making an entry wound in the region between my left eye and ear. As blood started oozing out, they loosened their grip and I somehow managed to escape and entered another street. I don't know what followed then. Some good Samaritans rushed me to the GTB Hospital. On the way, even my ambulance was attacked, and rioters broke the windshield. I have video evidence of the incident," he said as he recalled the horror.
Doctors at the GTB Hospital, according to him, refused to acknowledge that it was a gunshot injury. He was allegedly told that he had been hit by a stone. On his insistence, they got his CT scan done at the Rajiv Gandhi Hospital which revealed the presence of a bullet inside his "left temporal region". He was then transferred to the hospital's ENT department, but the doctors there allegedly refused to remove the bullet — opining that the patient might slip into comma if he was administered anaesthesia and operated upon.
Zulfiqar was discharged from the hospital after a week without removing the bullet, but he continued to have difficulty opening his mouth; he suffered pain and periorbital swelling in addition to giddiness and a tingling sensation. He also had severe pain on the left side of his chest and itching in his groin region.
Suffering from partial but temporary hearing and vision loss in the left ear and eye respectively, he was taken to Al-Shifa — a private hospital managed and run by the Human Welfare Foundation of the Jamaat-e-Islami Hindi at Okhla in Southeast Delhi.
Following a physician's and neurosurgeon's reference, he was treated surgically by a team of doctors under C-Arm guidance without the administration of anaesthesia. 
"Dr Mukesh, under whom I was admitted at Al-Shifa, removed the bullet. He asked me to cooperate with him by tolerating the pain of the incision and removal of the bullet as anaesthesia could not be administered in that extremely sensitive area. I still shiver when I recall the moment when the pellets were removed. I am grateful to the Lord almighty for rewarding me with a new life and the doctor and the hospital management for the medical treatment and post-surgical care without charging a single penny," he said.
Following his discharge from the hospital on March 6, 2020, four days after he was admitted there, he returned home and went to lodge a complaint at Bhajanpura police station against two brothers – Uttam Tyagi and Naresh Tyagi. One of the duo, Naresh, had allegedly fired at him. But the cops allegedly refused to record his complaint – arguing that they already had received a police report.
"A few policemen had come to me soon after I was brought to GTB Hospital. Though I was unable to narrate the incident in detail at that time because of the profuse bleeding and pain, I told them that I had been fired at. But the doctors intervened and said I was hit by a stone, not a bullet. Based on the doctor's brief, the cops just wrote that I suffered a physical assault during the riots and the same was later sent to the jurisdictional police station. I was falsely told that my FIR had already been registered but was not given its copy," he alleged.
The victim then approached a court in Karkardooma through his lawyer Mahmood Pracha – praying for the registration of an FIR under Section 156(3), which empowers a magistrate to direct the police to investigate an offence. It binds the police to first register FIR before beginning a probe.
Three years have passed, but his petition is still pending in the court, which is said to be waiting for a High Court decision in a similar matter pertaining to a gunshot injury to one Nasir Ali.
Even after a court granted him police protection after he was allegedly threatened by Naresh, he said, he was not provided with the security cover to date.
Over 53 people (two-thirds were Muslims) were killed, hundreds suffered injuries and properties worth crores were lost in the violence, which erupted in Northeast Delhi after peaceful protests against the Citizenship Amendment Act (CAA), 2019 were scuttled with a violent backlash against Muslim agitators.
POLICE DEFEND ACCUSED
A resident of the same Subhash Mohalla, 36-year-old Nasir Ali was attacked by a mob on February 24, 2020. He lost his left eye in the grievous assault. In his complaint at the Bhajanpura police station, he too named the Tyagis, among others. 
After making rounds of court for two years to get an FIR registered on his complaint, he got two orders in his favour. A trial court on October 21, 2020, ordered Delhi Police to file an FIR in the case within 24 hours of its order.
Instead of complying with the order, the station house officer (SHO) of the Bhajanpura police station filed a review petition in Sessions Court at Karkardooma — pleading that the order be withdrawn. The police sought the same on two grounds: at least three of the accused were not in Delhi when the incident took place and they (the cops) had already registered an FIR that would cover the allegations Nasir had levelled.
The police claimed while the Tyagis were elsewhere attending a function, Sushil was in his office.
Not convinced with the arguments, the court rejected the review petition on July 13, 2021, and said the police had tried to create a "defence for the accused persons named in (Ali's) complaint".
Additional Sessions Judge Vinod Yadav observed that instead of the accused, the police felt aggrieved by the lower court's order and filed a review petition. He said they (the cops) had "no reason, occasion or justification to feel aggrieved".
He called the police probe into the case "callous" and "farcical" and imposed a fine of Rs 25,000 on the Bhajanpura SHO and his superiors for allegedly failing to carry out their duties impartially.
Adamant on not filing an FIR against the accused, the police then challenged the Sessions Court's order in the Delhi High court, which granted them a stay. The police told the court that they were "directly" aggrieved and that imposition of the fine had "dented" their reputation. The matter is still pending in the superior court.
And therefore, Zulfiqar's petition is pending in the Karkardooma court, which, Advocate Pracha told NewsClick, is waiting for the High Court's verdict in Nasir's case.
'PREPOSTEROUS AND LUDICROUS STAND'
A riotous mob attacked Mohammad Saleem's house at Subhash Mohalla with bombs, bullets, and stones on the same evening. The 58-year-old on March 1, 2020, lodged a written complaint at Jafrabad police station, naming the Tyagi brothers, one Jaibir Singh Tomar – an active member of the Rashtriya Swayamsevak Sangh (RSS) – and others. But the complaint was never turned into an FIR.
Already an accused in a case, four more FIRs were slapped against him.
He knocked on the door of the metropolitan magistrate court at Karkardooma after the police refused to register a case based on his complaint.
The police submitted before the magistrate that Saleem had filed a "false" complaint only to avoid investigation. But the court was not convinced by the argument.
Rejecting the claim made by the police, Metropolitan Magistrate Fahad Uddin on November 23, 2020, ordered the cops to register an FIR and investigate the matter.
He came down heavily on the investigating agency for refusing to lodge a case and conduct an "impartial and independent" probe.
As earlier, the police, instead of complying with the order, moved to Sessions Court at Karkardooma. The investigators said Saleem's case was already clubbed with another FIR.
This court as well hauled them up highlighting the visible shift in their arguments in the two courts. Additional Sessions Judge Amitabh Rawat noted, "This stand is ludicrous as it is preposterous."
He ordered the police to first file a separate FIR and investigate the allegations made by the complainant, who is a daily wager.
The judge also criticised the police for being partial while dealing with complainants of different religious beliefs rather than probing the offences.
Eighteen months after his complaint and two court orders, the police finally registered an FIR in September next year.
WHY COPS KEPT CHALLENGING COURT ORDERS
Despite courts pulling up the police time and again for glaring lapses in their probe, ordering registration of FIRs and imposing a fine in one case, the investigating agency repeatedly challenged the orders. Why?
The victims offer one possible answer: the accused either had relatives in the city police or enjoyed RSS connections.
It helped them, said the people in the know-how of the development, delay arrests, botch up probes, stall registration of FIRs, and made their days in jails easier. The delay in filing FIRs, they claimed, emboldened the accused to threaten the complainants.
However, the Delhi Police denied the allegation, describing them as "bogus, baseless and far from the truth". "Investigations have been and are being carried out in a highly professional manner and without any bias," an officer told NewsClick, refusing to go into the details.
JUSTICE – A DISTANT DREAM
Because of a fall in monthly income as a result of a sharp decline in order, Mohammad Zakir Ansari alias Chand had vacated his one-room flat at street number 10 in Northeast Delhi's Noor Ilahi locality and sent back his wife and children to his native village in Bulandshahr.
Skilled in stitching blazers, he was working at Ghonda chowk with a tailoring workshop where he was staying as well.
"I and two others had locked ourselves on the first floor of the building when riots broke out on February 23, 2020. Despite having nothing to eat and drink, we did not step out for the next two days. Unable to tolerate hunger and thirst any longer, we came out on February 25 evening to flee. Neither any eatery was open outside, nor I had my family here," recalled the 26-year-old, adding that he began walking towards Kalyan Puri through a street, presuming it to be safe.
He said he avoided the main road as it was in complete control of the violent mobs. As they had gone a little inside the street, they were waylaid by a group of people who began enquiring about their name, address, and profession.
"We gave them all the details except disclosing our real names. Suspecting us to be Muslims, they caught hold of us and began checking our cell phone directory. On finding Muslim names in the majority of the contacts, they asked for our ID cards. We were left with no option now but to comply. As our identity was established, one of them hit me hard with a rod on my head. I began bleeding, but they continued thrashing us black and blue," he narrated, showing marks of the 56 stitches on his head.
He also suffered fractures in his jaw, left hand and fingers of his right hand. He had a steel rod inside his hand. His left leg was also brutally injured.
"I fell to the ground and slowly began losing consciousness. While some of them wanted to shoot me dead, others wished to crush my head with a big slap of concrete lying there. I kept pleading for mercy, but it fell on deaf ears. A man hit my head with a big stone, and I finally lost consciousness," he described the horror. Those accompanying him were also brutally beaten up.
"Presuming us to be dead, the mob moved ahead deep inside the street. After some time, I regained consciousness. I saw them standing at a distance. Taking advantage, I somehow managed to drag myself to the main road on the opposite side. A police party was passing by. They stopped, bundled me in their vehicle and rushed me to the GTB Hospital. I was admitted to the ICU (intensive care unit) where I remained for 12 days on ventilator support and three more days in the general ward," he said.
It took him nearly a year to recover completely. Now, he has quit stitching as he is unable to bend his fingers properly.
A local bought him an e-rickshaw to earn a living for his family of six. Two others were also thrashed badly. The torture was so brutal that one of them lost their mental balance, said Ansari. He is untraceable these days.
"Soon after our admission to the hospital, policemen came and asked us as to why we had gone out to indulge in violence. I was on ventilator support; and therefore, could not respond to them. We are migrant labourers. We have come here to earn a livelihood against all odds. We had nothing to do with the riots. We were returning to our villages when the rioters caught us," he said.
Neither he approached the police with a complaint, nor the police registered an FIR suo moto. He also did not get a single penny from the Delhi government as compensation. He has approached a court, seeking direction for the ex-gratia payment.
 "But I am getting date after date, with the hope of justice waning with each passing day," he added.
As per submissions by the Delhi Police at a trial court, a total of 758 FIRs were registered, and 2,456 arrests were made, of which 1,053 were released on bail; 1,356 people still continue to be in judicial custody. Chargesheets have been filed against 1,610 accused, and cognisance was taken in 338 cases. Among the total chargesheet filed, charges have been framed in 100 cases. The trial has started, and so far, two have been convicted.
Get the latest reports & analysis with people's perspective on Protests, movements & deep analytical videos, discussions of the current affairs in your Telegram app. Subscribe to NewsClick's Telegram channel & get Real-Time updates on stories, as they get published on our website.
Subscribe Newsclick On Telegram