Tokyo Drift: Indian Hockey Team on Verge of Bringing it Home; Beats Britain to Enter Semis
The last time the Indian men's hockey team progressed into the final four of an Olympic Games, the side won a medal. With the 3-1 win over Great Britain in the quarterfinals on Sunday, India have reignited a dream believed to be lost in the ruthless blitz that is modern hockey.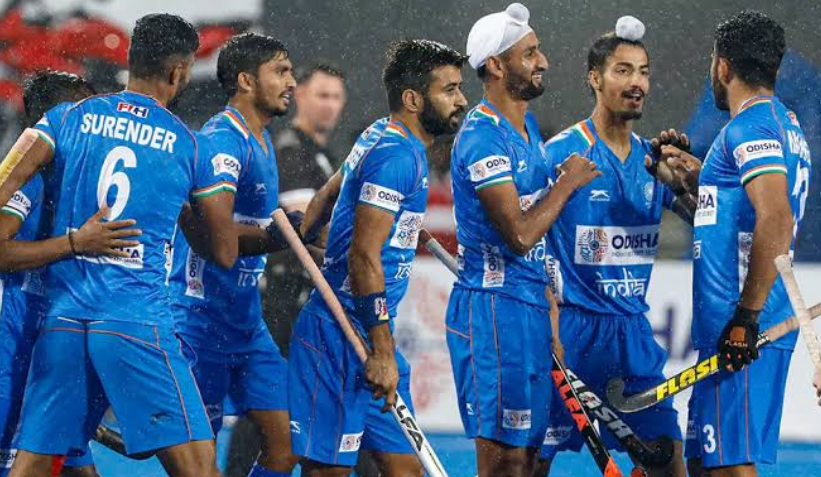 Indian hockey team players celebrate the win over Great Britain in their Tokyo Olympics quarterfinal on Sunday (Pic: HI, Twitter).
​​The build-up to this entire game had been about legacy, colonial history and most crucially patriotism that edged over often towards nationalism. The montages on TV were a quick condensation of all of this via black and white film, saturated colour film and HD digital video. Dhyan Chand, Balbir Singh Sr., Mohammed Shahid, KD Singh Babu, Ajit Pal Singh, V Baskaran, each of them afforded a few moments of screen time via nostalgia, before this modern Indian hockey team took to the blue turf wearing a remarkably similar shade of blue. By the time the national anthems were sung, the nape of your neck was standing on edge. When was there a more significant collective holding of breaths for a men's Indian hockey game? When, last were you so nervous watching hockey?
The thread of history also afforded pause, allowing viewers to consider how strangely hockey has evolved in India since 1948, the first time they won an Olympic gold as an independent nation — beating who else but Great Britain. In that team there were men from corners of this country that have for some time now been unrepresented. That team had players from Tamil Nadu, Bengal, Uttar Pradesh and as many as eight from Bombay. This Indian team has twice the number of players from Punjab that path-breaking squad did and one from those aforementioned states.
Also Read | Lightning and the Backhand Swish: An Ode to Tai Tzu-ying and Yufei Chen 
It isn't just at home. The game has grown ridiculously (and at the same time not at all). Belgium made their Olympic hockey debut in 2008. Belgium's first appearance at an Olympics coincided with India's lowest moment in history: Beijing 2008. Now Belgium are the world champions, the World No. 1, have won an Olympic silver and are the favourites to win gold this time around. They are also India's next opponents. 
Think about all of that. Then say, how much does legacy really matter?
At the end of the day it's best perhaps not to be burdened by all of it. This Indian team has somehow managed to not think about history while also creating some. They've managed to via a process of slow boil become a high pressing, less flashy, deadly on the counter team, ruthless when presented with an opportunity in the final third. It's a brutally effective style of play, inspired by Australia — and why not, with all the Australian coaches the country has had over the years — but not obviously quite there yet. They do nothing, and suddenly they do something and the shrill of the whistle announces it, goal. They've looked effective without looking superb. But they've looked superb in the moments they have been ruthless. 
In their quarterfinal against Great Britain, they were ruthless in two moments in the first half, both borne out of Great Britain mistakes, but also India's ruthless press. The first came off a penalty corner earned because of a GB error in the circle. Simranjeet improvised off the injection and Dilpreet Singh, the youngster at the fulcrum of the forward line twisted and turned to fire the opener. Old school met new school. Penalty corner, inventive routine, twist turn, body feint and goal.
Also Read | Greatness on Repeat: PV Sindhu Beats He Bingjiao to Win Bronze at Tokyo Olympics
The second was a perfect example of what India have learnt under Graham Reid, and how he has somehow slowly moulded them game-on-game to become an efficient petrol engine, when earlier they were one where the fuel tank was always leaking. A high press saw a misplaced pass picked up by Dilpreet, who without hesitation ran a few paces before releasing it to Gurjant in the circle. Gurjant turned one way, faked the other and creamed it in. It was a finish of the highest quality, only topped by the run and pass that preceded it. India were two up. Dreamland had arrived.
Everyone paused to soak this feeling in.
Something happened at halftime. Great Britain started asserting themselves over the game. For the majority of the third quarter and a massive amount of the fourth (both of which were exactly 155 minutes long, not joking. Time isn't measured in seconds and minutes it's measured in nervous energy). India, at first, seemed happy to back off and let them play the ball but soon started to look suffocated, unable to clear their lines, unable to hold up play, shield, defend, anything to do with that spherical white thing bouncing in the middle.
Also Read | Amit Panghal: Punching on a Prayer and Hope Cannot Make Up for Strategic Errors in Preparation
Obviously Great Britain scored. And obviously Sam Ward did the scoring. An improvised PC routine saw Ward falling over, but still getting his shot at goal. Surender was guarding the line, but it popped up off his stick, then his leg, before completely flummoxing PR Sreejesh to crawl over the line. 2-1. Game on.
Or maybe not. Defending isn't just dependent on outfielders. Guys, there's a goalkeeper too. We, a nation obsessed with beautiful, artistic, flair driven hockey often forget our goalkeepers easily. It is the bane of this sort of goal scoring team sport. KD Singh Babu, Keshav Dutt, Balbir Singh Sr. Leslie Claudius… who was between the sticks for that Indian side? 
Ranganathan Francis, from Madras, Tamilnadu. 
Francis, perhaps, didn't have as much to do that entire Olympics as Sreejesh had to do just this game. He didn't concede as many through that tournament as Sreejesh did against Australia. But for all the lowest of lows, there are the highest of highs. Great Britain had the ball. Great Britain entered the circle, Great Britain shot at goal. Sreejesh was there. He made a spectacular double save in the first half not long after India had taken a 1-0 lead. And through that period where India were gasping for breath, he made many more to ensure the British looked beaten.
And a few minutes from the end they were. Another young gun, Hardik Singh, a player found out of nowhere, but playing everywhere at all times it seems, picked up the ball near the halfway line off an India counter. Blue turf stretched into the distance. He had one other companion on this journey and only one red obstacle to beat. The choices were simple. In the end he took the one his predecessors always did. He went on his own, dribbling past the solo man, beating one more backtracker in the circle for a first shot at goal, denied by the keeper's pads. The rebound (via a third British defensive error) fell to him and this time he took the goalkeeper out of the equation. Bottom corner, 3-1. Game done.
Also Read | Go For Gold. That's All I Will Say to Her: Lovlina Borgohain's First Coach
This is the season of things coming home. The last time India won a medal in hockey at the Olympics, badminton wasn't even in the programme. Today, PV Sindhu did something no other Indian woman Olympian has ever done before in that sport. But the fact remains. This is the medal India has craved for the most at an Olympic Games. Everything else has been extra. This website, more than any other, has been guilty of being biased against the English for the course of their entire Euro trip. And so, it makes sense to not get too emotional and excited about this result. There is no medal yet. This win merely means there are two chances at one.
PS: This is the season of things coming home. India are in the semifinals in hockey at the Olympics for the first time in 49 years. The last time they got this far, they won a medal. Is the nape of your neck sweating yet?
Click | For More Coverage of the Tokyo Olympics From Newsclick Sports
Get the latest reports & analysis with people's perspective on Protests, movements & deep analytical videos, discussions of the current affairs in your Telegram app. Subscribe to NewsClick's Telegram channel & get Real-Time updates on stories, as they get published on our website.
Subscribe Newsclick On Telegram