Tokyo Olympics: Neeraj Chopra Wins Javelin Gold, New Chapter in India's Olympic History
Even on the podium, when the national anthem played for the first time in 120 years at the athletics stadium, there were many in the stands and many more in their homes on this beautiful last Saturday of the Games who felt tears well up in their eyes. Not Neeraj Chopra. His face was covered by a mask but he was not teary eyed. He had worked for this.
Neeraj Chopra celebrates with the medal at the Tokyo Olympics javelin podium on Saturday (Pics: PR Sreejesh, Twitter).
This is new. This isn't normal. This hasn't happened before. And while obviously it is history — by now your WhatsApp has undoubtedly told you that this is independent India's first medal in athletics ever, and only their second individual gold at the Olympics — it is also hopefully a redefinition of what is possible in Indian sport. There will be PR hyperkill in the coming days, everyone clambering aboard the gravy train with Neeraj Chopra on it and making sure they place themselves in the same frame as a man who has done something no Indian ever has. This is rarefied air. This is new. This isn't normal.
Not just because India have a gold but because of the absolute dominant fashion in which Neeraj Chopra wrested it from the rest of the field, shocking them with the first throw (arrey bhai warmup toh karne do), destroying their confidence with the second (hain, yeh kya ho raha hai) and then playing with them in the way only the elitest of elite athletes can do. And what was truly new was that he did it with a smile, a fist pump, a cheeky scream (mostly on the throws that weren't actually that good) and a general aura of calm which said 'chill karo guys, popcorn banao, kabab lagvao, I got this'. In all of your wildest dreams of India winning an individual Olympic gold did you ever consider the scenario that they would be won by two stone cold killers who didn't flinch, didn't cry, didn't exult or run without abandon after they had sealed their victory. It is tough to say what was more impressive, the gold itself or the attitude it was won with. 
Also Read | Tokyo Olympics: A Six-minute Look at the Real Bajrang Punia
Even on the podium, when the national anthem played for the first time in 120 years at the athletic stadium, there were many in the stands and many more in their homes on this beautiful last Saturday of the Games who felt tears well up in their eyes. Not Neeraj. His face was covered by a mask but he was not teary eyed. This isn't a resurrection, low to high, high drama Bollywood movie. If Neeraj Chopra is ever immortalised in celluloid, it should be in the manner of the old artists — more Godard than Fincher please. And definitely not Johar. 
Looked at objectively this javelin throw final wasn't of a quality usually seen in the past. Forget the early 2000s, this was a notch below the one prior in Rio 2016. Chopra's winning throw of 87.58m in Tokyo would've won him bronze in Rio (his World Juniors winning throw of 86.48m would've won him bronze too, a fact he remembers keenly). If this sounds nitpicky, then you're right it is. His throw from Tokyo would've won him gold in London — in fact each of the top five would've won gold in London with their throws. This may not have been the most mesmerising javelin competition ever, but that's mainly because Chopra destroyed the field.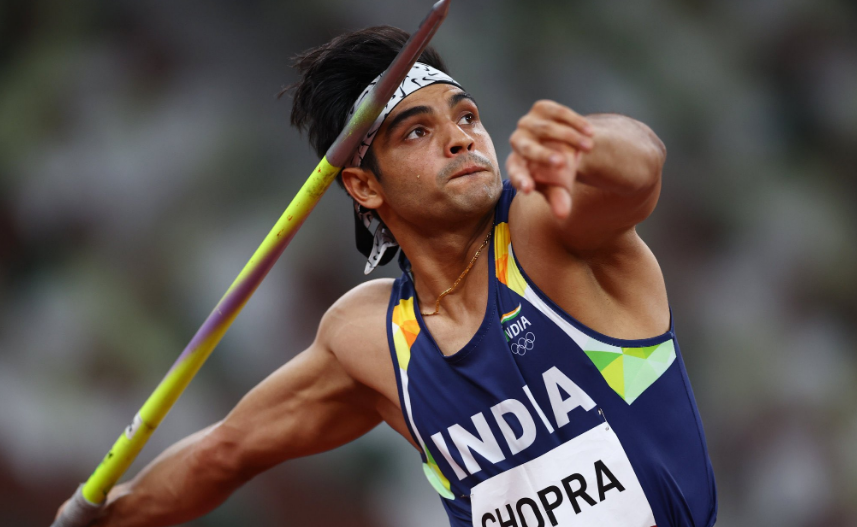 And of course, Johannes Vetter destroyed himself. Chasing isn't an easy game. There's a reason you never see successful hunts all the time on wildlife programmes. Going after a prey, a target, a mark takes its toll on your psyche. It can affect movement, not just physically but psychologically too. Chopra had bossed the field from the first day, setting himself up as a target, but with a smirk that oozed di Caprio whispering catch me if you can. 
In the qualifying he hit the mark with his first throw, casually, walked out, slipped on his track suit and got off the track. Job done. Everyone else — the World No 1 Vetter included — sweated through for a few throws before getting what they needed. 
Also Read | Tears of Hope, Screams of Justice: This Indian Women's Hockey Team Inspires Us to Change; It's Time We Did
The final wasn't very different. Chopra started off with a 87.03m on his first throw. The chasers — the ones who were contenders at least — were a scarcely believable 1.73m behind. Vetter's second was a foul and worse, he seemed to slip and hurt his ankle on the follow through. This went on. On the second Chopra improved his mark by a little over half a metre — catch me if you can — and no one else took the bait. Vetter boiled over, Julian Weber looked keen, before the 38 year old Vítězslav Veselý decided to at least, for appearances sake offer up some competition. The kid was showing them up. 
But as the throws went on — broken by a raging 10,000m final by the women — you started getting the feeling that this wasn't a competition it was an exhibition. It was teen patti. The lead artist had put his stall up and everyone else had folded. Vetter certainly did. The favourite leading in, the World No 1 and the only man to have thrown over 90m this year didn't even cross 83m in Tokyo, knocked out after the first three throws. When that happened, even without any concrete evidence, it can safely be said some beers were poured, pakoras served, and blank word documents opened for some raging yet to be typed out tributes (We celebrated millennial style... on WhatsApp). The jokes started arriving. 'India ka pehla gold. Phekne mei.' 'Looks like Neeraj will settle for gold.' And all that. Maybe it was right about then that the PM asked his minions to get this boy's number and place the call. Maybe he sent the jokes.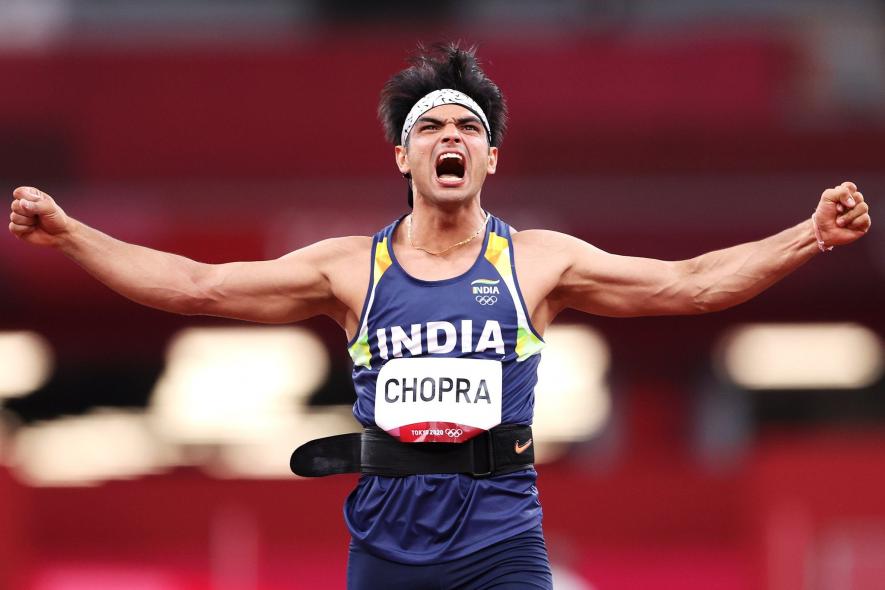 Which is where we go next. It is clear on this dominating evidence that Chopra is a one in a generation athlete, especially for India. His backstory tells you everything you need to know about his drive, his desire and his success. He got his first formal coach in 2015, and in the years prior taught himself watching his seniors, and YouTube. He's said he modelled himself on the World record holder Jan Zelezny, the flinging falling to the line style a trademark of the Czech legend. Appropriately then on the podium, Chopra was flanked by his idol's countrymen who won silver and gold. 
This is a self taught, highly motivated individual who battled traditional biases and apathy (India's javelin programme was quite bare bones before Chopra arrived on the scene) to get himself to the top of the world. He went away from his family to avoid the distractions of home and family. Frustrated at not recovering from injury to his satisfaction he repeatedly clashed with the authorities, who in turn, told him to stay put. When he did finally get to attend some meets his coach Uwe Hohn lashed out. He complained that the Sports Authority of India had not done enough to boost his medal potential. This is an athlete who has always demanded more, not just from himself but also from those around him. It's not a wonder he didn't weep tears of joy on the podium. He knows the magnitude of his achievement because he worked to get here. This wasn't a surprise to anyone at all. 
Click | For More Coverage of the Tokyo Olympics From Newsclick Sports
The natural tendency would be to climb aboard this train and get with it as much as you can. But it would also be uncalled for. If anything, this should be the benchmark, marked as one, and used to inspire all others. Bindra in Beijing was a benchmark of a different kind, one that our modern shooters struggle to emulate. There is similarity in these stories but also a chance for a do over. 
Two days ago, on the day The Great Drought was finally broken, a colleague called to offer congratulations, share joy and stories about reporting on Indian hockey and generally just take in the moment. At the end, before the goodbyes, he offered something very specific. "Make sure you tune in on Saturday evening. You'll see something very special. Something new."
We did and it was. 
Get the latest reports & analysis with people's perspective on Protests, movements & deep analytical videos, discussions of the current affairs in your Telegram app. Subscribe to NewsClick's Telegram channel & get Real-Time updates on stories, as they get published on our website.
Subscribe Newsclick On Telegram