Tokyo Olympics | PV Sindhu Reaches Semis, Faces Arch Nemesis Tai Tzu-ying Next
Despite having not dropped a game yet in Tokyo and having brushed aside most opponents with relative ease — the second game hiccup against Akane Yamaguchi aside — PV Sindhu will walk into her semifinal match as an underdog, simply because the statistics don't favour her against her Chinese Taipei opponent. That will be a game of fine margins, one in which the elite player within each will need to step up to claim a piece of history.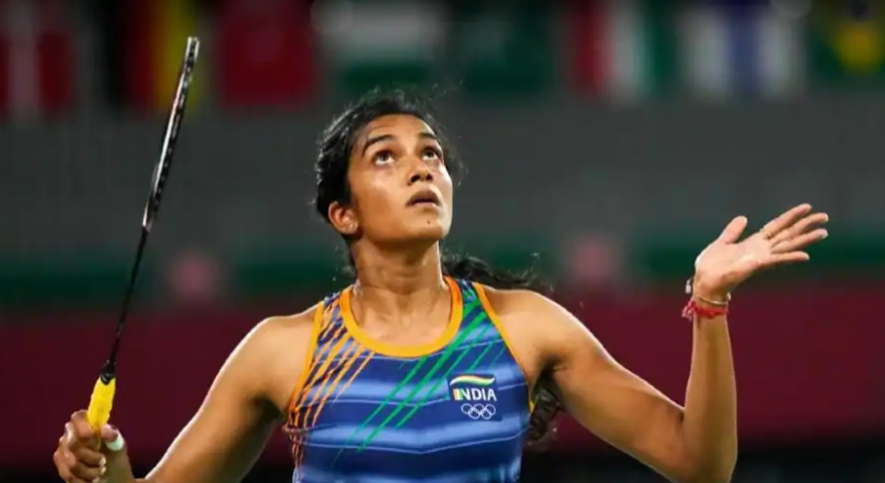 PV Sindhu lines up for a shot in her quarterfinal match against Akane Yamaguchi of Japan at the Tokyo Olympics on Friday (Pic: Zeenews, Twitter).
A straight games victory… Some telling smashes, relentless and deft netplay, and a few breathtaking recoveries... PV Sindhu did display her alpha game while beating Akane Yamaguchi of Japan in the semifinals of the women's badminton event at the Tokyo Olympics. 
The 21-13, 22-20 victory over the Japan No. 2 on Friday enabled Sindhu to bring out her trademark high-tempo play which could see her on an Olympic podium again. Previously untested, even in the round of 16 at the Games, we were never sure where Sindhu stood as far as intensity is concerned while taking on adversaries who could push her. Yamaguchi clearly fell short in providing a full-fledged point-by-point exam, but she managed to test Sindhu enough to expose some weaknesses that could prove decisive when the Indian takes on an in-form World No. 1 next.
Click | For More Coverage of the Tokyo Olympics From Newsclick Sports
A straight games victory — Sindhu has had that right through the tournament so far — never exposes the winners' game. In Friday's semifinal tie, Yamaguchi managed that, just that she hit upon the passages needed to push Sindhu only by the second game, and that too in the latter half. Leaving it that late against Sindhu will almost always never work. The Indian promptly closed out the match after a minor wobble when she had to save two game points. 
It is, however, not the game point that is the matter of concern. Sindhu had let Yamaguchi claw her way back from a six point deficit and that was facilitated by an elevation of the game by the Japanese, but also some lacklustre play from Sindhu, who was having trouble countering the long rallies.
Also Read | Go For Gold. That's All I Will Say to Her: Lovlina Borgohain's First Coach
It all began when the scores were 14-8 in the second game in favour of Sindhu. She placed a cross court smash which was ruled out. Sindhu promptly raised her hand for the review. She then went to her kit bag to catch her breath and wipe the racquet-wielding hand off sweat. The disinterest Sindhu showed at that point indicated that the review was possibly tactical, meant to help the player catch her breath, and not exactly to contest the point. She lost the review. 9-14. 
Yamaguchi served, and in the rally, her push to the baseline was left by Sindhu, who clearly read the trajectory wrong. 10-14.
The next two points also went in favour of Yamaguchi, one an unforced error by Sindhu. The momentum was shifting and Sindhu suddenly seemed at sea, unable to gather herself as Yamaguchi started stretching the rallies. Till then, the Japanese World No. 5 was trying to cut short the rallies with attacking intent. But that was not working against Sindhu, who loves shorter plays, and was equally assertive in her response, meeting smash with smash, lofts with cross court floaters, and smash drop shots with equally deceptive dippers at the net.
But in the longer rallies, Sindhu looked a different player. She looked prone. While in short ones, we always felt that the Indian World No. 7 could wrap it up any time, in the long ones, it always felt she would fail, rushing into a shot, or letting Yamaguchi create enough of an angle to kill the point. The duo played a 54 shot rally at one point — the point going to Yamaguchi. The diminutive Japanese was indeed creating angles, on both sides of the court. Sindhu, to her credit, was retrieving and asserting herself too. But ultimately, in that period of the match, the momentum was clearly with Yamaguchi, who succeeded in unravelling the Indian's game in quite telling fashion.
Also Read | Lovlina Borgohain's Ring Craft Needs to Be Celebrated More than the Medal it Procured. Now We Push for More
It is certain that Sindhu is uncomfortable in long rallies. Still. This used to be a bane for her a few years back. And while she has quick reflex shots to counter anything close to her body, including powerful smashes directed straight at her, the moment her opponent made her go side-to-side and front-to-back the feeling was that she was always playing catch up.
The game became too close to call. 17-17, and then 18-18. Yamaguchi scored two back-to-back points after that — an error from Sindhu and her inability to reach a drop shot giving Yamaguchi game point. This is the moment when Sindhu stepped up, a sudden surge it seemed. Almost wresting the narrative with her style of play. Keeping it short, and aggressive, Sindhu negated the game points, and closed out the match. A decisive passage of play aided a bit by the fact that Yamaguchi seemed winded by then. In fact after one smash, which earned Sindhu match point, Yamaguchi dived to retrieve and then lay sprawled on the court, her body language betraying that she had run out of steam and fight.
While the weak points exploited by Yamaguchi did not end up troubling Sindhu in the match, partly because the Japanese player got into it late, and partly because Sindhu was a notch above her opponent on the day. 
However, Sindhu faces the second seed and the World No. 1 next. Tai Tzu-ying of Chinese Taipei, after an iffy year, has found a rich vein of form in Tokyo too. And Sindhu has always had trouble against Tzu-ying. The head-to-head stats present a telling picture. They have played 18 times with Tzu-ying leading the stats 13-5. More importantly, the Taipei player has won the last three matches against Sindhu.
Also Read | Anatomy of a Clutch Shot: Archer Atanu Das' 10 to Beat Korean Legend Jin-Hyek Oh
The only silver lining (pun intended with that silver) is that of the five victories Sindhu has had over Tzu-ying, one came in the Rio Olympics Round of 16. The Olympics, the stage, can have its own set of variables, you see. However, there is still a statistical baggage Sindhu carries, at least in her mind, before actual court-play comes into significance on Saturday. Add to that, she displayed a wavering focus and some openings for opponents to exploit the first time she was tested in the tournament. Those episodes were brief, for sure. But then it is these brief passages of play that elites pounce to close games and matches. 
Sindhu vs Tzu-ying will again be a clash of styles. The Taipei player loves to push her opponent off the comfort zone with slice drops and clears. She is not about quick smashes and fast push shots. She loves to restrict movement by being relentless in focusing on one aspect of play — at times ticking to just drops or clears most part of the rally before making a sudden switch using deceptive shots which she is a master of.
This game of attrition is what Sindhu is uncomfortable with. So the game will be dictated by the player who asserts herself with the style she is comfortable with. Just that, Tzu-ying has enough in her arsenal to counter aggression before setting her tone and tempo. 
Hopefully, Sindhu will bring out something new this time she faces Tzu-ying. For it is clear that the old Sindhu never could manage much against Tzu-ying. While stats are proof of that, Friday's quarterfinal showed us that the old banes of Sindhu are still around. 
Get the latest reports & analysis with people's perspective on Protests, movements & deep analytical videos, discussions of the current affairs in your Telegram app. Subscribe to NewsClick's Telegram channel & get Real-Time updates on stories, as they get published on our website.
Subscribe Newsclick On Telegram