Virat Kohli and the Stump Mic: Cape Town Incident Highlights Indian Cricket's Disturbing Superhero Complex
We will not be able to forget the scene from Cape Town during the third Test when the Indian cricket team skipper Virat Kohli talked to the stump microphone and scolded the TV broadcaster for 'siding' with the home team. What's more disturbing is that Ravichandran Ashwin and KL Rahul joined the 'us vs them' tirade. It merely shows that everyone in the team now thinks this is acceptable behaviour, and the BCCI silently endorses it.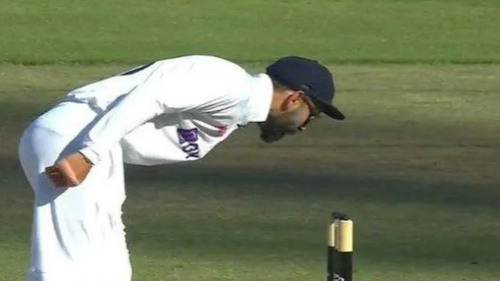 Virat Kohli converses with the stump mic during the fourth day of the third test against South Africa in Cape Town on Thursday, January 13.
No true Amitabh Bachchan fan can forget the scene from the movie Amar Akbar Anthony, where he (the character of Anthony) talks to the mirror and scolds himself for drinking, blames getting badly beaten up on being drunk, then pastes a band-aid on the mirror instead of his wounds. Likewise, no ardent Virat Kohli fan will be able to forget the scene from Cape Town, where he talks to the stump microphone and scolds the TV broadcaster for 'siding' with the home team. Intoxication made Anthony's behaviour plausible in Prayag Raj's screenplay, but the screenplay writer of Kohli's biopic will find it hard to make this stump mic scene plausible for cinema-goers of the future, who may have not watched it live.
How would the screenplay writer show what was going through Kohli's mind? Being the Indian captain and having spent 14 years in international cricket, it is not possible that he did not know how the Decision Review System (DRS) works, or that HawkEye is not owned by Cricket South Africa. Then what prompted the overreaction? Was he more angry with himself because of his failure with the bat despite spending a lot of time at the crease, and needed somebody to shout at? Was it the feeling that the final frontier is slipping away, despite South Africa having a less experienced, perhaps less talented team?
Also Read | Novak Djokovic Drama Down Under: From Covid-19 Infection Last Month to Court Case in Melbourne
The role of Ravichandran Ashwin makes the scene more baffling. One can understand Ashwin's frustration. His place in the playing XI for overseas Tests has been uncertain under Kohli, and he went wicketless in the first innings at Cape Town, the series decider. That after picking up just three wickets in the first two Tests. The wicket of Dean Elgar at that point could have turned the match on its head and proved to everyone how valuable Ashwin is even in conditions not conducive to spin bowling. But a thinker like Ashwin should have been able to contain his emotions instead of putting up a spectacle that would only convey a wrong message to young cricketers -- that everyone in the world is conspiring against you. And whenever a decision goes in your opponent's favour, you should cry "murder".
But which invisible monster was KL Rahul fighting in that scene? When the umpire who raised the finger against Elgar is a South African himself, how did Rahul get the idea that the entire country is fighting against 11 Indians? Has watching too much Bollywood on OTT done this to the elegant batter?
Answers to those questions shall not lead us anywhere because what happened on January 13 shows it is not about individuals anymore. From the aggressive, expressive Kohli to the usually calm Ashwin, everyone now thinks this is acceptable on-field behaviour. Therefore, we need to ask how and why they arrived at this conclusion. In fact, using the word 'they' would be holier-than-thou because the reaction of most cricketers, ex-cricketers and fans on social media show that most of us have arrived at that conclusion. Only a handful have said this behaviour is unacceptable and have been trolled for that.
This is not the first time a DRS call has gone against India and raised eyebrows. Mayank Agarwal's LBW in the first Test is fresh in everyone's memory, but at least some remember the dismissal of Rahul Dravid on his last England tour. DRS declared him out caught while the truth is he had only hit his shoelaces. Why did he not scream afterwards, not allege conspiracy? Why has the sky fallen now? One can always say Dravid, Sachin Tendulkar, Sourav Ganguly et al were softer human beings; as opposed to the bold, new Indian team built by Kohli and Ravi Shastri. 
But the former lot had had their share of bad boy moments, most memorably, the Mike Dennes moment in South Africa. That was the first time the Board of Control for Cricket in India (BCCI) showed its monetary might to oppose the punishment meted out to six of its cricketers. Call it bold or arrogant, the board at least had the decency to negotiate matters with the International Cricket Council (ICC) after the heat of the moment evaporated. While five Indian cricketers had their one-Test ban overturned, Virender Sehwag had to serve it. Reason why that generation knew, no matter how big a stars they were, over-the-top reactions shall have consequences.
That is not the case with the current lot. BCCI's coffers have grown in leaps and bounds since the Dennes incident. Today, the BCCI, with its rich brethren from England and Australia, decides who and how much they will play. Moreover, the BCCI has the Indian Premier League -- a league everyone wants a piece of. The likes of Kohli, Ashwin and Rahul know they can live on their own terms, even if that goes against all norms. 
Also Read | Reality Check or Bad Luck? The Curious Case of Sandesh Jhingan's Short Croatian Sojourn
Hence Kohli's proud post-match remarks: "We understood what happened on the field and people on the outside don't know exact details of what goes on on the field." On one hand, this is a back-handed compliment to the BCCI. As if Kohli knows whatever his differences with the board president, that chair is so powerful that ICC would not dare to punish his employees. On the other hand, this is a warning to everyone concerned: if a technological error goes against us again, we shall deal with it this way.
To be fair to Kohli, Ashwin and Rahul, it is Mahendra Singh Dhoni who first showed an Indian cricketer is above the game. During the 2019 IPL game between his franchise Chennai Super Kings and Rajasthan Royals, he went straight into the ground to protest a no-ball decision reversed by the leg umpire. For such an unprecedented and uncouth behaviour, Captain Cool was only fined 50% of his match fee.
Like it or not, Indian cricketers are superheroes in the eyes of a lot of people, including themselves. Unfortunately, they do not have somebody like Spiderman's uncle, who would pronounce "With great power, comes great responsibility." So Cape Town can any day be repeated in Christchurch, Kanpur or Kandy. Endless whataboutery can be done to justify our superheroes. The problem is, superheroes can soar above rule of law but not laws of nature. What will happen if both teams on the pitch grow the superhero complex some day? Are we betting on the TRP of a Rashid Patel versus Raman Lamba rerun during an international match?
(Pratik is an independent journalist based in Kolkata. He loves to write on politics, society and sports.)
Get the latest reports & analysis with people's perspective on Protests, movements & deep analytical videos, discussions of the current affairs in your Telegram app. Subscribe to NewsClick's Telegram channel & get Real-Time updates on stories, as they get published on our website.
Subscribe Newsclick On Telegram