Why Indian Muslims Feel Let Down by Their Leaders
Claims that these leaders represent Indian Muslims is a veil of deception.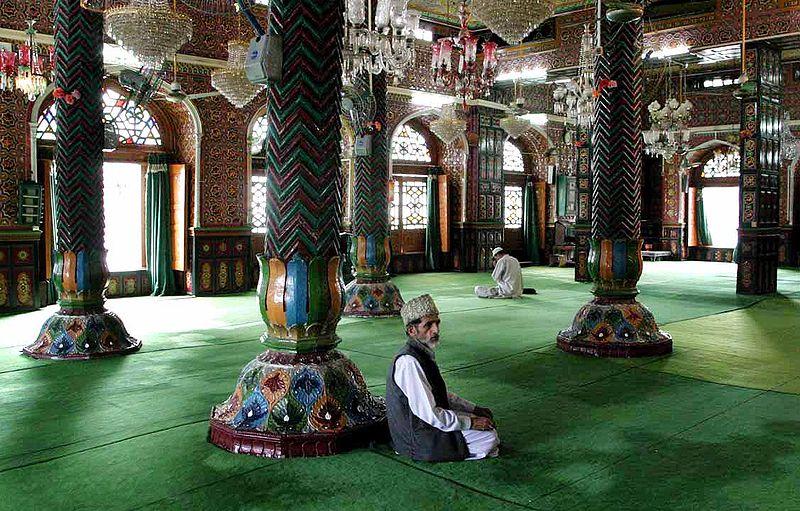 Image Courtesy: Wikimedia Commons
Early in August, the Communist Party of India-Marxist (CPI-M) leader Sitaram Yechury was detained at Srinagar airport and sent back to Delhi. Yechury had flown to the Valley on August 9, to meet his party's lone legislator in Kashmir, Yousuf Tarigami. This was just four days after the Centre imposed a blanket lockdown on Jammu and Kashmir. The crackdown followed virtual abrogation of Article 370 that revoked the special status of the region under the Constitution.
Yechury did not give up after he was turned away. He moved the Supreme Court to be allowed to meet and assist Tarigami, who suffers from various ailments and needed access to medical care. After a number of hearings, on August 30, he was finally able to visit Srinagar again, armed with the apex court's permission. This permit came with multiple riders, including strictly forbidding Yechury from any political activity in Srinagar (as if it were a crime).
Yechury is just one political party leader looking out for the wellbeing of just one of his party's representatives. There are approximately 80 lakh Muslims in the Kashmir valley and all of them have been locked up inside their homes for 60 days. Arguably, thousands of them need medical aid, all are suffering under the crackdown, and feel agitated by it.
In short, the Kashmiris could do with the balm of solidarity in this time of crisis. However, among those who have visited the Valley since August 5—journalists, politicians, activists, fact-finding teams, etc—none are Muslim religious or religio-political leaders of any standing.
Consider the most articulate and assertive leaders of outfits that claim to represent Indian Muslims: The Member of Parliament (MP) from the All-India Majlis-e-Ittahdul Muslimeen (AIMIM), Asaduddin Owaisi. His party has been trying to build a political base in Uttar Pradesh, Bihar and Maharashtra, apart from its home base in Telangana-Andhra Pradesh. What explains Owaisi's lack of interest in the Kashmiri Muslim's plight? Why is he seemingly unmoved by the humanitarian crisis they face? After all, he was very vocal in and out of Parliament against the abrogation of Kashmir's special status and Article 35A.
It is indeed puzzling to consider Owaisi and other Muslims leader's reluctance to visit Kashmir and take stock of the pitiable situation of its people. What is widely being regarded as a humanitarian crisis is unfolding there, while they remain spectators.
Owaisi also happens to be a barrister. Yet, he has not approached the courts to seek permission to visit Kashmir. Going by his own logic, his desire to visit the Valley should be stronger than Yechury's. If Yechury could move the court for one comrade, why cannot the AIMIM try doing the same for millions of his community brethren?
Not just Owaisi. Even the flamboyant MP from Rampur, Uttar Pradesh, Azam Khan—another qualified lawyer—is silent on going to Kashmir. Khan is a so-called strong Muslim face of the Samajwadi Party, which has formed governments in Uttar Pradesh several times until its defeat in 2017 to the Bharatiya Janata Party (BJP).
Khan's legal batteries are fighting as many as 80 cases lodged against him for various alleged offences. Surely, for such an influential man, it was only a matter of asking his legal team to move one more application to seek permission to visit Kashmir. It is baffling what might have stopped him and his seasoned lawyers.
Yes, Muslims outside Kashmir have rarely identified with their community brethren in the Valley. However, after this crackdown and the change in Kashmir's special status, the feeling among Muslims outside Kashmir is that the decisions of August 5, are just one more ploy of the government to polarise the country along communal lines. While the leadership of Muslims is very much aware of this sentiment, yet—arguably—it is very cautious because identifying with Kashmiri Muslims might lead to further polarisation.
That said, the Muslim leaders appear hypocritical because not long ago, during the swearing-in ceremony of MPs of the current Lok Sabha, most of the 27 Muslim MPs raised Islamic slogans to assert their Muslim identity in Parliament. In a way, they were asserting their claim to represent Indian Muslims without fear or hesitation. Many of these leaders have complained in the past about the lack of representation of Muslims ever since the BJP's rise to power in 2014. Yet, none of these 27 MPs are known to have approached the Supreme Court with requests to visit Kashmir. Do they not represent the 80 lakh Muslims of Kashmir?
Congress leader Ghulam Nabi Azad is the exception. As a Kashmiri himself, his desire to go and see the situation in the Valley is, in a sense, a no-brainer. But consider the prominent religious leaders of the Sunnis, the biggest segment of the Indian Muslim population, Moulana Mahmood Madani and his uncle Arshad Madani. They are general secretary and president, respectively, of the biggest Muslim seminary, Deoband's Jamiat Ulema-e-Hind.
The Deoband seminary passes fatwas or diktats that they expect their millions of followers in India and abroad to cow-tow to. Yet, in their annual general meeting on September 12, 2019, they passed a resolution supporting revocation of Kashmir's special status. They also supported abrogation of 35A, ignoring concerns that it is a precursor to state-led ethnic and religious changes in Kashmir's demography.
After this obvious attempt to get into the ruling party's good books, the Deoband seminary made no effort to reach out to the Muslims of Kashmir, not even in purely humanitarian terms. Not one plea has gone from the Madanis to the Supreme Court seeking to visit Kashmir and commiserate with their stricken co-religionists.
Instead, Arshad Madani met Mohan Bhagwat, the Rashtriya Swayamsevak Sangh (RSS) supremo in the first week of September in Delhi. He then reportedly said that the RSS may "Shun Hindu Rashtra (Hindu Nation) Idea".
Once a staunch opponent of RSS ideology, Deoband now appears comfortable with it. At least that is what its flip-flop on critical issues indicates. For, a week later came Deoband's resolutions supporting the government's decisions in Kashmir. Not just this. The seminary backed the government's new law criminalising triple talaq (which it earlier opposed) and also plans for a nationwide National Register of Citizens on the lines of the disruptive NRC in Assam.
The grapevine says that Deoband's foreign funding, primarily from Saudi Arabia and other West Asian countries, is under government agencies' scrutiny. Earlier, such claims would have been pooh-poohed but now there is a buzz about this and Madani's allegedly illegal construction activities and encroachments.
Another Sunni leader, the Shahi Imam of Delhi's Jama Masjid, Ahmad Bukhari, and the Aala Hazrat or supreme leader of the Bareily seminary of Sunni Muslims, have also made no effort to seek court permission to visit Kashmir for a first-hand account.
The most prominent Shia leader, Kalbe Jawad, has not only supported the abrogation but justified it. On August 6, 2019, just a day after the lockdown, the online daily Siasat.com attributed to him the following statement: After the move, Kashmir too got status equal to that of other states. He told Kashmiris that if they feel themselves part of India then they will get all those rights which other citizens of India enjoy.
Either Jawad is naive or does not believe in the basic intelligence of the large Shia following he commands. His remark implies that abrogation of their rights will be good for the Kashmiris. He apparently presumes that the Shia Muslims, who are better-educated and considered intellectually evolved, do not understand that Articles 370 and 35A gave the people of Jammu and Kashmir special rights over and above the rights guaranteed to all Indians.
Jawad has been patently batting for the government and thus it is no surprise that he, too, has not tried to seek permission to visit Kashmir, although around 25% of the Muslims of Kashmir are Shia.
Mind you, Yechury mentioned only one fellow party leader and that was enough to secure permission for him.
Like Khan, Jawad too has a number of police cases registered against him. The allegations against him include accumulating unaccounted-for foreign funds (supposedly from Iran and other West Asian nations) in the form of charitable donations meant for the welfare of the Shias. None other than Jawad's one-time confidante, Waseem Rizvi, chairman of the Shia Waqf Board, has levelled these wide-ranging charges.
Interestingly, Rizvi was appointed chairman of the Board on Jawad's recommendations but today they are arch-rivals. The two constantly indulged in hurling outrageous charges against each other, but neither has the time for supporting the Kashmiris in their time of crisis. For instance, Jawad has charged Rizvi with land-grab and illegal sales of Waqf properties.
Similar charges have been leveled by Rizvi against Jawad. He, too, was close to the Samajwadi Party at one time but in the changed political climate, he appears to have switched loyalties. That is how he managed to transgress into Jawad's domain. It is another matter that Jawad himself is said to share a camaraderie with senior Bharatiya Janata Party (BJP) leaders, including Rajnath Singh.
Unlike Jawad, Rizvi has no mass following among the Shias, nor is he a religious leader. Jawad has the means to move the court to visit Kashmir, by virtue of his closeness with BJP leaders. Yet, he is sitting tight.
Not even secular intellectual Muslims, such as Javed Akhtar, Saeed Naqvi, Arif Mohammad Khan, Shabana Azmi and others have attempted to make a humane visit to Kashmir. Akhtar and Azmi had campaigned for the Communist Party of India (CPI) leader Kanhaiya Kumar in Begusarai and there he had appealed for Muslim votes. Unfortunately, he, too, has not expressed any desire to visit the Muslims of Kashmir in solidarity with their suffering.
All these drive home the point that not just the Muslims of Kashmir, the 18 crore Indian Muslims have no leadership at all. They are a vote bank used by religious and political leaders but rarely, if ever, see through this facade. The charitable view would be that Muslim organisations in India and their leadership is in a quandary. On the one hand, they see Kashmir as one more Muslim issue being raised to polarise the country and on the other, they see the majority community raging over communal issues. This perhaps forces them to remain silent despite the community's wishes. Whatever the case, this tightrope walk has left Muslims high and dry -- in the Valley and beyond.
What cannot be ignored is the new fundamental feature of Muslim leadership: It is now fundamentally concerned with its own vested interests. Otherwise, the human tragedy unfolding in Kashmir could have been an opportunity in adversity. It is an opportunity for the country's Muslim population to see through their leadership, which has ignored a human crisis with not one leader coming forward to assist the Kashmiris.
The writer is an electronic and digital media practitioner, a documentary film-maker and a TV producer who has worked with National Geographic, BBC and other national and international media. The views are personal.
Get the latest reports & analysis with people's perspective on Protests, movements & deep analytical videos, discussions of the current affairs in your Telegram app. Subscribe to NewsClick's Telegram channel & get Real-Time updates on stories, as they get published on our website.
Subscribe Newsclick On Telegram