3rd Year of Delhi Violence: How Battle for Justice is Turning Into Nightmare for a Witness
Nisar Ahmad of Bhagirathi Vihar recalls the chilling scenes that unfolded on Feb 24, which destroyed his business and home. He is resolute to fight on, no matter how long justice takes.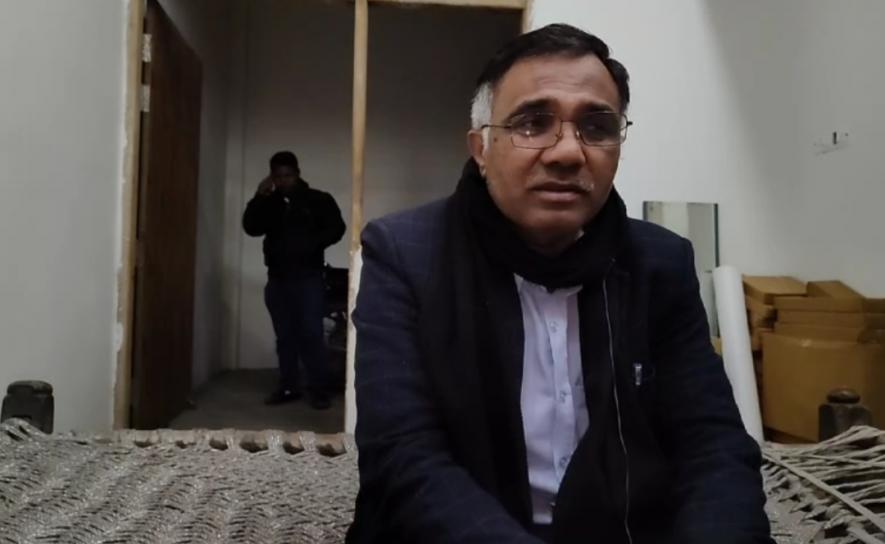 Editor's Note: On the third anniversary of the February 2020 riots in Northeast Delhi, NewsClick is publishing a series of stories. This is the last story of our five-part series. Read the previous pieces here, here, here and here.
New Delhi: Witnessing the horror of Delhi violence, helplessly watching his assets being looted or turned into ashes and experiencing a narrow escape from being killed were lesser nightmares for Nisar Ahmad than standing in a court as a witness against the alleged perpetrators and fighting for justice, not just for himself but others as well.
It was around 2 p.m on February 24, 2020, when Ahmad sensed some trouble in his neighbourhood — northeast Delhi's Bhagirathi Vihar. He peered through his window to spot a large crowd gathering near his house in E-Block, chanting aggressive slogans of 'Jai Shri Ram' (Victory to Lord Rama) and 'Jago Hindu, Jago' (Wake up Hindus, Wake up).
"I know most of them either by name or by face, as a majority of the people in the crowd were locals," he told NewsClick.
Considering it just a case of political posturing, the optimistic 47-year-old did not panic and trusted the strong brotherhood that Hindu and Muslim residents of the locality shared. But, as the slogan-shouting intensified, Ahmad's wife, Asma, told their daughter, Ilma, and pregnant daughter-in-law, Sumaiya, (both in their mid-20s) to leave for a relative's house. Ahmad's younger son, Suhail, drove them to a nearby locality. 
After Suhail returned, Ahmad too went down and followed the crowd — which stopped at a bridge (a few minutes away from his house) over the Yamuna canal.
"Barricades were put up, and provocative speeches were being delivered. By the evening, the mob went on a rampage. I ran back home, ensured my ready-made garments shop on the ground floor was locked and then shut the main entrance of the building from inside and went upstairs," he said.
The mob of around 150-200 people laid siege to Bhagirathi Vihar's intersection, which is close to a wide and open sewage canal.
"As night fell, they indulged in a horrific killing spree. All those passing by the street were being stopped. After ascertaining their identity, they were being looted and killed. Their bodies were being dumped into the canal," he claimed, recalling that he kept ringing up the police to no avail.
While at least eight bodies were fished out from different drains of the Trans Yamuna region, two were recovered from the one in Bhagirathi Vihar to take the total death toll of the communal violence to over 53. Over 200 people suffered injuries and properties worth crores were damaged in the violence that began on February 23 and continued for four days after a counter protest in favour of the Citizenship Amendment Act (CAA), 2019 took a communal hue.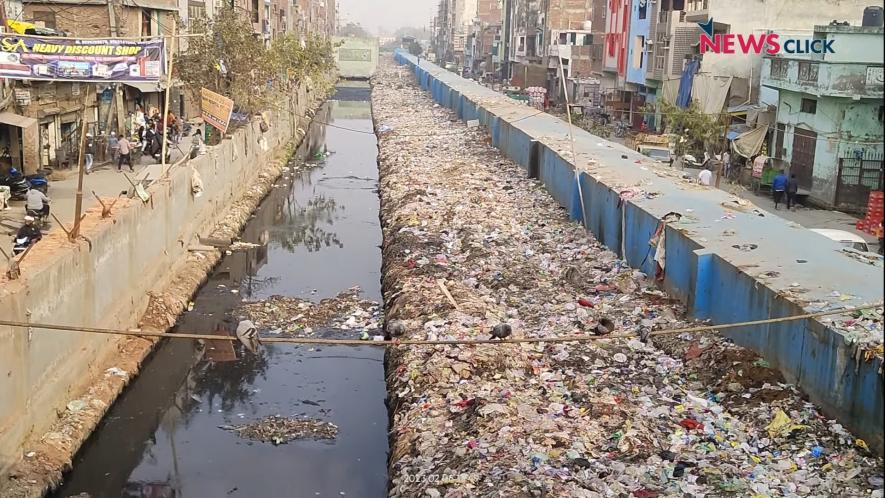 The new citizenship legislation, which made it easier for "persecuted" minorities — except Muslims — in Afghanistan, Pakistan and Bangladesh to become Indian citizens, was being peacefully opposed by thousands who feared that the new law, along with an imminent national register of citizens, would pave the way for the government to doubt and question the citizenship of millions of Muslims in the country.
The community were also seeing it as the ruling Bharatiya Janata Party's (BJP) attempt to interfere with the constitutional promise of equality to its citizens, regardless of faith.
After spending a sleepless night along with fellow Muslim inhabitants of the locality, Ahmad thought what had to happen had happened. But he was mistaken, as the worst was yet to come. The crowd returned the next day at around 6-7 a.m and went on rampage again.
Ahmad said he heard a commotion below his house. He looked out from window and saw a group of men breaking into his neighbour's house. They looted the house and pulled out the furniture to set it on fire in the street. "The extent of hatred can be gauged from the fact that they did not even spare the ceiling fans," he said.
He said it was at that moment when he realised the next target was his house, as the mob seemed to have an idea about Muslim houses.
"Sitting back in fear was no longer an option. Calling out from the window, I tried to reason with them. The men responded with stones and iron rods through his window. One of the rods struck Asma's head," he recalled.
The group soon turned toward his house and broke his shop's shutter on the ground floor. "Whatever cash was there, they looted it," he said, adding that the mob dragged out three motorbikes — a Hero Splendor, a Bajaj Platina and a Royal Enfield Bullet -- which were parked downstairs, and burned them along with sacks of clothes.
Ahmad, his wife and their son ran to the rooftop, locking a gate behind them.
The men then went up the stairs and ransacked the first floor. "They looted a trunk containing jewellery belonging to my daughter-in-law. Some other valuables were also looted. They threw the furniture out on the road and set it ablaze," he said.
While all this was happening, Ahmad was helping Asma to jump to the rooftop of the adjoining house. He said he lowered her with one hand over the roof wall. But the roof of that house was too low for her to jump safely. The house owner, a Hindu, quickly brought a ladder and helped Asma down. Then the father-son duo followed.
Neither did the neighbour offer them shelter, fearing a backlash, nor did Ahmad ask for protection. The family jumped to more adjoining roofs to finally get down the street and ran into the home of a close Hindu friend.
"He virtually locked us deep inside his house. There we caught our breath and cried. He consoled us and served tea. He did everything to ensure we stay safe. By afternoon, the mob withdrew. There was silence, as if the madness had passed. I looked out from the window and saw a few policemen making rounds in the area," he recalled.
By the time they stepped out, the cops had left. They were spotted by a group of men who recognised them and ran over to them. With folded hands, Ahmad pleaded for mercy. And then a miracle happened.
"A man, whom I knew for years, came forward from the mob and warned the rioters not to touch us. He said if anyone dared to harm us, he would kill him," said Ahmad.
This gave courage to his Hindu neighbours who were watching all this from their homes. They came out and formed a protective barrier between the distraught family and the rioters. Ahmad, his wife and their son were then escorted out of Bhagirathi Vihar and left near a policeman. The family ran toward the Muslim-concentrated Mustafabad and took shelter at a relative's place.
RESOLVE TESTED LATELY
The test of Ahmad's resolve was yet to begin. A week after the incident, he went to the local police station to lodge a complaint. The Delhi government had announced compensation for those who were killed in the violence. It had also assured compensation for loss of properties. But only those who had filed a police complaint were eligible for the ex-gratia.
Ahmad filed a two-page complaint, detailing the sequence of events, the list of assets that he had lost and names of the rioters whom he recognised in the crowd. But he was asked to write a shorter complaint without naming any accused. He said he was assured that the names would be added following an investigation based on his complaint.
"Though I had lost properties worth about Rs 15-20 lakh and needed money to restart my business, my conscience did not allow me to lodge a complaint without the names. It would be as if the violence had just happened without anyone's involvement. And what was the guarantee that the names would be added later?" he said.
After the police refused to record his testimony with a full account of events, Ahmed approached the court for a direction to officers for registration of a first information report (FIR) based on his detailed complaint.
When Rakesh Kumar Rampuri, the metropolitan magistrate at Karkardooma courts, ordered the investigating agency to lodge a case on Ahmad's complaint within five days, the Delhi Police challenged the order in a higher court, which also upheld the lower court's order.
Left with no option, the police clubbed Ahmad's case with FIR No. 78/2020 — registered on the complaint of one Aas Mohammad (a victim of theft and rioting) at Gokalpuri police station under Sections 147 (rioting), 148 (rioting, armed with deadly weapon), 380 (theft in dwelling house), 427 (mischief causing damage to the amount of Rs 50) and other Sections of the Indian Penal Code (IPC).
Interestingly, Ahmed was made a witness, instead of a victim, in three other FIRs (101, 102 and 103) filed in the same police station.
It was stated in FIR No. 78/2020 that Ahmad was witness to violence on February 24 in which members of a "particular community" were killed and injured. It further said "rioting, arson, robbery, hooliganism" continued throughout the night and those identified as Muslims were beaten to death and their bodies thrown into the Bhagirathi Vihar nala (sewage drain).
In his subsequent complaints, Ahmed alleged the accused threatened him, his sister and her family at the behest of Bharatiya Janata Party (BJP) councillor Kanhaiya Lal.
After his complaint was clubbed with FIR No. 87/2020, Ahmad was not informed about it. He said he was also not apprised by the investigators about the progress in his case.
His counsel, Advocate MR Shamshad, told NewsClick that the clubbing of FIRs is always based on the gravity of the offense committed. "A complaint of such a serious nature, where the victim has witnessed murders, assault, arson, rioting and intimidation cannot be clubbed with an FIR related to theft and mischief against unknown persons," he said.
Shamshad said clubbing of FIRs on the 'whims and fancies' of the police could not be allowed. "I have observed that the police was hesitant in registering FIRs, especially when the complaints named the accused. And wherever the police decided not to register an FIR in violation of principles of law, they clubbed them with registered FIRs. The police appeared to be very selective in registering as many FIRs as they wanted, and at the same time, clubbed many complaints with existing FIRs. This is fallacious," he said.
However, the police said FIR (No. 78/2020) was registered on March 2 on Aas Mohammad's complaint. Ahmad's hand-written complaint, which was received on March 4, was clubbed with the FIR "as the date and place of incident was same".
The investigators further said the allegation with regard to the killing of a veiled Muslim woman and her body being dumped into the Bhagirathi Vihar sewage canal were found to be untrue.
However, the police did not explain how they would probe Ahmad's allegations, which were different from Aas Mohammad's complaint in terms of the place, time and effect of the alleged crime and wherein the charge-sheet had already been filed.
Even the metropolitan magistrate had said he "fail(ed) to appreciate as to how the police could even claim that the allegation of the applicant as to he had seen from his house that some burqa-wearing women or looking alike Muslim women were killed with swords and their dead body were thrown into Bhagirathi Nala of given area are false and without any evidence before conducting any through and proper investigation…(sic)"
The magistrate had concluded that the probe into FIR No. 78/2020 would not cover a proper investigation into Ahmad's complaint.
Separate cases were finally registered when Ahmad approached the Delhi High Court. Trials are going on in the matters.
Since hearings began in late 2020, different courts in the city keep summoning Ahmad for recording his testimony or cross-examination. On many occasions, he is kept waiting for hours but nothing happens as the matter is adjourned because of "small errors".
At least two judges have so far been transferred. One of them is Additional Sessions Judge Vinod Yadav, who had criticised the Delhi Police several times for its sluggishness and ineptitude in the investigations.
The overburdened justice delivery system in India takes years to decide a case, but Ahmad seemed resolute and determined that he would ensure that the perpetrators are brought to book — no matter how much time it takes.
"I will continue to appear in courts whenever I am summoned. My presence without fail will certainly shame the law into action. Justice will be done one day," he added.
MEAGRE COMPENSATION
Ahmad claimed his total loss stood somewhere near Rs 15 lakh, but he got just Rs 2.5 lakh as compensation from the Delhi government. Though he managed to rebuild his business with loans, yet it was not the same as before.
Shaken by the fact that high on the poisonous cocktail of nationalism and religion, the new generation of his neighbours are capable of looting or even killing, he said he sold his house in Bhagirathi Vihar to buy a new one in Mustafabad.
Get the latest reports & analysis with people's perspective on Protests, movements & deep analytical videos, discussions of the current affairs in your Telegram app. Subscribe to NewsClick's Telegram channel & get Real-Time updates on stories, as they get published on our website.
Subscribe Newsclick On Telegram