SAI Kokrajhar: Tales From an Indian Sports Outpost
The Sports Authority of India (SAI) Kokrajhar centre in Assam, in an area known for student agitations, demands of regional autonomy, rubber plantations and golden tailed langurs, has produced scores of athletes in various disciplines ranging from archery, karate and athletics to football and hockey. Fighting day-to-day existential battles, the centre continues to make a difference in getting raw talent into the Indian sporting ecosystem.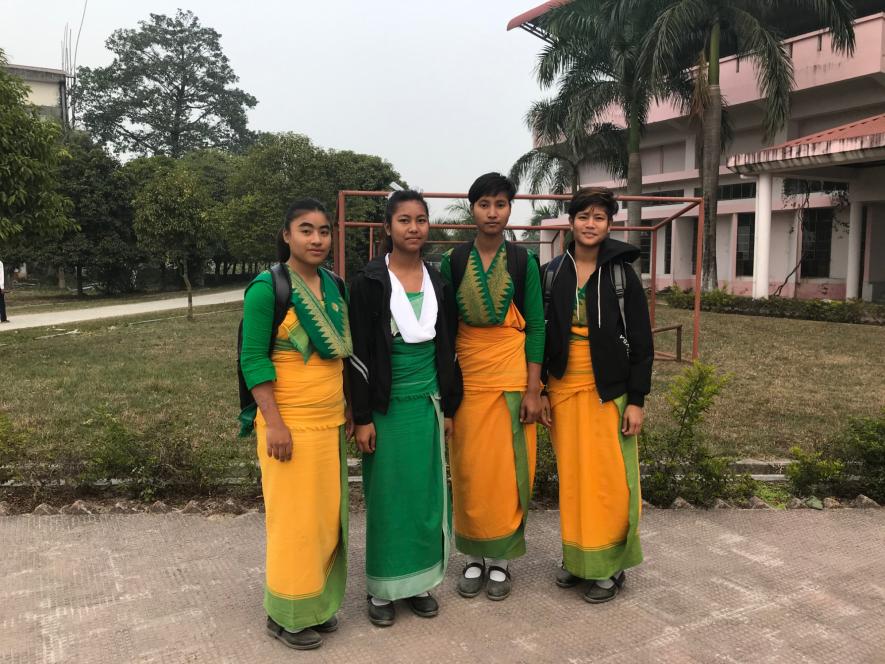 SAI Kokrajhar is one of few facilities that trains athletes in 10 sports. Assam's kabaddi team — members in the picture — at the Khelo India Youth Games was comprised almost entirely of trainees from the centre (Pics: Vaibhav).
"There are two stories," the director of the Special Area Games Centre tells me. It is two days before Republic Day on a cloudy, dreary grey afternoon in Kokrajhar. We are four of us, standing on a half constructed hockey pitch, discussing what the facility offers to the society around it. 
The director's name is Pradip Brahma. And the first story is about this sports facility on the outskirts of Kokrajhar. 
This is an area of Assam known as much for student agitations and demands of regional autonomy as for rubber plantations and golden tailed langurs. The Sports Authority of India (SAI) Kokrajhar centre was established in 2006 with the simple aim of scouting and cultivating local talent for specific sports at the grassroot level. At the start they offered four sports — archery, boxing, football and taekwondo. The main indoor stadium was taken on lease from the Bodoland Tribal Council to set up facilities in the area. 
Over the years the programme expanded to 10 disciplines — among the most at a single SAI facility in the country. It houses 235 young athletes now in a 27 acre campus, that has also expanded into a football and athletics stadium, a gym, and separate hostels for girls and boys. The aforementioned hockey astro turf is under construction.
Also Read | Courting the Establishment: Saina Nehwal and the Tradition of Sporting Opportunism
If people know about this facility they care about sport. SAI's partnership with the Bodoland Tribal Council to operate a sports facility is a tale of sporting diversity, and how — despite all the pessimism that surrounds grassroot sport in India — there are people around who care.
I visited Kokrajhar on a Friday, a few days after the Khelo India Youth Games ended in Guwahati. Many athletes of the Assamese contingent — especially in sports such as hockey, kabaddi and boxing — were hostelers at SAI Kokrajhar. Several had just come back and were on an off day, roaming around town. I went to the facility accompanied by a local political activist who knows Kokrajhar intimately — but had never seen the facility before. He took several pictures of the campus for his social media feed. 'Logon ko pata chalna chahiye (people should know about it),' he magnanimously offered.
As we do the tour, we pass through the administrative block. In the reception area are pictures on the wall of the facility's alumni. Inscribed on the picture are their names, and what they went on to achieve internationally in their sport. They total about 20 in all. But Brahma promises me that there are more. 
"The kids here have very small dreams," Brahma says, "if you look at our success rate we do very well at the junior levels but it doesn't translate to seniors. Why do you think that happens?
"The kids get a few medals, land a job and then settle into that. The desire to achieve more isn't there," Jai Bhagwan, one of the other coaches chips in. Bhagwan, who is from Haryana, is the hockey coach at the facility and has been at Kokrajhar for the past two years. This is his first posting.
Video | FC Goa Sack Coach Sergio Lobera: The Inside Story (420 Grams S-2, Ep.20)
The way Brahma tells it, that is the second story of this far flung special area games facility in the middle of nowhere. It is the story of a grassroots facility stuck in a vortex of scouting, nurturing, achievement and scouting again. 
"But," Brahma proceeds to correct, "there are kids from here who have also gone on to become internationals for India."
Halicharan Narzary is a prime example. Narzary was drafted into SAI Kokrajhar in 2006 after a football scouting camp — conducted by Brahma himself — unearthed him as a talent good enough to be considered for the programme. Narzary moved up the levels, impressing at age group football before playing for the India juniors and then got drafted into the senior national team. He was a starting member of the Indian team at the AFC Asian Cup last year, one of the few regulars under Stephen Constantine.   
At the mention of Narzary's name, Brahma starts smiling. "Hali gave the Group D Railways exam in 2013. He would have probably landed that job." Brahma says. The interview was to take place at Lumding railway station and one of Brahma's acquaintances got in touch to let him know that Narzary had been selected. Almost immediately Brahma subtly hinted that under no circumstances must they offer him the job. 
"You can say I was stabbing him in the back. Taking away a sure shot income from him. You can also say that if I hadn't done that he wouldn't have taken football professionally and landed a contract with an Indian Super League (ISL) club. I'm sure he earns more than a TT now," Brahma laughs. There are two stories for everything.
Also Read | Lost in Ladakh: The Cold Truth Wrapped in a Feel Good Khelo India Story
Brahma continues in this vein, talking about how because the children who come to the facility — now the centre accepts kids from across Assam — come from impoverished backgrounds, the promise of stability is enough. Medals, glory, sporting achievement are fickle mistresses. At the end of the day everyone wants a job. 
While this goes on, three kids turn up. Brahma introduces me to them. The first, Bhum Machahary is a 100m runner who joined the hostel in 2014. Machahary's talent was spotted at an Inter-school meet in Kokrajhar. He was part of the Assam relay team that won gold at Khelo India in Guwahati.
The other two are a pair of footballers. Rahan Brahma is a midfielder. Urjay Brahma is a right back. Both of them are from Udalguri and came to the hostel after another scouting camp in the area. Urjay is widely considered the more talented. He was part of the selection camp for the Under-17 India team which played in the World Cup. Both played for Assam at the Khelo India Games. The team won silver, outmuscled and outplayed in the final by Punjab. 
Both of them are at SAI Guwahati now. This is a holiday back home. They have come to pay their respects to Brahma. 
"No, there is no one in my family who has played football before," Urjay says. "I used to play in the village. For school too. But the team wasn't very good. There was an ad in the paper for the camp, so I went and attended. I got selected..." he shrugs. 
"That's how we get numbers for our camps. We put out circulars and ads. There is a good response," Brahma says.
Video | Sourav Ganguly at Helm of BCCI: First Quarter Report Card 
Jai Bhagwan has pulled away from this conversation. Him and the other hockey coach, TB Gangaraju, are engaged in an animated conversation while looking at their phones. The new allocations for SAI centres have just come in. The revised allocation has reduced the enrollment numbers for the facility and has also eliminated a sport completely from the programme. Brahma joins in and after a quick scroll he starts laughing.
"They have reduced the number of boys in football," he says. A rant is coming I fear. "From 25 they have made it 15. How am I supposed to take them for tournaments where the minimum squad number has to be 18? Actually, how am I supposed to conduct training sessions for 15 boys?" It isn't a rant. It's a lament.
I am also confident this is a mistake. A misprint maybe. Brahma concedes that much. But the bigger problem is the sport that has been removed from the schedule, Judo. A new coach, Ram Kumar had recently joined in, on his first assignment. Ram is from Panchkula and by all indicators is a popular inductee into this consortium of coaches from across India in a facility in lower Assam. 
"Where is he? Call him. If he is to be reposted, then we may as well take him out for lunch," Brahma laughs. Bhagwan calls him, and a short stocky bearded man soon turns up. We head off for lunch. Ram is nonplussed about what has happened. "It is what it is," he says. "This is a coach's life. I think Tinsukia has got Judo. Maybe I'll get posted there." But what about all the children at Kokrajhar who may now either be cut from the programme entirely or be forced to shift? He shrugs.
Bhagwan points to a bigger problem. The facility was rebranded recently. Instead of a Special Area Games centre, it is now a Sports Training Facility. What this means is that any children hoping to get inducted into sports programmes in the facility will have to, at the minimum, have been commended at the state level in the sport. 
"It takes away the grassroot aspect of the programme," Bhagwan says. "Obviously, at one level this means that we will work with kids who are probably more talented and easier to coach. On the other hand…" 
Also Read | Fidel, Raegan and a Game of Table Tennis In Guwahati
The reclassification dictates that a certain standard be maintained for athletes in the programme. As Bhagwan says it, SAG centre hostelers were anyway required to earn national medals to be considered for the programme on an annual basis. This reclassification to an STC however removes the ability of the coaches and the scouts to draft in kids who are completely raw and outside the system. Kids from inter school meets or even coaching and scouting camps in districts. The facility's opening reason for existence, the outlet it provided to a community removed from privileged systems, is now broken. Kids like Bhum, Rahan and Urjay will have to find another way to enter the Indian sport ecosystem. 
"Khelo India se bacche nikalenge. Yahan se nahi (athletes will be produced via khelo India, not from here,)" one of the coaches laughs. 
Brahma has a last throwaway line to offer. "The idea should be to increase the number of kids. Not reduce them," he says, "why do you want to restrict sport?" He shakes his head, then my hand and walks away. 
On the drive back, my companion asks me how to enroll a child into the facility. 
Get the latest reports & analysis with people's perspective on Protests, movements & deep analytical videos, discussions of the current affairs in your Telegram app. Subscribe to NewsClick's Telegram channel & get Real-Time updates on stories, as they get published on our website.
Subscribe Newsclick On Telegram