Barcelona Shake Off Clasico Blues, Beat Juventus in Turin; Chennai City FC in Process of Buying Chennaiyin FC, Leave I-League: Reports and More (Football Round-up)
Short Passes (Football News Round-up): FC Barcelona beat Juventus 2-0 in UEFA Champions League | Chennai City FC have, reportedly, secured an investment of 20 million Euros from Europe, which would be used to takeover Chennaiyin FC | Diego Maradona has self-isolated himself after Covid-19 scare | Mohammedan Sporting continue signing spree ahead of I-League | Spanish clubs told to end sponsorship deals with gambling firms.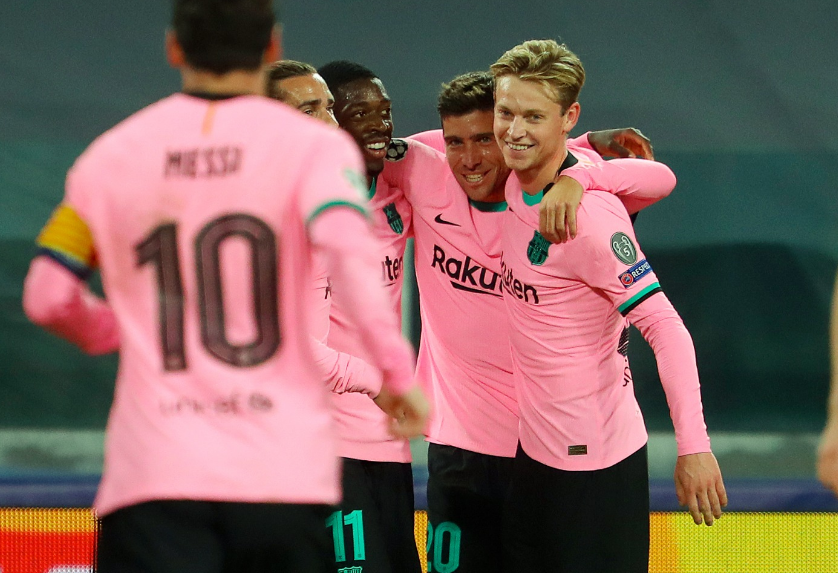 FC Barcelona players celebrate after scoring a goal against Juventus in their UEFA Champions League match in Turin. Ousmane Dembele and Lionel Messi scored for Barca in the 2-0 win.
The last time Andrea Pirlo faced FC Barcelona in the Champions League was the last time he played a game for Juventus in the European premier competition. It was the final in 2015. Of the four goalscorers that night, only one was on the pitch when the two sides met in Turin last night. And that man, Alvaro Morata, has travelled to three clubs in the five years since that game. 
It was somewhat appropriate though that the teams on pitch last night were not dressed in the colours from that 2015 final. Juventus' hard, straight, strong black and white has been replaced by a kit where the stripes look like they have been drawn in crayon. Flimsy and careless will describe them correctly. And Barcelona? They were dressed in pink (with a trim of green) and black. A homage to Faber Castell no doubt.
Also Read | World Champion Christian Coleman Banned for Two Years
And a week that has seen turmoil and muted celebration also gave them luck. In the form of their opener. Ousmane Dembele, making his second start of the season, picked up Lionel Messi's long crossfield ball in the 14th minute to cut into the Juventus box. It was a run more in hope than of pure intent. His shot, fortuitously, took a massive deflection off Federico Chiesa, looped over Wojciech Szczęsny, and into the net. 
The goal prompted Juventus into action and Morata had the ball in the net twice in the next half an hour, but both efforts were chalked off for offside. 
It was more of the same in the second half, Barcelona controlling the game via Miralem Pjanic — a player they nicked off Juventus this season — and the hosts looking to counter. Morata had a hat-trick of goals ruled out for offside, and that effort midway through the second half was the last of the home side's chances. 
From then on, Barcelona choked the game with control, Pjanic and Frenkie De Jong pulling the midfield strings, and Messi on multiple occasions setting up his strike partners, Antoine Griezmann and Dembele. The second goal came in injury time, Ansu Fati (replacing Dembele) brought to the ground in the box, and the resultant penalty was put away by Messi. By then Juve were a man down, Merih Demiral sent off having picked up a second yellow. 
It was a great way to bounce back from a Clasico defeat for Barcelona. This was their first win in Turin in seven visits. A stronger performance than any this season. But a chasm still remains.  
Chennai City FC's ISL Plans
As per a report, Chennai City FC (CCFC) is unlikely to play in this season of the I-League. The 2018-19 champions have their sights set on the Indian Super League (ISL) and, according to a report in the Times of India, they are in the process of securing a big investment from Europe which would enable them to buy stakes in Chennaiyin FC.
That would, then, be a new way to enter the ISL. We have seen two already -- sell stakes to an existing ISL club (the takeover of Mohun Bagan by ATK), or get the Chief Minister of the state push for entry as a special case (the East Bengal saga). Chennai City, who have been playing their home matches in Coimbatore because their "city counterparts" were insecure about having another club steal the thunder in the Tamil Nadu capital, would try throwing in cash to get in. The way the ISL prefers! 
Also Read | Bartomeu Resigns Ahead of No Confidence Vote at FC Barcelona
That, however, creates some dilemma though -- will the CCFC management/investors  buy enough shares to exercise their will at Chennaiyin, starting with perhaps renaming it Chennai City. It is a serious matter since they won't be able to try the ATK-MB formula. The name would sound weird, even by Indian football standards. Imagine Chennai City-Chennaiyin FC! The acronym borders on madness: CCCFC!
Apparently, CCFC would not just be buying stakes, but totally taking over the club. The investment set to come in is huge -- €20 million as per reports. This is possibly above and beyond the investment FC Basel was set to put into CCFC following a tie-up last season. The identity of the new investors is yet to be revealed. It could well be Basel itself, giving the South Indian club a Swiss flavour, at least business model wise.
Chennai City's plans to stay out of the I-League this season -- partly because the management feels pumping in Rs. 2-3 crore for the season would hardly get them any ROI, or eyeballs via professional broadcasting -- may not happen though. The All India Football Federation (AIFF) might try a bit of arm twisting to ensure the second tier league would have a full roster of teams in the curtailed season scheduled to begin in a biosecure bubble in Kolkata on January 9.
Getting back to the various ways to enter the ISL, one could see some more, especially after Praful Patel's benevolent statement to hosts Goa saying he would love to see Churchill Brothers in the top league. Wonder how the Goan side would manage that entry. Using the Chief Ministerial route is passe now. Buying or selling is boring. Maybe a recommendation, perhaps, from the Catholic Church would do the trick.
Maradona in Quarantine
Diego Maradona went into self-isolation and quarantine on Tuesday after one of his close associates (some reports say bodyguard) showed symptoms of Covid-19, Argentine state news agency Telam reported.
Maradona, who is presently the coach of Gimnasia y Esgrima (a top division side in Argentina), has isolated himself at home and will remain so until the results of his test for the coronavirus is known. El Diego will turn 60 on Friday. 
Meanwhile, River Plate's coach Marcelo Gallardo has also gone into quarantine at home, the club confirmed on Twitter. Last weekend, he was in contact with a person who later tested positive.
With the Argentinian championship set to restart this week -- after it was put on halt in March -- the football establishment is trying to secure themselves from the virus in order to get a biosecure model up and running to play the matches in.
Mohammedan Continue Signing Spree
Two days after appointing a new manager in Jose Carlos Hevia, Mohammedan Sporting have landed a big coup in the transfer market, signing Raphael Ownrebe from the Bangladesh Premier League (BPL) outfit Sheikh Jamal.
Ownrebe has been playing in the BPL since 2017 and won two golden boots in his time there. In his first season he scored 15 goals and provided nine assists to help Sheikh Jamal finish second in the standings. That was a tally he improved upon the next season scoring 22 goals in a year for new club Sheikh Russell FC, even though the club did not register in the top three in the league. The 2019-20 season was abandoned due to the Covid-19 pandemic.
Also Read | It's Scary Out There: The Unsafe Gaze in a Public Space
While Ownrebe's signing will undoubtedly prove useful to a frontline that already has Willis Plaza, it is the change in the dugout that will provoke a lot of attention. Mohammedan, after all, are appointing their second manager in two months. Their previous manager, Yan Law, was sacked unceremoniously one game into his tenure, amidst allegations of leaking private information about the team. The allegations are still under investigation. 
Hevia held the post of technical director of coaching and youth development at Shillong Lajong FC until August this year. He came into India as technical director of the Arsenal Soccer Schools based in Pune back in 2014. During this stint, he was also associated with the FC Pune City (now Hyderabad FC) support staff. While his coaching experience in India may be limited, it is safe to say that 'coaching experience' is the last of his skills he needs to be worried about at Mohammedan. At the club man management and situation management are the need of the hour. His priorities will be dealing with a club under new administrators, old values and medieval PR. One can only hope he will be allowed to pick the team unilaterally.
Spanish Clubs Told to End Deals With Gambling Firms
Clubs in Spain sponsored by betting companies have been advised to cancel their contracts before the end of the season in anticipation of a new law on gambling advertising, according to a letter sent by a minister on Wednesday.
The letter, signed by Minister of consumer affairs, Alberto Garzon, informed clubs that contracts with gambling companies will be prohibited once the new royal decree is approved by a cabinet meeting and written into law.
The letter said athletes' [at clubs sponsored by betting companies] status as role models had led to an increase in gambling among young people aged 18-25, rising from 29% to 40% in the last four years. The amount of money spent by young people on gambling, meanwhile, had risen by 13% annually.
Seven of the 20 teams in La Liga are sponsored by gambling companies. They include Europa League holders Sevilla and six-time league champions Valencia.
Get the latest reports & analysis with people's perspective on Protests, movements & deep analytical videos, discussions of the current affairs in your Telegram app. Subscribe to NewsClick's Telegram channel & get Real-Time updates on stories, as they get published on our website.
Subscribe Newsclick On Telegram