In UP, a Battle That India Will Fight in Coming Years
The state is going through a massive churning to settle whether hunger can be sedated by aggressive concoctions of religiosity.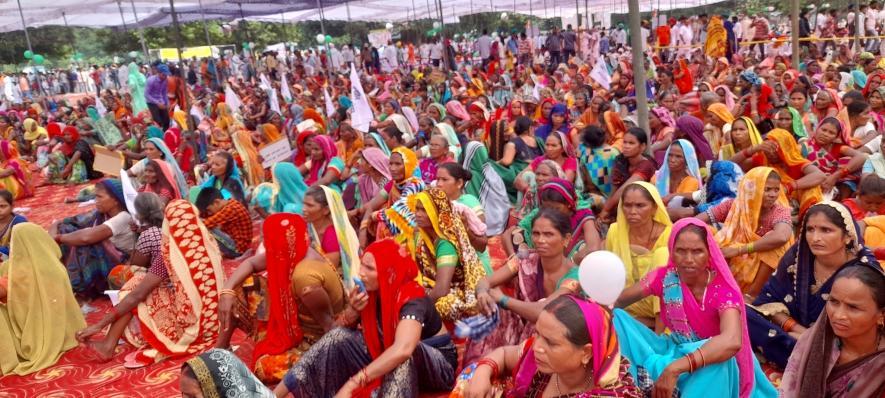 There is a popular saying in Uttar Pradesh – 'bhookhe bhajan na hoye Gopala, ye le apni kanthi mala'. Roughly, this means - one can't sing hymns when hungry, take back your (devotional) necklace. The ongoing electoral battle in Uttar Pradesh is inexorably coming down to this. The aggressive saffronisation of governance carried out by Bharatiya Janta Party's Yogi Adityanath in his five years of rule, applauded all the way by New Delhi and the media, is now face to face with a restive and discontented population furious at the lack of jobs, price rise, low wages, and, most of all, at the indifference of the ruling party to these life and death issues. Repeatedly, across the state, people are heard saying that BJP does not keep its word, that it didn't fulfill its promises.
This is significant because UP was the state that gave a blockbuster mandate to BJP in the last Assembly elections by electing 325 members of BJP and its allies in a House of 403 members. This was followed by another sweep in the Lok Sabha elections in 2019 when UP elected 64 BJP alliance members of Parliament out of 80 seats. With this kind of support, they must have gone spectacularly wrong somewhere to be fighting with their backs to the wall now.
Yogi's Polarising Rule
Yogi Adityanath, the 'monk' with personal assets of Rs.1.54 crore, including a couple of guns, had been a five-time Member of Parliament from Gorakhpur where he was part of (and finally headed) the Gorakhnath Math. He was reportedly chosen by Prime Minister Narendr Modi and then BJP president Amit Shah for the chief ministership in 2017, superseding several BJP stalwarts.
Yogi couldn't have been chosen for his administrative experience, for he had none. So, the reason could be his credentials as a muscular Hindutva flag-bearer who will not shy away because of political niceties. To that extent, he has done his job. Since those heady days, Yogi and Modi have regularly praised each other and left no occasion to remind people that the 'double engine' government in Lucknow is just what was needed in the country's most populous and also one of the most backward states.
There were promises of lakhs of jobs being created, of all round development, of roads and hospitals and so on. Much emphasis was given to investments by the big corporate sector. A global investors' summit was held where top honchos of India's billionaire club were in attendance, promising a wave of investment funds. This was, of course, supposed to create jobs aplenty.
But looking back at the five years, it is inescapable to note that Yogi himself was far too involved in his real ideological engine – aggressive Hindutva. Development was a promise, but what he and his government delivered was a mix of avowed bigotry and communal angst. Since becoming chief minister, he quickly announced his resolve to end 'love jihad', finish of 'mafias' and 'goonda raj' by using the police forces often on the border of lawlessness, blamed Muslims for spreading the coronavirus, criticised supposed 'conversions', and so on.
The nuts and bolts of this divisive obsession are astonishing if one cares to look. For instance, Yogi recently inaugurated an Anti-Terrorism Squad (ATS) training centre in Deoband where a well-known Islamic theological school, Darul Uloom, is located. In his speech he was as open as he could possibly be – he reportedly said this was his message to terrorists.
Throughout his five years, Yogi has spoken repeatedly of Muslim burial grounds being given preference over Hindu crematoria, of power connections being discriminatory, of ration being diverted – all under earlier regimes.
Other issues on which Yogi has targeted Muslims while trying to create a fear psychosis among Hindus include forcible conversions, beef eating and cow slaughter, links with terrorism, etc.
After the discriminatory Citizenship (Amendment) Act was passed in 2019, protests erupted across the country and huge demonstrations were held in many places. In UP, too, such protests were held with sizeable participation of the Muslim community, but also by thousands of non-Muslim secular people. These were met by a violent response from the UP police in several towns and cities with at least 23 people getting killed in police action, all Muslim. Most of the dead were very poor daily wage earners. Over 500 families were served notices for recovery of Rs.3.35 crore damages reportedly without any legal recourse. Many were even publicly shamed by putting up billboards of their names and addresses.
This was a move to terrorise the Muslim community in the state through not just violent state action but also massive economic punishment, for the purpose of which a new law was quickly brought in by the Yogi government. Even the Supreme Court has sharply rebuked the UP government for violating due process in this. Similar terrorising of the minority community has taken place through the so-called encounters by police.
According to a Home Department official statement, it was reported that from March 20, 2017, to June 20 2021, as many as 139 criminals were killed in police encounters and 3,196 injured, while 13 police personnel also died and 1,122 were injured. An analysis of encounters in the first three years of Yogi's rule reportedly showed that 37% of those killed were Muslims.
To try and win over Hindu voters, Yogi has been flaunting these actions but also claiming to have worked to rejuvenate 700 temples and pilgrimages. But the biggest claim is that the BJP government has started building the great Ram temple in Ayodhya. This is disingenuous because it was the Supreme Court that allowed it – but anything goes in Yogi's UP.
A world record of 900,000 lamps were lit in the temple town of Ayodhya this year although the state of economic distress was shockingly revealed when later, hundreds of people descended on the ghats to collect some of the 36,000 litres of mustard oil that was used for the lamps. This oil is widely used for cooking and was selling at over Rs.200 per litre in the state at that time.
As the election campaign gathered pace in Western UP for the first phase, Yogi and other BJP top brass went all out to rake up the 2013 Muzaffarnagar communal riots, claiming yet again the that it had led to fleeing of Hindu families. In fact, it was later revealed that some Hindu families left Kairana for other reasons, and the list of those who "fled" included some who had died. Yet the perverse version has become campaign material even in the current election.
Economic Factors Dominate
The past few weeks of hectic electioneering has shattered the image of the Yogi government's infallibility and dominance. A slew of issues – mostly economic ones – appear to have seriously dented the government's push for another sweeping victory. These include the farmers' issues, which were brought into focus by the year-long farmers' movement that ended with the Modi government being forced to withdraw the hated black laws.
Since there was considerable participation in this massive movement by farmers in Western UP, the support base of BJP in this region has decisively shifted away from it. Many unresolved factors, such as the payment of sugarcane dues, the sacking of a Union minister whose son was allegedly involved in the running over of four farmers in Lakhimpur Kheri last year, and the withdrawal of cases against protesting farmers are fuelling the farmers' anger against the 'double engine' of Modi-Yogi.
A bulk of farmers in the state are deprived getting Minimum Support Prices or MSP for various produce. The destruction caused by stray cattle which have become omnipresent after the cow slaughter restrictions imposed by Yogi's government has also reportedly angered farmers. Since UP is largely an agricultural state, farmers' unrest over these issues has resonance across the state and is likely to erode the ruling party's base everywhere.
Continuing high levels of joblessness – despite promises by both Modi and Yogi of providing jobs – is another grim reality that is causing disillusionment among voters. The recent outburst of anger by Railway job aspirants and the ham-handed response of the UP police in Allahabad shockingly showed the high degree of anger among jobless youth. There are lakhs of vacancies in the UP government itself while an estimated 15 lakh vacancies are unfilled in the Central government.
On many other economic policy counts, the Yogi government has floundered miserably – industrial contribution to the Gross State Domestic Product has declined from 35% to 31% during Yogi's regime, economic growth has slumped from about 11.4% in 2016-17 when Yogi took over to 6.3% in 2018-19 and then to (-)6.4% in 2020-21 during the pandemic, rural wages remain very low and the state government's debt has increased by 40% during Yogi years.
This has translated into immense misery and hardship among the common people. Added to this is the undeniable mismanagement of the COVID-19 pandemic that saw corpses floating down the river Ganga in several towns and cities, the cracking up of the state's healthcare system and the added economic cost that people had to bear, besides losing their loved ones.
Communal Hatred or Economic Progress
In UP, people once thought that BJP represents 'vikas' (development), without any discrimination or strife. Some sections were even willing to go along with some religious tactics thinking that it will not affect the development work. However, the past five years have exposed the harsh reality that it is development that is a screen, the real intent and purpose of the government was to impose the BJP/RSS (Rashtriya Swayamsevak Sangh) conception of a Hindu Rashtra type of governance. In this kind of rule, farmers or youth or students or women, or dalits and Other Backward Classes or OBCs continue to be deprived and disadvantaged. The BJP's governance model is inherently flawed and what UP is realising today, other parts of the country too may realise soon.
Get the latest reports & analysis with people's perspective on Protests, movements & deep analytical videos, discussions of the current affairs in your Telegram app. Subscribe to NewsClick's Telegram channel & get Real-Time updates on stories, as they get published on our website.
Subscribe Newsclick On Telegram