Of Scars and Lessons Learnt Returning to the Roots: The Jamal Bhuyan Story
Bangladesh football team skipper Jamal Bhuyan, who grew up in Denmark, was shot multiple times after getting caught in the crossfire of a local gang battle in Copenhagen. He was 15 and on the cusp of a professional career at the time. 15 years down the road, he plays on, for Mohammedan Sporting in the I-League and as skipper of the Bangladesh football team.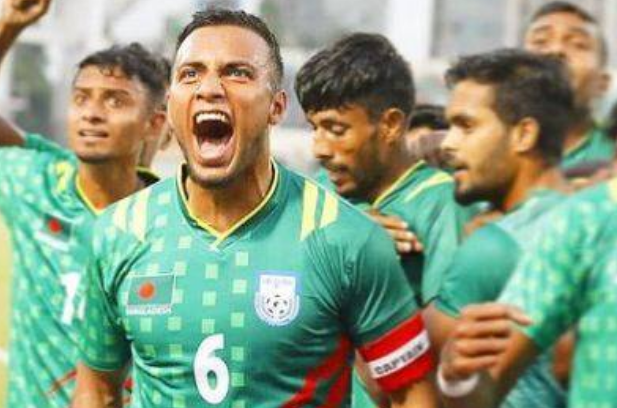 Indians best remember Jamal Bhuyan for a set piece, one that Gurpreet Singh Sandhu spilled to gift Bangladesh the lead in a FIFA World Cup qualifier in Kolkata last year.
If you've ever played professional football you will have a scar to show for it. On a knee, a shin, a forearm… an eyebrow. Each scar, a small story. A hard tackle, a twisted ankle, a training ground elbow, a hyperextended knee, an awkward landing… the price of grit and grind. The surgeon's pound of flesh to restore balance to your body. 
Jamal Bhuyan has one very prominent one. It is about five inches long, extending from the base of his right elbow to the forearm. It is part of a set of four. The other three are on his torso. One extends from his navel all the way up to his solar plexus, where it stops, a crater acting as a full stop. Two others dot the side of his obliques. They aren't from football, even if football somehow features in the memory of him acquiring them.
"It happened in Central Copenhagen," Bhuyan says, his voice a low drawl, soft and heavily punctuated. "I was on my way home from school. In fact, we played football every Friday, and I was going there and got caught in the middle of a gang shooting," Bhuyan says casually. "I took four bullets and spent almost a year in the hospital. No football… nothing." 
Also Read | Cut, Copy, Waste: Indian Sports's Social Media Has Been Co-Opted To Serve A Nationalist Agenda
He turns his right arm to show the scar again and traces a line from it, elbow to wrist, to indicate the area that still hasn't regained sensation. "I can't move this part," he smiles pointing to the area between his wrist and ring finger. He was shot when he was 15, exactly half a lifetime ago.
Indians best remember Bhuyan for a set piece, one that Gurpreet Singh Sandhu spilled to gift Bangladesh the lead in a World Cup qualifier at the VYBK in Kolkata last year. And now, the Danish born and raised defensive midfielder is in India for the I-League [a sentence that screams globalisation], playing for a Mohammedan Sporting team that refuses to concede goals but is equally stubborn about scoring them. When the club announced his arrival, the set piece was part of their social media promo package. The backstory wasn't.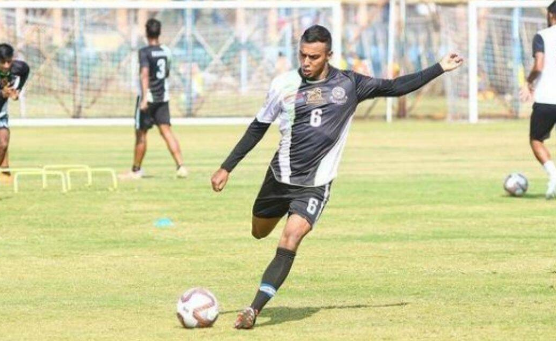 Bhuyan grew up in Brondby in Denmark. His grandfather shifted to the country in the 1950s, and, despite his footballing allegiance, Bhuyan himself has very little family in Bangladesh. He  started playing in kindergarten with his friends Daniel Wass and Pierre Kanstrup, and kept rising up the levels, first at Brondby's youth teams, and then eventually signing for Copenhagen. The three played in high school and college together too. Wass plays for Valencia in La Liga now and Kanstrup for SønderjyskE in the Danish Superliga. Bhuyan played through the levels in Denmark till 2012, when finally he shifted to try his luck in the Bangladesh Premier League. 
Professional football isn't easy anywhere, but for South Asians it is tougher than most. Bhuyan acknowledges the struggles that came with his unique heritage. "There is some discrimination, and that's why you have to work harder. Especially for me, because maybe I'm average size in Bangladesh, but in Denmark I'm one of the smaller guys," he says. "Among my friends I've always been the smaller guy. And so I had to compensate for my physical deficiency. I had to use my brain more."
Also Read | Tokyo Olympics Head Yoshiro Mori In Eye Of A Storm After Sexist Remark
It wasn't just all self imposed either. "I moved to FC Copenhagen when I was 15, and in the second practice, one of the coaches came to me and he said, 'Jamal you have good technique, but you have to work on your physical part or they will all beat you.' But then he said that if I use my intelligence I'll be alright. Because football isn't just physical…." he taps his temple.
It was in his time at FC Copenhagen when the scars arrived. 
"It was tough when that happened. The club was very nice to me. They had great resources, they were playing the Champions League. They supported me completely, financially aiding my recovery and rehabilitation," he says. "But it was tough. Spending all that time alone in the hospital." 
He pauses.
"People would come and visit. They'd be by your side, and give you company. But everyone has jobs to do… and I was there for a long while. When you're on a hospital bed, you think a lot…" Everyone told him he was done. Football wasn't going to work out. He considered quitting, giving it all up and settling for a 'normal job'. "But then I said, f*** that shit, if they don't believe in me I'll believe in myself." He made it back.  
Within three years his development had been good enough to attract the attention of his forefathers' land. "I got an email from the federation when I was 18. They wanted me to come," Bhuyan says. 
A young age for a footballer to commit his international future. Most would have taken time, a year or two more at the very least. But Bhuyan, who spent a year on a hospital bed, recovering from an injury inflicted through no fault of his own, knew time intimately. "I spent a lot of that time thinking, man," he says. He was hesitant, but regardless went to Bangladesh for the national camp in 2008. Six months later, unable to adjust to the food, the culture, the atmosphere, he went back home.
"It isn't easy to just shift you know," Bhuyan says. "You don't have your family with you. You don't have any of your friends. You basically don't have a life. You go practice, you go to your apartment and wait for the next practice. And all that time you spend alone you keep thinking negative things..."
There is a lesson here for everyone who argues for foreign born players to turn out for India — and tweaking nationality rules to make them eligible. Eligibility rules are determined on pieces of paper. A person's biological passport isn't erased via legislation. Going back to your roots isn't the fairy tale for which it's sold. 
He went back home, but a door was left open. He was invited to return. There is a lesson here for those who believe in binaries. It doesn't always work out. Things take time. Change takes time. Adjust, sure. But slowly. 
Also Read | Will Scheduling Woes Pour Water over Stimac's Plans for India?
Bhuyan struggled to adjust. But he went back at the behest of the national coach and this time it stuck. He admits that to settle in he made friends with the foreign players and spent more time with them to learn the ways of South Asian football. It won him over. He joined Abahani Ltd in 2012 for two years, went back to Denmark for three and has, since 2015 plied his trade in the subcontinent, turning out for four teams in the last half decade. All of that before Mohammedan Sporting of course. 
How he ended up here is simple enough. There wasn't much football on offer in Bangladesh right now. Their season starts in April, and so this, the I-League is a loan spell, a tune up to shake the rust off and help a historical club to a grand welcome back to the big stage.
And again, even now at the peak of his prowess, Bhuyan has confronted a new reality, forced to adjust to a changing world. Indian football is used to silent stadiums, but silent corridors, idyllic off days stuck in hotel rooms and limited time in the sun is a tough life. His words from an earlier context — you practice, come to your room and wait for the next practice — is the new normal. The bio bubble is a necessity for players' health but it comes at the cost of cabin fever. 
"It is really very tough on the players," Bhuyan agrees. "You can't go for a walk if you want. Just to clear your mind maybe. You can't sit somewhere outside… it's necessary, but it's tough," his voice trails off. 
It really is. Inasmuch as the federation must be lauded for getting the league underway, flaws still remain. The bio bubble is a golden cage, built to protect them, but in doing so also suffocating them. Routine is professional sport, but the inability to decide your own personal routine (meals, breaks, leisure, gym, training) and instead rely on one provided by those in charge is tough. 
But Bhuyan isn't dwelling on it much. You can't. It will eat away at you if you do. He is instead looking forward to helping Mohammedan turn a flailing season around. Their new signings will help their fortunes in front of goal, and at the back, well Bhuyan is there. Then, it's back to Bangladesh, where crowds are back in the stadium, and the Covid response has been much more efficient. This is a tough time, but Bhuyan has seen worse.
"They told me I'd never play football again," he says. "I was average at my studies. I knew I wanted to play so I resolved to fight on. When I got back to that pitch after my accident, everyone was ahead of me. Everyone who was with me was better," he says. "But I resolved to make it up. I worked harder and always had to be more focussed. It is the only way you can work through the bad times." 
He did. He played again. And he is playing on. 
Get the latest reports & analysis with people's perspective on Protests, movements & deep analytical videos, discussions of the current affairs in your Telegram app. Subscribe to NewsClick's Telegram channel & get Real-Time updates on stories, as they get published on our website.
Subscribe Newsclick On Telegram