Chasing the Kolkata Derby: The Known Past, Hyped Present and Unknown Future
Subash Bhowmick, Prasanta Banerjee and Pintu Mahata belong to three distinct eras of Indian football's storied rivalry between Mohun Bagan and East Bengal. All three, who \have tasted the derby from both the camps, feel disconnected with the newly minted one in the Indian Super League (ISL), but remain intrigued as well since the contest defines who they are.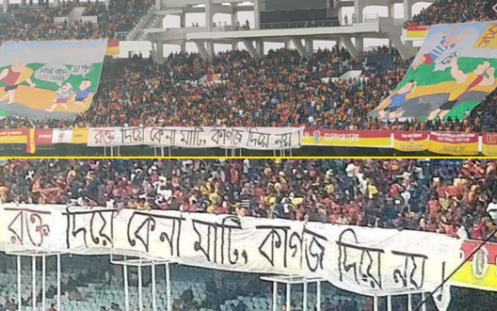 The clash between East Bengal and Mohun Bagan have always had a larger than life appeal, while the stage has been used for making subtle and direct social and political stands too, like the CAA protests by the fans during the last "real" Kolkata derby.
Ghost of Derbies Past (Not to Come)
"Oh god. I've had at least 10 journalists from Delhi alone call me today. I am sitting, waiting to go into the TV studio… but anyway go ahead." 
If you know why I've called you then, erm, that saves time.
"Maradona na?" 
Oh. No. The derby actually.
"What derby? This is not a derby. There will be no spectators. Without spectators this match is a non derby. It is the spectators who…" But the exceptional circumstances call for exceptional measures and all that? Plus there will be spectators online, as well as on TV.
"Haan sure. Watch on TV. But let me tell you this, that is what has been happening across the world. Without spectators in stadiums, the standard of football has dipped. You can see it. The heights that different clubs reached last year, playing superb football, haven't been seen again. In the ISL too, the games that have happened have lacked lustre. They have been quite average. Fans matter."
Also Read | The Poetry of Diego Maradona, And Hateful Truth in It
There are lots of questions here. The Indian Super League (ISL) has rarely (barring some outstanding venues) had many fans. Is there a subtle hint-hint, wink-wink there? Well to be fair, the I-League doesn't cover stands in glory either. The derby does. But there's no time for this nonsense. The conversation (monologue?) has moved ahead. 
"[ATK Mohun Bagan coach [Antonio] Habas is a tested guy. [East Bengal coach Robbie] Fowler isn't. On the other hand, Bagan's* cards are revealed. East Bengal's we don't even know…" 
Subash Bhowmick, the legendary coach, player, analyst, pundit and interviewee goes on like this for a bit, (without a question asked or needed) before settling down and answering the most important question of all. How is it to play for both clubs, that too one after the other?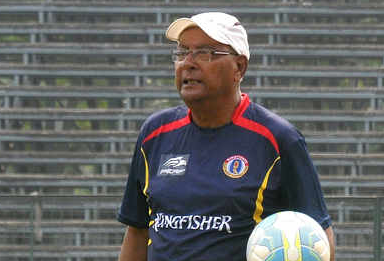 "Listen, the supporters love you if you are a professional. If you join one club after the other, they will sometimes love you more. Because it's like gaining an asset. And you are a professional. You will go where you have to right? You want to play. And the supporters love you and scream for you. And that is why you play the game. It helps you play the game. Think about how they screamed for Maradona… okayIhavetogonowbyethankyou. Think about it."
*What Bagan? Everyone says Bagan. Roll with it.
Ghost of Derbies Present 
"First of all," Prasanta Banerjee starts, "these are new teams. So this is the first derby." 
He says this in a measured tone, with pause. Which means opportunity for more questions. 
Banerjee is one of those rare players who has won trophies at each of Kolkata's Big Three. He played for East Bengal first, between 1976 to 1979, and then jumped ship to Mohammedan Sporting (1980-81). Except, it wasn't so much a jumping of ship as it was taking the ship, anchor, mast and all, leaving just the window panes behind.
Also Read | Kolkata Derby in Goa: Only Fools Rush in, They Say…
"There were 12 of us who went at one go to Mohammedan."
They went, that one full dozen — dirty dozen, damn good dozen, diligent dozen, take a pick — because the administrators, in Banerjee's words, made it untenable to stay. It is a story well told by anyone with half a ear on the maidan history sheets. Salary demands were not met, contracts were not honoured, mud was slung. It was untenable. Never mind. Mohammedan had the money (imagine that!) and were willing to shell it out if a title could be delivered.
"So it was like a full team of us anyway. All of us from East Bengal. Sure, it was obviously a different club, a different set of fans, but on the pitch we knew each other. Nothing changed." 
The team won the 1981 Calcutta Football League (CFL), and then they came straight back to East Bengal, the point proved.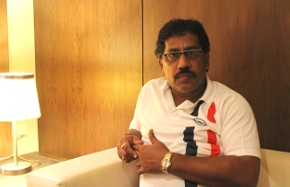 "It was a different time you know.  It wasn't as professional as today. The money I'm talking about. And that was just one thing. The officials were creating problems… Players have to play wherever you are. You have to be professional."
Banerjee was a solid professional. He spent two years at East Bengal after the Mohammedan sabbatical, then shifted to Bagan for six (1984-1990). His final years as a professional were back where it began, at East Bengal. His career arc has that nature's way of cubs always finding their way home feel to it. Or, in modern parlance, the drained battery always goes back to the charging point. Any fan pushback?
"Never. In fact more often the fans used to be thrilled. When I went to Bagan, they were thrilled that they had taken one of East Bengal's best players. They also knew it was purely work."
Okay. But fandom is a thing? Did you support one or the other? Don't say you supported the one you played for. Don't do that. 
"We used to support Bagan when I was a kid. But East Bengal when I grew up." The diplomacy is spellbinding. You hardly notice it till you read it twice. 
And now? Now he isn't a fan (the exact words are that he 'isn't a supporter'). He will sit down and enjoy the game, watch it, absorb it, analyse it. It's the job now. To watch football not just for football's sake but for what it actually is stripped down from the flashing lights. Chess on grass.
"It will be a strange game. East Bengal kaisa team bana raha hai, kya team khelega, kaun khelega, kuch nahi clear hai..." 
ATK Mohun Bagan may be the new club, with the new identity, but in essence they remain constant. East Bengal on the other hand, have retained all their old features but in essence are completely changed. They have a brand new team, squad, staff, all with the store smell intact. 
"In my opinion this will be a game played in midfield," Banerjee closes his argument. "Both teams will pack the midfield. Habas likes to do that anyway. It is what he did against Kerala and East Bengal are playing their first fixture so maybe Fowler will do that too. It will be a game played on the counter." 
When was the last time the Kolkata derby was a blowout?
Ghost of Derbies Yet To Come (Or Never Again)
Pintu Mahata first started playing football when he was eight years old. Everyday he would cycle  the 10 kilometers from his village, Dharrasol (population 548, Census 2011), to the town of Midnapore and back home just because he wanted to play the game seriously. He did this for four years straight, right till one day his coach Amaya Bhattcharya ("he has played for East Bengal and Mohun Bagan") showed him a newspaper ad which said Mohun Bagan were coming to conduct a trial in the area for Under-14 players. 
He took the newspaper cutting and went for the trial. There were a 1,000 kids there by his estimation, and a long line, in which he stood for hours, just to register.
Also Read | AIFF Approaches Supreme Court Seeking Extension of Tenure of Executive Committee
The trials were conducted over two weeks, every alternate day serving as a fresh round. Finally, the club selected 12 players for the junior team. Mahata was one of them. It meant a lot. It also meant his journey to play football would get longer. He would take a train and go to Kolkata every day for practice. A three-and-a-half hour trip one way. Everyday. That is, till one day, when he landed up late for practice and Bagan's junior coach Amaya Ghosh offered him a place to stay at his home. 
Mahata went on and graduated to Bagan's academy in Durgapur, and ended up captaining the Under-18 side (his coaches in his time there were Douglas Silva and Jo-Paul Ancheri). In 2016, when he signed his senior contract for Bagan, it was the culmination of a rare journey, and the start it would seem of a new one, that may well have lasted a lifetime. 
Mahata played his first derby in 2018, in Bagan colours. It was in the CFL. He scored the opener in what would in the end turn out to be a crazy game where Bagan threw away a 2-0 lead to draw 2-2. Mahata played one more derby in Bagan colours, before transferring to East Bengal for the 2019-20 season.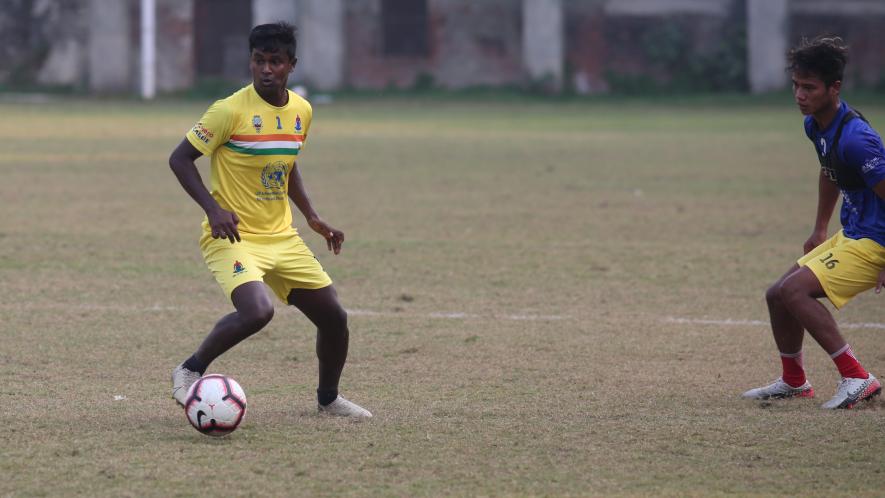 "It was a bit difficult for me," Mahata says, smiling, "but it was also great. Because right at the start of my career I've already played for the two biggest clubs."
"When I shifted, the initial feeling was of uneasiness. I wondered if I'd chosen wrong. If I'd done something wrong. But then I calmed down. Players have to shift. It happens in your professional life. Even now I get messages on my social media from Bagan fans asking me why I left."
It wasn't a bad move. At least not in the beginning. He played in the Durand Cup, his every touch cheered by the East Bengal faithful, and every player beaten hailed as the promise of a messiah. 
And then, just like that — or maybe it was gradually, knowing as we all do the slow burn that is football administration in India — East Bengal had jettisoned their entire I-League squad and shipped to the ISL. Old hands have found themselves cast astray (chief among them long serving club captain Lalrindika Ralte). Mahata joined Sudeva Delhi FC.
"Of course I'll watch. What kind of question is that?" he says, laughing. "Oh no way I'm telling you who I am supporting. Of course Mohun Bagan have a piece of my heart because I grew up there. But, no way I'm telling you. "   
Get the latest reports & analysis with people's perspective on Protests, movements & deep analytical videos, discussions of the current affairs in your Telegram app. Subscribe to NewsClick's Telegram channel & get Real-Time updates on stories, as they get published on our website.
Subscribe Newsclick On Telegram