Former Coach Marcelo Lippi Praises China's Player Naturalisation Drive, India Could Take Notes; Pep Guardiola Dismisses Victor Font's Overtures and More (Football Round-up)
Short Passes (Football News Round-up): Former China coach Marcelo Lippi talks about the benefits of including naturalised players into the talent pool of a country, Indian football could take a hint | Guardiola says he is 'incredibly happy' at City in response to Barcelona invite | 26-year-old football dies of cardiac arrest during a pick-up game in Mumbai | Women's FA Cup Final: Chloe Kelly's Unique Predicament in Manchester City vs Everton clash | PSG president Nasser Al-Khelaifi cleared of corruption charges.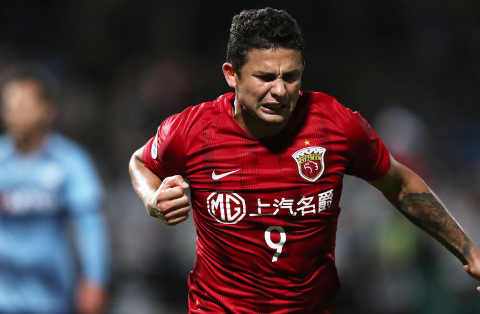 Brazil-Born Elkeson, one of the stars of the Chinese Super League since 2013, is the first player of non-Chinese heritage to be called up to the national side.
It follows a set pattern, almost cyclical, with the frequency varying a tad bit depending on the stints of the foreign coaches at the helm of the Indian football team. We are talking about the debate on whether to allow players of Indian origin play for the national team via naturalisation. It invariably comes up a few months into a new coach's stint when it dawns upon him the limited quality manpower he has at his disposal to fulfill the promises he made via multimedia presentations during the job interview.
The Person of Indian Origin (PIO) and Overseas Citizens of India (OCI) debate is valid much beyond the national team. These players, with strong basics and experience thanks to training in countries rich in football, have the potential to help India's development in a legitimate and sustainable fashion. Much more than say holding a four-month league, paying foreigners to come in, play them in the key positions for their clubs, score, win and leave with some money.
The football establishment is not fully at fault here though. India has very rigid laws about naturalized citizens. 
As per rules, a PIO can't get naturalized as an Indian citizen unless he gives up the citizenship of the country he was living in. That, now, is a tricky situation for many. For instance a British player/citizen might want to retain his citizenship and the much more powerful passport with him. That could deter him from trying his hand at football in a backwater like India. 
Also Read | Big Football Leagues Will Begin in India, But For the Rest There Remains Nothing
The footballing backwater part is pretty valid too. Something former Newcastle and Cardiff City player Michael Chopra probably considered while rejecting an Indian offer through the efforts of then coach Bob Houghton in 2006. Later, well past his prime, Chopra reconsidered. By that point, the government rules became a stumbling block. By then, Indian football wasn't very keen on his services either.
India need not look too far to study the benefits of planned addition of naturalised players into the footballing ecosystem. China, who have not qualified for the World Cup since making their debut in 2002, are keen to make it to the big tournament on a regular basis. They have tried the naturalisation way, and a system is in place to include Chinese origin players — and even non-Chinese who are interested, good enough, and with no appearances for any other national team —  into the domestic league system to add to a long-term football development agenda. Ensuring at the same time that the national side doesn't get too many foreign important by striking a balance between long and short term goals. The operative words here are long-term and plan, the two things missing in Indian football. 
Italian World Cup winning coach Marcelo Lippi had quite a part to play in the Chinese national football programme and its idea of using naturalised players to enrich the talent pool. Learning is what would help sides in Asia striving to get amongst the top teams in the world, says Lippi, who had two stints as China coach between October 2016 and November 2019.
"I believe naturalisation can help all national teams," Lippi told China's Tencent Sports.
"All players with Chinese ancestry around the world can serve the country with what they learn in Europe. They are all important members of the team and are able to make contributions. It's unfair to abandon them."
China also rope in players who don't have Chinese ancestry, while adhering strictly to FIFA rules which state that players who have no birth or ancestral connections to a specific country must have lived in the nation they wish to play for for at least five years. How does a country go about doing that?
To start with, the country needs to make the league and its football scope large enough so that it could attract players — younger ones like in China and oldies like the norm in India — to ply the trade in the country. This is besides the Chinese origin players in the club rosters that is. The players spend a considerable amount of time in China thanks to the longer season there. And it's game on…
Of course, the Indian citizenship rule is also a hindrance. But a bigger hindrance is football itself. One is sure many young footballers would be keen to return to the country of their ancestors — a culturally rich country such as India that too — if the football here makes it worth it. Indian football is not there yet.
Guardiola 'Happy at City', Rejects Font's Invite
The problem with courting someone via the medium of the media is that the rejection happens in similar form. And rejection via public medium is tough to bear.
Also Read | Chennai City FC in Process of Buying Chennaiyin FC, Leave I-League: Reports
FC Barcelona presidential candidate Victor Font's overtures have been softly dismissed. Speaking to the media before the weekend's fixtures in the Premier League, Manchester City manager Pep Guardiola gently squashed any harbouring nostalgia about his return to the club of his greatest triumphs. 
"I'm incredibly happy here, delighted to be in Manchester and hopefully I can do a good job this season to stay longer," he said.
Guardiola is in the final year of his contract at City and has not yet confirmed a decision on his long-term future, saying he will sign an extension if his players continue to respond to his coaching techniques. With that said, it is important to note that he has made his worst ever start to a season as a coach. City have eight points from five games and are in the bottom half of the table. They trail the leaders Everton by five points albeit with a game in hand.
26-year-Old Dies During Pick-Up Game
Scott D'Souza, a player from Mumbai who, as per reports, had represented India at a five-a-side tournament in China in 2017, died after suffering a cardiac arrest while playing a pick up game in Dadar. He was 26.
D'Souza, apparently, had complained about breathing difficulties during the match before collapsing near the goal post. He has played for Central Bank as well as many Mumbai elite division sides such as Union Bank and Air India and was popular in the five-a-side arena in Mumbai, where he was considered as a "prolific striker". 
Also Read | It's Scary Out There: The Unsafe Gaze in a Public Space
During the match, D'Souza, a resident of Peace Heaven Society in Dadar, had complained of breathing problems, said police. He is survived by his mother and younger brother. 
While the police have lodged a case of accidental death report, a forensic expert from KEM hospital said a final decision on the cause of death has been reserved and D'Souza's samples sent for histopathology. "It seems to be a case of cardiac arrest. Nothing suspicious or unnatural came up during the autopsy," the doctor said.
Kelly Faces Weirdest FA Cup Final Meeting
If there is a perfect way to illustrate how weird this year's football calendar is, it can be done via Chloe Kelly in the Women's FA Cup. Kelly, 22, played for Everton in the early rounds of the competition last season before leaving in the summer for Manchester City. Now, with her new club, she will face her old club in the final of last year's competition, being held in the middle of this season. Make sense of that if you will.
"One of the first questions I asked Gareth Taylor [City's manager] was: 'Am I allowed to play in the FA Cup?'" she said in an interview with The Guardian. Kelly played three games for Everton in the early rounds of the competition and has appeared for City in two.
 "I've got a lot of friends still in the squad. I haven't spoken to them too much this week, they probably don't want to, but I've got great relations with the Everton girls and the manager and all the staff too -- I've got huge respect for them."
Also Read | Mohammedan Sporting's Ghosts Refuse to Disappear
Players can usually play for only one team in a single FA Cup but the eligibility rules have changed for what is still the 2019-20 competition. The best part? Kelly knows she can do something almost no one else ever will in the game, by virtue of this competition restarting again before the season is out. "Our aim," she said, "is to win two FA Cups in one season." It is unclear if Kelly would be eligible for a medal if Everton win. If so, then she may as well already start thinking about the second FA Cup. The two teams take on each other on Sunday at 2000 hrs IST. 
PSG President Cleared of Corruption Charges
PSG president Nasser Al-Khelaifi was cleared of corruption after a trial in Switzerland.
Al-Khelaifi, who is also chairman of the BeIN media group, had been accused of giving gifts to former FIFA secretary general Jerome Valcke, in order to secure broadcast rights for the 2026 and 2030 World Cups. Valcke was found guilty of forging documents relating to TV rights and given a 120-day suspended sentence. The Frenchman was also ordered to pay the global body about €1.65m (£1.48m) in restitution. 
Al-Khelaifi had been charged with inciting Valcke to commit aggravated criminal mismanagement in connection with his role with BeIN Sports. He said the verdict was "a total vindication".
"It restores my faith in the rule of law and in due process, after four years of baseless allegations, fictitious charges and constant smears of my reputation - all of which have been proven to be completely and wholly unsubstantiated."
Get the latest reports & analysis with people's perspective on Protests, movements & deep analytical videos, discussions of the current affairs in your Telegram app. Subscribe to NewsClick's Telegram channel & get Real-Time updates on stories, as they get published on our website.
Subscribe Newsclick On Telegram