Gouramangi Singh Says Addressing Mental Wellbeing of Players Big Step For Indian Football; New Pay-Per-View Services at Premier League Will Drive Fans To Illegal Streams And More (Football Round-Up)
Short Passes (Football News Round-up): Setting up systems to address mental wellbeing of players is a big step for Indian football, says Bengaluru United coach Gouramangi Singh | New Premier League pay-per-view service will drive fans to illegal streams, warns football finance expert | English footballer Marcus Rashford honoured for school meals campaign | Iceland-Italy Euro under-21 match postponed after Covid-19 cases | 'Nobody thanked Napoli for preventing Ronaldo getting the virus'.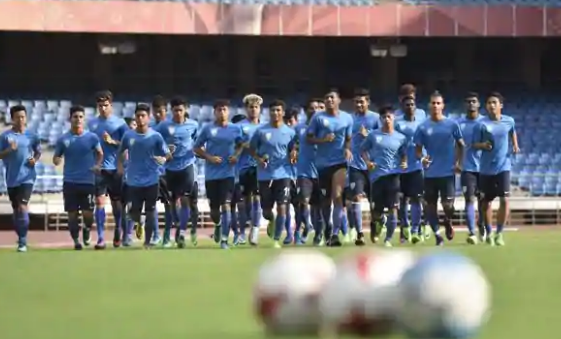 (Representational image): Former Indian football team player Gouramangi Singh recalled the stress and pressure he underwent at various stages of his long playing career.
Former international and Bengaluru United assistant coach Gouramangi Singh believes that acceptance of the importance of mental wellbeing of players, encouraging discussions around, has been a very positive step for Indian football.
Gouramangi who has been a part of Indian football for over 15 years announced his retirement from the game in 2018 and at FC Bengaluru United since last year. Bengaluru United are playing in the I-League Qualifiers, the first national level sports event to be held in the country since the start of the pandemic.  
"It is very good that players and coaches are open about the mental challenges that they face nowadays. We now have professionals who are there to help with these things, and they can be crucial to help players grow in their footballing careers,"  Gouramangi said in conversation with the All India Football Federation (AIFF) on World Mental Health Day. 
Also Read | Meritocracy is Dead. Moneyocracy Rules Indian Football
"Earlier people were not so open about such things. If you were facing such issues, or if you were uncomfortable with certain situations, you would mainly have to fight it out yourself," he said. "But now people have realised that there is no shame in admitting that you are having difficulties in dealing with certain situations. This is a big step." 
"When I graduated from the Tata Football Academy and started playing football at the senior level, it was obviously difficult. Everyone was suddenly expecting results from you. The scouts have picked you up for a certain reason, and if you don't fulfil that, it could get tough," Gouramangi said. "This is where the mental strength of a player comes into play. If he can realise early on what his strengths and weaknesses are, he can survive and flourish. Mental strength, at this stage, could make or break a player."
Caution Against Pay-Per-View Service 
Talking after the fan backlash about putting the Premier League on a pay-per-view model a top football finance expert has warned that viewers may move to illegal streams if the model takes hold firmly. 
Top flight games are set to be broadcasted live on BT Sport Box Office as well as Sky Sports Box Office. 
The financial crunch caused by the Covid-19 pandemic have left the Premier League clubs with no choice but to use this method as an 'interim solution' for people to still watch their teams. However, this has also attracted a lot of criticism and fans have expressed their frustration for the £14.95 charge ($19.51). 
Also Read | Chencho Dorji: A Life in Football Dodging the Happiness Trap
"It is going to drive people towards piracy," Kieran Maguire, the author of the book The Price Of Football, told BBC Sport. He explained that the pricing scheme adopted by the Premier League is a public relation disaster. "It discriminates against the clubs that don't tend to be on Sky Sports or BT that often."
"Families and friends are going to gather together, which completely goes against what we are trying to achieve by discouraging people from going into other people's houses," he added."If they got the pricing right it might have been fine, but nobody actually knows what is happening with the money."
Rashford On UK Honour List 
Manchester United striker Marcus Rashford has been honoured by Queen Elizabeth II in recognition of his campaign to feed vulnerable children, along with frontline workers who help to fight battle against novel coronavirus pandemic and community champions. 
Rashford has been made a Member of the Order of the British Empire (MBE) for his contribution in the campaign to extend free school meals for vulnerable children during the pandemic this summer. The 22 year old forward forced a government U-turn over the free school policy and established a child food poverty workforce to ensure that vulnerable children are provided meal vouchers during the summer holidays. 
The striker expressed his gratitude and stated that he was honoured and humbled to receive the award. 
"Let's stand together in saying that no children in the UK should be going to bed hungry. As I have said many times before, no matter your feeling or opinion, not having access to food is never the child's fault," Rashford tweeted. 
Iceland-Italy Euro U-21 Match Postponed
The Iceland and Italian Federations, in separate statements, confirmed that the European Under-21 qualifier to be played later this week between Iceland and Italy in Reykjavik has been postponed after two players in the Italian squad and a member of staff tested positive for Covid-19.
"The U21 match has been postponed due to contagion of Covid in the Italian group," The Icelandic Football Federation statement said. "The match between the U21 men's national teams of Iceland and Italy in the qualifiers for the European Championship, which should have been played this Friday at Vikingsvollur, has been postponed to a later date due to a COVID infection found in the Italian group." 
"The positivity was found following the latest tests," the statement clarified. On Thursday, The Italian Federation (FIGC) had announced that two players had tested positive, making the total cases to four this week. 
While the names of the players have not been disclosed, Inter Milan stated that among the players who tested positive for the virus was one of their defenders Alessandro Bastoni.
De Luca Slams Juventus
The president of the Campania region of Italy, Vincenzo De Luca believes that Napoli should have been thanked for not risking the health of Juventus star Cristiano Ronaldo.
The game between Juventus and Napoli was postponed last week after two players from Napoli's squad tested positive for the virus and local health authorities prevented the team attending the Serie A fixture and instead were quarantined. Juventus, however were ready to play despite the cases and were unhappy with the decision claiming the protocols established by the federation had not been followed.  
De Luca in defence of his region's club said in a Facebook video, "Nobody has thanked us for preventing Cristiano Ronaldo from getting the virus."
"Try and imagine it. If Napoli had travelled with several positive cases in their squad like Genoa did. If Ronaldo had got the virus a week later, we would have hit the front pages of even the New York Times," he said. "The protocol is no good when it comes to health and the laws. Napoli didn't travel because the ASL [local health authorities] decided that and Juventus ended up going to play with the ball boys."
"The players, from a health point of view, are subjected to the same rules as all Italian citizens. And, therefore, Napoli will not play because they have been quarantined by the ASL," he added. 
Get the latest reports & analysis with people's perspective on Protests, movements & deep analytical videos, discussions of the current affairs in your Telegram app. Subscribe to NewsClick's Telegram channel & get Real-Time updates on stories, as they get published on our website.
Subscribe Newsclick On Telegram