I-League: Boring, Uncompetitive, Uninspiring and All That. Hang On...
The I-League title has boiled down to one match on the last day of competition. We have seen this in many seasons in recent past, and is possibly a testament to the level opportunity for football in the competition. Trau FC play Gokulam Kerala in a winner-take-all match, and if they end up tied, Churchill Brothers take the trophy to Goa, provided they beat RoundGlass Punjab of course.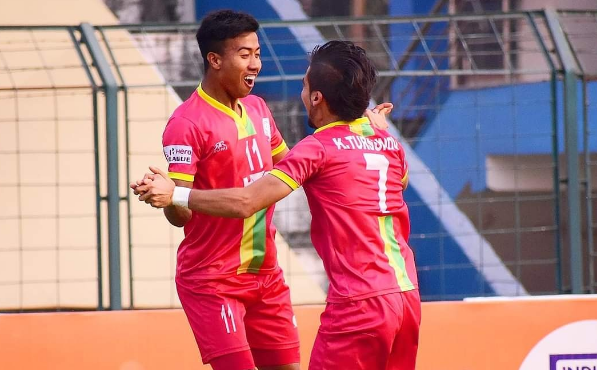 Bidyashagar Singh (left) and Komron Tursunov forged a potent partnership up front for TRAU FC  this season (scoring between them 23 goals), and are the reason why the club from Manipur is right up there in the title race. 
"Oh man, we could've won it yesterday," Bigyanjit Huidrom laughs. And they could have. But somehow the race still drags on.
Thrice effectively this I-League title has been won and lost. Three teams now have gone from dark horses, to challengers to favourites back to dark horses. And so… the title race goes on. And it isn't as if this is new. Thrice in the last four seasons the I-League title has been at stake on the final day of the season. There is no need to artificially introduce drama via playoffs where drama anyways exists. Either the I-League is tough to win, or no one really wants to win it. 
Churchill really don't. They went into this second phase of the competition to decide the champions six points clear at the top, high on the table, 2013 on everyone's minds. It has barely been a month and they have seen their lead chip away to nothing and their place on the table looted by Gokulam kerala.. Granted they are equal on points with the Kerala outfit and TRAU, and yes, all they need is actually just these two modern modest outfits to play out a draw, but surely this could've been wrapped up by now if they didn't go and get totally outplayed by Gokulam and embarrassed by Mohammedan Sporting. Surely this could've all been avoided? 
Also Read | Vijender Singh Loses Unbeaten Record, Gets Knocked Out By Artysh Lopsan
"Yes of course. But this is football," Fredsan Marshall, their thunder thighed midfielder laughs. Fredsan's injury-time winner against Real Kashmir on March 5 has, effectively, been Churchill's peak of this second phase and perhaps even the league in its entirety. That was a top notch Churchill performance, goals in injury time of each half to brush off a team who (at that time) seemed like contenders for the title. Since that brilliant 30-yard strike they haven't won a game. Two losses and one draw against teams they were expected to beat comfortably. Teams that qualified in fourth, fifth and sixth places respectively — and if player grumbling is a thing, ones that really didn't deserve to be there at the cost of the free-flowing Aizawl.
"We just want to go out there and win our next game [against Roundglass Punjab]. The math is for later," Fredsan says. And he's right, the math is for later. There isn't much to actually permute really. Churchill Brothers, Real Kashmir and Roundglass Punjab are the three teams with the biggest budgets in the I-League. Gokulam are consistent investors with a reputation for taking player welfare seriously. Mohammedan Sporting have history, heritage and heroism. And then there is Tiddim Road Athletic Union (TRAU).
Covid-19 has forced every Indian football outfit to tighten their purse strings. For TRAU FC, a club with a budget so small it's a wonder they compete at this level at all, it was a body blow. Or would have been. "It's the way the coin drops," Huidrom, an Executive member and co-sponsor at the club says. Heads: they lost out on funding, a title sponsor that controlled footballing operations last season. Tails: They were independent to make their own decisions. 
Also Read | Indian Women's Football Team to Play Two Friendlies in Uzbekistan
First came Bidyashagar Singh, the player leading the clamour for inclusion of I-League players in the national team. "To be honest, we were fortunate to get Bidya," Huidrom says. " First East Bengal's situation… then Covid-19, meant a lot of local players couldn't really go out of Manipur to give trials or sign for another team." TRAU, a club that bases its philosophy on promoting local players, pounced first.  
And then came Komron Tursunov — the Tajik striker whose absence due to national duty has given Churchill and Gokulam the ray of hope they are living on. 
"Frankly, I don't know how exactly it came about," Huidrom chuckles. "I just know that the management was tracking him for a while before he arrived. What I can say is…. Man we miss him." It's just been one game but they do. It isn't so much just the goal contributions (12 in 13 I-League games), but it's the off the ball movement that creates space for everyone else to thrive. In particular, Bidya — four of his 11 goals have come via a Tursunov assist.
Trau could have wrapped it all up against Churchill. All Bidya had to do was not round the keeper and instead slot the ball in. And that would've been it: first Manipuri club to win the title, only the second club from the North East (a disingenuous term in itself) to win it, two seasons after getting promoted. It would have been huge for Manipur football. 
"I'm saying this again, but it's just true. We are a small club. We have modest budgets. So many of our management, our staff etc do this job voluntarily. They don't take salaries," Huidrom says. "We try to compensate the players for their due but it's tough on us. There isn't so much investment in Manipur… so we make do with what we have."
Also Read | Overseas Spectators Banned From Tokyo Olympics, Announce Organisers
Maybe this will make others sit up and take notice. Or maybe not. NEROCA has gone one way. TRAU goes the other. As much as the I-League is about ethos, it is also about indifference. Five days from now this small Manipuri outfit will take on Gokulam Kerala in what is essentially a winner-take-all contest.
It's about the way the coin drops. What's the craziest thing that could happen? That it drops dead straight and the title goes to Goa. 
Talking Points
From title challengers to also-rans, the drop has been steep and harsh for Roundglass Punjab and Real Kashmir. These two teams were supposed to be favourites. Now they battle it out to best out mid table. For Roundglass Punjab, several questions remain. Will this investment splurge continue despite the underwhelming season or this is a trial run for the ISL? No such thoughts for Real Kashmir. This could have been the year David Robertson finally took home the cake, but, in the words of their young right back Basit Ahmed Bhat, "you can work as hard as you want, but sometimes you need luck too".  
There's a blockbuster clash in the making in 'Group B' aka the teams that are battling it out in the bottom half of the table. Aizawl take on Sudeva Delhi FC on March 25th at Kalyani, to effectively decide who the champions of the bottom half are. Aizawl have played like a top half team all season, but somehow haven't been consistent enough or hungry enough to actually get there. A loss to the young Arrows was mitigated by thumping Chennai City 4-1. SDFC meanwhile have strung together three wins in a row. And, their 17-year-old youth product, Shubho Paul, has now got two goals. 
Imagine being a NEROCA player. The club got relegated last game week (although rumours swirl over how they've written to the AIFF, pleading relegation not be applied this season) and then went into the mandatory 10 day break provided to all teams in the bio bubble. So now, you are relegated, stuck in a bio bubble with nothing to play for and no games to play. Not to worry this nightmare will be over soon. A victory against Chennai City will be a moral victory more than anything else.    
Get the latest reports & analysis with people's perspective on Protests, movements & deep analytical videos, discussions of the current affairs in your Telegram app. Subscribe to NewsClick's Telegram channel & get Real-Time updates on stories, as they get published on our website.
Subscribe Newsclick On Telegram