Vijender Singh Loses Unbeaten Record, Gets Knocked Out By Artysh Lopsan
Vijender Singh, visibly unfit, went on his knees and waved, giving up the fight, in the fifth round. It was evident that the India No. 2 super middleweight boxer was unable to handle the jabs and power of Artysh Lopsan, a much junior and lower-ranked opponent from Russia.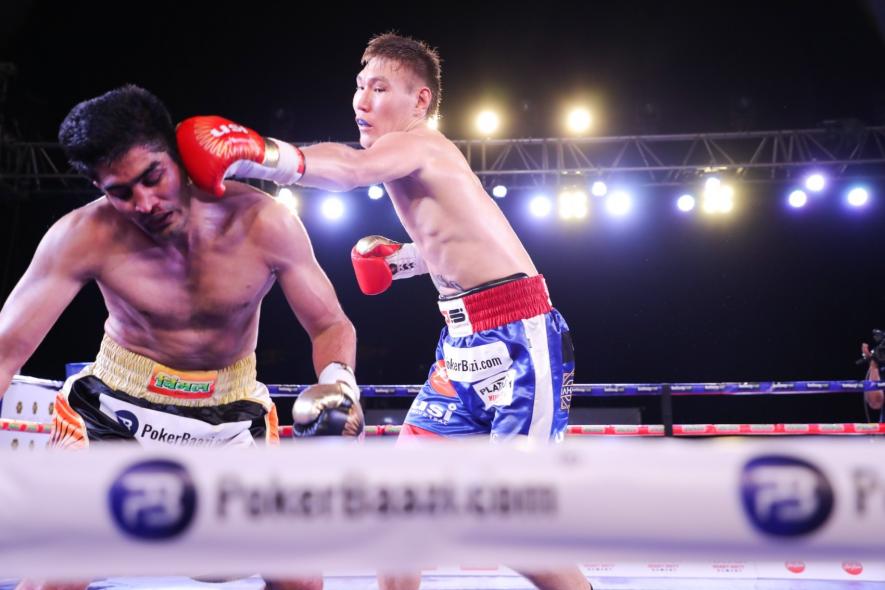 Artysh Lopsan brings Vijender Singh down for the count with a telling blow in the fourth round of their bout in Goa on Friday.
Vijender Singh's time was up quite a while back. What transpired on the upper deck of a floating casino in Goa on Friday night was a mere formality, one that corrects the record. After all, the man fought for the record. 
Vijender was not a boxer who should have remained unbeaten for the number of bouts he managed. 12 in total. The 13th ushered in his fall. Unlucky 13. One is sure Vijender was not superstitious. He will probably become one now, after the crushing loss against Artysh Lopsan in what was billed as 'Battle on Ship'.  
Also Read | Kamptee, Kashmir and Kolkata: Asheer Akhtar Examines Indian Football
Walking in for the bout on the boat, Vijender's record read 12 Wins, 0 Losses, 8 knockouts. An analysis of his professional career would tell you the lopsided encounters he came through unscathed to build that enviable record. 
The record, in itself, had become a burden for Vijender. In the boxing world, his reputation was sealed — that of a fighter who avoids tough opponents. Fighter with a questionable chin. No top boxer wanted anything to do with Vijender, despite his selling power in the world's largest market — South Asia. This situation was foretold — Vijender was warned in fact — by former world champion British boxer Amir Khan. 
But Vijender's record remained intact, and that's what mattered for him and his promoters. Just that when boxing's promoters and matchmakers could not ensure the correction in the record, the sport — the sweet science — made it happen, much like it has done on many occasions. Unbiased and brutal. Treating equally the great champions as well as the ones who operate smoothly around opponents — like Vijender — to bolster a very overrated record.
That the blemish Team Vijender was trying to avoid — the ticking number in the column that denotes losses for a professional boxer — came via a Russian journeyman seems to reiterate what was already evident. The Indian boxer's professional career was running on fumes from a glorious amateur past, bolstered by some smart picking of weak opponents by his management team, IOS Boxing Promotions. 
But one can't cheat boxing, keep fighting, and hope to get away with it. The sport is ruthless, more so for the undeserving.
Also Read | What NEROCA FC's Relegation From I-League Means for Indian Football's Supply Chain
So Vijender walked into the bout against Lopsan with the usual swagger. Just that the moment he removed his robes, it was evident that the 2008 Olympic bronze medalist was not exactly coming hot from a training camp. One can't blame him though. He was rusty and off the ring for over a year. But that's no justification for a prize fighter. In the period, he was nurturing a nascent political career, one that started off with a loss unlike his pro boxing one. Politics, after all, is a more brutal sport. And in Vijender's case politics, possibly, provided a more true result based on his capabilities and standing. 
Round 1 seemed even with Lopsan — at 6 feet, 3 inches — standing much taller than Vijender, but fighting in an awkwardly crouched position that more-or-less negated his reach advantage. It was clear that the 26-year-old was not exactly a top draw from Russia. For a brief while one thought that this bout will also go the way the previous 12 ones worked for Vijender. Weak opponent, a TKO or a KO. If the bout went the distance, the decision would obviously go the Indian's way one thought. After all, Vijender, with his experience, could counterpunch his way to a points decision in case Lopsan stood tall.
Lopsan had other ideas though. 
In the second round, Vijender landed a couple of strong jabs onto the body of the Russian and Lopsan walked into a straight right. Typical Vijender combination and a typical journeyman mistake by Lopsan. The Russian jumped back up though and the round ended soon after a standing eight count. 
The next round, Lopsan came out with purpose and suddenly, his punches started finding their target. Vijender was visibly winded after a minute or so into the round. This was just Round 3 of the scheduled eight. Neerav Tomar, Vijender's promoter, seemed to have forgotten to tell his boxer that it was an eight-rounder. He seemed prepared, physically, only for three.
The fourth round swung things completely in favour of Lopsan. Vijender couldn't handle the Russian's flurriers and went on his knees. Not once, but thrice in the round. The referee seemed lenient. He obviously had to give the benefit to Vijender. The bout on a ship was happening because of his star power, after all.
At the end of the round, Vijender had a small cut above his left eye. He was smirking when his team worked on the wound to seal it temporarily.
The next round, Vijender tried to be on the offensive. The flurry lasted a good part of 30 seconds and the Indian ran out of steam. He was forced onto his knees twice by Lopsan, and the second time Vijender waved his submission, signalling the end of his unbeaten run in the professional world.
Also Read | Power Shift, What Power Shift? This is Just a Casual Venue Shift
To be fair, Vijender went down on his own terms. Not letting the referee make the decision to stop, but himself. An indicator that he was surprised — shocked rather — at the quality and fight the Russian brought into the ring. Lopsan had a 4 -1-1 record coming into the bout. He is new in the pro circuit. That is the tricky part which Vijender and his team possibly did not account for. 
The Indian's previous opponents, many of them having more than 10 bouts under their belt, were either washed up or almost washed up with the realisation that their pro careers would always remain in the fringes. Lopsan has just begun and carried with him the fight and spirit that any young boxer would possess, having tasted not much of the bitter reality checks that the sport provides to everyone. Vijender was facing an unknown, with an unadulterated pugilistic spirit. And Vijender got what he deserved.
For the record, Vijender, with this loss, remains as the second highest ranked Indian in the division, behind 29-year-old Brijesh Meena — a man who has spent the best part of his career chasing for a bout with the senior pro. Meena, probably, would decline Vijender a fight, if he asked for it now. The tables have turned. Boxing has set the order and record right. Let us see if Vijender accepts it and fights, or does not accept it and manage bouts [and opponents] the way he has been doing. 
Get the latest reports & analysis with people's perspective on Protests, movements & deep analytical videos, discussions of the current affairs in your Telegram app. Subscribe to NewsClick's Telegram channel & get Real-Time updates on stories, as they get published on our website.
Subscribe Newsclick On Telegram