I-League Champs Mohun Bagan: A Storied Season Laced With Dark Indian Football Satire
Mohun Bagan win their second I-League title in what is their last season in the erstwhile top league of Indian football. A merger with ATK and the Indian Super League (ISL) awaits for the heritage club, whose shift and eternal rivals East Bengal's attempts for the same, best illustrate the Indian football conundrum at the moment.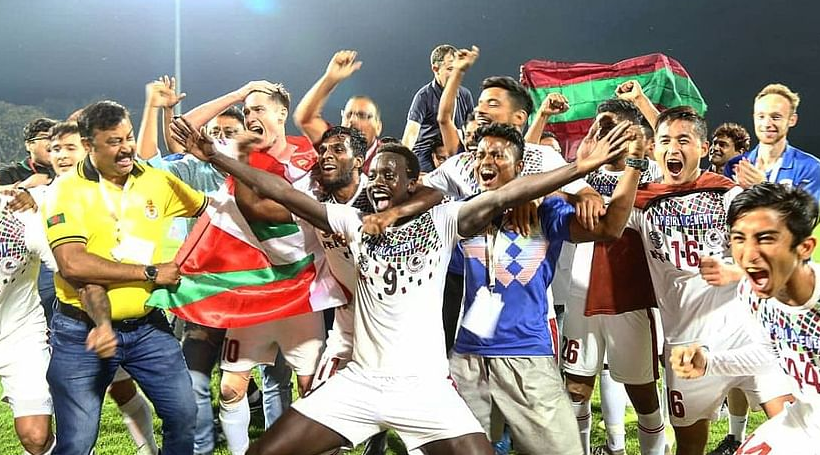 Mohun Bagan players celebrate after sealing the 2019-20 I-League title, beating Aizawl FC by a goal on March 10 (Pic: I-League).
This is what you wanted, isn't it? So this is what you get... A unified league, with unified champions. One league, one champion? Well, you have it... almost. Mohun Bagan have done their part in the I-League. And now it is up to ATK in the Indian Super League (ISL). And if they do theirs right, then, in the glorious dark satire that is Indian football, the two champions of the two broken leagues will be one club next season. Two leagues one champion and whatnot.
Except they won't be recognised as champions of either or enjoy the perks that come with it.
This takes us back to something that Jean-Jacques Rousseau said about happiness. We lose our happiness as soon as we gain it. We feel happy, he said, when we pursue the things we desire, but getting them leaves us unsatisfied. Heureux qu'avant d'être heureux. Happy only before being happy. This is what he meant. 
Also Read | Davis Cup Tennis: India Lose the Tie On Court, the Plot Outside It
Not like Mohun Bagan, the backroom, the front room, the war room, the players and their legions of fans are going to care. They are happy. Not just because they won the league, their second I-League title in their long and glorious history, but also because they have shattered a lot of records in doing so. They have now gone 14 matches without losing, which itself is a record in the said league. They beat Chennai City FC, Aizawl FC, Minerva Punjab FC, Real Kashmir FC, well they've beaten every team they've played this season. They even beat the only team that beat them, and hammered them, for good measure. They equalled the record of that great Dempo side from the 2009-10 season, winning the league with four games to spare. For good measure, they have wrapped up the title right before they go and play their eternal rivals at the Yuba Bharati Krirangan in Salt Lake on the 15th. Insult, injury, and kick in the teeth.
Some Indian football fans love drawing parallels between the I-League and the English Premier league. As wasted as it is, here are some: Over the last three seasons the league has been won by: a city team shrewdly and smartly driven by foreign talent, propped up by local youngsters; an upstart brash team in blue with an outspoken owner and an unproven coach; and an underdog team everyone fell in love with, operating on a shoestring budget. For this season — a legacy club has run away with the title right from the start, turning the title race into the kind John Ngugi used to excel at. Insert names as you please.
Since Bagan last won the I-League a team from the North, a team from the North East and a team from the south (well two actually) have grabbed the crown. It had become a running joke. The big two needed to win this league to get out of it. And now this. Bagan won it after confirming they were getting out of it.
"To be honest, we are players. We weren't concerned about all that [ISL shift and merger with ATK]," captain Dhanachandra Singh said. "We wanted to win the title from day one. And we were focussed on that." 
And the truth is, as much as they were focussed on winning the title, everyone else seemed to not want to win it at all. The league table looks like a joke. Three points separate the teams between second to eighth. The difference between the team in second, East Bengal, and the team dead last, the Arrows is fewer than that between first and second. Even in the I-League Mohun Bagan were running a different league.
If someone says they saw this happening this season, they are lying through their teeth. When Bagan played their first game of the season against Mohammedan Sporting on a rainy evening in the Durand Cup in Kolkata, they won 2-0. They won despite not being very good. Then came the reality check, a Calcutta League opener against Peerless, at their home ground. The rage in the stands could be measured high on the richter scale. They lost 3-0, but it was the manner of the shellacking which caused the rage. 
On radio, in the papers and online — online more than anywhere else — the debates raged on. Was their ground the problem? What were they paying Joseba Beitia all that money for? He didn't have the game for the Kolkata maidan. And what about Kibu Vicuna? What was this overreliance on setpieces? Was this what Bagan were now? Bullies in the air.
Also Read | Indian Boxing Grows Beyond Hail Mary
Even then Manas Bhattacharya, the man who knows more about the maidan and the big three than anyone else, had exercised caution. "Doh match hua hai. Sab log erupt ho gaya (it is just two matches and everyone has exploded," he said, his broken hindi communicating the point better than the chaste version could. Slowly Bagan built up momentum, but even then the Calcutta League was beyond their reach. It was Peerless who won it. And they stuck it to the big boys. 
And so, it all boiled down to the I-League then. Another season, the last perhaps, where winning would mean you could be called champions of India. Part champions, at least. When they won it in 2014-15, they did it in Bengaluru, in the final game, the final minute of the season. They came close in 2016-17, and could have won it on their own. All they needed was a point from a trip to Aizawl and they would have been in the driving seat. But what did they do? They lost, followed by Aizawl's script that was an unbelievable fairytale finish. 
Also Read | ICC, the Rain and a Farce That Keeps on Giving
From there on, the Albatross hung around their neck — and by association, East Bengal's too. Everyone wanted one of these guys to win it. The conspiracy theories — unfounded, unproven, but made for, by and of fans — suggested that if one of them did, promotion to the ISL would follow, and force the others hand.
Forget about forcing hands, Bagan decided to take it into theirs. Next season, they will be ATK Mohun Bagan, champions of the I-League defecting quickly. East Bengal meanwhile are stuck in a recurring nightmare in their centenary year. This isn't how anyone ever wants to turn 100.
Bagan announced the ISL deal four days before the first Kolkata derby. It was petty and glorious in equal measure. They won 2-1. Now, they have won the title five days before travelling to East Bengal for the second derby. They can put the trophy on the pitch and wave the league, the rivalry and all that storied history goodbye. Well, happiness also lies in denying others happiness. A great way to belittle your eternal enemy.
Get the latest reports & analysis with people's perspective on Protests, movements & deep analytical videos, discussions of the current affairs in your Telegram app. Subscribe to NewsClick's Telegram channel & get Real-Time updates on stories, as they get published on our website.
Subscribe Newsclick On Telegram