What Jamshedpur FC's Indian Super League Triumph Means for Indian Football
Jamshedpur FC's run to the top of the Indian Super League (ISL) has a lot to do with how the club, under coach Owen Coyle, built itself to play a pragmatic game within its constraints, using the right mix of Indian and foreign players. It certainly has nothing to do with the progress of Indian football and let us not expect this fairy-tale run to have a bearing on the national team's campaign in AFC Asian Cup qualifiers.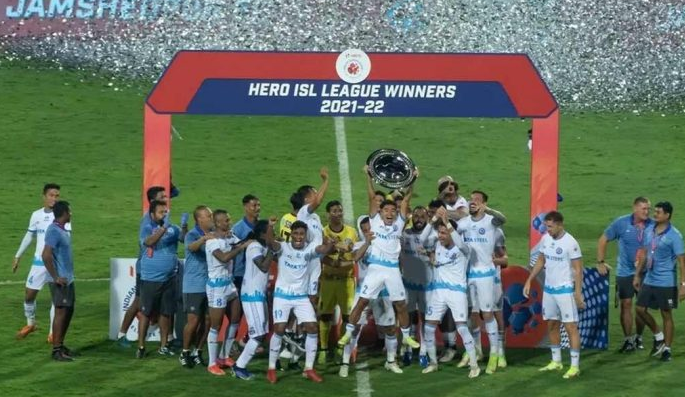 Jamshedpur FC players celebrate on the podium after beating ATK Mohun Bagan to lift the 2021-22 Indian Super League (ISL) shield.
Indians took to football late in the 19th century and soon it became hugely popular. Yet, it took till 1937 for India to get a parent body for the game when the officials of various states fought bitterly for nearly a year before deciding to form the All-India Football Federation (AIFF).
The same year, the Tata Group set up Tata Sports Club in Bombay (now Mumbai) to promote sporting culture among Indians – and included various disciplines like football, cricket, hockey and athletics. It didn't take long for the club to establish themselves as one of the best in India in every discipline. In football, the club supplied some of the most well-known figures to the national team over the years – SS Narayan, Fortunato Franco, Pradeep Chowdhury, Shabbir Ali and many others.
Fortunately, the tradition didn't suffer a death (like it happens to the sporting enthusiasm of most corporate entities) even though the Mumbai club decided to shut shop and set up the Tata Football Academy (TFA) in Jamshedpur in the mid 1980s. On Monday night, on the seventh day of March, 2022, when Jamshedpur FC, with roots in the TFA, beat ATK Mohun Bagan to win the Indian Super League (ISL) title in their fifth attempt, those who still care for history certainly heaved a sigh of relief. It was good to know the hard work and persistence is still rewarded in Indian football, especially when the sport has virtually been hijacked by upstarts.
Also Read | The Warne Supremacy: A Life With Some Spin on It 
It is a kind of revival for football in Tata too. After closing down the club in Mumbai, the TFA became the hotbed of activities in Indian football – it produced dozens of players for the national team: Charlton Chapman, Godfrey Pereira, Renedy Singh, Mahesh Gawli, Deepak Mondal, Subrata Paul, to name a few, but it all dried up in the past few years. Just when the company's contribution to Indian football was about to be consigned to history, Scottish coach Owen Coyle brought them back to the limelight with some delightful football in the past few months.
In the final game against ATK Mohun Bagan, all Jamshedpur needed was to prevent the rivals from winning by a two-goal margin. They went one step ahead – won the match by a solitary goal by Ritwik Das. They not only won the league title (bagged the League Shield, to put it correctly) and earned the Asian Champions League spot, but also pushed high-budget ATK Mohun Bagan to the third place. To the neutral football fans, it was a kind of poetic justice. Hyderabad FC deserved to finish at least the runners-up for the kind of football they played throughout the season.
The victory of Jamshedpur FC will remain etched in the memory for many reasons. If winning nine of the last 10 matches is a record that would be hard to match in the future, then the club's ability to keep things simple on the pitch is a bigger achievement. They didn't make their style of campaign complicated, didn't believe in recruiting big names with big salaries as the only road to success and relied on players who they thought would be suitable to their operation irrespective of how they performed for their previous clubs. 
For this, the credit should go to Coyle. Not many were convinced when he decided to bring in Daniel Chima Chukwu from SC East Bengal, where he was considered an utter failure. Having scored only two goals for the red and yellow brigade, the Nigerian was a much ridiculed striker and was discarded as a no-good footballer. Yet Coyle welcomed him to his side, played him in a double striker formula and Chima produced wonders. With seven strikes against his name in Jamshedpur, the Nigerian today is a much sought-after footballer in India.
Coyle is often described these days as a manager who is a master in building team spirit. For this, he seems considerate to players who would serve his purpose and ruthless to those who won't. He was rather quick to realise that Lithuanian striker Nerijus Valskis' utility days were over with his team and didn't think twice to release him. Valskis is a champion striker and a true match-winner, but it didn't deter Coyle from taking a hard decision. 
But then, why talk about Chima, Greg Stewart, Jordan Murray or Peter Hartley only? Coyle had some Indian recruits in his team, who were huge suspects at the start of the season. Players like Boris Singh, Ricky Lallawmawma, Laldinliana Renthlei, TP Rehenesh, or for that matter Pranoy Haldar were not expected to have much to offer, but all of them made huge contributions to the team's cause. Without these boys doing their more than a bit, even Chima or Stewart would have failed to deliver the goods. Despite all the star forwards at his possession, Coyle didn't forget to use Ishan Pandita at the time of need and was rewarded with success almost every time. 
The concluding match against ATK Mohun Bagan once again proved that Jamshedpur FC always wanted to keep things straightforward and simple, with a pragmatic view. Their strategy was clear – there is no point in becoming over-ambitious; not to concede a goal is the foremost priority and to avail the opportunity if there is a gap in the rival defence. The tactics worked – the two ATK Mohun Bagan central defenders, which included India star Sandesh Jhingan – left a big hole around the penalty area and Ritwik Das gleefully accepted the invite. That one mistake snatched away whatever little chance the green and maroon had of winning the league.   
Also Read | Russia-Ukraine War: Big Sport's Hard Hypocrisy as the World Uses its Soft Power
It was heartening to see Coyle didn't lose his composure without being too modest. He said: "I would like to thank the chairman, the supporters. There is no doubt that our teamwork has been fantastic. We do it together and we do it as a team. There is no doubt that we were the better team. I always felt we would be in the top four. Then we had some changes. Daniel Chima came in, Murray got fit. We have won seven in a row, which shows how good we have been. We are going to celebrate tonight but from tomorrow, the focus is on Kerala (in the play-off semi-final)." 
One was relieved to find Coyle didn't avail this opportunity to utter some cliches, like this victory could be a kind of step forward for Indian football and so on. This triumph was sweet and interesting, but has certainly nothing to do with the progress of Indian football. To expect this fairy-tale run might have a positive impact on the national team's campaign in Asian Cup qualifiers in June would be impractical. Some people tend to believe in this way – Coyle, one suspects, doesn't belong to this group.     
Get the latest reports & analysis with people's perspective on Protests, movements & deep analytical videos, discussions of the current affairs in your Telegram app. Subscribe to NewsClick's Telegram channel & get Real-Time updates on stories, as they get published on our website.
Subscribe Newsclick On Telegram