I-league Qualifiers Preview: Garhwal FC vs Bhawanipore FC, FC Bengaluru United vs Ara FC; Football Supporters' Association Oppose Project Big Picture and More (Football Round-Up)
Short Passes (Football News Round-up): I-league Qualifiers preview: Strugglers FC Bengaluru United take on Ara FC, Garhwal FC play Bhawanipore FC | Project Big Picture is a 'sugar-coated cyanide pill', says FSA | Ronaldo tests positive for Covid-19 and will miss Portugal's game against Sweden | Family 'blown away' by Jurgen Klopp's advice to young Liverpool fan | Lucy Bronze returns to England women's squad for Germany friendly.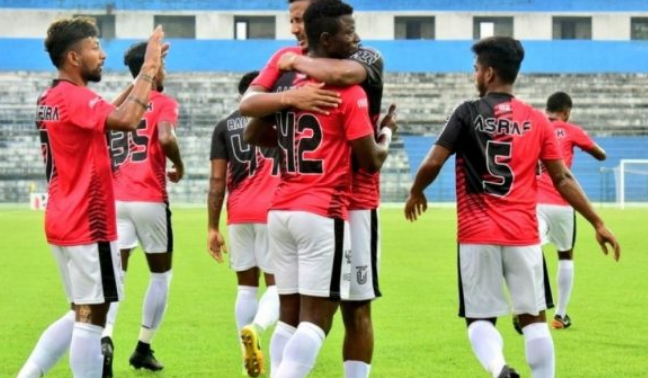 Bengaluru United have looked awful at the I-league qualifiers -- headless against Bhawanipore and somehow pulled through against Garhwal FC. 
When things happen they happen fast. After months of inaction, years in the doldrums, weeks as favourites, when Mohammedan Sporting Club took centre stage at the I-League qualifiers via self implosion, it was quick, brutal and very weird. 
Even by the absurdities of this year's events, the club have outdone themselves. Where are they now? Top of the table, six points in the bag, coachless, management looking over their shoulder, players mostly cautious to the point of being distracted, in the headlines for all the wrong reasons. Thankfully then, they will not be playing today. Although, it is worthwhile to say that the times they have looked most at ease have been on the football pitch. The off field entertainment — sponsored by Mohammedan Sporting — shall continue, for now.
On field, today's opening game of the I-League qualifiers will feature two teams no one really spoke about much in the lead up to the event. Bhawanipore FC, contrary to expectations, are the Kolkata club sitting comfortably watching the implosion around them with only football on their minds. They came into this competition under the radar but that win against FC Bengaluru United (in their only game so far) has opened them up for scrutiny. Are they really the dark horses? Is this really the team to follow? Bhawanipore what?
Also Read | Bikash Yumnam and India's Fading Memory of Long Throw-In Maestros
If anything, their task today is tougher than the one in their opener against Bengaluru. Simply because it is against Garhwal, a team that may as well have been called Gritty FC, because that perhaps describes them best. So what they lost both their games in the qualifiers, they lost them to the two teams favoured to do well in the competition — the two pulling all the headlines good but mostly bad. And they lost by narrow scorelines that really don't tell any story at all. 
Even Bhawanipore's coach acknowledges that his team may be up against the grittiest in the competition. "Garhwal are the fittest team in the tournament. I've seen both their matches. They may have lost both of them, but they created a lot of chances," Sankarlal Chakraborty said. "Had they converted those, the table might have looked very different today".
The table may look very different at the end of today.
In the second game, Bengaluru have a chance to well and truly put their horror start behind them. That 2-0 loss to Bhawanipore may have sapped the confidence of a huge chunk of the team but the first win against Garhwal was a huge boost. Sure, it wasn't pretty and sure it wasn't emphatic, but here's the rub — if they win all their games, keep their fingers crossed and hope for a Bhawanipore implosion, they could yet be in the I-League next season. 
"Every single Bengaluru United player and staff knows that we cannot afford to drop any more points," Richard Hood said in the build up. "We understand the levels of performance and character that will be needed to see through our last two games in this tournament." 
ARA though will not be easy to put away. One game isn't enough to judge anyone. Which is the real rub. In a league reduced to a five team shootout, every game and every club matters. No one plays each other again. It gung-ho or go-home. You do not get a second chance. This is it. It is a cup tie. 11 vs 11 in the eternal sunshine of a spotted pitch. When things happen they happen fast. 
Project Big Picture a 'Cyanide Pill'
The Football Supporters' Association (FSA) expressed their concern over the radical proposal to make changes in the English Football League (EFL) and stated that the short-term financial benefits overshadow the long-term financial benefits for the game. 
The 'Project Big Picture' are a set of proposals offered by the owners of Liverpool and Manchester United along with the chair EFL Rick Parry. The proposal includes changes such as reducing the top flight to 18 teams, a rule where all leagues will be expected to provide 25 percent of their revenues to EFL clubs along with a £250 million ($325.28 million) Covid-19 rescue fund as a one-off payment. However, this proposition has been compared to a power grab and has been opposed by many. 
"While Project Big Picture dangles an alleged £250 million 'rescue fund' in front of clubs to cover lost revenues during the 2019-20 season it might actually be a sugar coated cyanide pill," the FSA said in a statement. 
Also Read | Carlton Chapman Obituary: The Focused Midfielder, a Restless Man
"Under the proposals top-flight clubs retain eight games per season which they can sell directly via their own platforms, rather than broadcasting in the traditional manner. Would broadcasters pay more money for fewer games?"
"As six clubs can set the rules, who could stop them ending relegation from the Premier League and creating a franchise system like they have in US sports? No one," the FSA added. "Who could stop them from rewriting the rules in a few years so that the top six keep all the media money? No one. Who could stop them cutting funding entirely to the EFL or grassroots football? No one."
Ronaldo Tests Positive
Juventus star and Portugal captain Cristiano Ronaldo has been excluded from his team's Nations League match against Sweden after testing positive for Covid-19. He has been asked to isolate.
"Cristiano Ronaldo was released from training with the national team after a positive test for Covid-19, so he will not face Sweden," confirmed the Portuguese Football Federation in an official statement on Tuesday. "The Portugal international is doing well, without symptoms, and in isolation."
Also Read | Meritocracy is Dead. Moneyocracy Rules Indian Football
"Following the positive test, the remaining players underwent new tests on Tuesday morning, and all produced a negative result and are available to Fernando Santos for training this afternoon," the statement added. 
Ronaldo will be quarantined for a period of two weeks. However, the rest of the Portugal squad that was yesterday all tested negative for the virus. They will be available for selection.
Klopp's Advice to Young Reds Fan
The mother of a young Liverpool fan who had earlier written to Liverpool manager Jurgen Klopp about her son's concerns at moving schools said they  were "blown away" by the Reds boss' thoughtful reply for her son.
Lewis Balfe, 11, had written a letter to Klopp in August regarding the anxiety he was feeling because he was shifting to a new school in September.
"He's really excited and I was completely blown away, because I thought you might get a standard response from the club or you might get some acknowledgement, but I didn't think you'd get a letter so personal," Milena Balfe told Britain's Press Association.
In his letter Klopp wrote: "Can I start by telling you a secret? I get nervous. To be totally honest, I would be worried if I did not get nervous because when it happens it gives me the chance to turn that energy into something positive."
Klopp also thanked Lewis for his support to the Reds by saying "Your support means a lot to me and to everyone at LFC so I hope that this letter shows that we support you too."
Bronze Returns
Manchester City right back Lucy Bronze  has been included in the England squad for the team's friendly against Germany on October 27. Bronze has not featured for the Lionesses since November 2019.
Bronze, who has started the season regularly for City in the Women's Super League (WSL) withdrew from September's training camp after she faced an injury in the club's goalless draw against Brighton & Hove Albion.
The 28-year-old will be joined by Nikita Parris, who also returns to the national squad after missing the training because of the travel restrictions imposed by Covid-19. England women will be back in action against Germany at the Brita-Arena in Wiesbaden without spectators.
"They've been picked because of their performances and because I believe they are good enough to play against Germany," Neville said. "I've told some of the younger players, 'you are in because you deserve to be and because of the performances I have seen over the last five, six, and seven weeks'.
Read more sports stories from Newsclick
Get the latest reports & analysis with people's perspective on Protests, movements & deep analytical videos, discussions of the current affairs in your Telegram app. Subscribe to NewsClick's Telegram channel & get Real-Time updates on stories, as they get published on our website.
Subscribe Newsclick On Telegram