India Show Spunk, Shoot Out Error-Prone Australia in FIH Hockey Pro League
After losing Game 1 of their FIH Hockey Pro League tie, Indian hockey team rallied in the second match to beat Australia. The players not just showed heart, but skill as well as strategic brilliance to take advantage of a rare Aussie off day.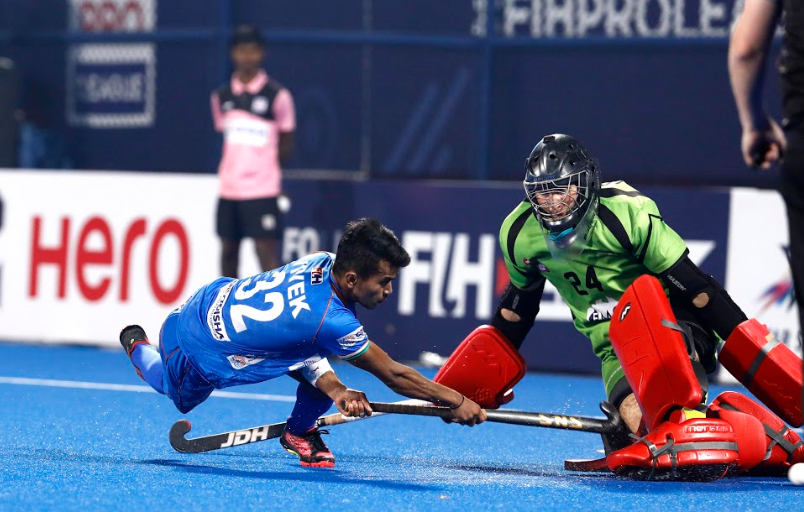 Indian hockey team player Nilakanta Sharma scores past Australian goalkeeper Tyler Lovell during shootout in their FIH Pro League match at Kalinga Stadium in Bhubaneswar on February 22.
Bhubaneswar: The last time India enjoyed themselves on a hockey pitch like this was perhaps on the evening they won their group game against the Netherlands in the Champions Trophy in 2014. It was an evening of insanity that started with an outrageous SV Sunil goal and ended with an Indian victory carved of exuberance and guile.
There may have been many more moments in between, but memory is a strange thing. It protects the imagined more strongly than the real. And wins against age old rivals are always reimagined even if they are real.
This reality though was more measured and guarded. It was also made important because it was against a team India most love to hate — Australia. It also reinforces the notion that in an Olympic year there is an upward curve in the performances of the Indian team; a rarity in the last two decades. Against the World No. 1, 2 and 3 now, India have two outright wins, two wins via penalty shootouts and two losses. If it seems like little, it's because your glass is always half full. Having been beaten 4-3 in the opener, India rallied back in the second game drawing 2-2 in regulation time and taking a 3-1 win in the shootout. 
Do not be fooled by the scoreline though.  If it was solely about the stats, none of them seemed to favour India. Australia could have won this match at a canter if they had the temerity to finish their half chances, and the luck to have had the video referral on their side. They put the ball in the back of the net on two separate occasions only to be denied by a foul or an infringement in the build-up. Australia had six penalty corners before the halftime hooter and finished with nine overall. They didn't convert a single one of them. They had three penalty strokes over the course of the game, and converted only one of them — missing the crucial one in regulation time. Maybe the glitch in certainty was via shootout or stroke.
India lost Manpreet Singh thanks to an unneeded green card in the third quarter and still held on defensively. They went down a man in the final quarter and created more problems than they had when they were XI. It was an absurd game made more absurd by the quickness of pace, the thrilling quality and the ridiculous misses from both teams. 
At the end, though, in a shootout, it was India which showed the professional poise and the calm expected of a home team to get their first win against the Kookaburras in four years. Four years. The exact time of an Olympic cycle. Read what you want into that.
Graham Reid had emphasised the importance of analysis and recalibration in the build-up to this round of ties. The FIH Pro League format affords a luxury not many other hockey events do. It offers a reset against the same opposition. In video game terms, you get a second life. Use it wisely. The game was always going to be framed in tactical terms and be a great analysis of Graham Reid's reading of what to do when beaten by one of the top teams in the world.
"The idea was to start off stronger. Even when we talk tactics it is all about us playing our best hockey, applying ourselves more and channeling our best selves forward, and that's what we did," said Reid at the post match presser. It was doublespeak and he knew as much. 
Also Read | Story of Indian wrestling's Greco-Roman Stepson
"Purely tactically, the message we sent was that we need to tackle more outside the circle. Not allow them to come in so deep. We gave them too many opportunities yesterday and a repeat had to be avoided," he then said.
And yet, it was Australia that started off just like the first game — invoking in the spectators the impending sense of doom the team perhaps had shrugged off — winning a PC in the first minute of the game. By the time they hit half a dozen, India were still stuck on zero.
And when they scored first the headlines were writing themselves. Reid's rotation meant it was Krishan Pathak in goal to start with. He was at the end of a spectacular Trent Mitton shot but even he will know that it shouldn't have beaten him at the near post. Australia led by a goal. So far to form.
But within minutes India were level. And to add insult to injury it came via a penalty corner, India's first of the game.  Rupinder Pal Singh, to paraphrase a renowned cricket commentator, did Tyler Lovell between the legs. Two minutes later, India had a lead, Harmanpreet Singh this time the one to score from yet another PC.
It was a cracking game from then on. India in the lead defending like their lives depended on it, and launching enough counterattacks to keep their opponents wary and on their toes; Australia forced into a position of attacking to overcome a deficit against a team they love to beat.
They did eventually get that goal back but that was that. After this sort of game, a shootout was always going to be a weirdly unsatisfying result. PR Sreejesh and his ability to provide the heroics always gave India the edge and eventually it gave them the victory but it wasn't without a bit of controversy. 
Also Read | Sole for a Soul: Nike's Chokehold on World Athletics
Colin Batch, Australia's head coach felt hard done by the way Sreejesh infringements in the shootout resulted in the awarding of penalty strokes — one of which Australia missed — but not the ejection of the player himself. 
"If that had happened in regulation time, you'd have seen him get a yellow card. But because it was a shootout it wasn't. you cant have different rules for different situations and the [International Hockey Federation] FIH perhaps needs to take a hard look at this," he said.
There was much joy afterwards but also, thankfully, a sense of perspective. Indian hockey's success is measured not in wins and losses but in carats of gold, silver and bronze. Wins against Belgium, the Netherlands and Australia are great but will count for nothing if they don't add up to anything in Tokyo during the Olympics later this year. That is the truth. 
Everyone on the team acknowledged that. Ramandeep Singh, the forward who created and also spurned some of India's best chances provided the most reasonable thoughts from a mad evening of hockey.
"You don't measure growth in wins. You measure it in the way you feel. We feel we won, but we feel we are not yet playing at the optimum level," he said. "Day by day, game by game, session by session we get closer to where we want to be. This is one more step."
Get the latest reports & analysis with people's perspective on Protests, movements & deep analytical videos, discussions of the current affairs in your Telegram app. Subscribe to NewsClick's Telegram channel & get Real-Time updates on stories, as they get published on our website.
Subscribe Newsclick On Telegram