India vs Oman and UAE: Young Players Out to Answer Old Questions of Indian Football
India are set to play two friendlies -- against Oman on March 25 and the UAE on March 29 -- their first outing since late 2019. The squad, comprising mostly of youngsters who shone in the Indian Super League (ISL), have to prove their mettle at this level and also provide credence to coach Igor Stimac and the All India Football Federation's (AIFF's) claims that the future is here and it is bright for the national side.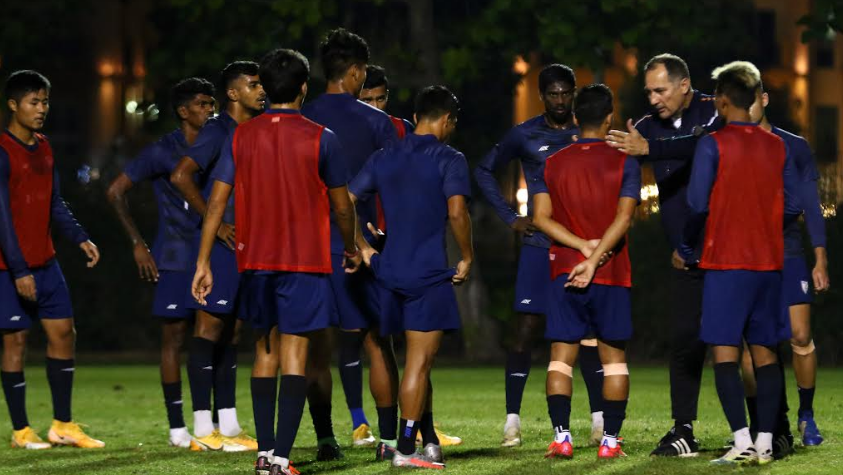 Coach Igor Stimac with the Indian football team players during a training session in Dubai.
It could well turn out to be an interesting battle of strategy and tactics between two Croatians when India play Oman in a friendly match on Thursday, March 25, in Dubai. While the reins of Indian national team is in the hands of the smooth-talking Igor Stimac for the past couple of years, one of his former tutors, Branko Ivankovic, would be sitting on the rival bench at the Bin Rashid Stadium.
If Stimac earned his reputation as a key central defender of the Croatia national team which finished third at the 1998 FIFA World Cup, Ivankovic was also there as the assistant coach. Over the years, the 67-year-old has created a place for himself in the coaching world -- his CV is rich with success stories in Iran, Dinamo Zagreb and Persepolis.
Ivankovic landed as the Oman coach in place of Erwin Foeman a couple of months before the onset of the coronavirus pandemic left the world paralyzed. The Croatian, who was the Iran coach at the 2006 World Cup, has hardly had any opportunity to showcase his managerial skills since. The match against India would be his second after the goalless draw against Jordan recently.
Sources in the All India Football Federation (AIFF) said a couple of changes have been made in the Indian coaching staff too though no official announcement has been made yet. Goalkeeping coach Tomislav Rogic is believed to have moved to a Chinese Super League club, leaving another Croatian, Frano Srdarev to do the job. The number of assistant coaches have also gone up with the inclusion of Miso Krsticevic, again from Croatia. Shanmugam Venkatesh is also there as an assistant coach.
Also Read | I-League: Boring, Uncompetitive, Uninspiring and All That. Hang On...
Every time the Indian national team prepares to play an international tie these days, it gives rise to a feeling that hope and despair are paths to the same destination. But then, since it is always better to hope than despair, Indian fans will expect Stimac's boys to do well against Oman and the UAE (the second tie in March 29), at least better than what they did in the pre-pandemic days. 
Interestingly, the last time India played an international match was also against Oman, on November 19, 2019, which they lost 1-0. The defeat virtually brought the curtains down on their stake in the World Cup qualifiers. They did a decent job against Oman, but the two previous draws against Bangladesh (home) and Afghanistan (away) did irreparable damage. Sunil Chhetri and his men were expected to bag six points in those matches against lower ranked teams. Instead, they brought home just two. 
That it was another day, another result, could be India's answer to their critics. True, at least nine of the players, who donned the blue 14 months ago against Oman, haven't travelled to Dubai this time. There will be no Sunil Chhetri, Nishu Kumar, Rahul Bheke, Sarthak Golui, Anas, Udanta Singh, Brandon Fernandes, Pranoy Haldar or Vinit Rai in Stimac's line-up. Performances of many youngsters in the just concluded Indian Super League (ISL) has forced multiple changes in the squad. 
Stimac, too, has spoken on similar lines. "It's fantastic to see guys at 19, 20, 21, 23, making it to the national team squad. We are trying to build on the FIFA U-17 World Cup, and develop their knowledge. We are trying to make sure that in the next four years they become ready to play against the best, and win against them. It's a long process in football, and it takes time," Stimac said.
"We have 6-7 youngsters who can fight, who can chase, and pass the ball without any fear. 11 of the boys who are at the camp have come from the AIFF youth development programme. I'm really happy that these projects have been so successful, and are bringing a brighter future to Indian football," the national coach further said.
Stimac is full of optimism; it sounds brilliant, but certainly not enough to raise immediate hopes. Ever since Stimac has taken over the mantle, he has been talking of a bright future with beautiful passing football that would bring positive results and please the eyes of million fans. What happened on the pitch in the last two years was quite the opposite -- it could neither bring results nor could the style of play to satisfy fans.
Also Read | Indian Women's Football Team to Play Two Friendlies in Uzbekistan
If the coach's claim that the goalless draw against Qatar was one of India's best ever results is to be accepted, then the draw against Bangladesh in front of 70,000 cheering home fans was certainly the worst in many years. Well, no point blaming the coach -- he could have been provided with longer preparatory camps and more international exposure. Instead, he had to come to terms with the fact that domestic set-up here is considered far more sacrosanct than the national team's growth in the international arena. 
This time, Stimac should be able to hit the pitch far more equipped than usual. The ISL has just finished, so the coach could keenly judge their abilities for more than three months. He, now, has a fairly long camp in Dubai, followed by two friendly matches against Oman and the UAE and once again a camp before going into the rest of the World Cup qualifiers.
Stimac was right when he said: "The young guns proved it in the Indian Super League this season. It's now for them to prove at the international level. I will give them the chance to do so. ….They need to be themselves and prove to the world that they can play against the best."
No doubt, a good number of new faces could be found in the starting XI against Oman. While seasoned Sandesh Jhingan and Adil Khan are likely to remain the mainstay of central defence, the coach will have the option of trying out debutants like Ashutosh Mehta or Akash Mishra too. On the up, there are Lalengmawia, Bipin Singh, Liston Colaco, Ishan Pandita and all, who would get their opportunities to make a mark. The only thing, as the coach said it, and rightly so, is that the newcomers would have to prove that they are perfectly capable of playing well at this level. 
Former India captain and star defender of his time, Arun Ghosh, once made an observation on India's legendary coach SA Rahim. "His biggest advantage was that it took him no time to realize whether a player was actually qualified to play at the international arena, no matter however brilliant he looked at the domestic level," Ghosh said. 
The comment seems more relevant under the current scenario. Playing alongside a host of talented foreigners, certain local players dazzle on the home turf, only to fade away when left to do things on their own. The primary challenge in front of Stimac's newcomers should be to turn this phenomenon around. 
In the latest FIFA rankings, both Oman (81) and UAE (74) stand considerably higher than India (104). It would be too much to expect from India to come up with highly surprising results, that too without Chettri, who is recovering from Covid-19. At the same time, there have to be few solid positives that would keep hopes alive for the rest of the pre-World Cup matches, which are also the qualifiers for the Asian Cup. Any slip up in the Asian Cup campaign would only invite disaster for Indian football. No amount of multiple camera work under bright lights, smart television coverage and expensive publicity of domestic tournaments would be able to bail out the beautiful game if that happens.
Get the latest reports & analysis with people's perspective on Protests, movements & deep analytical videos, discussions of the current affairs in your Telegram app. Subscribe to NewsClick's Telegram channel & get Real-Time updates on stories, as they get published on our website.
Subscribe Newsclick On Telegram