Marcelo Bielsa: Genius That's Hard to Miss, Harder to Notice, Impossible to Fathom
Marcelo Bielsa's approach follows his own work ethic — meritocracy over privilege. He chose to start from the bottom and work up, and demands his players do it too. His philosophy revolves around two basic tenets: side before self, method before result. Results follow loyalty. Leeds United are testament to that.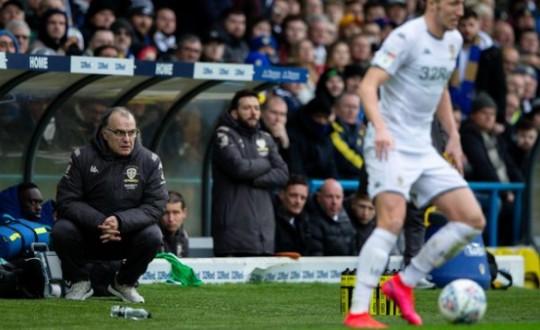 Winning is not an agenda for Marcelo Bielsa. In his career, he won two Argentine league titles, one Olympic gold and thanks to last week, the EFL Championship with Leeds United.
In April last year, at the age of 87, the writer Gene Wolfe died of heart disease in Illinois. For science fiction fans, Wolfe was a cult figure, a modern day savant whose writing only a few could understand, and yet unanimously admired. His books never sold much, and yet he is widely regarded as the greatest American science fiction writer of all time. All his obituaries, while admiring and respectful, had an underlying theme, a question that invariably also followed a huge amount of his literary work. His writing, and its implications, were so challenging and polarising that everyone seemed to question what kind of greatness it was.
The reason to bring up Wolfe is because Marcelo Bielsa is back in business. Talking about Bielsa even more so. The mad stories, legends and myths about this football obsessed, workaholic, crazy, maniacal Argentinian cult figure, spoken about in hushed tones (and loud yells) in football circles across the world, have become mainstream over the past few years. In the coming seasons, they are bound to grow further in reach and capacity. Each story is more maddening than the one before and the one after. Many have been documented well, others have just manifested out of nothing (or something we don't yet fully comprehend).
"There are 36 different ways to communicate through a pass," Bielsa once said, and then drew with chalk on his shoes to prove it. He went to Mauricio Pochettino's house in the middle of the night to measure his feet and therefore determine his position on the pitch. He prepared detailed dossiers on each of the 24 teams in the English Football League (EFL) Championship days before his interview with the Leeds United owners. At a zoo in Santa Fe he taught the ostriches how to play in a rondo. When caught for spying on an opposition team, rather than lie and cover up he gave the press a free lesson on analytics and showed them his spying notes. He resigned as manager of a club two days after taking the job. In his youth, he subscribed to 40 different football magazines and woke up earlier each day during Euro 1996 so that he could buy one he had never seen before. He was linked with the India job. Bielsa once asked his team to give the opponents a goal back because they scored it in an 'unfair' fashion. He made his players clean the stadium to teach them the value of money. 
Also Read | The Selling of a Car and the Irrationality of Those Who Criticise It
What is myth, what is real and what is an outright lie? With Bielsa, at any point in time all three things are true. Except, two of the above are clear cut lies. There are no ostriches at the Santa Fe zoo. He was linked with the India job by a journalist in fantasyland. 
Much like Wolfe, Bielsa's work is admired, respected but also not entirely understood. Huge swathes of football managers swear their allegiance to him and credit him for influencing their work. Others stand on his foundations but have no clue they do. They copy his principles but can't quite credit him. Critics point to Bielsista as the reason Argentinian football has suffered a dip in quality. All of these are shading the margins of truth. Bielsa isn't an influencer as much as just an outlier. His defining work isn't his philosophy, it is the work itself. 
                                                            ******
In 1982, the year Argentina failed to defend their World Cup title (four removed from their more illustrious one), Bielsa returned home to Rosario to take over as a coach of the youth team at Newell's Old Boys. Having failed to make it as a player, he had turned to coaching, and had worked for two years as a physical instructor and coach of the University of Buenos Aires football team. When he returned to Newell's, the story goes, he realised there was a lack of variety in the youth set up. Most of the big clubs, he felt, were missing out on players from the deep interiors of the country. 
Taxonomy was integral to Bielsa's DNA. He was born to a lawyer and a school teacher. Every problem could be solved by method and arrangement. Bielsa divided a map of Argentina into seventy sections. He visited each one himself to scout talent, driving over 8,000 km to do so. For eight years thereafter he worked with the youth set up of Newell's before being promoted to the senior side in 1990. 
In his first season in charge, Newell's won the Apertura and the Integración (the Argentine championship was split into two halves for the first time that season, the Apertura and the Clausura. The winners of both played a final to decide the overall champions) and Bielsista was perhaps officially approved for export. Argentina went on to win three of the next four FIFA Youth World Cups. 
Bielsa quit the Newell's job within two seasons. Ever since, he has orbited around the outer margins of the football universe living four decades of his life. Occasionally, his trajectory brought him to the universe's center, as it did during Argentina's disastrous 2002 World Cup and their ridiculously successful 2004 Olympics. At other times, his trajectory stayed true, but his path left traces that are seized upon by keen observers. Think of that majestic Athletic Bilbao demolition of Manchester United at Old Trafford, the Chilean team of 2010 (and the generation that followed it), the Marseille team of 2014 (fading away in 2015) and you will see it — the Bielsatellite in focus, blurry, but there. 
Also Read | Case of the Missing Coach: Indian Football Should Encourage Merit But Also Provide Avenues to Judge It
There is a commonality to everything the Bielsatellite touches. Winning is not the agenda (in his career Bielsa has won two Argentine league titles, one Olympic gold and thanks to last week, the EFL Championship). Burnout is expected but rarely accounted for (his methods are taxing and exhausting — mentally and physically). Oohs and aahs are a guarantee. These three things are basically an extrapolation of fact from myth. Everything Bielsaball does leads to one, two or all of the above.
There is a fourth. A commonality that is essentially a remnant of Bielsa as a young man, instructing kids and university students. He is a coach. And no matter what the quality and age of students, Bielsa essentially does what coaches do — strengthen the player's basest skills. 
                                                           ******
The crazy thing about Bielsa is the number of coaches who revere him and revere him for the exact things that have kept him from being supremely successful in the traditional sense of the word. They love that he is an idealist, obsessive, meticulously detailed and does not compromise on his beliefs. Those that follow him furthest, love that he coaches players, drags professionals through the same motions amateurs undertake just to improve them, and therefore the team. They love that he believes in and works with a small, tightly knit group of players and rarely brings in extravagant stars to bolster them. 
Bielsa's methods are simple. They follow his own personal work ethic. Meritocracy over privilege. Just as he chose to start from the bottom and work up, he demands his players do too. Bielsista in itself, is only about two things: side before self. Method before result. 
This is important right before you dive head deep into Bielsa games on YouTube. Be prepared to watch 90 minutes of action where one team tirelessly runs, runs and then runs some more, driving up in droves but also falling back in them. Pressing high up the pitch, defending before the opposition has recalibrated themselves to launch an attack. Patrick Bamford, a striker, misses lots of chances up front, but Patrick Bamford the player always presses close to the opposition, draws the centre halves out of position, forces mistakes that help create more chances.
This is important to remember also because unlike many managers and former footballers who hope to land their first jobs at the top of the pyramid, Bielsa started as a physical education instructor. He worked his way to the top. And when he got there he never forgot what took him there, and constantly coached players rather than manage them. When he landed the Leeds job he said it was more than what he deserved. And when he won the Championship he said that he is happy for the trophy but having worked in football for 40 years he knows that "one title doesn't really change the percentage of trophies I have".
Also Read | India's National Dope Testing Laboratory's Suspension Extended For Another Six Months
"What makes me happy is the fact I have won with this group of players." The players he got, coached, lost, re-coached and won with. 
In a footballing heaven like Argentina, Bielsa found a flaw in the ecosystem and fixed it by drawing on a map. A roadmap if you will. It didn't involve rejigging the top of the pyramid, but worked towards resolving the foundations they are built on. It is what he does every time. Fix the problems at the bottom to help results at the top. Draw with chalk to teach passing, so that in games his teams travel the full length of the pitch in space of three precise touches. 
When people ask 'what kind of manager is Marcelo Bielsa', or 'What kind of greatness is this?' you can answer simply. Bielsa is science fiction. His methods are real and delusional. Ridiculous and parodical, but always looking to the future. And: it is awkward, stumbling but forever honest in the attempt.
Get the latest reports & analysis with people's perspective on Protests, movements & deep analytical videos, discussions of the current affairs in your Telegram app. Subscribe to NewsClick's Telegram channel & get Real-Time updates on stories, as they get published on our website.
Subscribe Newsclick On Telegram