NorthEast United Felled By Aniket Jadhav Goal and a Crucial TP Rehenesh Save
From the age of golden strikers, Indian football has now entered the age of goalkeepers. Every team in the ISL starts with an Indian under the post. Three of them have saved penalties this season. TP Rehenesh's save handed Jamshedpur FC three points and NorthEast United FC their first loss of the season.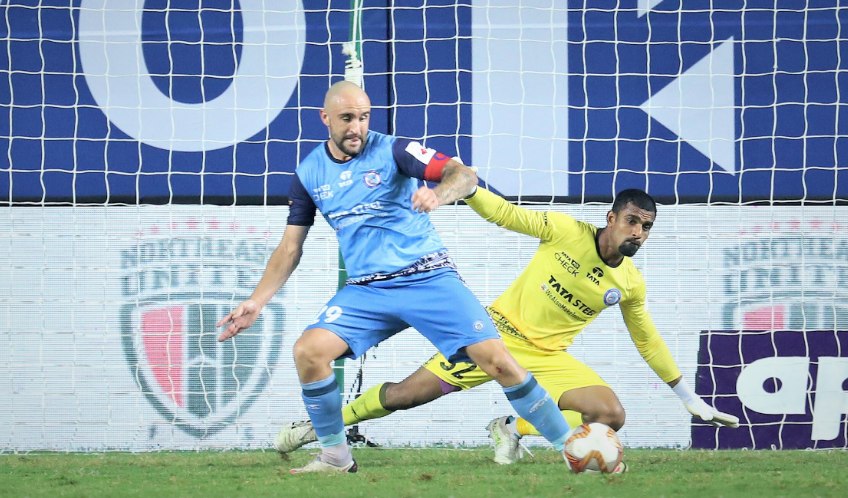 Jamshedpur FC's Peter Hartley blocks a ball as TP Rehenesh ensured a second line of defense during their Indian Super League match against NorthEast United FC (Pic: ISL, Twitter).
The Indian Super League (ISL) played its 500th game on Friday… Two ways to look at that number. 1) Consider it a landmark and a sign of continuity at the least, if not progress, the country's top league offers; 2) The league is young (merely 500 games old), so young that it is too early to harp about its history, landmark, legacy and so on. 
However, landmark was the word of the day -- thrown about liberally on December 18, Friday. 500 is a number hard to ignore that way, made all the more landmark worthy because an Indian scored in the game too. An Indian earmarked for the future and considered one of its best prospects. A script written to make the headlines. 
Aniket Jadhav scored in the second half for Jamshedpur FC in their 1-0 win over NorthEast United FC to ensure an Indian toast and boast on ISL's special day. It doesn't matter, of course, that foreigners have scored the majority of goals in the seven-year-old league. What matters are special occasions. 
Also Read | Lewandowski, Bronze Win FIFA Best Player Awards
And if you search for special occasions then this, the ISL's 500th came a day before the real last big occasion for Indian football. 50 years back, on the 19th of December, India won its last medal in football at the Asian Games -- a bronze in Bangkok. That side, apparently, had six solid strikers. Now, we have C-lister foreigners and semi-retired stars to perform that role in Indian football, albeit in a league and not the national team. Of course, we have Sunil Chhetri, and a few promising youngsters, Jadhav included, but India, from a land of strikers 50 years back, has become a land of goalkeepers now. At least, that's what the evolution of the ISL in 500 games tells us. 
On Friday, alongside Jadhav, another man marked the occasion with a stellar performance which is arguably more telling of what the ISL has done for Indian football. Even though, in all likelihood, it might be an inadvertent byproduct stemming from how the teams strategically plan the composition of their squads to maximise the impact of foreigners in it. 
In the 65th minute, a good 12 minutes after Jadhav's goal, TP Rehenesh saved the three points for Jamshedpur, diving to his left to push out a penalty. Benjamin Lamblot was brought down in the box by Stephen Eze. Idissa Sylla stepped in to take the spot kick which Rehenesh managed to read, or make a calculated guess. Saving a penalty isn't an exact science. It seems like chess. Whatever be the case, it is beautiful to see a flying man make a save when he is not expected to. Rehenesh did that. 
Rehenesh has been making a lot of saves this season. He is the top goalkeeper in the league as far as saves are concerned, ahead of even India No. 1 Gurpreet Singh Sandhu. Again, there are two ways to look at that, and possibly Rehenesh is called into action more because of how his team plays. Whatever be the reason, the truth remains that Rehenesh has improved leaps and bounds and has been consistent for Jamshedpur right through the seven-match old league this year. Friday was not a one-off.
Also Read | Odisha FC vs Bengaluru FC: Losing is a Habit, Winning is One Too
The fact also remains that all 11 teams employ Indian goalkeepers. A far cry from the start when only one of the eight teams had an Indian custodian -- Subrata Paul for Mumbai City. Rest all were imports, and included big names such as Calamity James! Sorry, David James. 
From there till now, the league has been good for Indian custodians. Of course it has quite a bit to do with the reality that the teams do not want to waste a foreigner slot on a goalkeeper. The logic applied is simple. If a team uses a foreigner under the bar, and since goalkeepers are hardly substituted through the match, it would be locking away one of the five slots for players from abroad. And, teams prefer having foreigners in key areas on the field -- up front, in the centre of midfield and in central defensive positions. 
That does not take away credit from Indian custodians though. They deserve to be in the playing XI. Their performances have improved as well. One can't say that with authority about players in other areas of the field. Judging the action on the pitch from Game 1 to Game 500, the general quality of football has remained where it was. Indian goalkeepers have stepped up their game in the same period. 
It has got to do with game time for sure. They are getting more minutes than any Indian -- barring Chhetri and a couple of other seasoned campaigners. It has also got to do with the knowledge that they are not arbitrary commodities on the playing field. An Indian 'keeper, compared to an Indian striker young or old, feels wanted, and also feels responsible for the team's fortunes. Unlike the hapless striker who knows for sure that the goal poaching responsibility falls broadly on the foreigner in the mix. He can always play second fiddle, or become the assist king of ISL. 
Kudos to Rehenesh for the save which earned Jamshedpur full three points on Friday and a climb up to fifth spot in the standings. His save also handed NorthEast their first loss of the season. They are now in fourth spot.
Get the latest reports & analysis with people's perspective on Protests, movements & deep analytical videos, discussions of the current affairs in your Telegram app. Subscribe to NewsClick's Telegram channel & get Real-Time updates on stories, as they get published on our website.
Subscribe Newsclick On Telegram