Centre Forwards & Old Glory: Memories From a Long Gone December in Indian Football
A half century ago, India won their last major medal at a continental competition — a bronze at the 1970 Asian Games in Bangkok. That team was led by its strikers who banged in eight goals in the tournament, the second highest tally at the Games. Fast forward to today, and Indian football is struggling to find forwards who can score goals let alone lead sides.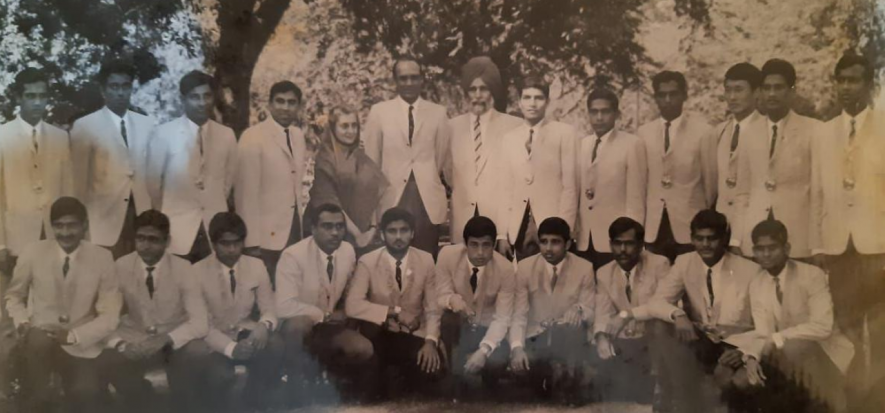 Indian football team's 10-member squad for the 1970 Asian Games in Bangkok had seven forwards — Shyam Thapa, Subhas Bhowmick, Mohammed Habib, Amar Bahadur, Magan Singh, Manjit Singh and Sukalyan Ghosh Dastidar (Pic courtesy, Bhowmick).
A phone call to Syed Nayeemuddin for a quick chat quickly turns embarrassing. Fifty years ago Nayeemuddin was considered the country's finest central defender. Originally from Hyderabad, Nayeemuddin was extremely handsome, which only added to his popularity wherever he played.
It didn't come as a surprise when he was asked to lead the Indian football team in the 1970 Asian Games in Bangkok. Played in December, the event was the last time India won a medal in a continental championship. The bronze was the result of a hard-fought 1-0 victory over Japan in the playoff.
Nayeemuddin didn't sound very interested in reminiscing that great moment. "It happened 50 years ago, is it?" he laughed. "Journalists always do remember such things. But I can't recall much. I have my own problems now".
He can't be blamed. Really. The 76-year-old, lost his wife last month, and is facing acute financial difficulties. He captained India both at the junior and senior level. Twice he was India's national coach. Till date, he is Indian football's only personality to receive both the Arjuna and Dronacharya awards. But it hasn't helped much.
Also Read | Chhetri Goal and a Kaith Save for Posterity
The phone call ended with the typical hollow promises to look into the matter and request the "right people" to do something. Once known for his extraordinary skills and graceful movements on the pitch, Nayeemuddin is no fool. Yet, he politely expressed his thanks for the concern shown before ending the conversation. 
It is always better to dwell on the past when it is difficult to face the present. The 1970 team, which won a medal for India for the last time in an Asian meet, were not only a talented bunch, but also unique in nature. 
Apart from having a solid defence and a creative midfield, the team's biggest asset was a very productive forward line. Rarely in Indian football history, have so many positive strikers assembled in one particular national squad.
Since the 1970 Asian Games was a 10-day affair with a cramped schedule, India travelled to the tournament with a 20-member squad. Seven of them were forwards — Shyam Thapa, Subhas Bhowmick, Mohammed Habib, Amar Bahadur, Magan Singh, Manjit Singh and Sukalyan Ghosh Dastidar. All were known to be prolific scorers in domestic football. It was an embarrassment of riches for the two coaches, PK Banerjee and GM Basha.
As if it wasn't enough, India were forced to leave behind their best striker home. Inder Singh couldn't join them because of an injury. Bhowmick, who struck twice to level the score in the opening match against hosts Thailand in front of a packed home crowd, still regrets Inder's absence.
"Had Inder bhai been there, we would have returned home with the gold medal. We lost to Burma (now Myanmar) 2-0 in the semi-final. Inder's presence would have helped us to make a comeback." 
Also Read | State Associations Write to AIFF Demanding Elections
Injuries are part of football. Unavoidable. So, it is better to concentrate on what India did without their best goal getter. In six matches, in a span of 10 days, India scored eight goals. Only Burma, who won the gold medal jointly with South Korea, scored more goals than India. The margin of difference was one solitary strike.   
Exactly 50 years later, the seventh edition of the cash-rich Indian Super League (ISL) has entered its third week. When Mumbai City FC beat Odisha 2-0, a total of 38 goals were scored in the tournament. Five had been scored by Indians.
"Is it so?" Shyam Thapa, who struck the final blow in India's 3-0 demolition of Indonesia in Bangkok, laughed. "I am not surprised. Except Sunil Chhetri, India hardly has a positive striker now. Who will score?"
Thapa is now the chairman of the technical committee of the All India Football Federation (AIFF). But he, too, has little idea about why the supply of goal-scorers has suddenly dried up in Indian football.
"I think it's the general approach of the coaching community in India. These days, if a youngster is found skillful, the tendency of the coaches is to make him play in the midfield. If he is tough, he will invariably be used to strengthen the defence. Present day football is all about defensive strategy," says Thapa.
"There is one more problem. Coaches are putting lots of restrictions on footballers. A genuine striker needs to be encouraged to play his own game, create his own space and indulge in dribbling. Now most coaches want their wards to play one-touch football. It arrests a footballer's creativity. A striker needs to be creative. Because scoring is football's most creative job," said Thapa, who, in the 1970s, became a darling of the crowd for scoring spectacular goals.
Bhowmick says there are few people to teach the basics diligently. "In our days, local coaches at schools, colleges and smaller clubs were technically very sound. We grew up learning from them. 
Also Read | Chasing the Kolkata Derby: The Known Past, Hyped Present and Unknown Future
"These days, licensed coaches concentrate more on strategy and tactics. The job of the local coaches should be to spot talented footballers and to develop them methodically. At the same time, there should be enough quality football institutions to train the footballers properly," he added. 
The introduction of the National Football League (NFL, later I-League) also played a negative role to an extent. In the inaugural season in 1996-97, AIFF allowed teams to field five foreigners (though the number was reduced later).
This provision was created to bring in more spectators to the stadiums. It had a negative effect, too. Every club in the country took the easy route of recruiting foreign footballers as central defenders and strikers. 
IM Vijayan and Bhaichung Bhutia were both products of pre-NFL days. After the deadly duo retired from the game, Sunil Chhetri remained the only exceptional striker to emerge in the country. Jeje Lalpekhlua has done well after graduating from the AIFF academy, but more was expected from him. For other Indian strikers, it is mostly about sitting on the bench hoping to get an opportunity to have a feel of the pitch.  
Even Chhetri agreed with this. He once told this correspondent: "Scoring in a habit. If the strikers do not play many games, how will they score? A striker has to get enough opportunities to score his goals."
Also Read | The Poetry of Diego Maradona, and Hateful Truth in It
Now in his 70s, Shyam Thapa boasts of his time with great pride. "In our days, there were quality strikers in every part of the country. We were aware that Amar Bahadur could win a match for Mafatlal single-handedly. The same could be said about JCT's Inder Singh. Magan Singh was simply the one-man army for Rajasthan Arms Constabulary (later Rajasthan Rifles). He was a deadly striker."
Now being the chairman of the technical committee, why doesn't he table a few suggestions to AIFF? Thapa keeps quiet for a few seconds. "I have spoken about it a few times. But do you seriously think anyone really listens to me? It doesn't happen like that."
Get the latest reports & analysis with people's perspective on Protests, movements & deep analytical videos, discussions of the current affairs in your Telegram app. Subscribe to NewsClick's Telegram channel & get Real-Time updates on stories, as they get published on our website.
Subscribe Newsclick On Telegram