One for the Team: The Sound Logic Behind Virat Kohli's Sacking as ODI Skipper
With players coming in and out of the squad, following no clear pattern or sense, Virat Kohli failed to build a robust Indian cricket squad during his long stint as skipper of all formats. The Ravi Shastri-Kohli combine seemed to have lacked vision for the future, something the BCCI and the new coach, Rahul Dravid, are keen to correct.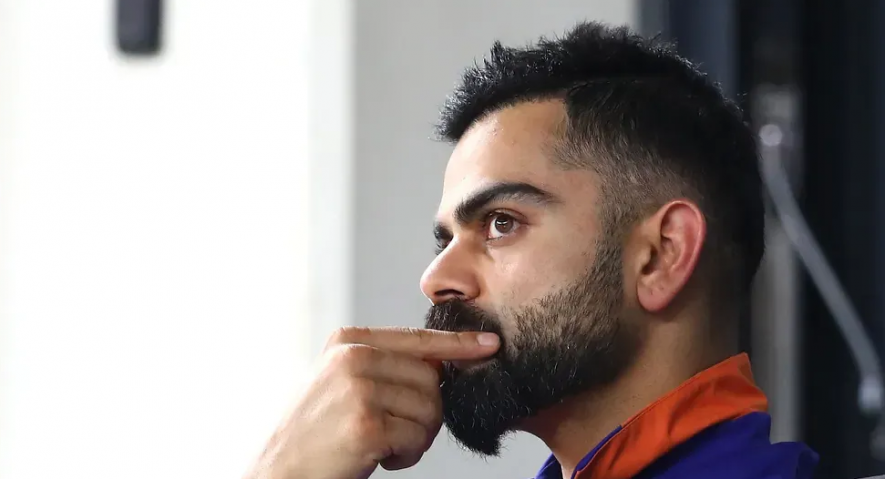 Virat Kohli's repeated failure to drive the team towards trophies has been spoken about as the main reason for the team management facilitating a change at the helm.
During our college days in Bengal, there were some journalists whose articles we used to devour like a newly-wed man devouring luchi (Bengali version of puri) and mutton at in-laws' place. Behind-the-scenes story of the Indian cricket team's dressing room was their USP. Sourav Ganguly was the hero in those stories. Naturally, when captaincy was snatched away from him in 2005, Ganguly became a tragic hero -- a man more sinned against than sinning.
While Greg Chappell was the villain, the "et tu Brute" dialogue was directed at Rahul Dravid. They made their debut together, Ganguly gave him the big gloves to keep him in the ODI side, didn't he? How could he betray Dada and become Greg's ally! This was the discourse we were fed, and we believed it. 
It took many of us years to realise that the point to ponder in the Chappell-Ganguly saga was not personal rivalry but team cause. Ganguly was 33 in 2005 and his batting form was dipping. After winning the Natwest Trophy final in 2002, his team kept losing crunch matches, the most important one being the 2003 World Cup final. A fresh man at the helm could give the team a new direction. 
Also Read | Where are the Fans? East Bengal, Mohun Bagan and the Waning Passion and Legacy
The real conflict was between two cultures -- one of hero worship, the other of putting the team before individuals. Chappell's attempt to establish the latter in Indian cricket ended in failure with India's shocking group-stage exit from the 2007 ICC World Cup. Those in the know say there were other reasons as well for that unmitigated disaster. Whatever it is, the man cannot be grudged today as the cricketers he had placed at two ends of that tug-of-war, have come together to do what he meant to.
No matter what we were made to believe back in the day, it is now clear that Ganguly does not think of himself as Julius Caesar and Dravid as Brutus. It is possible that he did when it all happened, but looking back with age on his side, he obviously realised team cause had to take precedence. And Dravid had the safest hands to hold that cause. Otherwise, he as the BCCI president, would not have put his old mate in charge of Team India's supply line first, the team itself next.
There are people who would oppose this way of looking at Virat Kohli's ODI captaincy being snatched away, saying Ganguly was a struggling batter back then, Kohli is not. But the parallels are too many to ignore. Kohli is also 33 and though he still averages a monumental 59.07 in ODIs, there has been a dip. His last ODI century came on August 14, 2019 in Port of Spain. After that match, he has averaged 43.26 in 15 matches till now. It is still good enough for most batters and that is why his place in the team is not in question, unlike Ganguly. But his repeated failure to drive the team towards trophies mirrors Ganguly's difficulties in the last days of his captaincy. Unless one thinks winning trophies is not important, this warrants a change in leadership.
Also Read | BCCI's Net Worth Grows to Rs.18,011 Crore: Balance Sheet 2020-21
Much is being made of Kohli's winning percentage as captain, ignoring the fact that bilateral ODI series have lost much of their significance. In the age of T20Is, even the numbers of ODIs are going down. More and more bilateral tours are being planned with more T20Is than ODIs. Even the bilateral T20Is are less important than franchise cricket. Nowadays, all teams look at bilateral white-ball series as a build-up to the world event. There is a World T20 every two years and a 50-over World Cup every four. In short, a team is playing four white-ball world events in five years. In fact, in the eight years between 2024 and 2031, this number will go up to eight, including the Champions Trophy. How do bilateral wins matter then?
One may pertinently ask, why sack him now? After all, the last ODI India played under Kohli was in March. What new failure has come his way in the meantime? The answer lies not in the recent past but in the near future. Kohli has given up on the T20I captaincy and Ravi Shastri has left, which allows a new management to shape a new vision for the 2022 World T20. After that, there will be less than a year left for the 50-over World Cup. It would be too late to change the captain, the need of which has been explained already. In case that does not satisfy you, there is the board president's explanation of course: there cannot be two captains for two white-ball formats.
That brings us to the question, why did Kohli relinquish T20I captaincy? If Ganguly is to be believed, the board wanted him to stay, and nobody knew before the World T20 what a disaster it was going to be. Kohli's own explanation, in his Instagram post, was "I feel I need to give myself space to be fully ready to lead the Indian team in Test and ODI cricket." 
That sounds like a man who thinks the captain is not named by selectors but by the skipper himself. Such thoughts are always wrong in sports. Steve Waugh realised it a year before the 2003 World Cup, despite leading Australia to the trophy in the previous edition of the tournament. Australia were looking at the future of the team, not the greatness of their captain.
Future! How can 34-year-old Rohit Sharma be the future? This rebuttal is more interesting than correct, because it helps us question the progress India's ODI side has made under Kohli-Shastri combine. When Australia removed Waugh, the man to replace him was 29-year-old Ricky Ponting but we do not have an option other than Rohit. Because except him and Jasprit Bumrah, there is not one cricketer in the ODI side who is experienced enough for the job, and Bumrah has never even been the vice-captain. Shikhar Dhawan is out with lack of form, Hardik Pandya does not know how fit he is. Nobody else has been given a long uninterrupted run in the playing XI.
KL Rahul's talent was never in question, and he made his debut in 2016. In spite of that he is only 38 ODIs old. Under Kohli, everyone from Ambati Rayudu to Vijay Shankar has played at No. 4 and failed, but Rahul has mostly warmed the bench. In the end, he had to don the big gloves for his chance. Shreyas Iyer was picked, dumped and has now been picked again. Better not talk about what happened to Manish Pandey after that match-winning century Down Under, or why past-his-prime Dinesh Karthik played the 2019 World Cup. Ravichandran Ashwin was never in the scheme of things under Kohli. Even Ravindra Jadeja was out of favour for some time as Yuzvendra Chahal and Kuldeep Yadav were touted as the next big thing. First Yadav fell out of favour for a handful of bad shows, then the inexplicable axe fell on Chahal. So which team has captain Kohli built in so many years? What was the vision? Clearly, the team was going nowhere.
To come back to the parallels, Ganguly's captaincy had also gone to a player his age. That did not produce desirable results in ODIs, but success is never guaranteed. Besides, Team India did not have a rich supply line back then. One hopes at least that is not a myth waiting to be busted. If it does turn out to be a myth, there will be ample scope to criticise the BCCI. Putting team cause over reputation cannot be faulted today.
(Pratik is an independent journalist based in Kolkata. He loves to write on politics, society and sports.)
Get the latest reports & analysis with people's perspective on Protests, movements & deep analytical videos, discussions of the current affairs in your Telegram app. Subscribe to NewsClick's Telegram channel & get Real-Time updates on stories, as they get published on our website.
Subscribe Newsclick On Telegram