Pandemic or Not, Lockdown of Women's Football in India Continues
The national team is coachless, the Indian Women's League has been postponed indefinitely and the probability of the All India Football Federation conducting the national senior and age-group championships is all but nil. But despite the blank domestic calendar, India will host the 2022 AFC Women's Asian Cup, making clear where their priorities lie.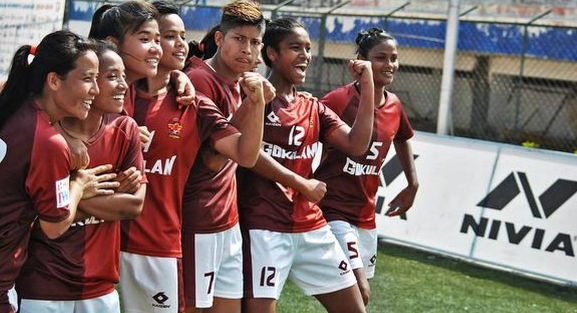 Gokulam Kerala FC women's team has not played a match since it became the Indian Women's League (IWL) champions in February 2020. That's 524 days (and counting) without a match. Gokulam's predicament is not singular in Indian football and is symbolic of a larger systemic and cultural problem in how the game is run in the country.
It has been 524 days since Gokulam Kerala FC won the Indian Women's League (IWL) title. Also, five hundred and twenty four days since the team last played a competitive fixture. And this streak could potentially go on for 108 more days before their scheduled AFC Women's Club Championship opener against Amman Club on November 7. By the time they actually take to the field to defend their IWL title, they may well have held it for two years. Which will all make for some superb quiz answers some day. For now, there are bigger questions, and concerns over what follows.
Except, PV Priya isn't worried. "I like to believe I'm a cool and calm person at heart," she laughs into the phone from her hometown of Kannur, Kerala. 
Gokulam's title winning head coach isn't worried because 'worrying will achieve nothing'. This is the way of women's football in India. In an executive committee meeting on July 19, the AIFF, in addition to extending this guy's job, also decided to postpone the IWL to next year in lieu of the pandemic, paving the way for a clean non-women's football summer, monsoon and winter. Which leaves a club aiming to put Indian football's best face forward in a one of a kind pilot continental event on uncertain ground.
"I think this is the situation for the world now," Priya calmly says, "We all have to work with what we have." 
In her case this means drawing up a list of players the club will sign and secure for the pilot event, signing foreign players to boost an impressive crop of Indians, plan a camp with Covid-19 protocols, arrange for friendlies and be in the best shape to showcase Indian women's football at the continental stage. All without having had a team to work with for over 500 days (and counting).
Click | For Coverage of the Tokyo Olympics From Newsclick Sports
Any residual thoughts of federation hypocrisy over this decision to postpone the women's tournament while actively working to ensure two men's leagues (both of which have various clubs already reporting for pre season) are dismissed by Chitra Gangadharan, head coach of Bangalore United FC women (BUFC). 
"To be honest, the federation's arms are tied," she says. "The clubs that participate in the IWL get there via state qualifiers. And as of now, most states have not managed to complete the qualifiers so it will be a bit unfair on them." (By the time the second wave took off in the country, 16 states had held their qualifiers, with the final round playoffs yet to be played. Why the AIFF has such a complex system for a 10-team league, is a good question in itself). "It's tough on the players who won't get the game time, but the situation demands it."
Priya is more pragmatic in her response. "We cannot compare the men's game and the women's game in the country," she says. "To be honest we don't yet have that kind of football culture in this country. Every club doesn't have the resources to put players in quarantine, do regular tests etc and then travel and play in a bubble. On the reverse, yes the girls need game time..." you can hear her shrug through the telephone. 
Nothing could be truer. Most clubs don't even have players on contracts right now, and are waiting for the AIFF's green light to sign them on. If the league is eventually held in March next year, the January transfer window is enough time to assemble a squad. Amrutha Aravind (who coached Sethu FC to the title in the 2018-19 season) says this lack of action extends all the way to the grassroots. 
A coach with the Kerala State Sports Council now, Aravind says facilities have been shut for over a year. For a while the coaches were conducting sessions via Zoom, but off late even that has stopped ("There are limits to what you can teach kids on the Internet").
"There hasn't been much action even at the state level for the women's game. In Kerala, for example, we haven't had any women's tournaments for almost three years now," she says — a damning indictment of the myth that a lack of game time is due to the pandemic. The Kerala state association couldn't put together a bare minimum four-team league for the women's qualifiers. And even now training and coaching are on hold. "The turf pitches here haven't yet opened up for the public," Aravind says. "We still have weekend lockdowns in several states, amidst all this it becomes tough for everyone to organise and more importantly justify a sports event."
Also Read | Indian Hockey Gold at Tokyo Olympics: A Reality Then, a Dream Now
Cruelly then, a day after the AIFF announced the IWL's postponement, the AFC released the logo for the AFC Women's Asian Cup 2022, scheduled to be held in…. India. It is a contradiction unlike any other: No space for a domestic tournament but a calendar for a continental event. One which the Indian team will be a part of.
After a year without any action, the Indian women's team played five friendlies earlier this year (against Serbia, Russia, Ukraine, Uzbekistan and Belarus) and while the results may have all been losses, the performances picked up by the end of the tour. Game time matters. No further announcements have been made regarding a camp for the women or any exposure tours, and in a turn of events, the national team coach who produced decent results has left her post. 
Maymol Rocky's resignation has left a void at the helm of the Indian women's football team. The federation is reportedly looking for foreign replacements, but, to be frank, with no international fixtures anytime soon, there's really no rush.
"This is the real concern," Gangadharan says. "They now have six months to put together a good team for the Asian Cup and in my opinion there isn't enough time." Gangadharan hopes (and assumes) the federation have informed the probables of their involvement, and asked them to stay ready and in condition for whenever they can organise a camp and practice matches.
"I'm sure they will have been given training routines, plans, etc to adhere to," Gangadharan says. "But the question is how much can we expect them to do on their own? Most of the girls are anyway doing a lot of training in facilities around them, but it is tough as you can imagine."
Also Read | India at Tokyo Olympics: Full Schedule, Fixtures and Squads
Leaving players to their own devices isn't the ideal situation, but is one that even Priya is mulling when drawing up a list for the Gokulam squad. Furthermore, she reckons that the many players who live in government hostels or complexes cannot even access things outside because of the directives that exist within.
Practice may make perfect, but too much practice and no play makes everything redundant. A player (requesting anonymity) who has represented the national team lamented the situation and the callousness of the footballing ecosystem when dealing with female footballers. 
"If you aren't part of the national team, then as a player you haven't played a proper game for over a year now. Women footballers in India have been practicing and training for a long while now," she laughed. "We are fed up with it." 
All this laughter and resigned realism is perhaps just a way of saying that in truth, the women's game is a bit of an afterthought in India. They are the ones regularly pushed by the wayside when football calendars are being fixed up. Last year the AIFF patted itself on the back for having held the first sporting event since the onset of the pandemic (the I-League 2nd Division in Kolkata) and can still pride itself for having been the only sport to have held a full season of a domestic competition in the country (sit down, BCCI). But their inability to hold any competition at all for the women is jarring. It isn't just the IWL that has been shuttered, the women's nationals and age-group nationals will not have been held for two years when the AFC festival struts into town. 
Also Read | Stats the Way Forward, Feel Indian Football Bosses; National Coach Igor Stimac Gets Extension
And there seems to be no solution in the offing either. Anil Kamat, (AGS & Director Competitions, AIFF) admitted that while the federation is looking for dates to hold the Santosh Trophy later this year, any date for the women's nationals is currently not under consideration. "We have to go by the government's directives. Even with the Santosh Trophy, we can't decide anything yet, because there has been a warning issued about the onset of the third wave," he said.
Priya, Gangadharan and Aravind unanimously agree that safety and public health come first. Sport can wait. But the lack of competitions needs to be addressed. A lack of empathy too. "We all know how women football clubs work in India," Gangadharan says. "Most of them don't have grounds for themselves, or facilities. Many put together teams at the last minute. The only way to address it is a cultural shift, but that will take time."
In the meantime, Priya plots Gokulam's way to the continental club championship — calmly of course. "It's not ideal, but it's not an excuse," she says. "It isn't going to be easy for any of us, but we have to stick to it right till the end. We've always worked hard for the women's game and this is just another fight to the end."
Get the latest reports & analysis with people's perspective on Protests, movements & deep analytical videos, discussions of the current affairs in your Telegram app. Subscribe to NewsClick's Telegram channel & get Real-Time updates on stories, as they get published on our website.
Subscribe Newsclick On Telegram