Prithvi Shaw Ban Puts Spotlight on the Farcical BCCI Anti-Doping Protocols
A backdated ban, a test that took five months to confirm, an innocent cough syrup and a reluctance to embrace systematic drug testing protocols are just some absurdities that emerge from the Prithvi Shaw incident. The Board of Control for Cricket in India (BCCI), unperturbed, carries on as before.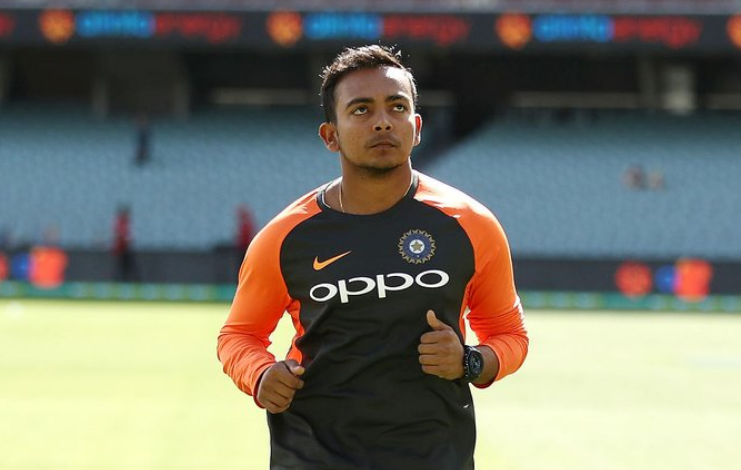 Prithvi Shaw's ban is from March 16 to November 15, 2019, which in effect, means that the Mumbai cricketer was serving it while playing 16 matches for Delhi Capitals in the 2019 Indian Premier League (IPL).
News has just broken that Prithvi Shaw will get a slightly longer offseason, which should allow him to recover from the injury issues he has been facing. The young Mumbai batsman will be ready for action a few weeks before the 2019-20 Ranji Trophy season, the Indian cricket team's Tests and ODIs against Bangladesh, and the limited-overs home series against the West Indies. The Board of Control for Cricket in India (BCCI) has decided to call the rest period a "doping ban" on official records!
One can't help but be sarcastic while describing the farce dished out by the Indian cricket board in the name of a doping ban. The eight-month ban handed out to Shaw on July 30 has been pre-dated, the period is from March 16 to November 15, 2019. That, in effect, means, Shaw, who plays for Delhi Capitals in the Indian  Premier League (IPL), was banned from cricketing action while playing 16 games of the 2019 IPL season. He also led North Mumbai to the T20 Mumbai League title in May. 
Read More | The Art of Diversion as Seen in Virat Kohli-Rohit Sharma Rift Drama
The BCCI's anti-doping protocol has to be commended here for it ensures protection of players at any cost, even if it means killing its own rules, notions of basic common sense, not to mention the collective intelligence of cricket aficionados.
One can't expect any better from the guardians of Indian cricket, who have always had an aversion towards anti-doping mechanisms in the game. BCCI, the all-powerful entity, a financial behemoth not just in cricket but across sport, has always been reluctant to use the National Anti-Doping Agency to tests Indian cricketers, citing that it didn't believe in the efficiency of the protocols followed by NADA, which is accredited with the World Anti Doping Agency (WADA). 
After prolonged pressure from the world body for implementing an anti-doping policy, BCCI constituted its own rules, and uses New Delhi-based National Dope Testing Laboratory (accredited with WADA) to conduct tests on its behalf. 
Read More | International Cricket Establishment's Anti Expansion Drive, An Inside Story
The turn-around time for any testing lab to give out a result should not be five months. The report, and announcements that follow, are generally completed in a two-month period. In Shaw's case, it came after a leisurely gap of five months that allowed the cricketer to fulfill his contractual obligations with the IPL franchise, and fill his pockets as well.
BCCI's blatant disregard of its own doping protocols doesn't end there. BCCI rules stipulate that the normal punishment for a first time offender is a two-year ban. The Board, its "independent review" committee rather, decided to be lenient on Shaw as well as the two others (Akshay Dullarwar of Vidarbha and Divya Gajraj of Rajasthan), who got booked during the Syed Mushtaq Ali T20 Tournament in February, after positive results for terbutaline, a banned bronchodilator that helps improve aerobic capacity for endurance activities.
The BCCI's review committee, in its infinite wisdom, found that the cricketers had not consumed the stimulant on purpose and that it entered their bloodstream via the cough syrup they drank. The over-the-counter drug use explanation is a classic one given by all dope offenders. BCCI's act of leniency is baffling because the players could not possibly be given Therapeutic Use Exemption as they had not consulted the cricket board's medical team before consuming the medicine. That's standard protocol for elite athletes, and Shaw, an international cricketer and considered to be one for the future, should know better. 
Read More | Ballad of the Slinga, Lasith Malinga | On the Ball
In fact, I remember my days as an amateur wrestler and how, even at that non-elite level, we were encouraged by our coaching staff to be careful about the cold and cough medicines we consume. My personal doctor, who practices from a small clinic in Fort Kochi, used to cross check the medicine contents before prescribing. It is common sense, and if BCCI's elite cricketers are not trained in such matters, then the fault starts from there. Of course, the bigger sin is the cricket board trying to cover its players when they are caught in the net.
With the incident, the spotlight is back again on Indian cricket and its attempt to keep doping related issues under the covers like they do with those sticky wickets. The Shaw issue, in fact, tells us the exact reason why BCCI is ever-reluctant about tying up with the National Anti-Doping Agency.
Perhaps, if NADA comes into the picture, it may come out in the open that most cricketers have the habit of taking over-the-counter cough syrups just like Shaw and the two others did. And, once tested positive, NADA's committee would never show leniency and the result would have been a two to four year ban, pending B Sample testing and appeals.
Talking about the B Sample, Shaw didn't opt for his to be tested, and accepted his guilt, quickly pouring cough syrup all over to douse the situation, gaining sympathisers in the hordes. 
There is a belief that doping doesn't enhance performance on the field in cricket. Of course, it won't help a batsmen time the stroke better, but any form of stimulant will aid physical exertion and recovery, be it during a long innings or a tournament, or for those big heaves outside the park, or those bouncers and searing fast yorkers.
Read More | Hima Das' Gold Medals and the Need for a Realistic Perspective
This incident could also hinder cricket's attempt to gain entry into multidisciplinary events such as the Commonwealth Games, Asian Games, and later, the Olympics, which all come under WADA rules. If the world anti-doping body, brands the BCCI and thereby the International Cricket Council (ICC), as a non-compliant entity, that dream will be cut short. At present, cricket is likely to be included in the 2022 Asian Games in Hangzhou, Zhejiang, China; and is part of the programme in the CWG in Birmingham the same year.
Then again, cricket's global growth ambitions is a mission merely put on paper by the big boards of the sport and its governing body. Nobody seems to be interested in expansion and the 10-team World Cup this year is a classic example of that. And doping, for now, will be a low priority for those who wield power. Their coffers are filled by South Asia, and in return they offer them free rein to do as they will.
Get the latest reports & analysis with people's perspective on Protests, movements & deep analytical videos, discussions of the current affairs in your Telegram app. Subscribe to NewsClick's Telegram channel & get Real-Time updates on stories, as they get published on our website.
Subscribe Newsclick On Telegram