Ballad of the Slinga, Lasith Malinga | On the Ball
At the R Premadasa Stadium in Colombo, Lasith Malinga played his last ODI for Sri Lanka cricket team, against Bangladesh. R Kaushik reminisces about the Lankan limited-overs legend and the unique ways in which he made the format his own.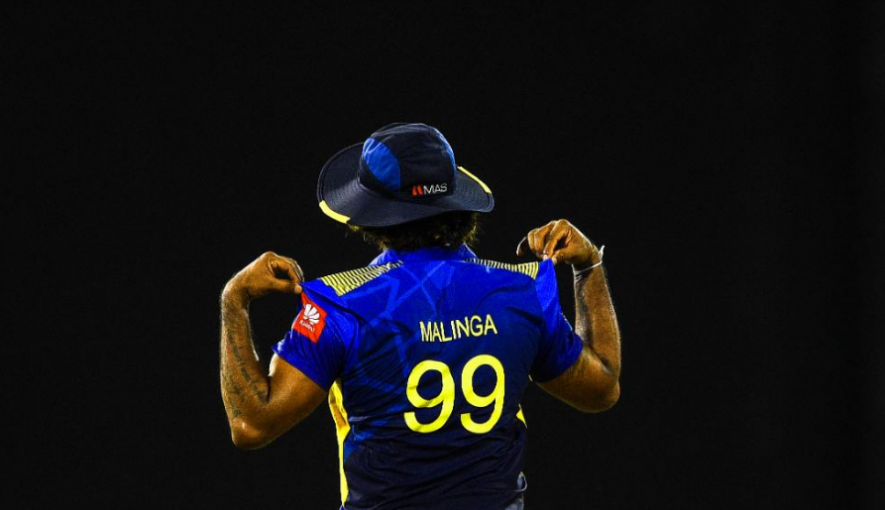 In his final game for Sri Lanka cricket team, Lasith Malinga finished with the typically economical figures of 38/3 against Bangladesh, getting all of his scalps with his trademark menace (Pic: ICC, Twitter).
It was in the fitness of things that Lasith Malinga picked up a wicket with his last delivery in 50-over international cricket. It was also appropriate that the wicket came courtesy one of two weapons that the Sri Lankan ace has made his very own – the slow, wicked dipper that batsmen far better equipped than Mustafizur Rahman have found impossible to negotiate.
The beautifully disguised slower delivery and the searing, toe-seeking yorker, both emanating with no discernible change in action, have been Malinga trademarks for so long now that you'd expect willow-wielders to have a handle on matters. Knowing what's coming is one thing; being able to tackle it with capable conviction, however, is an entirely different cup of tea.
Malinga all but demanded, and secured, a farewell One-Day International on home patch after his heroics at the 2019 World Cup helped the 1996 champions stage a late rally and finish in sixth place. Pushing 36 and with his glorious best clearly behind him, the paunchy paceman with the golden mop of unruly curls dug deep to finish with 13 wickets from seven outings, including four for 43 in a dramatic 20-run win over hosts and eventual champions England.
Also Read | Supreme Court Implicates Firms Linked to MS Dhoni in Amrapali Group Scam
It wasn't classic, vintage, unstoppable, compelling Malinga. It couldn't be, not with the unchecked passage of unmerciful time and the subsequent diminishing of pace, if not skill, craft and desire. Where he could crank it up and hurl thunderbolts in excess of 140 kmph regularly in the past, Malinga barely flirted with the early 130s at the World Cup. Even so, he was quite a handful for most sides. Only Rohit Sharma, his skipper at Mumbai Indians, and the rest of the Indian top-order mastered the Slinga; he went for 82 in his 10 overs, but was still good enough to get centurion KL Rahul with a short ball that didn't climb as much as anticipated.
Malinga in his pomp was a sight to behold. He didn't have the ethereally classical approach of 'Whispering Death' Michael Holding, but when he kissed the ball just prior to embarking on his charge towards the bowling crease, you sensed an event. Subconsciously, you slid to the edge of your seat, sometimes gripping it so tightly that both hands were sore and multi-coloured by the end of the game. You willed him on as he thundered down the turf, riding the run with him, silently imploring him to wreak mayhem. You marveled at his unorthodoxy, at the unconventional release from so low that any lower, and he might have been banned for bowling under-arm. You guffawed at batsmen who implored umpires to hide their white ties and take off their white hats because the white ball meshed with the background and was hard to spot. As it is, they seemed to suggest, it is hard enough to play out this man. Will you please not make it harder?
When the ball left his right hand, propelled by strong fingers and a powerful shoulder but also by a body that twisted and contorted in ways that made biomechanists flinch, it sliced the air like a red-hot knife through butter. It seemed not to matter to Malinga if the surface was green and seam-friendly, fragile as glass or full of moon-like craters. His length took such mundane issues as the pitch out of the equation. Making defining arcs on its journey to the batsman, the little sphere would home in on the stumps with practiced perfection. In an earlier era, Wasim Akram and Waqar Younis in tandem terrorized batsmen with their command over the yorker. In Malinga, they found the perfect student, an unparalleled hitter of stumps through a heady concoction of tremendous pace and magical late swing.
Also Read | Hima Das' Gold Medals and the Need for a Realistic Perspective
Batsmen tried to counter him by going deep into their crease or by batting well outside of it – crazy, huh? Malinga still found a way to breach their defences. He was still the king of death, the harbinger of doom. With an imperceptible split of the fingers or a scarcely noticeable change in the positioning of the orb, he could downgrade from 140 to 120 effortlessly. The slower ball would cut a higher trajectory on release. As saucer-eyed batsmen feared for head and chest, it would drop alarmingly, triggering fear of another kind. The fear of being embarrassed and humiliated, a fear probably far starker than that of potential damage to body and limb. Through it all, Malinga would smile. Not the menacing, condescending, pompous smile that he certainly was entitled to, but a knowing, empathetic, understanding smile that hinted, 'I know. I know it's tough. I am sorry, but that's what my team expects me to do…'
The law of diminishing returns had to catch up with him at some stage or the other. Indeed, it's a miracle that he has gone on for so long. He gave up Test cricket in 2011 – to great shock and no little anger back in the teardrop island – to prolong his career, which he certainly has. His body and his action that tortured his torso no end seldom allowed him to play more than two Tests in a row, so it wasn't hard to understand why he decided he had had enough of the longer version after only 30 games and 101 wickets. White-ball cricket placed far fewer demands for much less pockets of time, though the strain had started to show a while back.
Malinga was under no illusion that the finish line was in sight. During the World Cup, two days before the clash against India in Leeds, he told me with a big laugh, "I am too old now. I don't have much power to beat the batsman, so I try to control my game and control the situation." He had hinted at ODI retirement; his farewell game at the Premadasa in Colombo on Friday was an emotional affair, but it also highlighted the best of Malinga – unplayable yorkers to pack off Nos. 1 and 2, Tamim Iqbal and Soumya Sarkar respectively, the cleverly concealed slower one to embarrass No. 11 Mustafizur. Not a bad way to go, Mali, not with three for 38 from 10.
Also Read | Hope MS Dhoni's Waning Sense of Timing Doesn't Fail Him in His Retirement Call
He isn't fully gone, though. The man who captained Sri Lanka to the 2014 World T20 title is determined to help them qualify for the next T20 World Cup, in Australia next year. The former champions don't have direct entry, so they have to take the long route and Malinga, three shy of 100 Twenty20 International victims, is desperate to shepherd that campaign. Vicissitudes of selection and a creaking, protesting, patched-up body willing. What he wouldn't give to have one-time apprentice Jasprit Bumrah bowl alongside him – at nets, working on pin-point yorkers with a pair of shoes as the unfortunate targets, and in matches, hunting down batsmen with their own unique, idiosyncratic yet complementary actions that have driven Mumbai Indians' charge to an unprecedented four IPL titles.
Even as Malinga was winding down his ODI career in the Sri Lankan capital, news trickled in from neighbouring Pakistan that Mohammad Amir, the troubled left-arm paceman, was quitting Test cricket to focus on limited-overs action. From boy genius to the destroyer of dreams for his role in the spot-fixing saga of 2010, from jail in England to redemption on the playing fields, also in England, Amir has seen it all. At 27, he has experienced more than most would in multiple lifetimes. Malinga was 27 when he retired from Tests so he could give his full attention to white-ball cricket; Amir has big boots to fill.
(Kaushik is a veteran cricket writer who has reported on over 100 Tests. He co-authored VVS Laxman's autobiography '281 and Beyond')
Get the latest reports & analysis with people's perspective on Protests, movements & deep analytical videos, discussions of the current affairs in your Telegram app. Subscribe to NewsClick's Telegram channel & get Real-Time updates on stories, as they get published on our website.
Subscribe Newsclick On Telegram