Sharif Mukhammad: Setting the Goal Standard in Indian Football With Gokulam Kerala
Sharif Mukhammad, the half-Afghan half-Russian midfielder of Gokulam Kerala FC, understands cultural assimilation and is at home in Indian football. What has not been easy is adapting to the biosecure bubble of the I-League. However, coach Vincenzo Alberto Annese's philosophy has kept spirit and title aspirations alive — the idea of free football, attacking football, and happy football.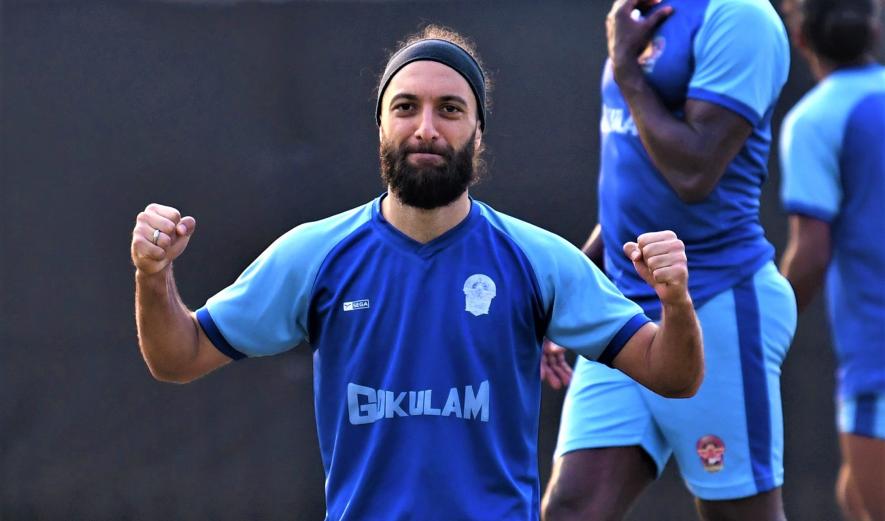 Sharif Mukhammad of Gokulam Kerala FC — a defensive midfielder — has scored three goals so far in their I-League campaign (Pic: GKFC).
In the Lovely Book of Things That Happen in the I-League, this is Chapter One — No lead is enough till the race is called. As it turned out, on this occasion, four minutes were enough. The question, though, is: enough for what? Was it just a Wednesday evening that slipped through Churchill Brother's fingers or a whole season? And if the I-League title race is resurrected, for how long? At the end of the Gokulam Kerala vs Churchill match — a game that was supposed to confirm a title but instead ended up as a 3-0 thrashing and reopening a shut race — the Malabarians were celebrating joyously. And Fernando Santiago Varela wore a look that could kill. Mostly because Churchill Brothers couldn't.
"As a defensive midfielder, I have scored three goals this season," Sharif Mukhammad says, a statement that is part statistic but mostly an explanation, an insight into what Gokulam have played like this season. They've scored 24 goals (the highest of any team) and conceded 14 (only four teams have conceded more, and three of them are right at the bottom of the table). And the goals have come from everywhere. Philip Adjah has five, Denis Antwi has four, Emil Benny, Ronald Ngangom, Jestin George have one apiece, and Sharif of course, has three (two of them highlight reel worthy).
Also Read | Tackling Capital Apathy: Deepak Devrani Lays Bare the Delhi Football Conundrum
"I like his [Vincenzo Alberto Annese] philosophy," Sharif says. Easy to say now with Gokulam starting to look like they are serious about the title, but in truth this was why Sharif signed on. "I'd heard about the I-League," he says. "Some of my friends were playing here. My first AFC match was also against an I-League team, Chennai City FC. It was a good experience and I was always curious about football in India."
But that in itself wasn't all enough. Annese's hiring may have been the crucial change Gokulam made this season. Talk to any of their players and they will attest to how their opening conversations with the coach convinced them about the project. His attacking approach has been great, but, truthfully, it is his refusal to compromise when things got tough that has been a breath of fresh air. 
"I was attracted to his mentality and the way he wanted to play football," Sharif says. "We had a detailed discussion when he contacted me before the season. We spoke about his style of play, his philosophy and his ambitions. Even that early on he outlined his plans on how he wanted to win the title." 
It started off slow, but now they are one step closer. Churchill are three points clear, but have taken a hard shot on the chin. Gokulam have done their bit, and now TRAU (equal on point with Gokulam, in second place) will hope to do theirs. A dull, biosecure I-League season is suddenly looking close and climactic.
Also Read | Power Shift, What Power Shift? This is Just a Casual Venue Shift
If this was what Sharif had envisioned for his debut season in Indian football, he isn't letting on. Half-Afghan and half Russian, adapting to different cultures and enjoying them has never been a problem. "I understand and enjoy it," he says. What has been tough — and tough all round it must be said — is adapting to the bio bubble. Even Eduardo Galeano would've struggled to find poetry in a hotel room. 
As tough as it is on Indian players, perhaps they can take comfort in the fact that they had no football at all last year, and were mostly working out on a terrace. For those who have arrived from abroad, the bio bubble — as necessary as it is — is also a reminder of all that they've left behind, so far away.
"I played against Chennai City FC [for Maziya S&RC in the AFC Cup] in March and when we came back after playing the match, the lockdown was announced," he recalls. "Luckily for me, I was with my wife and two children in the Maldives. So it was one of the best times of my life. We were able to spend a lot of time together. Every day we went to the beach and it was great."
From there, to a season of tough love that may end up in some joy. 
"It is difficult," Sharif admits. "We have to stay inside the hotel always and it's not easy on the mind. We need to refresh our heads between matches but aren't able to do so. I understand this is for our safety but I can't wait for a return to normalcy." 
It's a sentiment shared by players, coaches, officials, lift boys, cleaning crews and even the managers in the hotels the teams are locked in. As the days tick by there is a sense of the mood shifting. There is renewed energy in some, a glimmer of escape for others. For Gokulam there is a sense of things shifting too. A football league title has eluded this state that loves football soooooo much for decades. Cruelly, ironically and maybe even because it is so, this year, the year without fans they're as close as they have ever been to getting one. 
All they have to do is keep winning. And leave the rest to hope. Hope that Churchill drop points. Hope that TRAU don't get too many. And hope that in their own camp things stay as they are: fun, focussed with everyone's eyes on the prize. It doesn't take much to distract you, but it takes a lot to keep things going straight.
"We as players have only one culture and that is football," Sharif says when answering a question about how all these different cultures get together to play cohesively on such short notice. "Everyone will eventually adapt for the love of the game."
For Gokulam's sake — and every neutral fans' — the love of the game will end with just reward. From coast to coast the I-League title race is still open. 
Get the latest reports & analysis with people's perspective on Protests, movements & deep analytical videos, discussions of the current affairs in your Telegram app. Subscribe to NewsClick's Telegram channel & get Real-Time updates on stories, as they get published on our website.
Subscribe Newsclick On Telegram