Tackling Capital Apathy: Deepak Devrani Lays Bare the Delhi Football Conundrum
Defender Deepak Devrani has come up the ranks of Indian football in spite of the systemic deficiencies in the game in his home state, Delhi. The Gokulam Kerala defender feels for the players back home, even as he pushes himself for the big stage — a valiant and admirable individual pursuit in a team game.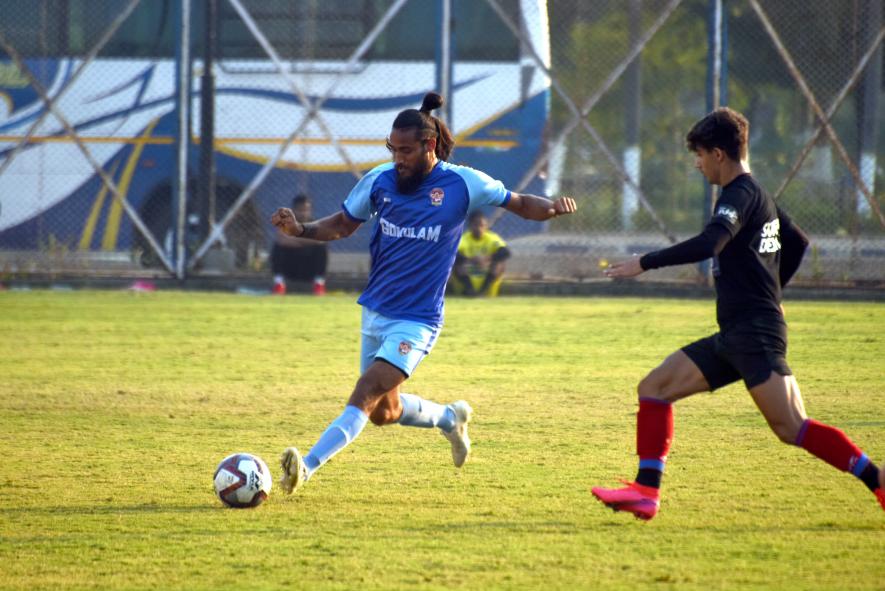 Deepak Devrani has played each and every minute of this season for Gokulam Kerala FC, who are in contention for the I-League title as of this day. He has also bagged four assists in the campaign (Pic: Vaibhav Raghunandan).
"I remember we had warmed up, and we were ready to take to the pitch, but then it all got called off". Pretty much the last thing Deepak Devrani remembers about last season's truncated I-League is that game that wasn't in Srinagar, his last for TRAU — and the last time it turns out anyone tried to hold a game at all in 2020. 
"We knew there was the threat of Covid-19 and so the host club [Real Kashmir] had put out a fake time for the public, so as to make sure the stadium would be empty. The game was 'scheduled' for 3 pm, but we were going to take to the field much earlier." Turns out, news travels fast in Kashmir, communication devices be damned. The health authorities duly stepped in and the game was cancelled. All the players flew back to Delhi, which as it turns out is Devrani's home.
Also Read | Power Shift, What Power Shift? This is Just a Casual Venue Shift
"When the lockdown began, or matter of fact, when this conversation about Covid-19 began, I didn't think it'd be so serious. I thought it'd go away, like most new viruses do," Devrani says. The conversation is happening over a phone call despite us being in the same hotel in Kolkata, separated in the biosecure bubble by a floor — the virus that refuses to go, dissolving everything into a farce. 
"I'd heard about curfews from my grandparents, but I found their stories unbelievable. On the face of it, it seemed ridiculous that they couldn't sneak out in cities they knew so well. But then it happened to me…"
It was Devrani's off season, a time he usually spends playing futsal, seven-a-side football to stay fit and sharp. Instead, he spent the summer — most of last year in fact — working out on his terrace in central Delhi, using flower pots, buckets and old discarded gas cylinders for weights. 
I'd use slippers for cones and do drills on a shared terrace," he laughs again. "My family would really wonder what was wrong with me. I'd use the mornings to go running… as early as four I'd hit the road. And to improvise, I'd go on to YouTube and get new workouts." 
"I started wondering if there'd be football again at all," he laughs. And then the next minute he's serious. "I mean, who wants to play a game when lives are at stake. My family was telling me the same." 
Also Read | Atanu Das, Deepika Kumari to Lead Six-Archer Indian Recurve Team at Tokyo Olympics
Behind the scenes, there were negotiations for a new club. TRAU had been a good stint, but he was up for something better, bigger. Delhi was finally getting an I-League team, and Devrani, a Delhi boy to the core, was eager to get in on that historical action. 
"I even met the owner and I went to his office. He detailed his plans out for me. Then he said he won't get foreigners and will promote younger players. I really admired the thought," Devrani recalls. "But for me… I want to win the league. And if you are playing the I-League you can win with even as few as three foreigners. I felt it was a risk. As a defender, I'd had a good season prior and I didn't want to start again with a fresh team. With players who'd never been with each other before, it was all starting from scratch. I wanted to win the league. It was a simple thing."
And so he joined Gokulam, a club that has been knocking on the door of the title for a while now. Devrani was a piece of a puzzle that has fired on weirdly asymmetrical cylinders all season. Kerala football is known for its fans and in a season devoid of them, the club has played some extravagant football. 
Under a new coach and several new faces, they had a mixed bag in the first phase of the I-League, but made sure they got into the top half (comfortably as it turned out) to challenge for the title. Devrani remains confident the project has been a great ride and he remains positive that the team is on track to challenge for the honours. Personally for him, a defender known for his passing range, the season has been great. He has played every minute of every game for the club and bagged four assists in the process. 
Also Read | IPL 2021 Schedule: Bubble Breach Headache and Neutral Venue Blues
All of this means he could still, potentially (and in an ideal world), be considered for the big league and the national team. It wouldn't be a new experience for the 28-year old. He is among those rare few Delhi boys over the past decade to have made it as far as the national team (the others include Sunil Chhetri and Robin Singh). Surprisingly, instead of basking on that achievement, he laments the fact there haven't been more.
"I'll be honest with you," he says. "I spend a lot of time on the road, playing the I-League, or when I was in the [Indian Super League ]ISL, then out there. There was a time when I was called up for India camps also after the season ended, so I'd end up being out of Delhi for large periods of time. When I'd get back to the city and its football scene, it'd shock me." He pauses. "Delhi football bohot peeche hai bhai (is too far behind brother)."
And then without provocation (or rather, with little provocation) he details out the problems everyone knows, but few bother to articulate so clearly. He talks about the uncertainty of the Delhi League ("No one knows kab hoga. Kaise hoga [how or when it will take place]…"), the lack of thought and importance given to the Santosh Trophy selection ("They call up a 100 players for a selection camp! I pity the coaches that have to trim that.") and the sparse infrastructure ("there are two stadiums and they don't put their lights on. No parent nowadays wants to send their kid to train at 3 in the afternoon. Those days are gone.") and international academies that dot the city's footballing skyline ("...All of them have come in to mint money and get out with their bags full. None of them are making players.")
But he also meticulously details out solutions. Or if not solutions then at least simple fixes, things that many other players have also considered. "Right from the junior level you need to change things in Delhi football," he says. "Look at Mizoram. It's such a small state, with such minimal resources and they've been Santosh Trophy champions recently. Why not Delhi?"
Also Read | Churchill's Title to Lose, Mohammedan's to Win, and Intrigue Around Relegation
"If you hold an arbid selection camp with such a large number of players, you are bound to see many good players slip through the net. You aren't giving them enough time or due process to prove their mettle," he says. "How can you hold a selection camp like that? What was the point of the league at all if not to select players for the Santosh Trophy team…" 
"You should select 25 odd kids from the league, then call out a select trial to add 25 more. Lock them away, and prep them. In Delhi there is nothing except the league. There's barely any football outside of that. Get them to play some tournaments. Make them a good team."
It all makes sense, sometimes too much maybe. And so, you start wondering why it hasn't been done. Devrani is keen to explain that some of it has, but there is much more to be done. 
"To put it simply, systems have to become better," he says. "There are a lot of good footballers in Delhi to be completely honest with you. But they have no motivation to play the game. Because the system fails them."
"Whenever I go home I always ring up some friends, saying let's train and they'll always ask me, what for. For me, I'm training because I know it's my offseason. I'm training to a routine, to keep fit and stay sharp. They'll say to me 'we don't even know if the league is going to take place or not. What's the motivation to keep fit? We can train and then go home. But it's really depressing.'"
These conversations seem recurring, so much so that it hints at being systemic with a kind of serendipity that can sink you. In a bio bubble with only a hotel room television for comfort, positivity is key. And when Devrani's Gokulam take on the league leaders Churchill Brothers later today, positivity will be the best weapon they will have to stop the early end to a title race.
Churchill effectively need four points from their remaining games to seal the deal. A Gokulam win will cut Churchill's lead to three points. And turn this mid afternoon race into a blockbuster main event. Devrani has a history of winning titles at clubs considered underdogs. He was part of the 2015 Mohun Bagan outfit that upset peak era Bengaluru FC. He was also part of Minerva Punjab the season they upended the footballing pyramid. And now this. The possibility of a league title returning to the promised land. It all gets a bit too much to stay calm about. The I-League's magic remains.
Get the latest reports & analysis with people's perspective on Protests, movements & deep analytical videos, discussions of the current affairs in your Telegram app. Subscribe to NewsClick's Telegram channel & get Real-Time updates on stories, as they get published on our website.
Subscribe Newsclick On Telegram