Supreme Court Implicates Firms Linked to MS Dhoni in Amrapali Group Scam
According to a report submitted by auditors to the Supreme Court of India, Amrapali Group transferred Rs. 42.22 crore over six years via a 'sham agreement' to Rhiti Sports Management Private Limited and Amrapali Mahi Developers Private Limited (firms linked with MS Dhoni).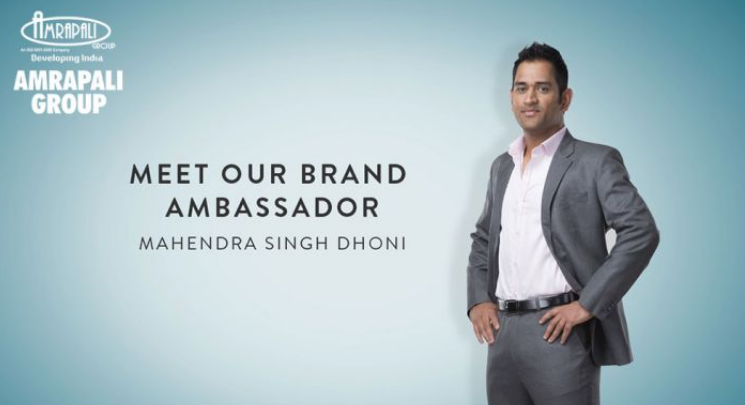 MS Dhoni was a brand ambassador of Amrapali Group till April 2016, when he stepped down after coming under pressure from disgruntled homebuyers.
MS Dhoni is in trouble, and this is much more serious than the calls questioning his selection into the Indian cricket team, the demands for his retirement, or that silly social media storm he brewed after he wore an army insignia on his wicket keeping gloves during the ICC World Cup. The former India skipper has been implicated in the Amrapali Group scam. 
The real estate company siphoned off money paid by around 42,000 homebuyers and are yet to deliver the completed flats. The buyers, in turn, filed petitions before the Supreme Court, seeking possession of the flats.  
On July 23, the Supreme Court asked state-run National Buildings Construction Corporation (NBCC) to take over all unfinished housing projects of Amrapali Group and complete the construction. This order came after sensational revelations were made to the Supreme Court by forensic auditors Pawan Kumar Aggarwal and Ravinder Bhatia. It has come to light that Amrapali entered into "sham" agreements with Rhiti Sports Management Private Limited and Amrapali Mahi Developers Private Limited. Dhoni has stakes in both the firms.
Also Read | Hima Das' Gold Medals and the Need for a Realistic Perspective
The two-time World Cup winning skipper owns a majority stake in Rhiti while his wife Sakshi is a director of Amrapali Mahi Developers Private Limited. Dhoni, in fact, was a brand ambassador of Amrapali till April 2016, when he stepped down after coming under pressure from disgruntled homebuyers, who questioned his association with the shady firm.
Now, with the revelations by the forensic auditors, it has become evident that the rot runs deeper than an endorsement deal.
The Court was informed that Amrapali Group paid Rs 42.22 crore to Rhiti Sports Management Private Limited between 2009 and 2015. A part of the amount, Rs 6.52 crore to be exact, was paid by Amrapali Sapphire Developers Private Limited. 
The audit, conducted in 2018, brought to light that most agreements were made just to ensure money could be transferred to Rhiti.
"The payment of amounts to Rhiti Sports Management Private Limited Company are sham agreements and made just for making payments to Rhiti Sports Management Private Limited.  We feel that homebuyers money has been diverted illegally and wrongly to Rhiti Sports Management Private Limited and should be recovered from them as the said agreement in our opinion do not stand the test of law," Justices Arun Mishra and UU Lalit said in the order.
The dealings with Amrapali Mahi Developers is even more shady. The audit report stated that the company received all amounts in cash.
Also Read | International Cricket Establishment's Anti Expansion Drive, An Inside Story
"We are informed verbally that this company (Amrapali Mahi) was incorporated for development of a project in Ranchi. An MoU was also entered between the parties though we were not provided a copy of that," the court said.
A flat was booked in the name of Rhiti Sports by Amrapali Sapphire in Noida. "However, Mr Sanjay Pandey of Rhiti Sports Management Pvt. Ltd. denied booking of any such flat. He also confirmed that neither the company nor any individual has any flat in Amrapali Group. Mr. Pandey confirmed that no due diligence was carried out before accepting the brand endorsement, though he informed that brand value and paying capacity was seen. No agreement was provided though it was agreed that it would be provided by 11th March, 2019. Expenses were reimbursed to Rhiti Entertainment Private Limited a group company, without any agreement," the order added.
The sum of Rs 6.52 crore paid to Rhiti Sports was related to agreements made by CMD Anil Kumar Sharma. "There is no resolution on record authorising Mr. Anil Kumar Sharma, CMD, to enter into an agreement on behalf of all Amrapali group of companies," the order stated.
As per the report submitted by the auditors, Dhoni also carried out a number of transactions related to endorsement of the group's projects. 
An endorsement agreement, signed on November 22, 2009, required Dhoni to make himself available to the chairman of the Amrapali Group for three days along with one representative of Rhiti Sports. There was nothing on record to show compliance of the condition, says a report by moneycontrol.com.
Also Read | MS Dhoni, Chris Gayle and the 'Old' Tradition: ICC World Cup Swansongs
Another sponsorship agreement, dated March 20, 2015, said the Amrapali Group received the right to advertise "Logo Space" at various places for Chennai Super Kings during the 2015 edition of Indian Premier League (IPL). 
"It is observed that this agreement is on plain paper and executed only between Amrapali and Rhiti Sports Management Private Limited and there are no signatories on behalf of Chennai Super Kings to this agreement. No resolution in favour of Shri Arun Pandey, signatory of Rhiti Sports Management Private Limited is attached with the said agreement," the court order observed.
Though Dhoni has been named in the shady deals, it is too early to pass a judgment. The cricketer could escape getting hauled up for being directly involved in the scam. 
To start with, Dhoni's name, mentioned in the Supreme Court judgment, is in connection with Rhiti Sports. The references mainly deal with contracts that weren't properly executed. That doesn't make him a direct party in the scam. Dhoni, himself, had moved the Supreme Court against Amrapali, alleging that the firm owed him Rs. 40 crore as part of endorsement and marketing deals.
Rs. 40 crore... Perhaps the balance amount. After all, Rhiti and Mahi Amrapali, firms related to Dhoni, have already received Rs. 70 crore or thereabouts, according to the auditors. 
Read more sports stories from Newsclick
Get the latest reports & analysis with people's perspective on Protests, movements & deep analytical videos, discussions of the current affairs in your Telegram app. Subscribe to NewsClick's Telegram channel & get Real-Time updates on stories, as they get published on our website.
Subscribe Newsclick On Telegram