I-League Phase 2 Preview: Churchill's Title to Lose, Mohammedan's to Win, and Intrigue Around Relegation
The second phase of the I-League begins today with the top six sides separated by six points while the bottom half looks interesting as well with the idea of relegation giving real reasons for the sides to give it all, unlike Indian football's top division.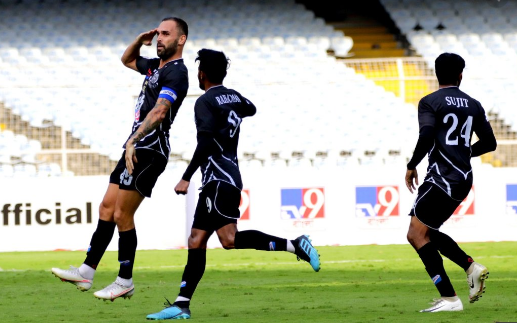 Pedro Manzi celebrates after scoring against Real Kashmir FC to put Mohammedan Sporting into the top rung sides for the second phase of the I-League.
It was afternoon, the hottest February in over a century and as the bus entered Kalyani, the score at the VYBK was tied, the game goalless. On the bus, over the course of a long bone shaking journey, some eyes had been pinned on their mobile phones, not because the result mattered but because there was little else to do. The choices were simple: Watch Mohammedan Sporting Club vs Real Kashmir or sleep. And for the first 70 minutes of this clash, the two options fed each other. If you watched you would be put to sleep. The game was petering towards a draw, and Mohammedan were sliding to the bottom half of the table. Everyone on the bus deboarded, changed, went through their pre-match routines, before taking to the pitch for a warm up.
The first indication that something mad had just happened came via a ballboy placed right behind the Sudeva Delhi FC goalpost. The exact words were, "pagal c**da" which roughly translates to "f*&@ing mental", and were loud enough to distract the usually unflappable super focussed Rakshit Dagar into turning his head in the offender's direction. As indications go it wasn't much to go on, but the second was more deliberate. It came via the team's media manager frantically waving his arms about to catch someone's attention. Anyone's really. It didn't matter who. You had to see this. Pedro Manzi had scored his first goal for Mohammedan Sporting. And if it (this whole Mohammedan stint) was a tribute act to his Chennai City days then it was perfectly replicated. He'd done this before and he was doing it again.
Also Read | Virat Kohli's Binary World View a Real Test for Cricket
As goals go it was fairly simple. Manzi collected the ball near the halfway line, turned, took a step to set himself up, looked up, saw Mithun Samanta off his line and took a shot. And it went in. If you think it was a fluke, an aberration or an accident, you obviously haven't seen Pedro Manzi enough. This piece will not even deign to help and give you a YouTube link. Do your own homework. It was a crazy goal. Mental. And five minutes later he doubled their advantage via guile, putting away Vanlalbiaa Chhangte's cross to the first post with a cheekily flicked header to the far post. From the depths of despair, Mohammedan had booked a spot in the top six. Suffer, survive, surprise, repeat. 
A couple of hours later Aizawl had been knocked out of contention, despite having not even kicked a ball that day. They hammered Chennai City 3-0 but it didn't matter. TRAU beat SDFC after Mohammedan beat Kashmir (a result as surprising as Manzi's goal) condemning Aizawl to the top of the bottom five — an oxymoron of the best quality. 
And so now it will begin, the AIFF's latest experiment with the I-League. This league is soon starting to feel like a child's hot wheels car. Beloved, treasured, filled with beautiful memories, but also chucked in anger, dismantled, put back, and finally relegated to a cardboard box in the godown (inshallah that day will not arrive, prays the 10-year-old in everyone). The top six will play each other in a round-robin to decide who takes home the trophy. Of the bottom five, two are safe from relegation, one (Aizawl) is too far ahead to practically be in consideration. Which leaves Chennai City and NEROCA, two clubs with their foot in the door, half in, half out. Except, NEROCA are peeking in, and Chennai are looking out. The Coimbatore outfit have,  reportedly, already sent most of their foreign players home (which means they are actually a better team now) and are — this piece will now turn into a gossip column — looking to merge their way into the Indian Super League (ISL) next year. NEROCA have looked better game by game, but are yet to enjoy the rewards that #progress is supposed to reap. 
Also Read | Mumbai City FC: No. 1 on All the Bombay Charts
In the top cluster, things are much more exciting. As they should be. The league isn't about relegation it is about championships — a statement that sounds different when used in the context of the ISL. Churchill Brothers, the last Goan outfit to win the I-League, a team that hasn't won it since Sunil Chhetri won it with them in 2013 is at the top, four points clear. Their first outing is against the bossy Kashmir, in third. Four points is a huge lead, unsurmountable almost, unless a late capitulation is in the offing. The other five are separated by two points (Roundglass Punjab second on 18 and TRAU holding the six up on 16). Of all of them though, the most exciting are Gokulam who blow hot, blow cold, score goals, concede goals, play fast, play slow all at the same time. 
But wait, don't look away because Mohammedan are still in it, and with the kind of goals they have been scoring — first this and then Manzi's that — who can say if this isn't the return of the prodigal club to the prodigal league for the long lost glory. "I won't say anything. I don't want to jinx it," Gurtej Singh smiles, saying more than was asked at all. "But paaji you see that the spirit is much better. Some things are happening." Whatever it is, it has kept the towering defender smiling all week. He was smiling when Manzi's ball sailed over Samanta's head into the net. He was smiling his face off during the celebrations. He was smiling at dinner two days later. Later this day, Mohammedan take on TRAU at Kalyani. It's a four o'clock fixture at Kalyani on a Friday in March. Stoke City be damned, this is where the tough get going. And arms get tanning.
Get the latest reports & analysis with people's perspective on Protests, movements & deep analytical videos, discussions of the current affairs in your Telegram app. Subscribe to NewsClick's Telegram channel & get Real-Time updates on stories, as they get published on our website.
Subscribe Newsclick On Telegram