Tarak Sinha Tribute: Delhi Cricket Loses One of its Greatest Gurus
Cricket coach Tarak Sinha, who has mentored many Ranji and international cricketers, passed away on the morning of November 6 after a battle with lung cancer. He was 71.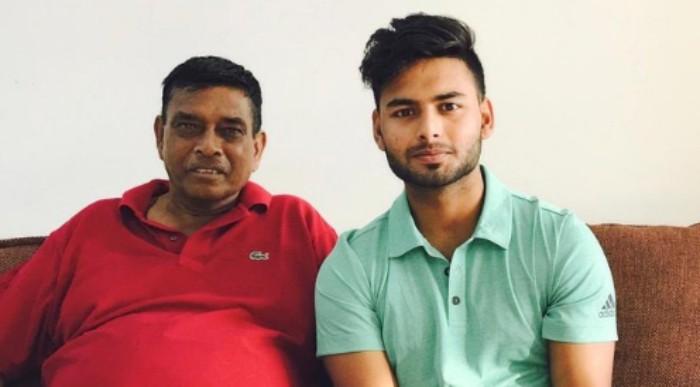 Tarak Sinha produced at least 10 internationals during his long and selfless coaching journey at Sonnet Club, including incumbent India wicketkeeper-batsman Rishabh Pant Surinder Khanna, Manoj Prabhakar, Randhir Singh, Raman Lamba, Ajay Sharma, Atul Wassan, Ashish Nehra Sanjeev Sharma and Aakash Chopra.
When Manoj Prabhakar, representing Gemini Club, dismissed three key Sonnet Club batsmen in a local match at the Hindu College ground, Delhi, in 1980, renowned coach Tarak Sinha's sharp eyes instantly fathomed the potential. He had discovered a seam-bowling allrounder and a future match winner for India. After the game, Sinha successfully persuaded Prabhakar to join the Sonnet Club he had founded in 1969. At the time, Prabhakar used to travel all the way from Ghaziabad to play cricket in Delhi, mostly by train. He found a real 'guru' in Sinha. The rest, like they say, is history. 
Dronacharya Award winner Sinha, who had unearthed many such gems for Indian cricket in and around Delhi, passed away on the morning of November 6, after a battle with lung cancer. He was 71. The guru's death left Prabhakar and many of his wards, mourn not just a personal loss but also a big one for the game. 
In all, Sinha produced at least 10 internationals, including incumbent India wicketkeeper-batsman Rishabh Pant, at his Sonnet stable. Incidentally, the first product of Sinha was also a wicketkeeper-batsman, Surinder Khanna, who famously starred in India's triumph in the first Asia Cup in Sharjah in 1984, having made his international debut at the 1979 World Cup.
Also Read | Mohammed Habib: Indian Football's First True Professional
Sinha's other famous international products are pacer Randhir Singh, who represented Bihar in domestic competitions, batsman Raman Lamba, all-rounder Ajay Sharma, pacers Atul Wassan, Ashish Nehra and Sanjeev Sharma; and opener Aakash Chopra. He had also coached the Indian women's team. 
Sinha coached Shikhar Dhawan too, for some time, before the left-handed opener moved to another club. Of the other Sonnet stalwarts, Krishna Bhaskar Pillai, a solid batsman, was extremely unfortunate not to be counted strictly as an 'India' player despite being part of the India XI for a One-day International against New Zealand and in the India 'A' team as well.
On Saturday, the Delhi cricket fraternity, irrespective of club affiliations, plunged into gloom after the news broke out early in the morning that Sinha had passed away at around 3 am. Several of the coach's wards attended his funeral in the afternoon. Apart from Prabhakar, Wassan and Ajay Sharma, Dronacharya Awardee coach Gurcharan Singh was present on the occasion.
Pillai was among those close to Sinha who missed the cremation. He was 550km away from Delhi, in Lucknow, as coach of the senior Goa team competing in the T20 Syed Mushtaq Ali Trophy. 
Also Read | The Troll Comes Full Circle for Virat Kohli and How
"He rated me highly probably because of my technical correctness as a batsman," recalls Pillai. "He had the eye for spotting talent. He made immense sacrifices as a coach because there were hardly any facilities available at the time. He should have received the first Dronacharya Award [it was instituted in 1985]."
By 1985, Khanna, Randhir, and Prabhakar had represented India, and many other players had represented Delhi. Khanna was the first player from the Sonnet Club to play international cricket. The wicketkeeper-batsman made his India debut at the 1979 World Cup, and helped India win the first Asia Cup in 1984 in Sharjah, earning greater recognition for Sinha. 
Khanna paid a rich tribute to his guru. "His best quality was the personal touch that he imparted to Sonnet players, the apnapan (affinity). There was no commercialisation. That appealed to me and touched me the most. He inspired me. He liked performances from players. He was a fighter," says Khanna of his long association with Sinha.
Prabhakar's first rendezvous with Sinha came after his three-wicket burst against Sonnet in a match of the Goswami Ganesh Dutt Memorial Tournament in 1980. 
"After the match, he persuaded me to join Sonnet Club, and got me admitted to the PGDAV College in south Delhi where he was employed and also coached its cricket team. He ensured I received a monthly cricket scholarship of Rs.200 from the college. Overall, he made me a clever cricketer," says Prabhakar, the current Delhi state bowling coach across formats for both the men's and women's sides. 
Sinha polished Prabhakar's game, something he readily acknowledges, and there was no looking back for the mercurial all-rounder. Prabhakar went on to play 39 Tests, 130 One-day Internationals, and 154 first-class matches between 1982-83 and 1996-97, besides captaining and coaching Delhi and other state teams in domestic tournaments. 
Pillai vividly remembers when Sinha first showed interest in Prabhakar in 1980. "I remember that match; it was at the Hindu College ground. After my innings, Ustaad ji asked me about Prabhakar's bowling as I had faced him in that game, and I told him that he was able to swing the ball," he recalls.
Wassan, another India pacer from the Sonnet stable, rues that the powers that be never gave Sinha his due for his yeoman service to cricket. 
"He was a phenomenon. But he was not feted or celebrated as he came from a humble background. The Delhi and District Cricket Association (DDCA) also did not give him the recognition he should have received," says Wassan. "He – and his then co-coach at Sonnet, Sharwan Kumar – first saw me play in school in 1982. I joined Sonnet and started practice with the club players at Ajmal Khan Park, where Sonnet players practiced for the longest period before switching to other venues."
Sharwan, the childhood coach of pacer Ishant Sharma, said Sinha was passionately crazy for cricket. "He was completely dedicated to coaching; he had a 'junoon' for the game. He was hard working. We [Sonnet players] practiced at places where nobody would like to stand," he points out.
Also Read | Boxer Nikhat Zareen Ready for the World, Mary Kom Notwithstanding
Sinha was a wicketkeeper-batsman and as a youngster played in Gali No.2 in Kamla Nagar, Delhi. Then, after a few years of being rejected by the DDCA at the selection trials, he formed the Sonnet Club along with his childhood friend Parmod Jain in 1969 and turned to coaching full time.
Then, Sinha and Sharwan, who was running Hero Club at the time, merged the two clubs in 1970 -- and Sonnet gained strength. "My club had defeated Sonnet in a match of the Young Boys Tournament at the Ayurvedic and Unani Tibbia College and Hospital ground. After the match, Tarak, whose club was facing a financial constraint, approached me and proposed to merge the two clubs, and I agreed," says Sharwan.
Sinha was the fifth cricket coach to receive the prestigious Dronacharya Award (Lifetime Achievement) in 2018. The others are Desh Prem Azad, Gurcharan Singh, Ramakant Achrekar, and woman coach Sunita Sharma. He, however, never craved recognition and preferred to remain in the background.
(The author is a veteran journalist based in Delhi, with over three decades of experience covering cricket, right from the grassroots to the highest level)
Get the latest reports & analysis with people's perspective on Protests, movements & deep analytical videos, discussions of the current affairs in your Telegram app. Subscribe to NewsClick's Telegram channel & get Real-Time updates on stories, as they get published on our website.
Subscribe Newsclick On Telegram