The Troll Comes Full Circle for Virat Kohli and How
The online abuse the Indian cricket players and skipper Virat Kohli faces now can be traced to the team's carelessly built aggressive and hyper nationalistic persona. From Kohli's 'leave the country' retort to a fan for being critical about his batting, to MS Dhoni's army symbolism on and off the field, they spun a sinister and divisive narrative around the game, and are now paying the price for it.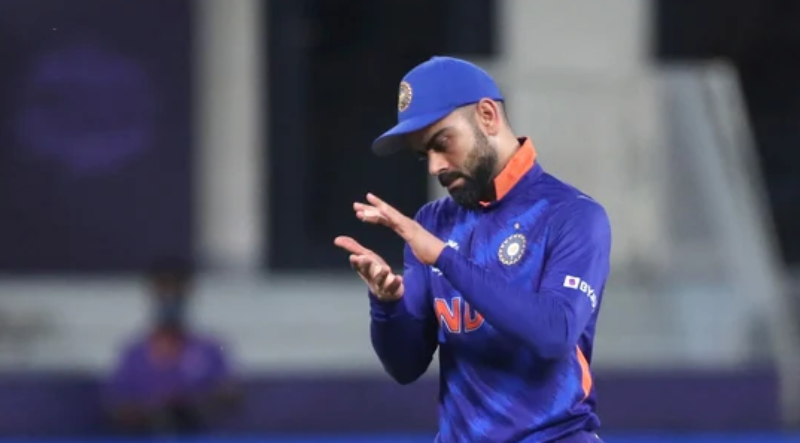 Indian cricket team skipper Virat Kohli has started to experience the dark side of fame of late, something he is not used to (Pic: HT, Twitter).
During his international career, Virat Kohli has mostly seen the bright side of fame. Only since last Saturday has the dark side started to make its presence felt. The brickbats he is receiving would be fine had the reason only been Team India's abject failure in the ongoing ICC T20 World Cup. But he is being panned more because of his counter-attack in defence of teammate Mohammad Shami. In fact, brickbat would be a horrible euphemism for the abuses being hurled at Kohli, and shamefully, his 10 month daughter. 
However, India is not made of right-wing trolls alone. Many on social media also hailed Kohli for his words. More importantly, the media wrote reams of praise. While doing that, some have even compared his statements with Sunil Gavaskar's well-known heroic act of saving a family from a violent mob during the 1993 Mumbai riots. This comparison is symptomatic of our times. Virtual reality has so overwhelmed us that we think words are as good as, if not better than, actions. They are not. And that is a valid enough reason we need to look at Kohli's outburst more critically.
There is not one word in that statement which a sane human being would disagree with. However, it would be naivete to dismiss so many people just as Rs. 2 trolls, especially because many of them were ardent Team India and Kohli lovers till the other day. Therefore, we need to ask why so many cricket fans in today's India think losing a game of cricket is the end of the world.
Bitter truth is, those who run Indian cricket have themselves injected this idea into fans that cricket is a lot more than a game and the other team is not our opponent but enemy. Kohli, too, has played a big part in forming this idea.
The Kohlis and the Dhonis may not want it that way, but their life is their message for the fans. They not only copy the star's batting stance, hair cut or mannerism, but also his behaviour on and off the field. They may not take a politician's words seriously but shall trust every word the favourite cricketer says. In the age of 360-degrees, 24x7 sports coverage, they shall copy the pointed finger, the middle finger, the chest thump, the fist pump, the aggression, the frustration, the shout, the pout. Whether that is the right thing to do is a different question.
Three years back, the Virat Kohli Official App was launched. A video was released for its promotion where Kohli was answering questions sent by random people. One person had written in, saying he thought Kohli was an overrated batter and he enjoyed watching English and Australian batters more. Kohli's reply was "OK, I don't think you should live in India then… you should go and live somewhere else, no. Why are you living in our country and loving other countries? I don't mind you not liking me but I don't think you should live in our country and like other things. Get your priorities right." 
Also Read | Boxer Nikhat Zareen Ready for the World, Mary Kom Notwithstanding
This remark, obviously, goes against the spirit of cricket which prompts the Caribbeans to write songs praising Gavaskar, Australians to name their children Sachin and Pakistani Umar Draz to hoist the Tricolour because he is a Kohli fan. But neither the Board of Control for Cricket in India (BCCI), nor any former cricketer told Kohli that his behaviour was unsporting. Naturally, that incident would prove to a common fan that praising cricketers from other countries is blasphemy.
There was more to that comment than absence of sporting spirit though. It was in line with and eerily similar to the "go to Pakistan" jibe critics of the central government have been targeted with since 2014. India's otherwise liberal cricket writers somehow missed this point and are now aghast that people are being arrested for supporting a different team.
The not-just-a-game theme was taken up a notch in 2019, when Kohli and Co. played a One-Day International in Ranchi on March 8 wearing army camouflage caps. It was to honour the victims of the Pulwama terror attack. Interestingly, nobody in the army or the government found it disrespectful to the jawans who died that the caps not only had the BCCI logo on them but also the sponsor's logo. The team went to town about their love for the army and how it was Mahendra Singh Dhoni, an honorary lieutenant colonel in the Indian territorial army, who came up with the idea. Thus, in popular imagination, the cricket team could acquire the same place as the army.
Also Read | Virat Kohli Should Stick To Batting and Spare India His Cricket Nationalism
Once again, no ex-cricketer, no expert, not even the International Cricket Council (ICC) found anything objectionable in this. The ICC regarded it just "as part of a charity fundraising effort" because the Indian team also donated their match fees to the National Defence Fund. But it became too much even for them during the World Cup later that year when lieutenant colonel Dhoni sported the dagger logo of his regiment on his wicket-keeping gloves. When the ICC objected to it, who all spoke out for Dhoni? BCCI Committee of Administrator chief Vinod Rai and sports minister Kiren Rijiju. While Rai's logic was that it is not an army symbol, the minister tweeted "… the issue is connected with the sentiments of the country, the interest of the nation has to be kept in mind." 
Clearly, even a logo on the gloves of a cricketer who is just an honorary member of a paramilitary force is connected to the sentiments of the country. So much so that even a minister intervenes if it is asked to be removed. One could rightfully ask, why did Dhoni need to place such a sensitive logo on his gloves? So many army men have represented India in different sports over the years, including Major Dhyan Chand and Tokyo Olympics gold medallist Neeraj Chopra. If none of them needed to sport any army insignia, why Dhoni? The only possible answer could be his wish to be something more than a cricketer. Or was the board trying to elevate cricketers to a different level? Nothing wrong with that if they can handle the pressure of being treated as army men by the fans.
Also Read | Indian Cricket Team 'Caps' Irony With Nike-Made Valour
What is now happening to the Indian cricketers, is more or less, what happens to an army which has lost a war. Soldiers of a defeated army hardly get any love or respect in their country and the choicest abuses are reserved for the general. For Kohli & Co., one can only hope the online trolling stays online. Millions of Indians know how bad things get when the hate produced online spills on to the streets. The street-fighting body language this Indian team has acquired under Kohli could work before Joe Root & Co, may not before mobs Delhi saw last year. One can possibly emulate Gavaskar's courage on the field with talent and hardwork, emulating his courage before rioters is way more difficult.
(Pratik is an independent journalist based in Kolkata. He loves to write on politics, society and sports.)
Get the latest reports & analysis with people's perspective on Protests, movements & deep analytical videos, discussions of the current affairs in your Telegram app. Subscribe to NewsClick's Telegram channel & get Real-Time updates on stories, as they get published on our website.
Subscribe Newsclick On Telegram