VB Chandrasekhar: The Batsman, Philosopher, Administrator and Friend | On The Ball
As much as a batsman with a penchant for the dramatic, VB Chandrasekhar was also a wonderful thinker of the game, shrewd and astute, as well as a moulder of careers. His impact on Indian cricket will never fade.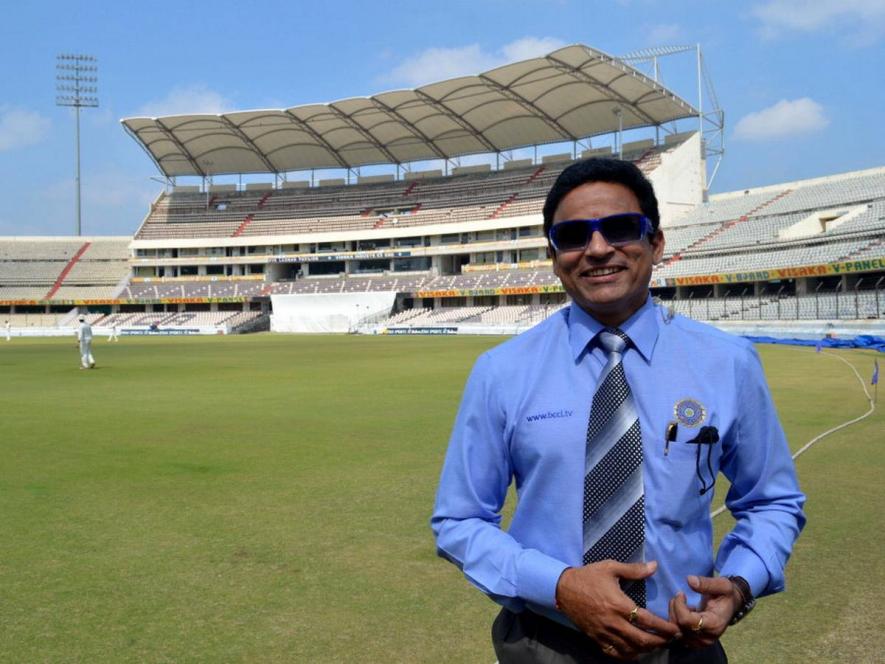 VB Chandrasekhar's career stats, especially during his brief international journey, is an understatement of his abilities.
To everyone who knew VB Chandrasekhar, he was VB. Not Chandra, not Chandrasekhar. Just VB, plain and simple. Or Veebs, if you got to know him well, if he allowed you into his inner circle.
VB was not his identity, but his identification. Like LS, his great leg-spinning mate from India Cements. Like VVS, the magician with supple wrists of steel. Like MS, the legend whose climb to dizzying heights was facilitated, coincidentally, by VB through CSK. Ah, the initials that drive Indian cricket.
VB was an uncomplicated way of addressing and being addressed. No frills, no dramas. Much like the man himself. He donned many hats with an aplomb that only comes to a few. He touched many lives with a lightness that is all too rare. He lent a helping hand to thousands without giving the impression that he was doing you a favour. A devoted husband, a doting father, a religious human, a driven cricket-worshipper.
Also Read | Ravi Shastri's 'Presentation' Earns Him Extension as Indian Cricket Team Coach
Which makes his irreversible, unfathomable, heart-wrenching final call impossible to comprehend. To come to terms with. To even try and understand, let alone accept.
A few of us were out Thursday night, relishing the gentle drops of rain falling around us, when messages started to flood the phone. 'VB has passed away,' the first one read. All of us at the table knew VB personally, we were numb and speechless.
As the hours passed and calls came in from different parts of the country, as vague details began to take slightly more solid shape, the sense of gloom and sadness became more and more pronounced, a heavy cloud of pain and anguish settling seemingly permanently above us. Surely, this can't be true? Surely, VB, so full of life, the definition of joie de vivre, could not have taken his own life?
But he did. And only he will know why.
Oftentimes, we remember only the end. We tend to forget the storied beginning, the glorious middle. In VB's case, the tragic end will never be a footnote, but it can't detract from the fullness of his life, from the contours of goodness that he seldom advertised but that oozed out of every pore. To me, like to all those that have had the good fortune of running into him, VB will remain special. In every way imaginable.
Also Read | Fogged Up Vision for a Goal Flourish by a 'Poor, Middle-Class Club'
He wasn't ever the child prodigy destined for greater things from a very early age. He wasn't merely a body of sustained staggering cricketing accomplishments. Then again, everything about VB has been understated. That was his calling card. That, and his terawatt smile that would dissipate all negativity and make the world seem a better place.
The record books will show that he didn't even take to competitive cricket till he was 19. That he only made his first-class debut for Tamil Nadu aged 25. That he was 27 when he played the first of his seven One-Day Internationals. That he averaged 43.09 in 81 first-class games, and a more modest 12.57 for the country.
You can't argue with these numbers. What they will not reveal is the joy he provided as a free-spirited opening batsman who probably didn't play as much for the country as he should have.
One of my earliest memories of VB at the batting crease stems from November 1990. It was day one of a Ranji Trophy game at the Gymkhana Grounds in Secunderabad, and Tamil Nadu had lost their skipper and VB's opening partner, Krishnamachari Srikkanth, inside the first 15 minutes. So what does VB do? As Hyderabad's fastest bowler at the time, Rajesh Yadav, came thundering through his run-up, VB charged down the track and hammered him back over his head, one bounce, into the sightscreen. It was gob-smacking audacity, a statement of disdainful intent. Typically, unconcerned about stats and stuff, VB fell for 86 with plenty more for the taking on a placid surface. He then watched with a smile as the middle-order trio of N Gautam, Robin Singh and D Vasu each helped himself to a hundred. No regrets, no second thoughts. To him, batting was an art, a form of entertainment. Runs, records, hundreds – oh well, happy by-products, but just by-products.
Also Read | Both BCCI and NADA Under Pressure As Indian Cricket Adopts Anti Doping Measures
Which is not to suggest that he didn't put a price on his wicket, or that he was just a happy-go-lucky, I-will-chance-my-arm-and-leave-the-rest-to-fate willow-wielder. In one of those quirks, his batting was totally against the grain of his character. Soft-spoken and ready with a warm smile off the park, he was aggressive and uncompromising as a batsman, determined to impose his authority on bowlers of all ilk. His 56-ball fourth-innings hundred against Gopal Sharma and Narendra Hirwani on a dicey Chepauk surface in the Irani Cup in October 1988 is still talked about with hushed amazement; the then fastest ton in Indian first-class history catapulted him to international reckoning.
As much as a batsman of flair with a penchant for the dramatic, VB carved a niche for himself as a wonderful thinker of the game, shrewd and astute, as well as the moulder of careers. VVS Laxman has often spoken of the impact the late MV Sridhar had on him when he first broke into the Hyderabad Ranji team as a gawky, shy teenager. VB was likewise in Tamil Nadu; his most celebrated 'understudy' is Rahul Dravid, who grew as a batsman and a person during his stint under VB for India Cements' Vijay CC in the TNCA league, but there are numerous others who have benefitted from the benevolent helping hand that manifested itself through Nest, a sprawling residential academy.
One of India's more articulate selectors, VB was a key component of the Kiran More-led selection panel that oversaw the transition of leadership of the national team in 2005. Dravid took over from Sourav Ganguly during the early days of the eventually tetchy Greg Chappell era, and subsequently led the team to Test series wins in the West Indies in 2006 and in England in 2007. VB needed to convince himself that he wasn't a party to change just for the sake of it; he didn't care if he was seen to be doing the right thing so long as he knew it was the right thing to do.
Also Read | The Art of Diversion as Seen in Virat Kohli-Rohit Sharma Rift Drama
Tamil Nadu coach, the first Director of Operations of Chennai Super Kings, a respected and well-liked television commentator with a unique sense of humour that didn't always register on his audience, and the owner of a franchise in the Tamil Nadu Premier League, VB devoted his life to cricket.
Except when he said his morning and evening prayers without fail, or when he hands-on oversaw the progress of his daughters as excellent practitioners of Carnatic music. He was great for a quote but not just for that. He could talk cricket for hours at a stretch away from the stifling presence of the dictaphone, each of those discussions a give-and-take because he wasn't just a wonderful teacher but also a willing and able student.
No more forays to the press box for a quick tug of the shirt on his way to commentary duties. No more 'enna da, no phone calls?' No more 'Happy Deepavali' messages, no more long dinners. Miss you already, Veebs.
(Kaushik is a veteran cricket writer who has reported on over 100 Tests. He co-authored VVS Laxman's autobiography '281 and Beyond')
Get the latest reports & analysis with people's perspective on Protests, movements & deep analytical videos, discussions of the current affairs in your Telegram app. Subscribe to NewsClick's Telegram channel & get Real-Time updates on stories, as they get published on our website.
Subscribe Newsclick On Telegram