Exclusive | Lalit Modi Questions BCCI's Due Diligence, Plots the IPL's Future Graph
Former Indian Premier League governing council chairman Lalit Modi spoke exclusively to Newsclick on a range of issues related to T20 cricket. He weighed in on the team auction which took place on October 25 in which Irelia Company Pte Ltd. (CVC Capital Partners) and RPSG Ventures Ltd. were declared winning bidders. Their combined bid touched a whopping Rs.12,715 crore. The founder of the IPL, in this interview, suggested amendments to the rules to keep pace with changing times and explained why he expects the league to grow exponentially in the near future.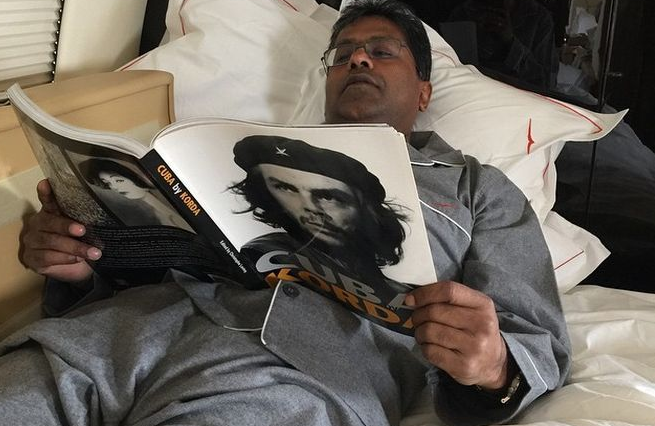 Lalit Modi says he is forced to assume that the BCCI's policy vis-à-vis betting companies had changed since the board allowed CVC Capital to bid (and win) the Ahmedabad IPL franchise (Pic: Modi, IG).
The Board of Control for Cricket in India (BCCI) should disqualify the winning bidders of the Indian Premier League (IPL) Ahmedabad franchise, the Singapore-based Irelia Company Pte Ltd (CVC Capital Partners), for owning betting companies, says the league's founder and its former Governing Council Chairman Lalit Modi.
Since betting and gambling, and the laws governing them, are a grey area in India, Modi says the BCCI should hand over the reins of the new team to the second highest bidder. 
On October 25, the BCCI announced that two new teams have been added to the existing eight in the IPL, and winners were Irelia Company Pte Ltd. for Ahmedabad and RPSG Ventures Ltd. for Lucknow. The combined bid was to the tune of Rs.12,715 crore. CVC, one of the world's leading private equity and investment advisory firms, bid Rs.5,625 crore for the Ahmedabad franchise. RPSG Ventures also bid the same amount for the Ahmedabad franchise as well. However, it opted for Lucknow, and that helped CVC get hold of Ahmedabad, which has better infrastructure than Lucknow, including the world's largest cricket stadium.
In an exclusive interview, Modi says he is forced to assume that the BCCI's policy vis-à-vis betting companies had changed since the board allowed CVC to bid . 
Modi also said that the next cycle of IPL media rights (2023-2027) could fetch up to Rs.7,000 crore [per annum]. In 2017, STAR India had won both the IPL television broadcast rights and digital streaming rights for Rs.16,347.50 crore for the period 2018-2022. Facebook was the top bidder at the time for the Indian sub-continent digital segment with Rs. 3,900 crore. But STAR's overall 'Global Bid' of  Rs.16,347.50 crore defeated the 13 other bidders.
Excerpts from the interview:
NC: The BCCI is set to gain Rs.12,715 crore from the sale of two new IPL franchises. Even you were surprised. Were you surprised because you were not expecting these kinds of figures?
Modi: Frankly, I wasn't. But I am glad the markets were able to gauge what the value is; I am not the one to gauge or not to gauge. There hasn't been a transaction for the last 10 years, so it is very difficult to gauge the market. The people who bid were able to determine that, though. Even the lowest bid was around Rs.4,000 crores. It's a good indicator that everybody who bid realised that the value [of the IPL] was quite high. That's the good part. The IPL has come of age. Everybody thinks it is a global property and global companies want to bid for it.
NC: Were you also surprised because these were not the ideal times [for bidding], with Covid-19 etc., and that the spending capacities of people were down?
Modi: No, I wasn't surprised because of that. When we had the first IPL teams' auction [2008] the markets had crashed. So, people who bid looked at the long term, not short term. It is something I am not worried about.
NC: Were you particularly surprised by the bid made by RPS Group for the Lucknow franchise?
Modi: Yes (laughs). Sanjiv [Goenka, chairman of RSPG] gave a good argument [for his bid, that he has business interests in Uttar Pradesh]. The number was high and I was surprised because the number was for Lucknow and not for Ahmedabad. In that regard, Ahmedabad has modern infrastructure, has one of the best stadiums in the world, and has everything going for it. But the first choice was Lucknow. He [Goenka] has his reasons; he says the market is Lucknow, or Uttar Pradesh, which could be correct. Irrespective, I would think that in the field of sports, Ahmedabad is one of the biggest cities in the world for cricket.
NC: Mr. Goenka has also said that dilution of the stakes could be an option after four or five years, if required at all.
Modi: That is up to the chief entrepreneur in that context.
NC: You also expressed surprise at a possible lack of proper scrutiny by the BCCI of the backgrounds of the bidders by saying that one of the bidders that qualified for the final round "apparently also owns a big betting company". Do you think the BCCI overlooked it genuinely?
Modi: I think they overlooked it genuinely.
Also Read | Tarak Sinha Tribute: Delhi Cricket Loses One of its Greatest Gurus
NC: Can it be rectified now or is it too late? 
Modi: Of course, it can be rectified. They should have withdrawn it, in fact. There is no way that a betting company should be allowed in the IPL; it's illegal in India for betting companies to bid. Betting is illegal in India. This company [CVC] is a global company, and it has taken sports as one of its businesses. So, they would have an advantage. How would the anti-corruption [unit of the BCCI/ICC] distinguish that?
NC: You are saying it can be rectified…
Modi: [interrupting]…by disqualifying them.
NC: So, how would you choose the bid winner for Ahmedabad?
Modi: They should take into account whoever is the next highest bidder. If that is the case, so be it.
NC: If CVC is out, there could be legal cases.
Modi: They should be disqualified.
NC: After the winning bids were announced you tweeted about [a change in] the BCCI policy [for auction]…
Modi: I am assuming that that's the policy…if they have allowed it, that means they are allowing betting companies to participate [in auction].
NC: Was this clause, to not allow betting companies to bid, there when you led the IPL team to draw up the policy initially, in 2007-08?
Modi: At that time there was no betting to be taken into account. This scandal came in 2013 [which rocked the IPL and led to the suspension of Chennai Super Kings and Rajasthan Royals for two years, and the Supreme Court ordered administrative reforms in cricket].
NC: Do you think that entities closely or loosely connected with betting companies may devalue the IPL sooner or later?
Modi: No, I don't think so. Why should they? It's a huge market globally, so I don't see any reason.
NC: In how many years do you think the two new franchises would be able to recover their investment?
Modi: I think in five to six years, which will be good.
Also Read | The Troll Comes Full Circle for Virat Kohli and How
NC: How do you look at the IPL overall after 14 seasons? From time to time, you have been pointing out things that needed correction and that the BCCI wasn't doing enough.
Modi: I think the market itself has implemented corrections. The IPL has moved from strength to strength, even with the Covid-19 times and with no people in the stadiums [for the IPL 2020 held in the UAE], it has continued to flourish. And it will continue to flourish because the format is such and it has built a huge fan base. So, irrespective of the people in the stadium – the stadiums are not being allowed to be full due to Covid – people are watching it on TV, which is 99 per cent of the viewership, anyway. In fact, Covid has helped. People are sitting at home and with nothing to do – of course they would watch something – so it has helped the IPL more than anything else.
NC: How do you visualise the market for the IPL in the coming years?
Modi: It will become one of the biggest sporting leagues in the world.
NC: And when do you foresee that happening?
Modi: In the next few years. It is already on the way to that.
NC: Are there any amendments in your mind that might help the IPL move with the fast changing times?
Modi: At the next auction, all the players must go into it to make it a level playing field. There should be no retentions allowed to make all franchises equal. That is already the case according to the agreements that we signed with the franchises [in 2008], that they have no right to retain any players.
NC: But retention has happened all the time.
Modi: That is happening because they [franchises] are deciding to do so. Now that you have new franchises, you have to bring it back in order.
NC: There is already a talk that franchises would be able to retain a few players at the next auction.
Modi: It shouldn't be. We have always said that all teams should be given equal opportunities and with two teams joining the fray there should be a level playing field. 
NC: You say that there was a no-retention agreement with the franchisees at the time of teams' auction in 2008. So, can anybody go against the contract as it is binding on all?
Modi: As per the contract, they are not allowed to retain players. It is binding on everybody but no one is taking action. Everybody has agreed to retention, but legally they have no right [to do so].
Also Read | Mohammed Habib: Indian Football's First True Professional
NC: Mr. Goenka also mentioned the upcoming IPL broadcasting rights while talking about his high bid sum.
Modi: There would be a very, very large number, I would assume, going into the next round.
NC: Do you think so?
Modi: Absolutely sure. I have seen the broadcasting business. It doubles every few years. And I would not be surprised if it would double again.
NC: What is your estimate? What would be the figure? A guess.
Modi: I would assume that it would be close to Rs.6,000 crore or Rs.7,000 crore [per annum]. Keep in mind that a lot of OTT players are also coming into the market. You have Amazon and a lot of different companies that have started looking at sports. You look at the US Open tennis. It was available only on Amazon [in the UK and Ireland]. They bid a very high number for it. And I won't be surprised if companies like Amazon Prime bid for IPL rights, going forward.
NC: Traditionally, there have been two or three bidders for the IPL and the BCCI media rights. Do you foresee more bidders this time around for the next cycle of the IPL media rights (2023-27)?
Modi: I think there will be more bidders as new technology is coming into play, OTT especially. I think there are more digital companies coming into play and there will be more buyers.
NC: A few years ago you hinted that you were scripting a new world order for cricket. But we haven't heard anything after that.
Modi: I am staying away from cricket. Yes, completely. I am enjoying the game. I enjoyed what I created, and I am happy as we go along. Times have changed; we move forward. And I wish everybody the best.
NC: You were writing a book. When is it being published?
Modi: It is about to finish. I don't know yet; just a few more chapters left.
NC: Should we expect any revelations?
Modi: Not right now; I am not giving anything away. Just wait for it.
NC: When it comes out will it contain some revelations?
Modi: I am sure it will. Everything has new revelations, but just wait for it.
NC: Can we expect it by the end of this year?
Modi: No, I don't think it will be ready this year. After I finish it, lawyers will look into it for due diligence. So, it will take more time. I would assume it [the draft] would be ready by the end of this year.
Also Read | Boxer Nikhat Zareen Ready for the World, Mary Kom Notwithstanding
NC: The BCCI, as you know, has a case related to administrative reforms going on in the Supreme Court of India. The hearing is getting deferred, and has not happened for many months.
Modi: I don't want to get into that because it is going back and forth like political football. I can't understand why it is being delayed after orders have been passed. These orders are good for the game and good for sport, having limited tenures for officials. But, again, people don't want to leave their seats. It is sad. That is all I can say – it is sad. The same people are still there. I would rather focus more on the game rather than the politics of the game because I have retired from all cricket politics.
NC: What about Rajasthan Cricket Association [Modi is its past president]?
Modi: I told you I have hung up my shoes. I don't talk to anybody. I haven't spoken to anybody, and I don't intend to.
NC: If your son, Ruchir, wants to come back to cricket administration in India would you allow him?
Modi: No, I don't think so. 
NC: You would not allow him or he himself wouldn't like to come to it again?
Modi: He has grown up enough. But I would definitely not advise him not to join.
(The author is a cricket reporter based in New Delhi who has covered the sport for over three decades)
Get the latest reports & analysis with people's perspective on Protests, movements & deep analytical videos, discussions of the current affairs in your Telegram app. Subscribe to NewsClick's Telegram channel & get Real-Time updates on stories, as they get published on our website.
Subscribe Newsclick On Telegram