East Bengal Centenary: Euphoric Celebration of the Past Even As Crisis Looms Ahead
With the deal with main sponsors Quess in a limbo, and uncertainty over Indian football's domestic structure (the I-League vs ISL issue), East Bengal's centenary celebration seemed an aberration. But, the occasion showed the legacy of the club in its most vibrant colours -- red, gold and more.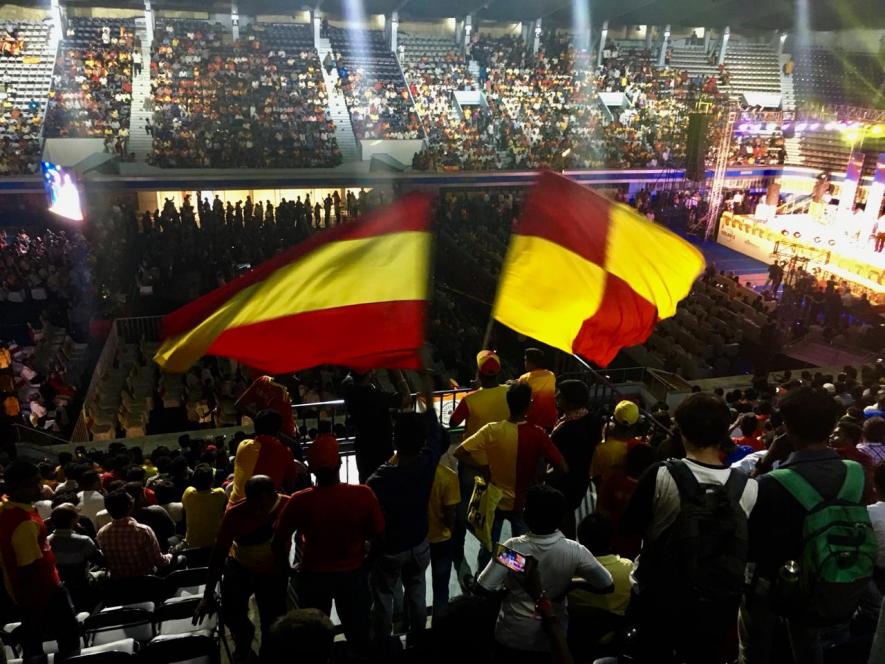 East Bengal is a club that is more populist, more earthy, and has fans who simultaneously are a part of Bengal and not of Bengal. And at Netaji Subhash Chandra Bose indoor stadium on August 1, there were bus loads of them, celebrating the club's 100 years
Kolkata: Just when Asia's oldest football tournament, the Durand Cup, thought they had wrested back the spotlight — after three years in absentia, even appearance guarantees illumination — East Bengal's centenary machine launched its offensive.
Their plans have been in the news for a while now. Three days before their centenary, East Bengal held a procession and a ceremony at the Kumartuli park, the literal birthplace of the football club. Three days later, on August 1, there was a ceremony at Netaji Subhash Chandra Bose Indoor Stadium, attended by — among other perhaps more football relevant figures — the Chief Minister of West Bengal.
There is a plan for an East Bengal Greatest XI to take to the field in the coming weeks. And another to try and get Bhaichung 'his wish': retirement in an East Bengal jersey, by letting him out loose for a few minutes of their Calcutta League opener. But all that is the past and the future. First, there was a today, or rather a yesterday, a celebration which can only be described as typically East Bengal, in that it wasn't quite right, it certainly wasn't pretty, but it fitted somehow. 
Also Read | Santosh Trophy: Where Indian Football's History and Its Future Reside 
Everyone agreed at the end that this was a typically East Bengal way to celebrate. In the middle of a crisis, for a club born out of a crisis. A hundred years ago, the response to crisis was rage, a sense of being hard done by, which led to the adoption of the colours red and gold and the drafting of a team in the Calcutta Second Division. This was a club formed out of suffering, to fight adversity and diversify the socio-political boundaries of Bengal.
That, at least is what we've been told over and over in the past week. Even the Emcee at the event parroted the same cliche, about how this 'is a special club with a unique, unfathomable feeling…' It is a club which knows how to win, but above all, also knows how much it pains when you suffer. 
This suffering bit is obviously dramatised. Despite the fact that they have never ever won the I-League, East Bengal are quite comfortably the second most successful club in India's footballing history, and delivered perhaps the greatest club side of the past half century. Theirs is a club that is more populist, more earthy — different and proud of it. It has fans who simultaneously are a part of Bengal and not of Bengal. And at Netaji Subhash Chandra Bose indoor stadium, there were bus loads of them.
Everywhere you looked there were East Bengal colours. Jerseys adorned with the number 100 in Bengali. Students of all ages, professors of all disciplines, bankers, trudged up to the stands, many straight from work, but many also having managed to sneak a few pegs in between.
Also Read | Prithvi Shaw Ban Puts Spotlight on the Farcical BCCI Anti-Doping Protocols
Tapan Talukdar was one of the latter. When asked what he thought about the new East Bengal, he instead answered, "1975. When we beat Mohun Bagan 5-0. Greatest moment of my life."
There was an abnormal amount of flag waving, appropriate chest heaving and huge cheers when Bhutia's name was announced to the stage. This may be the only occasion when both Kapil Dev and Sourav Ganguly were accorded the second best reception. Sunil Chhetri was a distant fourth. Besides the hand shaking and memoir handing, there were also some speeches, each written to include maximum audience participation.
But, even in celebration, everyone knew that there was a crisis looming. 
Unlike 1919, this time the crisis calls for resolution through conversation. But the officials have responded the only way they know how. Via outrage. In the week leading up to this celebration — arguably the biggest thing East Bengal have had to celebrate over the past decade — there were reports of their leading sponsors, Quess, pulling the plug and taking their finances elsewhere. The East Bengal officials have responded with a figurative finger, asking them to leave if they want to.
"I have heard that their (Quess Corp's) position in the market is not that good," declared Debabrata Sarkar, a board member at the club. "Apparently, they have suffered losses of Rs. 150-200 Crore and the directors have 'attacked' the chairman in their board meeting. We haven't been told anything."
Also Read | Hima Das' Gold Medals and the Need for a Realistic Perspective
It all makes for abject reading. Prasanto Gupta, a fan who also created the East Bengal fan library, is clear about where he stands on the matter. Where the fans stand in fact. "We need Quess, there is no two ways about it. Hopefully this is all just a negotiating game. Agreed, East Bengal's legacy is great, but modern football is about attracting money. And we need sponsors who can bankroll victory."
Now as before, East Bengal fans are using their voice to single out the chief perpetrators of the crimes against their club. When Sanjit Sen, East Bengal's CEO took to the dais, a section of the crowd was fairly vocal (see tweet below) about who they'd rather have in charge of their beloved club. 
That though was a blip. For the large part, nothing else mattered. The alcohol and the occasion dulled the pain. Even at the end, droves of people just refused to leave. As if in protest: the party isn't over till we are. And they were right too. Without them it was just a bunch of men on a stage, and a larger group of photographers and reporters jostling for a juicy byte. Without them it is just a football club which plays football, or as Akash Chandra, a college student who played truant and spent the day at the tent, so very eloquently put it, 'Without fans, a football club is ATK'. 
All in all, it wasn't a bad way to celebrate a birthday. Now time to see about the days after. Start with the Durand, maybe.
Get the latest reports & analysis with people's perspective on Protests, movements & deep analytical videos, discussions of the current affairs in your Telegram app. Subscribe to NewsClick's Telegram channel & get Real-Time updates on stories, as they get published on our website.
Subscribe Newsclick On Telegram