Fortunato Franco: Straight Talking, Humble, Honest & Unyielding | Obituary
A mainstay of the 1962 Indian football team that won gold at the Asian Games, Fortunato Franco was one of the finest midfielders this country has seen. On the pitch and off it, he stuck by his principles of honesty, hard work and humility. Franco passed away early on Monday morning at the age of 84. He is survived by his wife, daughter and son.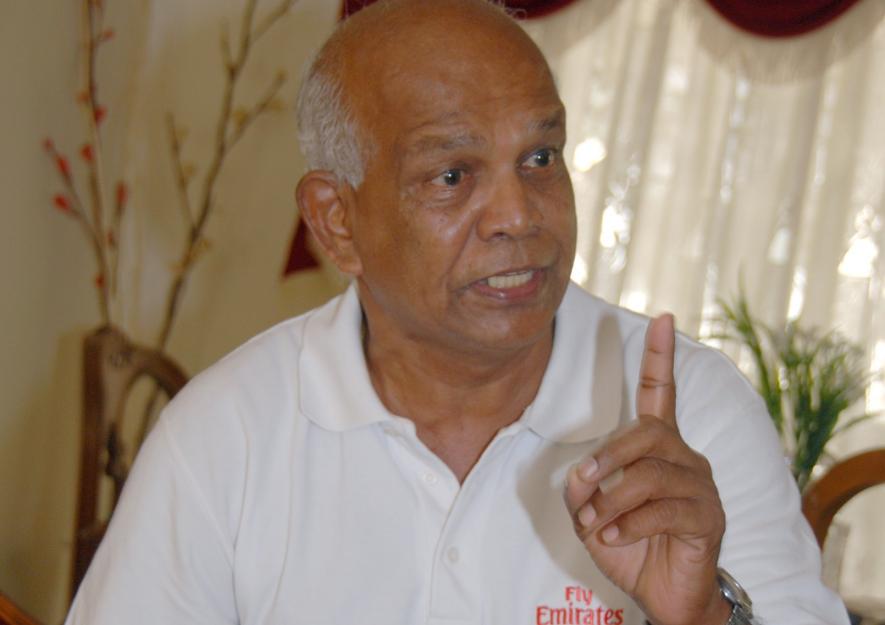 A commendable team-man on the pitch, whose "do or die" attitude made him a legend, Fortunato Franco was a completely different personality off the ground. His dismissive style and the ability to look at life from a different angle earned him few friends.
A distinguished striker with Mahindra and Mahindra in 1970s and 80s and a highly successful coach in his later days, as a schoolboy Harish Rao was a regular at the Cooperage stadium. Football in Mumbai was at its peak then, with star-studded institutional outfits like Tatas, Mafatlal and Western Railway regularly making their presence felt at the national level.
"Tatas were a huge draw as they had top players in their ranks," recalls Harish. "Among the most popular was one of their midfielders, who was treated like a megastar by the spectators. At the Cooperage, he was called the "director" because of his leadership quality. It was much later we knew his actual name was Fortunato Franco," he added.
A true "director" of Indian midfield for six years in a row from 1960 to 1965, which included an Olympic an Asian Games gold medal and an Asian Cup runners-up position, Franco, 84, passed away at a private hospital in Margao, Goa on Monday. With his passing Indian football has lost yet another player of the golden generation, one who took the nation at the top of the continent with their magical skills.
Also Read | Fall From Grace: Who Failed Sushil Kumar, the System, His Coterie or the Wrestler Himself?
A commendable team-man on the pitch, whose "do or die" attitude made him a legend, Franco was a completely different personality off the ground. His dismissive style and the ability to look at life from a different angle earned him few friends. But those, who knew him well, often realized his deep knowledge and absolute honest understanding of the game. He would never compromise on issues if they landed him in trouble. 
Once this correspondent asked him about a footballer, believed to have been a victim of politics when it came to selection of the 1962 Asian Games squad. Many felt that apart from chief coach SA Rahim, senior footballer PK Banerjee also could have been more pragmatic in their opinions about him.
Franco didn't reply immediately. He looked through the window for a couple of minutes as if he was recollecting his thoughts. Then he turned and spoke with clear conviction. "There are two classes of footballers, who play at the top tier of club football. One set of them is only capable of shining at the domestic level. They are always in the majority. Only a handful are good enough for the international arena," he started.
"The footballer you are talking about dazzled at local meets. He wasn't destined for better things. PK was an all-time great. Please don't judge a classy winger like him with such myopic views". The disdain in his voice made sure the topic was closed once and for all.
On the pitch, Franco was a person who believed in being a true soldier. He rarely asked questions and never weighed the pros and cons of his own contribution in a game. Once you drew him into a conversation about the 1962 Asian Games triumph, his eyes lit up and he would talk endlessly. Of the 11 footballers who played in the historic final against South Korea in Jakarta, seven were decorated with awards by the government of India. Four of them – Trilok Singh, O Chandrashekar, Prasanta Sinha and Franco – never received any. Neither from the government, nor from the All India Football Federation (AIFF). If pointed out, Franco would have a few bitter things to say, but only briefly. Soon enough he would switch to narrating some of his favourite anecdotes from his national team days.
Also Read | IPL 2021: The Privilege of Spin When Playing a Virus That Doesn't Discriminate
There was one story Franco never stopped repeating. In the India team under Rahim those days, Yusuf Khan was like a character straight from George Orwell's novel "Animal Farm". No one denied him his legendary status, but treated him as the "more equal" because of his close proximity with the all-powerful coach.
In Jakarta, in a group league match, Yusuf Khan was not at his best in the first half and was guilty of a series of ill-directed passes. A furious Franco showered him with choicest invectives while the match was still on. Yusuf was stunned, and so were his teammates. Next day, Franco had to offer an apology at the team meeting. Yet, he was happy. "I made Yusuf look like a crybaby," he would say with a laugh.
In the 1960 Rome Olympics, Franco was in the squad as a right halfback, but never had a chance to play as Kempaiah and Ram Bahadur were two trusted midfielders in the national team. Things changed thereafter. Rahim dropped Kempaiah for the 1962 Asian Games and Franco became a regular with Ram Bahadur. Just before the semi-finals, Ram Bahadur was injured and his place was taken by the rookie Prasanta Sinha. Thus began an inseparable partnership that lasted till 1965. The duo went down in history as India's finest ever midfielders, even better than Kempaiah, Parminder Singh, Prasun Banerjee or Prasanta Banerjee.
Franco's biggest asset was his sharp memory. Ask him about a goal his team scored in the Harwood League in 1963, and he would reel it off as if it was netted yesterday. Few remembered that when Jarnail Singh scored India's second goal in the 1962 Asian Games final, it was Franco who provided the ball. He would tell you the exact pressure he put behind the ball while passing it to Jarnail. At the same time, he would not hesitate to describe how quickly Jarnail cut past two defenders before slamming the ball in. "Absolute great effort….amazing," Franco would say with a shake of his head as if he was still genuinely surprised.
Also Read | Malaysia Open Postponed Leaving Saina, Srikanth's Tokyo Hopes in the Lurch
Though a regular member of the national team for a good number of years, Franco was never keen to stay on the right side of the power lobby. Even after retiring from the game, he would freely express his not too generous views on top officials or coaches. "I played for India many years, captained Maharashtra to Santosh Trophy triumph and remained a key player for Tatas. But I never received any award from any quarters. For that, I was expected to go to Cooperage in my off time and touch people's feet. I was not ready for that. I am a performer, I can't bow in front of undeserving people," Franco would say with a touch of pride in his voice.
On the other side, Franco's fierce loyalty towards his former teammates remained intact till his last day. Even if someone expressed slight doubts about the ability of Chuni Goswami, PK Banerjee, Arun Ghosh, Tulsidas Balaram, Jarnail Singh, Peter Thangaraj or Prasanta Sinha, he would not take it kindly. For him, they were ultimate footballers, the greatest bunch of players India had ever produced. Franco would never tire talking about them, describing their skills in minute details and the great matches they played for the country. About himself he would only say that he was lucky to have found a place in the squad.
He was nothing but a humble person. Genuinely so. His teammates always felt Franco was an asset for the team, a great motivator, a fine tackler, a perfect passer of the ball, a cracker of a footballer who could scare and scatter the rivals in no time.
In the 1962 Asian Games final, India had to take on South Korea under hostile conditions. The hundred thousand strong crowd was against India and booed them right from the kickoff. Once the final was over and the gold medal bagged, Franco and Balaram decided not to travel in the team bus. 
Also Read | AIFF President Holds "Informal" Meet with Members; Vaccination, Relegation the Major Talking Point
Instead, with the medals on their necks, the two decided to walk back to the Games Village through the crowd outside the stadium. "We walked proudly with our heads high. Not one person in the crowd dared touch us. In fact, many of them came forward to congratulate us. We reached the Village without any problem," remembered Franco. 
Now, like most of his friends in the team that became part of Indian football's folklore, Franco, too, has departed. His best friend in the team (and perennial roommate) Balaram had a fall recently . He is recovering at his modest flat in Uttarpara, near Kolkata. Six months back, Franco told this correspondent he was planning to travel to Kolkata once the situation became normal. Sadly, the duo will never meet again.
Get the latest reports & analysis with people's perspective on Protests, movements & deep analytical videos, discussions of the current affairs in your Telegram app. Subscribe to NewsClick's Telegram channel & get Real-Time updates on stories, as they get published on our website.
Subscribe Newsclick On Telegram