Indian Hockey Teams Enter Tokyo Olympics: Five Takeaways from the Qualifying Campaign
Both the Indian men's and women's hockey teams were far from perfect in their qualifying campaign for the 2020 Tokyo Olympics. More game time, and a structured long-term plan for development, beyond the Games, is what Hockey India should strive to put in place in the coming months.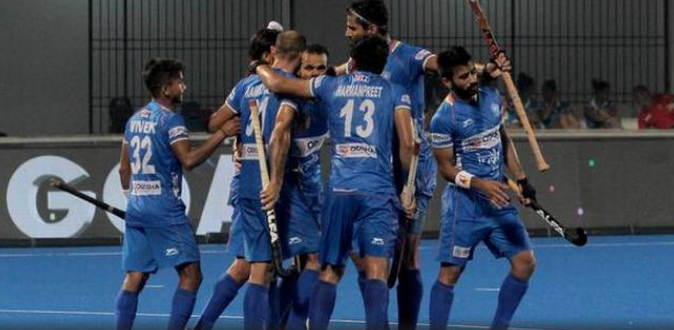 The Indian men's hockey team beat Russia while the women overcame USA in Bhubaneswar over the weekend to qualify for the 2020 Tokyo Olympics.
"The only thing you can do on the pitch is run. Because if you are running, you are not thinking about winning or losing," said Indian women's hockey team coach Sjoerd Marijne, helpfully. It is a beautifully simple idea, and perhaps the most sensible thing a coach can tell a team on the verge of mental disintegration. A rephrased 'keep your head down and work hard… good things will happen'. It seems to have worked. Some days your luck is in. To create that luck, though, you need to run. And run hard. 
Two days after the Indian men's and women's hockey teams qualified for the 2020 Tokyo Olympics is as good a time as any to start running towards the future. Because two days is how long it takes to wash the exhilaration away. Except, India's massively underrated Dutch coach knew that much earlier. "Preparation starts tomorrow morning, we have to go on, we only have 10 months," he said. Here then, are five takeaways from the Olympic qualifiers over the past week.
Games Do What Camps Cannot
When Hockey India pulled the plug on India's participation in the inaugural FIH Pro League held earlier this year, they cited 'questionable timelines' and an 'unclear Olympic qualification process' as reasons for doing so. The repercussions of that decision have impacted the team's game time this year. Since the FIH World Cup late last year, India have played top quality opposition only twice — Australia in May and a tour of Belgium in September. Both of those were Test tours, a time when the nations hosting India were perhaps using it as a platform to test things out. For the record, India drew one and lost two of the three games to Australia (1-1, 0-4 and 2-5), and went unbeaten on their tour of Belgium (where they also played Spain twice). 
Also Read | India vs Bangladesh in Delhi Smog: BCCI Smokescreens Pollution
Earlier this year — after Pakistan's withdrawal from the Pro League format — India were invited back into the fold of the Pro League and have gratefully accepted it. Induction into the Pro League will guarantee what has been missing and worrying for the men's team throughout this year. It will give them valuable game time against top tier opposition.
It is one thing to pump in goals against Russia and quite another to try and do so against Australia. V Baskaran, captain of the 1980 Olympic gold winning team spelt it out perfectly. "At the camp the focus on maintaining fitness, getting back form and getting the basics right," he said. "At camps, even in games you're operating only at 60%. With good reason. Games are necessary for preparation."
Well Begun is Half Done
Graham Reid, the men's team coach, pointed out his unhappiness at India's sluggish start in both legs of the qualifier against Russia over the weekend. He also alluded to the low energy, high pressure nature of this format being a reason, India were jittery in both games. The truth, though, is that India are notoriously slow starters and abject finishers. Not just at the back end of games, but in front of goal too.
"What we need to get better at is the finishing. We're creating a lot of opportunities, which is great, but now we need to start getting a little bit more return," is what Reid said after the second game. He isn't wrong. Even against top tier opposition India are famous for creating a lot of chances but putting away very few. Numerous Australian coaches have alluded to this inefficiency as a big problem. Given enough time, maybe Reid can do what his compatriots couldn't. 
Sjoerd Marijne is the Real Deal
It would be nice if Hockey India backed him full tilt and gave him a free hand for the next year at the helm of the women's team.
Also Read | Sultan of Johor Cup Review: Future of Indian Hockey in Nobody's Hands
Anyone who a) dismissed him after his brief stint as coach of the men's team b) questioned his methods or c) didn't rate him as a coach of top quality, need to take a hard look at themselves. The truth is, there will be very few who believe any of those things. Unequivocally, the members of the women's team rate him highly, and love that he was reassigned to them. His management style, where he put the onus on the players and gave them greater responsibility may have rankled the men's team — who, in hindsight, are better off without too much responsibility — but has been ridiculously efficient with the women. How the different sexes respond to the same paradigm says something about our society as a whole. 
Marijne's problem though begins now. He has outlined his ambitions for a medal in Tokyo, but does not have the tools to build them. The women's team aren't a part of the Pro League for 2020, unfortunately. No pullouts, and a nine-team roster means India will be clutching straws looking for competitive game time. This year for exposure, the women went on tours of Malaysia and Great Britain before and after the FIH World Series. Next year, with a packed Pro League that finishes only weeks before the Olympics, the women's team will be starved.
Long-Term Planning Helps 
Modern day investment bankers may disagree, but playing the long game is better for the long term. It holds true for sport than anything else. Hockey India's flip flopping on the Pro League, a complete drying up of domestic hockey tournaments of any worth, and the lack of quality at the Senior Nationals leaves hockey in India on sticky turf. 
As well intended as Hockey India are towards helping the game — and they have made great strides: the governing body is the most commercially viable of any country — the game's talent pool is shrinking. Areas that used to produce great hockey players — Bengal, Tamil Nadu, Maharashtra and Coorg — barely feature in the national camp, let alone the national team. Even at the national level, there is turmoil. The junior hockey team doesn't have a coach, months after Jude Felix resigned from the position. A rigorous overhaul is necessary. 
Evolution Demands Two Legs
Remember that time when hockey was put onto a shortlist of sports in danger of being dropped from the Olympic programme. Seems long back eh? The concern was that hockey games weren't pulling in enough revenue, numbers or providing quality as other sports that don't get in. 
Also Read | Questions Remain as BCCI Rolls With Cloak-Work Efficiency
The FIH rejigged the format — so often that for a period it seemed fans learnt the rules during games — in a way that increased the pace of the game. The Olympic schedule itself is much more exciting than a decade ago. But the greatest thing that has happened to hockey is this Olympic qualifier system. 
Over the past week, the craziness witnessed on the blue turf has been equal to last season's UEFA Champions League in football. Consider just one tie. Netherlands vs Pakistan. Whatever you expected to happen didn't happen. And then happened. Except it didn't happen the way you thought it would.
Everyone expected Pakistan to be drubbed by the Netherlands for two straight games.That did not happen. The Netherlands scraped a draw in their first leg. It was mad hockey. Eight goals in all. In the second leg Pakistan ran out of steam, and the Dutch won 6-1.
The two legs also benefited USA against the Indian women. And they almost pulled off a Liverpoolesque comeback in Bhubaneswar. It was two one-sided games that made an insanely competitive tie. If there is one criticism of the format it is that there isn't enough time between the two games. While holding them as home and away is asking for too much — the expense would cause most teams trouble — spread them out a bit more. It could be even more fun.
Imagine the Dutch players sweat and the Dutch press rage after that first leg draw! One week of recovery may have helped Pakistan too. The anticipation and buildup is all part of sport. 
Get the latest reports & analysis with people's perspective on Protests, movements & deep analytical videos, discussions of the current affairs in your Telegram app. Subscribe to NewsClick's Telegram channel & get Real-Time updates on stories, as they get published on our website.
Subscribe Newsclick On Telegram