Keshav Dutt Tribute: Indian Hockey's Harley Riding Legend
Indian hockey stalwart Keshav Dutt, who won gold at the 1948 and 1952 Olympic Games, died in Kolkata on July 7. He was 95.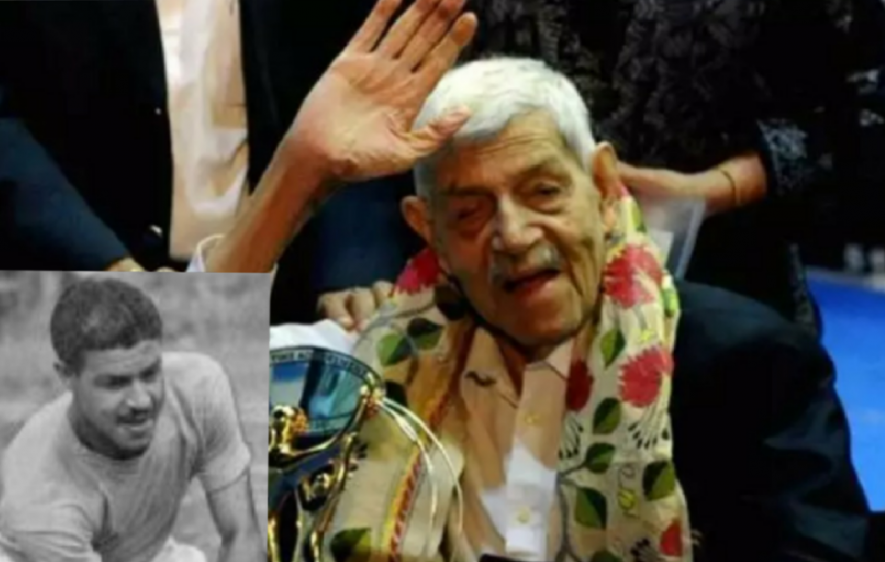 Keshav Dutt, who was born in Punjab and moved to Kolkata in 1950, was never given any award by the government for his contribution to Indian hockey. The once king of Indian midfield died a lonely man (Pic: SAI, Hindu - Twitter).
The Calcutta Hockey League (CHL) in the 1950s was perhaps the country's most competitive meet with an array of top stars playing in it. It included players like Leslie Claudius, Jaswant Singh Rajput, Meldric Daluz, Chaman Singh Gurung, Patrick Jansen and many more, all part of India's gold medal winning teams at the Olympics.   
Even the redoubtable KD Singh "Babu" played a season in CHL where he guided Bhawanipore Club to the title. This indeed was an exception as the reign of Kolkata hockey those days was mostly in the hands of teams like Mohun Bagan, Port Commissioners, Calcutta Customs and the Railways. Each match in the league used to be fiercely fought with a huge crowd turning out as well.
Also Read | Indian Cricket Team to Continue Break Outside Bio Bubble Despite England Squad's Covid-19 Scare
In the 1950s, according to old timers, Mohun Bagan would often be found one man short while coming out to play a league match. One of our players would join a little late, they would inform the umpires. 
"Regulars at the ground like us knew perfectly well why Mohun Bagan would take the ground with 10 men," recalls Gopinath Ghosh, a former Bagan hockey goalkeeper in the 1960s.
"After 10 minutes or so, the spectators at the Mohun Bagan member stand would start cheering loudly. We all knew the reason – Keshav Dutt had arrived on his Harley Davidson motorbike. He would soon dress up and join his Mohun Bagan teammates in the middle. Keshav was a man of huge reputation those days. He was a hero, nobody would dare to raise a finger because he always came late. He was the livewire of the team," adds Ghosh. 
A two-time Olympic gold medallist (1948 and 1952), Keshav Dutt, who died at the ripe age of 95 on Wednesday, enjoyed a film-star like reputation in Kolkata those days. But make no mistake, he wasn't one to breach discipline. That he regularly reported late for the league matches was actually his compulsion. An employee of a big British-owned tea company, he would always be denied leave by his bosses in the office before 4.30pm. Hence the delay in arriving for Bagan's league matches. 
Also Read | The Indian Athlete and the Trappings of an Olympic Qualification
Born in Punjab in 1925, Keshav, who made Kolkata his home since 1950, was a spectacular player, one of the finest half-backs in Indian hockey history. He was a dazzling performer in two back-to-back Olympics immediately after independence, always making a place for himself in the starting XI. In the 1952 Helsinki Olympics, India played three matches. Quite a few changes were made in the starting line-up on all three occasions – even Claudius had to sit out in one of the matches. But Keshav's place as a midfielder was permanent till the final against the Netherlands.
Keshav Dutt was one of those players who gave everything to hockey, but received little in return. That he was an amateur player in spite of his thorough professional approach turned out to be his biggest drawback. The vice-captain of the team at the 1952 Olympics, it was natural to expect him to lead the team in Melbourne four years later. His name figured in the list of players for the month-long preparatory camp in Dehradun. But the British company he worked for refused to grant him leave. Keshav Dutt, forever, lost the opportunity to captain the team and join the elite club of players, who won three consecutive Olympic gold medals.
"Sportspersons those days didn't enjoy any extra privilege, however exceptionally talented they were," says Gurbux Singh, a gold medallist at the 1964 Olympics. 
"I was working for Calcutta Customs in the 1960s and they used to deduct my salary if I were away from my workplace too long while playing for India. And mind it, Customs is a government organization. So, to expect a private company to treat Keshav differently was out of the question. We had to live with it. Because nobody came to our rescue, not even the national federation," adds Gurbux.
To miss the 1956 Melbourne Olympics was a big disappointment for Keshav, but he wasn't bitter. 
Also Read | Neeraj Chopra, Bajrang Punia and How to and Not to Zero in on an Indian Medal in Tokyo
"That I had the opportunity to play two Olympics was a big thing for me. I was truly fortunate because to find a place in the national team those days was tougher than winning the gold medal. Several top class players were available for every position in the team," he said once.
He was actually humble while saying this. Those who watched him play vowed to say Keshav Dutt was a natural sportsman, who was born to excel on the playing field. With the stick in hand, he was the true world beater, but few remember how good he was when he had a badminton racquet in hand. 
After the partition of the country, Keshav moved to Bombay (now Mumbai) and then shifted to Kolkata in 1950 to play for Port Commissioners. In November the same year, he participated in the Bengal state badminton championship and met with stunning success. He pocketed the triple-crown – singles, doubles and mixed doubles. Soon he became one of the country's top ranked players. That he concentrated more on hockey was indeed a loss for badminton.
Jahar Ganguly was a well-known film-star of the Bengali film industry in the 1940s and 1950s, and was actively associated with Mohun Bagan. He was quick to spot the boy from Punjab and persuaded him to join the green and maroon side. Thus began Keshav Dutt's lifelong association with Mohun Bagan, who conferred him with "Mohun Bagan Ratna" award in 2019.
Also Read | Milkha Singh Retrospective: The Hero The Country Needed, At the Cost Of Others
A handsome man with extraordinary talent, Keshav was known as a kind of veritable Casanova in the sporting circle. But in reality, he was a simple man, who loved his Punjabi cuisine and traditional Indian lifestyle. His wife was a European and when she and their children decided to shift out from India, Keshav refused to go.
The last few years had been a rather tiresome journey for the country's oldest living gold medallist. Left to the care of an attendant and with no immediate family member around permanently, Keshav had slowly lost his memory. Till a few years ago, he would show up for important matches at the Kolkata Maidan, but that too stopped in the recent past. Never been given any award by the government for his contribution to Indian hockey, the once king of Indian midfield died a lonely man.
Get the latest reports & analysis with people's perspective on Protests, movements & deep analytical videos, discussions of the current affairs in your Telegram app. Subscribe to NewsClick's Telegram channel & get Real-Time updates on stories, as they get published on our website.
Subscribe Newsclick On Telegram