Virat Kohli and the Fine Art of Staying in a 'Good Space' | Outside Edge
After a run where he was scoring a century every six innings, the Indian cricket team skipper has now gone without one in 22. In New Zealand, his weakness outside the off stump has been exploited by Tim Southee and teammates. Uncomfortable questions have followed. Virat Kohli, however, remains blissfully egotistic about critical evaluation and course correction.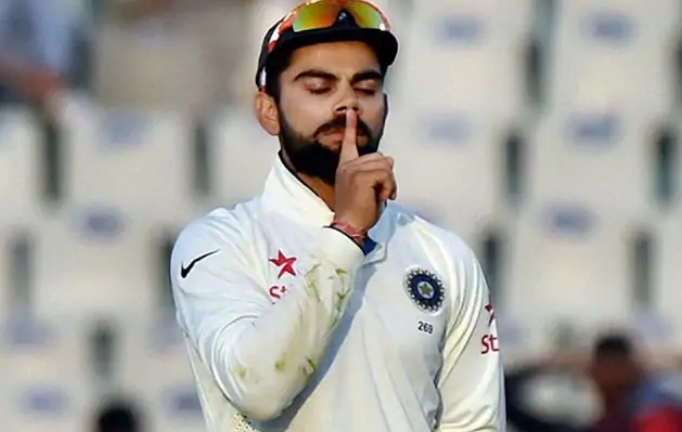 Virat Kohli's scores on the ongoing New Zealand have been nothing to write home about. They read 45, 11, 38, 11 (T20s); 51, 15, 9 (ODIs); and 2, 19, 3 and 14 (Tests).
It was classic Virat Kohli at the Hagley Oval. It all started with a surefooted movement forward from his guard stance at the edge of the crease. Kohli shimmied his left leg with surety towards the pitch of the ball. A quick bat lift followed, and then a crisp downward swing showing the full face of the bat. A textbook stroke towards the much eulogised V behind the bowler was on. The script unravelled from then on.
No, the classic Kohli played out further… Tim Southee's near full-length ball just outside the off stump pitched and moved in a wee bit. Kohli missed the line and the ball shuddered onto his pads. Out!
The New Zealand players ran to congratulate Southee, who extended his record against Kohli as the bowler to have got the infallible Indian skipper out the most number of times. 10 in total. Kohli decided to do what he does best, err worst! Trademark Virat followed.
The wound up skipper walked down to Cheteshwar Pujara on the other end, checking if the LBW decision was right. Not sure what Pujara's reply was but Kohli made the sign calling for DRS. The replays showed the bitter truth — the Indian captain can't get a review right, ever — and he promptly walked back to the pavilion. 
Classic Virat Kohli, indeed! From the textbook build up to the shot, to the fall and the stoking up of ego, the call for the DRS, and the walk back to the pavilion sheepishly, after being made to look like a fool by cricket's technology once again.
Also Read | Women's T20 World Cup: India in Semis, But Problems Aplenty for Harmanpreet & Co. 
Kohli's fall after scoring three runs on Day 1 of the second Test against New Zealand in Christchurch extends his lull from last year. The 31-year-old — who for a brief while looked immune to the vagaries of time, fitness, form and law of averages — looks mortal all of a sudden. He has hit the barren patch no international batsman could escape. Kohli has not scored a century in his last 22 innings. From dishing out records at will he is now at the receiving end of personal milestones.
While Kohli's quality — there is no doubt of his credentials with the willow — would ensure the poor run ends at some point, the underlying issue juts out. It goes beyond the runs, the stats and the sickening count of centuries. His dismissals to Southee, in the 2nd ODI on February 8, and in the 2nd Test on February 29, were similar. A day later, on March 1, Kohli got out to Colin de Grandhomme and guess how... LBW to one that nipped back in. Almost an exact replay of how Southee trapped him. 
Southee and De Grandhomme's script followed a set pattern, perfected by the New Zealand pacers but devised by his English counterparts half a decade ago. During the England tour in 2014, Kohli scored 134 runs from five Tests. Kohli's Southee (read nemesis) on that tour was James Anderson, who lured the then would-be Indian skipper outside the off-stump repeatedly and to the point of farce.
Kohli's failures in New Zealand have been eerily similar to that in England, which also happens to be his previous rough weather period. His average in that series is best left unmentioned. The English bowlers at the time has sorted Kohli's small chink — a mix of temperament, impatience, and perhaps technique. 
Southee uses the same formula. Packed offside field: four slips plus the support cast inside the circle for Kohli in Christchurch. The slip cordon was crowded on the previous occasion too, even though it was an ODI. The ball, invariably, is pitched outside the off stump — somewhere between what would be fourth and sixth stumps. As Kohli negotiates the outswingers, the natural aggressor in him cannot resist these dollies. Within a few deliveries, Southee will switch. Instead of going out, the ball will come in. And, if it does, Kohli will miss. Not always but, often enough to justify Southee fixing the strategy, especially in swinging conditions.
Kohli's scores on this tour have not been Kohli-ish at all. They read 45, 11, 38, 11 (all T20s); 51, 15, 9 (ODIs); and 2, 19, 3 and 14 (Tests). But his assessment of the performances has been classic. 
The way he has been getting dismissed, and the way he has been cockily dismissing the dismissals as insignificant, belies a larger problem than technique, temperament, or reading ability of the ball.
"I am absolutely fine. I am batting really well. I feel that sometimes scores don't reflect the way you are batting and that's what can happen when you don't execute what you want to well," Kohli said after the first Test, followed by a very worrying statement.
"I think it's about staying in a good space and I know the chat on the outside changes with one innings. But I don't think like that. If I thought like people on the outside, I would probably be on the outside right now," Kohli said, his sarcasm speaking louder than his bat at the moment.
Kohli's words are reflective of the rhetoric dished out by the ruling politicians at the moment. Any form of criticism — for good or for bad — is taken as an attack. The source of the criticism becomes "people on the outside" — a journalist, an observer, a concerned fan, a Pakistani perhaps.
One expects better from the Indian skipper but then he, perhaps, is just following the autocratic leadership qualities that defines India's present. 
But we digress. The pertinent issue here is the reluctance of a professional sportsperson to remain true to the pro tag. Across the cutthroat world of professional sport — across disciplines and leagues — no one gets away with being cocky about mistakes and shortcomings. The evolution in sport is so thick and fast that the masters — the Federers and the Messis and the Bolts of the world — are always on the churn, staving off challengers, keeping their edges sharp and their noses ahead. 
Also Read | Metal Over Mettle: Indian Wrestling Story From Asian Championships
It is something that is rarely seen in cricket, and Kohli is a classic example. When the establishment itself is so keen to maintain the status quo, reluctant to expand its base and increase its profile, it is inevitable that its biggest stars will be closeted too. 
And the game affords its stars to hide behind stats and performances aided by friendly conditions, to gloss over fissures in their game, technique or abilities. A stubborn Virender Sehwag, or a Sourav Ganguly with handicaps on the on side and against the short ball, come to mind. There are countless other examples... 
No other professional sport has so  many variables — from weather, soil, dew, the kitchen sink, and perhaps even the lunar cycle. And with doctored (mostly batter friendly) conditions at home and at major International Cricket Council (ICC) tournaments (under the premise that sixes attract fans), a weak link in the repertoire and temperament gets hardly exposed. Till periods like what Kohli is enduring hits. 
Then again, all of this will be forgotten soon enough, post the Indian Premier League (IPL), and a couple of eye catching innings. 
Professional cricketers willing to take criticism, and iron out weaknesses are rare but the game has seen some greats do it. The guess is that it is what makes them special. For instance, the line and pace variations and the art of swing Wasim Akram and Waqar Younis developed, making them the most feared attack pair at one point, began with them tweaking things bowling predominantly on flat subcontinental tracks. They became deadly at home and virtually unplayable in swing friendly conditions there after.
Closer to home, the man from whom Kohli took over the ton scoring mantle, Sachin Tendulkar, was famously finicky about perfection. Following a relatively dry run during a tour of Australia, getting out attempting to offdrive on many occasions, Tendulkar opted discipline and self restraint to cut that shot completely off his arsenal. This was 2004. Tendulkar's on-the-rise cover drives were his go to shot as well as stuff of legend. Multiple highlight reels were composed of that single shot. But, at the Sydney Cricket Ground, Tendulkar didn't play a single cover drive, en route 241 not out, one of his most memorable Test innings ever. 
Greatness lies not in numbers but in fortitude. Kohli's prolific run-scoring expertise is often compared with Tendulkar. His greatness will be invariably measured in the Sachin yardstick too. Where Kohli will fall short would not be in the biomechanics of technique or on the skewed graphs of stats and the sheer weight of runs. It will be in whether he managed to carry himself through a long career without making a fool of himself every now and then, showing reluctance to learn from mistakes, and repeating them. 
Going by Kohli's quality and skill as a batter, tweaking things to cover or overcome a weakness (very real and not an outsider perception), should be easy. What's stopping him is what's playing right between the ears — the sense of entitlement, the feeling he is above all criticism. 
Let us get this straight though. In pro sports, athletes do get into such zones. Their egos help them perform better too, no doubt. But what makes the greats who they are is their ability to use that ego in the arena and case it on the training ground. Has Kohli been doing that? His words and the numbers of late suggests no.
Also Read | The Australian Hockey Secret
Since the 136 against Bangladesh in November last year, Kohli has not scored a ton — his worst run after the horrid form he displayed during the 2014 tour of England. The skipper has maintained his averages with decent starts, and six half centuries in the period. But, when you live by stats and records and you fall by them too. His rate of scoring tons while on song — one in every six innings — juxtaposed against the 22 non-triple digits outings, highlights the barren run. Things get more damning when we take into account the fact that Kohli played the best part of this poor run at home. The New Zealand tour has squeezed things further for him.  
In his little over a decade old international career, Kohli  has had dry spells thrice including this one. The first one — from February to September 2011 lasted 24 innings — while his average dipped from 48 to 39. Kohli then went though 25 successive innings without a ton from February to October 2014. Yes, the infamous England tour.
Those two occasions, he never had the burden of captaincy or the extra inflated ego and larger-than-life image of infallibility to uphold. Things, perhaps, were easier for him to reel back in. It may not be that simple now. Or maybe it is. After all, a few series back in India and we are back in the greatness game, aren't we? 
Get the latest reports & analysis with people's perspective on Protests, movements & deep analytical videos, discussions of the current affairs in your Telegram app. Subscribe to NewsClick's Telegram channel & get Real-Time updates on stories, as they get published on our website.
Subscribe Newsclick On Telegram