The Australian Secret: What Keeps Kookaburras at the Top of World Hockey
Australia play hard and physical hockey, and with each passing generation, they seem to get better, staying on top of every aspect of the game including the ever-evolving tactical systems. A robust grassroot sports system and a culture focussed on enjoyment rather than performance are among the reasons for their dominance of the game.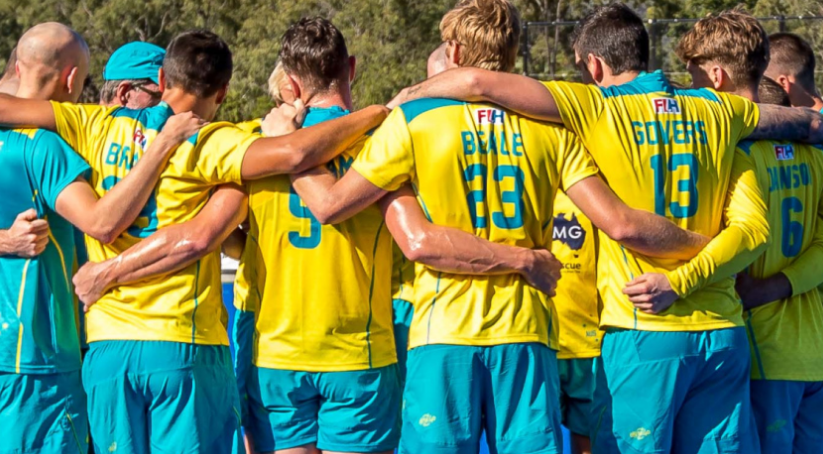 The Australian players know hockey is a family sport – the playing squad, the camp squad and the tournament squad are all one unit. Rotation, rest and development are key to keep them on top. But there is more...
Watching elite athletes engage in a training session is an exercise in self depreciation. No matter what sport or team, the high intensity, high volume full contact nature of their drills is enough to give the spectator a complex. All the Delhi gyms, packed with ripped men wearing tanks that say 'your workout is my warmup', have little idea what that phrase means.
Watch the Australian hockey team train. Their warmup is a week's worth of calories burnt.
Over the course of hockey's vague and scattered evolutionary history, there have always been stereotypes on how some of the top teams play. Regardless of rule changes, format changes, surface changes and even in-game tactics, the stereotypes have largely stayed the same. Mostly they are untrue – at this level of sport, adaptability is an art form – but the one that holds truest is that of the Australian game. Aggressive. Physical. Pressure.
According to captain Aran Zalewski and drag-flicker Jeremy Hayward, Australian hockey at its grassroots is more physically robust than what the national team puts out. "At the lower levels, the way the game is refereed in Australia is vastly different," Zalewski says. "You get away with a lot more physical contact and aggression. As we come up to the national camp in Perth we have to, in fact, tone it down a bit," he smiles.
"Regardless of the sport, Australian sport has always been defined by physical aggression. It is more cultural than anything else," Zalewski says.
That much is true. Australian hockey isn't an anomaly, it is a pattern. They play a different brand of hockey. They play it the same way they do other sport.
"It is the base of our game," Aran Zalewski says. "The Europeans have a strong soccer base, so their game revolves around a lot of technique and movement in invisible zones. India and Pakistan have a long hockey history, so the game here is more skill based. For us in Australia, sport is multi-disciplinary. So, no matter what the discipline is we bring in the physical aspects quite easily."
Also Read | Story of Indian wrestling's Greco-Roman Stepson
Zalewski grew up in Perth, the epicentre of Australian hockey. But he played multiple sports from a very young age. He still does. He surfs, plays rugby and tennis, has played in the Australian Football League (AFL, Aussie rules football), and is now the captain of the Australian hockey team. Jeremy Hayward, who grew up in Darwin in the Northern Territories, is no different.
"One of the things about playing many sports growing up is that you learn to use a lot of the little tricks from one and incorporate it into the other," he says. "You pick up the body feints and hip movements from AFL, get a firm idea of physicality and how to work with it because of rugby…"
Research supports this theory. Multi-sport athletes have traditionally been known to perform at higher levels of optimum performance while suffering fewer injuries than those who fixed on one sport at a young age – the case of a majority of Indians involved with sport. But the repercussions are much deeper.
Eddie Ockenden, Australia's veteran forward, also believes it also conditions kids to enjoy sport rather than pressure themselves into performing all the time. Having facilities that help with this goes a long way in developing a sporting ethos.
"Where I grew up, I was never in an environment where hockey was the be all and end all of sport," Ockenden says. "I played cricket as a kid. I play tennis even now. I decided to play hockey seriously because I loved this sport the most, not because I was great at it or because there wasn't much else nearby."
In the past decade, in the hope of emulating the Kookaburras' success at the international level, the Indian hockey team has employed and discarded a decent number of Australian coaches. Aside from the fact that they have been the best (and sometimes the only) contenders for the job, the idea has been that they can create a mentality and game style for the national team that can ensure victory. The hope is that pressure can be soaked and absorbed rather than leaked out. And most of all: all of this can percolate down to the lower levels of the national game.
Of course, most of the coaches had premature exits.
Also Read | Hockey India: Ruling With an Iron Fist
Their failure isn't that surprising, though. The role of the coach in redefining Indian hockey is not as easy as drilling in new tactics, and increasing the base fitness of the players through camps. Terry Walsh, one of the Australians to have coached Indian team in the last decade, once spoke about how fitness takes years, and even generations, to bring up systematically and organically. According to Walsh, fitness was also culturally gathered. And, Australia, with its emphasis on a sporting upbringing for children, ingrained these values into its society at a very intrinsic level. 
Naturally, elite athletes who come out of such a social set-up will be on a higher plane both physically and mentally. The focus then shifts to fine-tuning them to gun for medals rather than working on their base fitness, which should be a prerequisite for reaching there in the first place. India, as we know, fall far behind in this matter. 
There is a litany of other reasons – lack of enough astro turfs, lack of top quality Indian coaches, measly competition at the grassroots and small pockets of participation – for Indian hockey's Australian experiments not bearing fruit. The gap between the national team, the age group teams and the state teams is vast, and growing wider every year. A unified system is almost impossible to achieve. 
Things are drastically different in Australia and it has got to do with how grassroots programmes in the sport are not part of the national system.
"To tell you the truth clubs and states are independent of the national system [in Australia]," Hayward says. "From time to time Batchy [head coach Colin Batch] will hold coaching sessions and get coaches in for training but that is a more technical workshop than anything else."
While talk of tactics and style dominate most conversations about Australian hockey, behind the scenes a huge amount of credit must also go to a player development system that takes a niche sport and turns out conveyor belts of elite players for the system.
"The idea is that any player from the first to the twenty seventh should be at the same level in terms of performance," Hayward says. "Rotation and constant game time becomes key to ensure that."
In the days that follow, Australia beat India once and lost the second game on penalties in the Pro League. The result is huge for India, and while not entirely devastating for Australia. It definitely gives them enough to think about in an Olympic year.
Also Read | Sole for a Soul: Nike's Chokehold on World Athletics
Australia are the defending Pro League champions, World Cup bronze medallists and won the Champions Trophy in 2017 and in 2018 (the last time they were held). And yet, there is a feeling that Australia are not what they used to be. They aren't Germany yet, but the indomitable Australian is fading fast.
Reports suggest participation figures for hockey in Australia are dropping steadily every year – albeit by a single percentage point only. The players know this is a family sport – in so, that the playing squad, the camp squad and the tournament squad are all one unit. Rotation, rest and development are key to keep them on top. But there is more.
After the game, Ockenden credits India's players for having brought out the intensity for the second fixture and pressing the visitors throughout the game. His highlight, though, is something else.
"There are lots of reasons to play elite sport, lots of ingredients, but above all it boils down to winning. If you win, people come and watch you play," he says. "It sends out a message to the kids. This is a sport that offers success. It is fast. It is furious and it is beautiful to watch. Come and play it."
Get the latest reports & analysis with people's perspective on Protests, movements & deep analytical videos, discussions of the current affairs in your Telegram app. Subscribe to NewsClick's Telegram channel & get Real-Time updates on stories, as they get published on our website.
Subscribe Newsclick On Telegram