Sanjay Bangar, Indian Cricket Team's Fall Guy | On the Ball
After retaining all the other members of the coaching staff, Sanjay Bangar's axing from the Indian cricket team is a huge surprise. Except it's not because even before the decision, whispers had suggested that the batting coach would be the scapegoat for India's failures.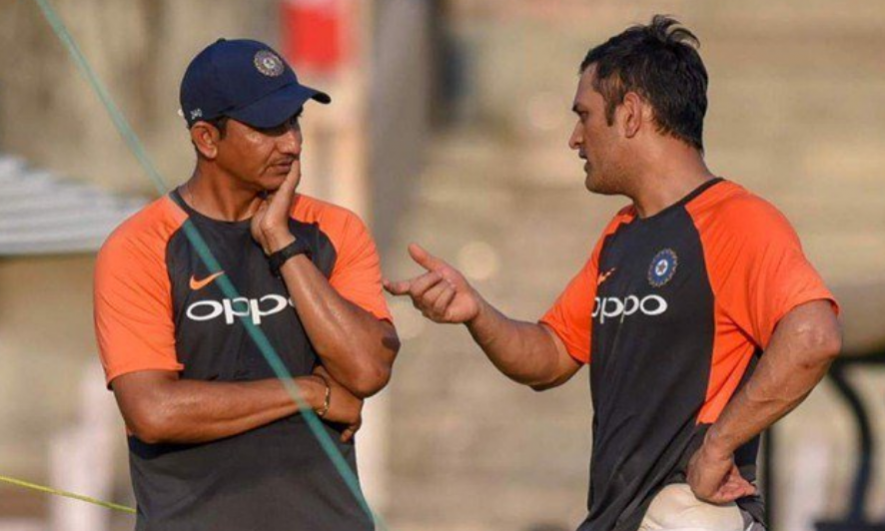 MS Dhoni's position in the batting order during the later stages of the 2019 ICC World Cup, especially in the semi-final against New Zealand, was also attributed to Sanjay Bangar's flawed decision-making.
When we were hopefully – and foolishly – embarking on what we believed would be glittering careers, our coaches told us that cricket was a team sport. That a slice of individual brilliance carried no value if it didn't translate into victory for the team. That it was unbecoming to enjoy your individual success if, collectively, the unit came up short.
They also drilled into us the equal importance of all three departments. Alright, so fielding was always a slightly distant second cousin to batting and bowling, and the outfields in our schools didn't exactly encourage throwing ourselves around. But the message was loud and clear – no one discipline was more glamorous than the other, that for you to make a mark as a team, each of the three facets must pull in the same direction.
We learnt some hard lessons along the way. That even a total of 150 – in 30-over play at the schools-level more than three and a half decades back – was inadequate if the bowlers didn't back up the batsmen. Or, that even a target of 80 could be a bridge too far if the batting group didn't complement the bowlers. You swam or sank as a team.
Maybe what applies to school teams doesn't necessarily hold water when it comes to international sides. Otherwise, how can you justify the axing of one important member of the Indian support staff, while the rest continue on their merry way?
Also Read | Aishwarya Pissay's World Title and the Reality of Motorsport's Gender Bias
There is an unshakeable feeling in cricketing circles that Sanjay Bangar has been made the fall guy for several of India's failings in the last year and a half. The blame for defeat in the Cape Town Test of January 2018, when the celebrated Indian batting group minus Ajinkya Rahane failed to chase down a fourth-innings target of 208, is subtly being laid at his doorstep. India's inability to close out victory in the corresponding first Test in England later that summer, when confronted with a target of 194, is conspiratorially being used as another stick to beat him with. Why Cheteshwar Pujara was missing from that XI is another matter altogether.
MS Dhoni's position in the batting order during the later stages of the ICC World Cup, and especially in the semi-final against New Zealand when he only came into bat at No. 7 even though India were floundering at five for three and 24 for four, was also attributed to Bangar's flawed decision-making. The one-time batting coach who subsequently became the assistant coach suddenly seemed to have emerged as the most influential back-room component in the lead-up to interviews to pick the batting, bowling and fielding coaches to assist retained head coach Ravi Shastri over the next two years. 
Given that the script suggested that his influence hadn't led to happy endings, it was always on the cards that Bangar would get the heave-ho. The national selection panel's decision to recommend Vikram Rathour's name as their first-choice batting coach – Bharat Arun and R Sridhar remain the first-choice bowling and fielding coaches respectively – on Thursday came as no surprise. After all, the Bangar die had already been cast.
Admittedly, India's batting did flounder on more than one occasion, especially in Test cricket overseas, in the last 18 months. Between January and September last year, India were bowled out for under 200 seven times in 16 innings combined in South Africa and England, sometimes in tricky batting conditions. But they did also post 307 in South Africa, 329, 352 for seven declared and 345 in England, and 307, 443 for seven declared and 622 for seven declared in Australia, the last two efforts in India's last two away Tests. Surely, it can't be that the batsmen failed because of Bangar, and stacked up the runs despite him?
Also Read | VB Chandrasekhar: The Batsman, Philosopher, Administrator and Friend
Which takes us back two years in time. To the recommendation of the then Cricket Advisory Committee of Sachin Tendulkar, Sourav Ganguly and VVS Laxman, in June 2017, that Rahul Dravid be appointed batting consultant for overseas Tests when Shastri was inducted as the head coach for the first time following Anil Kumble's dramatic resignation. The rationale of the three batting bulwarks of the 1990s and 2000s was that their erstwhile team-mate was the perfect man to prepare the batsmen for the challenges – technical, tactical and mental – that lay when playing away from home. At the time, that prospect didn't seem to appeal to the core leadership group within the team set-up, nor did the option of Zaheer Khan as Dravid's bowling counterpart in a similar role. Perhaps now, if the well-directed whispers over Bangar's 'failures' are to be taken seriously, there is a tacit admission that a trick had been missed in not requisitioning Dravid's services, as suggested by the CAC.
That's water under the bridge. Barring the miraculously unforeseen, the back-room quartet of Shastri, Arun, Sridhar and new entrant Rathour will oversee Indian campaigns over a taxing next 24 months which encompass two T20 World Cups, a four-Test series in Australia late next year, and a five-match home Test showdown against England at home in early 2021, both part of the World Test Championship. 
Also Read | Ravi Shastri's 'Presentation' Earns Him Extension as Indian Cricket Team Coach
Beyond the axing of Bangar – because that's really what it is, never mind how it is couched – there have been no repercussions or recriminations despite India crashing out at the semi-final stage of three of the last four ICC tournaments. The only break from that trend was during the 2017 Champions Trophy, when India reached the final before being schooled by Pakistan in Kumble's last assignment.
That India have held on to the No. 1 Test ranking for the better part of three years now – they regained top-dog status at home against New Zealand in 2016, again when Kumble was in charge – to go with notable wins in non-ICC one-day tournaments and bilateral series have stood Shastri and his trusted lieutenant Arun and Sridhar in great stead. India's exceptional fast-bowling riches, and the undeniably enhanced fielding standards haven't hurt either, all of them combining to mask the lack of Test success outside the sub-continent apart from the path-breaking series triumph in Australia. Now, having won the trust of those entrusted with the selection process all over again, the back-room staff are certain to attract greater scrutiny, if not increased accountability. Talking the talk will have to take a back seat to walking it. Virat Kohli and Shastri will be well aware of it.
(Kaushik is a veteran cricket writer who has reported on over 100 Tests. He co-authored VVS Laxman's autobiography '281 and Beyond')
Get the latest reports & analysis with people's perspective on Protests, movements & deep analytical videos, discussions of the current affairs in your Telegram app. Subscribe to NewsClick's Telegram channel & get Real-Time updates on stories, as they get published on our website.
Subscribe Newsclick On Telegram