Ben Stokes and the Art of Hitting Odds Out of the Park | On the Ball
Within six weeks of his Lord's magic that saw England get crowned as the ICC World Cup champions, Ben Stokes was back to his best, turning a lost cause into a done deal with a match-winning century that transcended all beliefs in the third Ashes Test against Australia.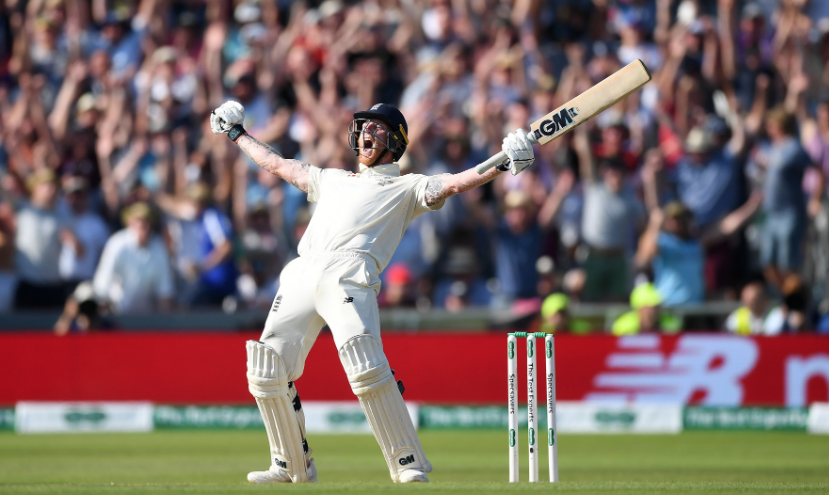 Ben Stokes' match-winning ton in Leeds wasn't just manic, rush-of-blood slogging. His mind remarkably alert and uncluttered despite the emotion he was stoking, the England cricket team batsman weighed up the risks, took calculated gambles.
What did you do last Sunday? Did you watch PV Sindhu annihilate Nozomi Okuhara in just 37 minutes, and for the loss of a mere 14 points, to claim her maiden title in badminton's World Championships? Did you catch Newcastle edge out Tottenham Hotspur in the English Premier League? Did you stay up late to witness a masterclass in the demolition of stumps in a Jasprit Bumrah over in Antigua? And, did you feast on the drama and emotion at Headingley, where the never-say-die attitude of one man conquered the queasy collective will of the opposition in a run-chase for the ages?
Even before last Sunday, Ben Stokes had emerged the central figure in a sea of cricketing heroes this year. The ghosts of a turbulent year and a half had been decisively slain during the ICC World Cup at home. Like Yuvraj Singh had been in 2011 when India scripted a glorious march to the Promised Land, Stokes was the engine room that drove England onward and upward. Intelligent batting, lion-hearted bowling, electric fielding and mesmeric presence combined for impact and effect leading up to the Lord's final against the bravehearts from New Zealand. Stokes' bullheadedness, and dollops of fortune, eked out a Super Over triumph over the country of his birth. As fairytales go, that's hard to top.
Also Read | National Sports Day 2019: What's the Big Idea?
Or is it? Is it really, when you are Ben Stokes, mercurial and talismanic, lion-hearted and indefatigable? When you are inspired and motivated enough to want to repay the faith of your team-mates game after game for their unstinting support during troubled times? When you are consumed by passion and desire, by an ambition that is not fueled by the overwhelming need to be hailed as a hero but by the thrill of bucking the odds and doing right by your buddies? 
Within six weeks of his Lord's magic, Stokes was back at it in Leeds, turning a lost cause into a done deal. His well-documented off-field travails, the Ashes stage and typical English brouhaha all played their part in elevating his logic-defying, series-squaring unbeaten hundred to transcendental levels. But even without the frills, this was the stuff one dreamt of while playing backyard cricket with a tennis ball and against a stone wall as opponent. The English dressing-room has since screamed from the rooftops that they believed Stokes would pull the fat out of the fire, but seriously, when last man Jack Leach walked out to join him with 73 required, no one would actually have believed that victory was still in the realms of the achievable.
No one, except Stokes, of course.
Strokes of genius cascaded off his punishing willow. How else can you eat into the target with No. 11 for company? But it wasn't just manic, rush-of-blood, crude, across-the-line slogging. His mind remarkably alert and uncluttered despite the emotion he was stoking, both in the middle and out in the stands, Stokes weighed up the risks, took calculated gambles. He dinked the ball into gaps and ran breath-taking twos with an aware, willing ally in Leach. He threw the bowlers off their rhythm with audacity ranging on the suicidal – such as the switch-hit with the turn against Nathan Lyon that soared way over the fielder at deep point, and clattered into the audience for perhaps the stroke that drove daggers into Australian hearts.
Also Read | Alchemy Through IQ: How PV Sindhu Flipped the Script to Make History
The shifting of momentum wasn't subtle as it was palpable. Casual hopefulness in the packed galleries quickly turned to cautious optimism. And then the genuine, unshakable belief that 'Stokesy' would do it. Australia, for their part, subsided from cocky strutting to nervous shambling. They had banked on Stokes' luck running out at some stage, at one mis-hit or another going straight up and nestling in the grateful hands of one of the several deep fielders. As they realised that Stokes was in no mood to play Santa Claus, their cricket went to pieces. 
Josh Hazlewood and Pat Cummins and James Pattinson, until then threatening a wicket every delivery, served up buffet balls that Stokes latched on to with gusto. Catches were dropped or edges fell tantalizingly out of reach. The spectators could feel the glorious hand of destiny bestowing unfettered blessings on Stokes. Australia could sense the unforgiving hand of destiny tightening its grip around their neck. Stokes, you can be sure, felt nothing. 
Except when Leach was on strike. Which was only for a ball, or two at most, each over, so brilliant was Stokes' farming of the strike, so unbelievably naïve was Tim Paine's leadership. Each time the bowler bounded in to try and knock Leach over, Stokes could barely bring himself to watch what was happening at the other end. Down on his haunches, clutching his willow for dear life and with his head bowed, it took Stokes all his willpower to lift his eyes just that bit for just that instant to see the left-handed No. 11 keep his end of the bargain. It made for great theatre; each second was an eternity, each ball an event. Either side of the Leach stonewall, each Stokes slap into the vast expanse of the outfield or beyond a step closer to history.
History was facilitated by Nathan Lyon's fumble which certainly cost Australia the match with two needed. Or Joel Wilson's munificence next ball when Stokes was struck palpably in front, the umpire ruled in the batsman's favour, and Paine was left rueing the puerile review of the previous over that had left his team with no challenges. Sometimes, the power of one finds approbation, and support, from the power of The One. And who's to stay Stokes didn't deserve a slice of good fortune.
Also Read | Sanjay Bangar, Indian Cricket Team's Fall Guy
Already, this has been the year of glorious chases in Test cricket. Contextually, Kusal Perera's unbeaten 153 against South Africa in Durban, and his last-wicket stand of 78 with Vishwa Fernando, potentially trumps the Stokes magic because it set Sri Lanka up to become the first Asian side to win a Test series in South Africa.
Perera's heroics came away from home, on a dicey surface, against an attack comprising Steyn, Rabada, Philander and Maharaj. It was as exhilarating as it was unexpected, Perera emerging as unlikely a hero as Stokes a likely one. Sri Lanka were no-hopers when the series began, no-hopers when they were set 304, no-hopers when they slumped to 226 for nine. Until Sanath Jayasuriya's batting doppelganger ripped all predictions to shreds.
In the past week, there have been raging debates about which is the greater knock. As if these are debates that can ever be settled by brilliant minds, or silver tongues. 'Tis for the heart to decide. So why can't we just celebrate, savour and cherish each one for its uniqueness, for its other-worldly feel? And let the numbers/comparison game be. 
(Kaushik is a veteran cricket writer who has reported on over 100 Tests. He co-authored VVS Laxman's autobiography '281 and Beyond')
Get the latest reports & analysis with people's perspective on Protests, movements & deep analytical videos, discussions of the current affairs in your Telegram app. Subscribe to NewsClick's Telegram channel & get Real-Time updates on stories, as they get published on our website.
Subscribe Newsclick On Telegram