Indian Cricket's Streak of Invasions Point Towards Stadium Security Lapses | On the Ball
In two consecutive home Tests, Indian cricket team fans have been able to enter the playing surface and get up close to players, reigniting a dangerous trend that has, in the past, proved hazardous to sportsmen and women across the world. Someone needs to stop this, writes R Kaushik in his column, On The Ball.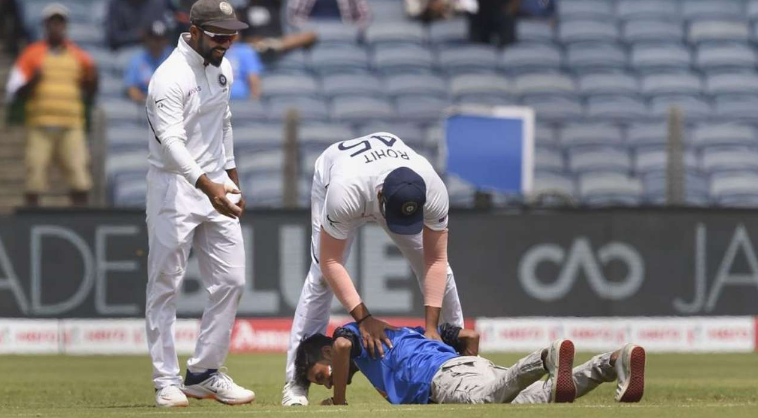 While Rohit Sharma's consecutive hundreds in a Test match have been a source of much excitement, it has also meant he has been at the receiving end of prostrations from fans who have run on to the pitch
For the second time in two home Tests this season, there has been a ground invasion. Alright, so invasion might sound a touch extreme, triggering visions of tens of people charging the playing arena. But there has been an intrusion in both Visakhapatnam and Pune, on both occasions when India have been fielding, generating much mirth and amusement and, thankfully, no dramas or incidents.
A conscious decision by broadcasters worldwide to not beam images of the intruders illegally transgressing the space of the players and the umpires means those watching the game on television are generally spared the spectacle. There are multiple reasons behind the deliberate blackout – so as not to encourage potential trouble-makers to bask in their moment in the sun, to ensure that possible nudity (as much as streaking is still a very non-Indian concept) doesn't invade homes, to guard against the not unfounded fear of an attack being broadcast on live television.
A vast majority of these unwelcome, unwanted forays to the middle end in smiles and laughter. In countries like England and Australia where alcohol is readily available in the stands, a charge to the middle is catalyzed either by the heady cocktail of sun and beer, or an ill-advised bet with an equally inebriated and misguided set of friends. In India, these incursions stem from an inexplicable desire to get up close and personal with one's heroes, never mind if they are involved in the heat of international battle. 
Read More | IAAF World Championships: The Indian Athlete and the Spinning Vortex of Failure
In Visakhapatnam, during the first Test against South Africa, the errant individual had a near-free run of the ground as he burst unchallenged from the stands. He made his way almost to the middle of the ground, got up to Virat Kohli whose feet he sought to touch. He hung around long enough for a selfie too, for good measure. It wasn't until a good minute, at the very least, had passed before he was taken off the field by a solitary security guard.
On Saturday in Pune, another young man with misplaced priorities managed to reach Rohit Sharma, stationed at slip, on day three of the second Test. He first tried to touch the opener's feet, then prostrated before him. Taken aback, Rohit tried to back off only to slip and fall gently. Eventually, two security personnel hauled the culprit away. The entire Indian team was in stitches while Rohit looked suitably embarrassed and sheepish. For the sparse crowd, already basking in India's humongous dominance, it was paisa vasool.
Amidst all this laughing and grinning, it was hard not to nod one's head in agreement as Sunil Gavaskar unleashed a tirade on television. A respected voice for a long, long time now, the former India captain was scathing in his censure of the security forces gathered at the stadium to prevent precisely such an eventuality. Gavaskar's contention was that if those men entrusted with security duty had been keeping their eye on the crowd rather than on the action out in the middle, such interruptions would never transpire. He further forcefully pointed to the potential for injury to players – not every intruder need be well-intentioned, as Australian paceman Terry Alderman found out after sustaining a career-threatening shoulder injury in Perth in 1982 – stemming from the laxity of personnel tasked specifically to maintain law and order. 
Read More | Peerless in Kolkata: How a Small, Hungry Football Club Snatched Bragging Rights From the Big Two
From the time one can remember, spectators, especially at cricket matches, have delighted in rushing to the middle to congratulate a hero on achieving a milestone, or to celebrate the victory of their team. Particularly in England where fans at one point sat just beyond the boundary ropes, ground invasions were dime a dozen. Gavaskar himself has been at the receiving end of several such expressions of joy and congratulations, always assiduously moving well away from the playing surface because he didn't want offending parties to run on the pitch and cause untold damage. And who can forget the video of a besotted lady spectator sprinting to the middle to plant a kiss on the cheek of Brijesh Patel, the former India middle-order batsman?
With time, and with the influx of money, administrators were in a position to put measures in place to prevent such mass inflows. Obviously, the safety of players and officials was paramount, and any action that jeopardized their well-being had to be addressed post-haste. Gradually, the unlawful entry of spectators to the playing area became less and less frequent, and those that were foolhardy enough to test their running and dodging skills against the cops/security staff went into a database that prevented their entry into cricket matches, often for life.
Those that were at Lord's in July 2002 still recall with disbelief how an intruder was allowed to walk all the way back out of the ground alongside Sachin Tendulkar after the little man was dismissed in the second innings of the first Test against England. Marylebone Cricket Club rules prevented their stewards from infringing on the ground during play, which meant Alistair Dobson, a 24-year-old Australian, could not just go inside, but walk alongside Tendulkar, engaging in a one-sided conversation and at one stage placing his arm around his 'hero's shoulder. Dobson, a Melbourne club cricketer, was only arrested on entering the Long Room.
Read More | Indian Cricket Ushers in a Revolution Amidst Call For Change
His actions had forced Tim Lamb, the then chief executive of the English board, to admit that during that tense passage, he had been reminded of the April 1993 courtside stabbing in Hamburg of Yugoslav tennis sensation Monica Seles. No one was grinning at the time; no one should now, not when the possibility of another deranged fan expressing his admiration in a violent manner is all too real.
Especially in India where there is a visible if clumsy onus on security, it is a torture for even the most diehard fan to be a repeat visitor to a venue. That spectators aren't deterred by the numerous don'ts, coupled with the lack of even basic washroom facilities, exorbitantly priced food and beverages, and the absence of overhead protection at several grounds, is a tribute to their perseverance and love of cricket (or is it cricketers?). A few bad apples should not be the reason to tar the majority of the paying spectators with the same brush.
In saying that, the role of the security forces must come under greater scrutiny, as Gavaskar sagely pointed out. Their job doesn't end with the rude frisking and the unsubtle threats during entry to the ground. Security detail at a cricket match is not an invitation to a paid holiday, juiced up with the perks of free food and the like. Their job is to be proactive, not wisen up after the event. Fortunately, there have been no unsavoury incidents on Indian soil, yet. But unless we are vigilant and stop believing that safety lies in numbers rather than in doing one's job with the commitment it demands, disasters might not be too far away.
(Kaushik is a veteran cricket writer who has reported on over 100 Tests. He co-authored VVS Laxman's autobiography '281 and Beyond')
Get the latest reports & analysis with people's perspective on Protests, movements & deep analytical videos, discussions of the current affairs in your Telegram app. Subscribe to NewsClick's Telegram channel & get Real-Time updates on stories, as they get published on our website.
Subscribe Newsclick On Telegram